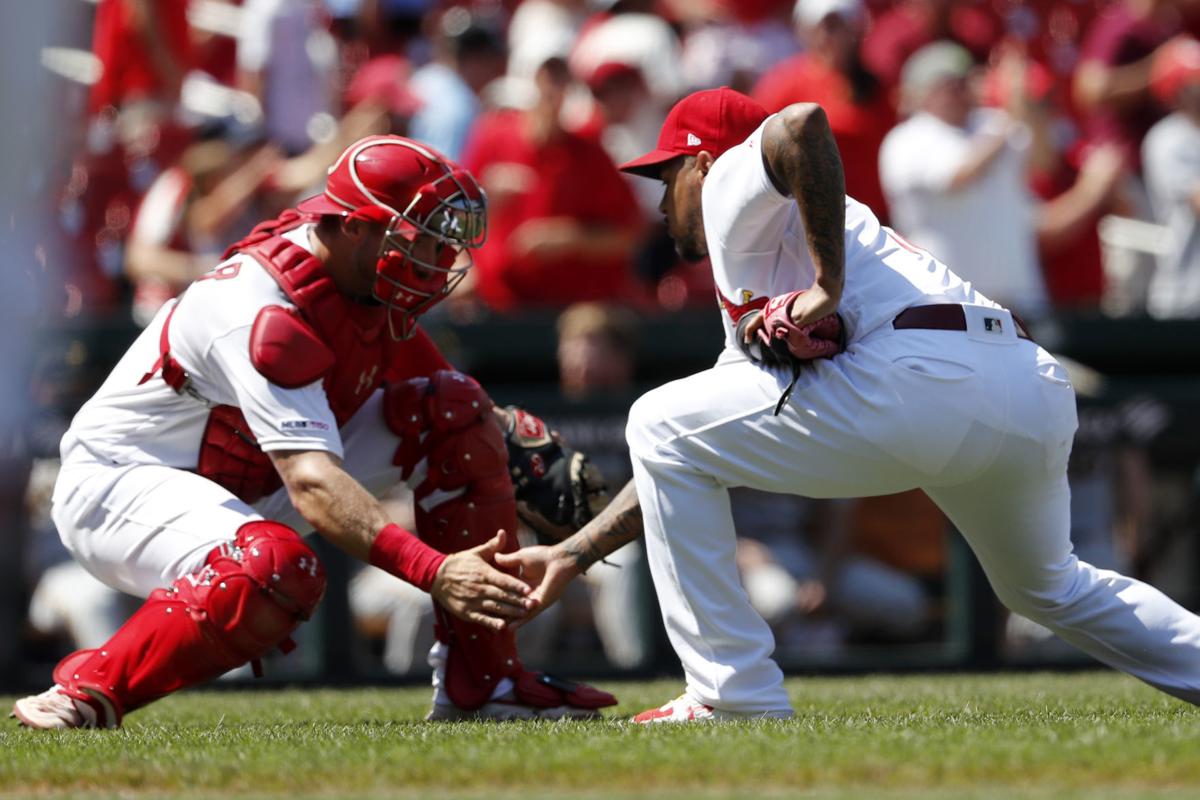 The sluggers got all the glory when the Cardinals rallied to beat the visiting Pittsburgh Pirates 6-5 on Wednesday at Busch Stadium.
But this win also belonged to the bullpen.
In the victory, which capped a 4-2 homestand for the Cardinals, Paul Goldschmidt provided the winning margin with a three-run homer in the seventh inning and Tyler O'Neill drove in a pair of runs, connecting for a two-out RBI single in the first and for a two-out solo homer in the fifth.
"Good homestand," manager Mike Shildt said. "A couple of series wins. Nice job."
The Cardinals (48-46) will play the next four in Cincinnati and then four in Pittsburgh before returning to Busch for a three-game set with the Houston Astros beginning on July 26.
Wednesday's game, played on a sweltering afternoon, took a turn in the visitors' fourth when the Pirates got to starter Daniel Ponce de Leon. After Melky Cabrera singled and Colin Moran walked, Jung Ho Kang hit into a double play that seemingly ended the threat.
Ponce de Leon then walked Jacob Stallings, the No. 8 hitter, intentionally to face Pittsburgh pitcher Chris Archer, who came through with his second hit in as many innings to drive in a run and tie the game at 2-2.
"You just should never give up two hits to the opposing team's pitcher," Ponce de Leon said afterward. "If I don't do that, I'm out of the inning with no runs. I just couldn't stop the bleeding there."
After the Pirates' Kevin Newman singled to load the bases, Bryan Reynolds blooped a single to right-center to drive in two runs and put the Pirates on top 4-2.
Reliever Dominic Leone replaced Ponce de Leon to face Starling Marte, who'd homered in the first inning.
"Marte's one of their best, one of their top guys," Leone said. "Fortunately, I threw two pitches and we got out of it."
Marte grounded into a forceout.
"That's a huge out right there," Shildt said. "Clearly, Ponce was competing well and had good stuff early (but) just couldn't seem to get out of the fourth. Gave him an extra guy after Archer gets his second hit. ... Starling already put a good at-bat on him, so it was Dom's guy He made a really nice pitch to him, huge pitch to keep the game at 4-2 and then the bullpen continued to be somewhat unsung heroes — we know they're not (unsung) in our clubhouse, but sometimes they get overlooked for doing their job."
Marte would be the only hitter Leone would face on Wednesday.
"Honestly I expected to throw multiple innings at that point of the game," Leone confessed afterward. "But you take pride in doing the job and handing the ball to the next guy."
Leone getting Marte to end the two-on, two-out threat in the fourth started a string of 13 Pittsburgh hitters being retired through the middle of Wednesday's game. Chasen Shreve, in his first action since being recalled this season, worked a 1-2-3 fifth.
"Had a rough start, but I've been throwing pretty good for the last two or three months," Shreve said. "Felt good to be out there contributing."
Fellow righthander John Brebbia struck out the side in the sixth and had a strikeout, a flyout and a groundout in the seventh.
"We have a lot of good arms on this team and today it all just seemed to click," said Brebbia, who picked up the win to even his record at 3-3. "Having (rookie catcher Andrew Knizner) back there, there was a little different dynamic. I really liked the way he was calling the game, so I went with whatever he was calling."
Brebbia hopes this win can help ignite the Cardinals.
"There's too much talent in the lineup, on the pitching staff, for us to be where we are," he said. "Hopefully this becomes the norm, that we start winning and just keep winning."
Andrew Miller worked a perfect eighth inning, getting a strikeout, a flyout and a groundout.
"It was a tough day because of the heat," Miller said. "But we got it done."
In the ninth, against Cardinals closer Carlos Martinez, the Pirates went to their "bench," calling on regulars Adam Frazier, Josh Bell and Cory Dickerson as pinch-hitters. They managed three hits and a run before Martinez retired Marte on a game-ending forceout with two men on.
"Shreve went out, clean fifth, Brebbia sixth and seventh and Miller did a fantastic job in the eighth," Shildt said. "And you know Carlos, they put together some good at-bats. They had a lot of guys on their bench who are cornerstones of their club and we knew they were going to run them out like they did and they put together some good at-bats. Carlos dug deep. ...
"Great job by the bullpen."
KNIZNER'S FIRST HIT
With Yairo Munoz on first base following an infield hit in the second inning, Cardinals catcher Andrew Knizner ripped a pitch over the shortstop hole into left-center for a double.
It was Knizner's first big-league hit.
"Loved it," Brebbia said. "He hit that ball so hard. What a great way to get your first hit."
In just his fourth major league game, Knizner entered at 0 for 10 and was hitless in three at-bats after his second-inning double on Wednesday.
"Impressive to watch and impressive to catch," he said of Wednesday's win. "It's certainly a relief (getting that first hit) Had a pretty good swing against a pretty good pitcher, so I feel good about it. I've always been a pretty good hitter, so I tried not to put too much pressure on myself. And getting to second base made it feel even better.
"I hadn't been on base for a while, so I had to remind myself about number of outs and think about my baserunning. Got a chance to tag up and then slide into third, which felt pretty good, too."