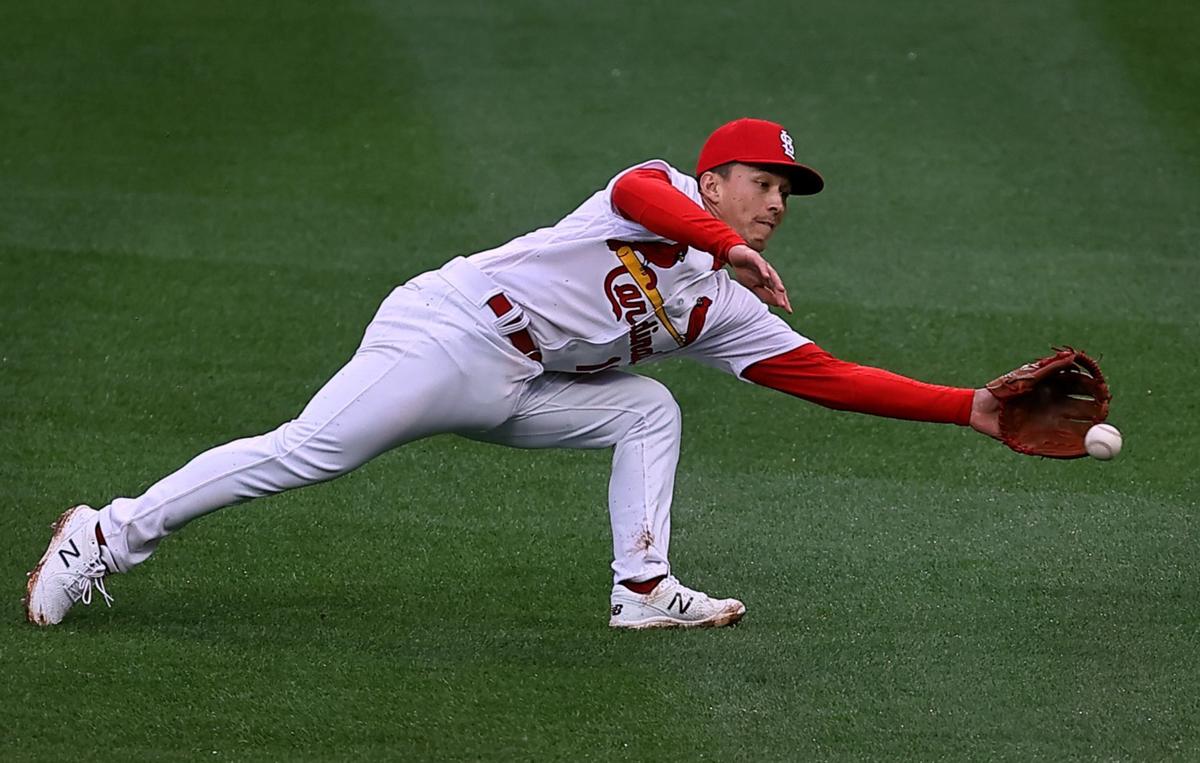 The text messages on the group chat that started it all began the night before, buzzing back and forth with information about the time and who might show up.
"It's like meeting at the sandlot," Cardinals leadoff hitter Tommy Edman said. "Hey, we're going to meet at the sandlot at 10 a.m. tomorrow."
A year ago, with nowhere to go for workouts, several Cardinals infielders conjured their own summer camp at SLU to get together, take grounders, stay sharp, show off a bit, and wait for a season interrupted to resume. Kolten Wong reached out to SLU baseball coach Darin Hendrickson, a longtime batting practice pitcher for the Cardinals, and asked if he might be available to throw, and from a social distance send some grounders his way. Like any good second baseman, Wong brought shortstop Paul DeJong along with him and for nearly three months they met four, five times a week.
In mid-May, still unsure when a season would start or they could access Busch Stadium, Edman left San Diego for St. Louis to join the workouts. It made sense for Edman to get a feel for fielding beside his teammates because, they discussed, "we thought we were going to be the second, short, and third for a long time at this stadium," Wong said. The Gold Glove-winning second baseman was right about seeing the future coming into focus on SLU's turf.
It just was not the one he expected.
"I obviously wanted to come back to St. Louis, but I knew they were in really good hands with Tommy," Wong said Thursday. "Taking groundballs, working with him, seeing how good he was as a player — I knew he was going to be just fine, man."
The home opener Thursday that began with Wong leading off, through tears, for the visiting Milwaukee Brewers ended with Edman leaving his feet for a familiar, diving play in shallow right, a spot where Wong went to win Gold Gloves. The Cardinals' decision to decline a $11.5-million option for Wong was rooted in their plan to cut cost and pivot to Edman, 25, at both leadoff and second base. A switch-hitter, Edman started the first seven games at leadoff, batting .276 with a .344 on-base percentage and two steals in two attempts.
When not cameoing in right field, Edman has made five starts at second and finished all seven games there. His five "out of zone" plays at second lead the National League.
"Since Kolten and Paul would be up the middle during those workouts, there would be times I'd take all of my groundballs at short and second with them, just to make sure I was staying fresh there," Edman said Friday in a phone conversation. "So, I think that kind of helped out a lot with the transition going into this year, having had all those groundballs over that time, all those groundballs with Kolten and Paul.
"Working with them, Paul and I already had that chemistry and kind of knew what each other did and what we liked out in the field," Edman continued. "That helped a lot."
When spring training ended abruptly in 2020 due to the pandemic, players throughout baseball scattered. Edman went home to San Diego. Wong came to St. Louis, and DeJong soon followed.
Ballparks closed. Gyms closed. Players were left to find places to work out where they could — and many headed for a neighborhood park. Hendrickson has thrown BP at Busch for 25 years, and Wong had often been in a hitting group facing him. With the Billikens season shuttered, too, Hendrickson had a facility available, familiarity with health and safety protocols, and an arm that could handle a high pitch count.
These workouts started in April and would continue until the Cardinals' official Summer Camp opened at Busch in July. They would be joined at times by Matt Adams and other pro ballplayers in the area. Harrison Bader became a regular in the final month. Edman joined in May.
They did not hit every day, but they took grounders. They tugged a large, green, rubber trashcan loaded with 300 baseballs out to SLU's field and got to work. They took grounders off Hendrickson's fungo bat and off a groundball machine.
"It would be pretty much always rapid fire," Edman said. "You'd get just tons of groundballs. You don't have to conserve any energy for a game. You can just burn yourself out."
Wong worked through his precision progression, formed by so many hours of individual tutelage with Cardinals' coach Jose Oquendo.
The small group took on that feel — intensive, focused work, together.
"Until you see it in person, it's hard to appreciate," Hendrickson said. "I've been fortunate enough to watch (George) Kissell and watch Oquendo and watch Stubby (Clapp) and Pop (Warner), and watch how they prepare infielders, and watch Kolten. To see Kolten and Paul work as a tandem and how well they know each other was really cool. They are aware of each other on the field because they practice that. And Tommy was there doing it all, emulating a lot of that."
The veteran of the group, Wong welcomed the shadow.
Edman made his big-league debut in June 2019, and this will likely be his first full season in the majors. He gathered intel from Wong and All-Star DeJong about the rigors of the 162-game schedule, and Wong described how Edman "was there trying to pick my brain, and he was also respectful." What Edman gained from Wong was some of the pointers Wong received from Oquendo, and other "technical things" of playing second. Wong urged Edman to cut down the distance to the ball to start a double play because the team has to squeeze two throws into the time they usually have for one.
Hendrickson recalled a day where Wong was breaking down the 180-degree spin he makes to make a throw to second after a grounder to his left. It's the move Edman also referenced because Wong unlocked the play for him by suggesting he secure the ball first instead of "trying to catch the ball, transfer, and spin at all the same time," Edman said. "Separating those things slows it down."
When Wong came to the plate Thursday, innings before Nolan Arenado's homer won the game 3-1 for the hosts, Edman was practicing what he continues to work on.
The instinctual read on hitters to improvise positioning.
In the ninth, Wong's Brewers turned to lefthanded-batting pinch-hitter Daniel Vogelbach, and the card the Cardinals' fielders use to determine shifts urged a heavy shift. The coaches urge the fielders to use that as a guide and then watch the hitter's swings to adjust. Edman did, and got in a spot where he could steal a hit with a runner in scoring position.
"That's not on the card, so that's where your game intuition just takes the game as it happens," Edman said. "That's something that we really emphasize and something that I'm working on — reading swings myself. It helps to have those veterans always communicating."
That is how Camp Kolten at SLU began.
He reached out to a coach, he pulled teammates in with him, and they spent about six weeks as a trio at SLU working, fielding, turning, spinning, riffing, and talking. Without a team to work out with, they created one. When baseball stopped, they did not. And Edman feels the benefit now when he starts.
"I think Tommy getting reps with me at second (and) I was able to show him a few things," Wong said. "It's just been something that I'm proud of that Tommy has been taking some of the things that I've taught him and making it his own and becoming the good player we all know he can be."