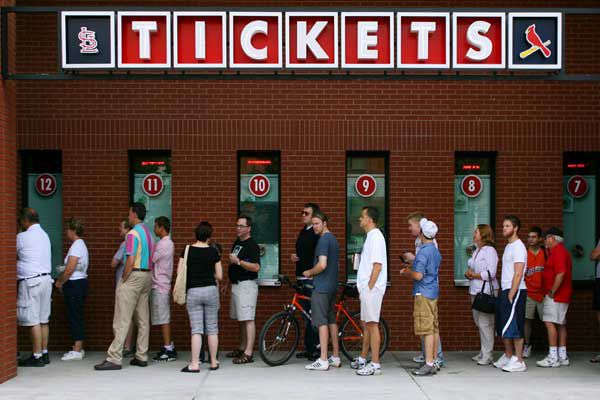 With a month of the season already lost and another month of postponed games expected, the Cardinals announced Wednesday a variety of plans to refund tickets or offer credit for future games to fans.
For all home games scheduled for April and through the end of May, the Cardinals are offering refunds to most fans or, for season-ticket holders, an account credit for future games. There is also a way for season-ticket buyers to request a refund on their tickets, according to the official policy of the team. For single-game tickets and theme tickets purchased with the Cardinals, many of the refunds will be done automatically and buyers could see them by the end of this week, an official with the team said.
"We know that a lot of fans are hurting out there, that there are a lot of fans that could use the money at this time," said Bill DeWitt III, the team's president. "And for those fans who can hold on, stick with us, we'd love to offer them a credit for use in the future. … It's buying time for us and with our fans, who have been patient with us."
The games covered by the new policy include all 13 home games scheduled for April, during what would have been the first two home stands of the 2020 season.
The policy also covers the five home series scheduled for May.
Those games, which include visits from the Padres, Mets and Braves, have officially been postponed. The only Cardinals regular-season games canceled by Major League Baseball are the two planned for June in London against the Cubs.
But because the likelihood of a complete season — or games at home in front of fans — has diminished due to the ongoing coronavirus crisis, MLB allowed teams to begin formulating plans for ticket refunds, and the first rollout of those plans was permitted on Wednesday afternoon. The Cardinals' policies include:
• Season ticket buyers for full, half or 27-game plans will receive credit to be used toward future games. But if a refund is preferred, the team urges fans to contact seasonticketrefunds@cardinals.com or an account official.
• Single-game tickets and theme packages will be refunded at their full price, including all fees. The refund will be given automatically to the credit card used at the time of purchase.
• If ticket purchases were made with cash, in person at Busch Stadium, then the actual tickets will need to be returned. There is a process spelled out at cardinals.com/refund for how to do that by mail.
• Ticket packs for 10, six, and five games will be refunded automatically based on a pro-rated formula for the games in April and May. The tickets do not need to be returned to the team unless they were purchased with cash.
• All-inclusive tickets and party suite tickets will be refunded, along with the ticket fees, automatically for purchases of 19 or fewer.
• Small group sales will be refunded at the price of the ticket and for fees, to the credit card used at the time of purchase. For larger groups, consignment groups, luxury suites, and others, the Cardinals are urging fans to contact the ticket office.
Tickets purchased through a secondary service, such as StubHub, are not covered by the team's policy. The seller will have a policy for games that are still considered postponed, officially, by Major League Baseball.
The policies finalized Wednesday apply to games through the end of May. If June games are in jeopardy, postponed, or likely to be played with an empty stadium, the Cardinals will announce a plan at that time, when they hope to have more clarity about the 2020 season.
As the leagues, players' union, and clubs determine ways for the game to return once it becomes possible, a variety of scenarios are being explored. The commissioner's office has officially delayed the start of the regular season until at least mid-May, but all parties have sought ways to play as many games as possible, in part because there is so much money at stake — from ticket revenue to player salaries to television rights fees. Some games are expected to be played in front of empty stadiums, and later significantly reduced crowds. A shortened schedule has become inevitable, leading teams to address tickets and desired refunds.
"What you see is a policy that balances a lot of different concerns, and foremost has to be the fans," DeWitt said. "We hope they understand that we're trying to do the right thing."
Keep up with the latest Cardinals coverage from our award-winning team of reporters and columnists.