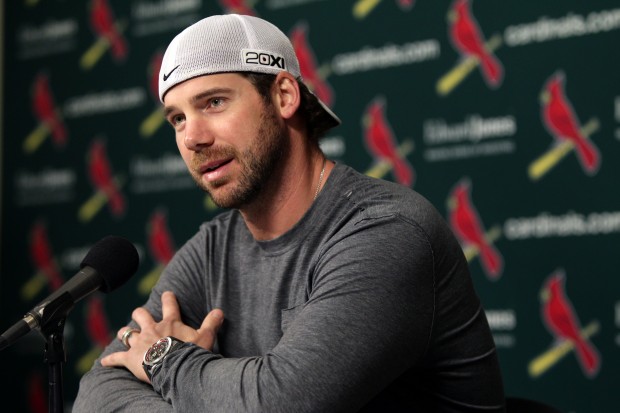 JUPITER, Fla. • It took his wife and young son to convince Chris Carpenter to do what his Cardinals teammates could not.
On his way back from a family vacation in Puerto Rico, Carpenter stopped by this afternoon for the game and he plans to spend the rest of the week in the Jupiter area and around the Cardinals' spring training facility. He was resistant to visit — this is first spring without a training to attend since he was 18 — and text messages and invitations from teammates and coaches wouldn't lure him into town.
But his wife suggested the stop on the way home.
His son, Sam, wanted to see some games. He was six months old when he first attended spring training and grew up at the ballpark.
"It's important for him to keep part of it, too," Carpenter said.
Asked if he sees a way back to the ballpark as a player, Carpenter did not sound hopeful.
"I do (want to keep playing)," Carpenter said. "I don't think I can."
Carpenter met with the Cardinals team physicians last month for a series of scans that were needed to reveal whether he was dealing with a blood clot in or around his shoulder. Carpenter was unable to intensify his throwing program when nerve troubles returned to his right shoulder. He had surgery last year to create room in his shoulder for the nerves to fire without trouble. As he tried to prepare for the spring, he found his arm growing week, numbness firing down his arm, and his hand growing painful and discolored.
The discoloration was one reason for the immediate checkups after Carpenter and the Cardinals announced that he would not join the team for spring. The club does not expect him to pitch this year.
"There has been no change," Carpenter said. "There is some everyday stuff that is going on that is affecting me a little bit. Right now I'm just enjoying my time with my family. ... I was planning on playing, on being a part of this team and make the choice at the end of the year whether I wanted to keep playing or not.
"Unfortunately it didn't work out that way."
Carpenter said he continues to have numbness at times in his right shoulder just doing everyday things — like driving. He was walking on the beach in Puerto Rico and had pain in his shoulder that "just wasn't normal." The weakness is still there in his arm.
He said once he and his family return to their home in St. Louis he'll be seeking more medical advice about the longterm issues he could face and how to address them.
He repeated this afternoon that he would not have another surgery.
Carpenter is uncertain how often he will be around the ballpark. He expected to pitch this season, not watch, and that has made it difficult to throw himself into being around the team. He expects to attend the home opener on April 8 — but would prefer to watch from the seats.