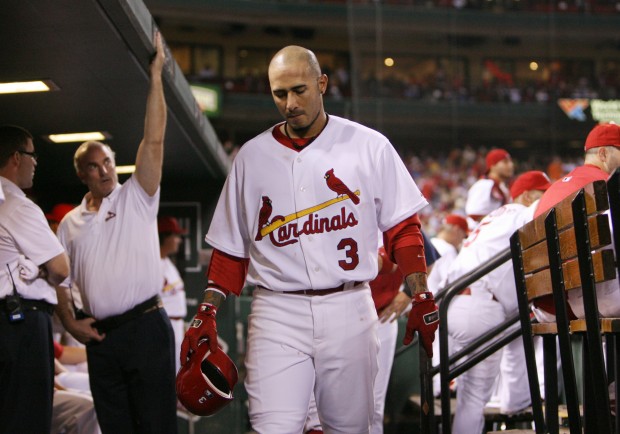 PITTSBURGH _ "Club Flip" is officially closed.
In the Cardinals' clubhouse at Busch Stadium, Lopez, who had a narrow cubby hole for a locker, had a sign affixed that read "Club Flip." But Lopez won't be needing that locker anymore _ and the club no longer will be in operation _ because he first was sent home from here to Florida this afternoon by manager Tony La Russa and later was granted his unconditional release by general manager John Mozeliak.
There had been several sources close to the situation who had said that Lopez had been appreciably late in showing up for the Cardinals' makeup game at Florida on Monday. Mozeliak confirmed those reports later in the day.
"He was late yesterday. It's not the first time," saiid Mozeliak, who suggested this was not a good example to be setting for all the young players who have joined the club lately. 
"Tony (manager Tony La Russa) and I spoke earlier today. We've got a lot of young players who are September call-ups this year and we want to make sure they understand the message we want heard.
"It really came down to a tipping point _ either just not play him or allow him to go home," said Mozeliak.
Earlier, La Russa said that Lopez, hitting .231 after a ghastly second-half slump, was sent home because he wasn't going to be playing much anyway. At that time, La Russa hadn't mentioned Lopez's tardiness but later admitted that it had happened Monday.
But La Russa said, "You don't get asked to leave because you're late one time (it has been at least two times because Lopez also was late in Chicago).
"It's not a late issue. It's what I said. He didn't have a role these last two weeks. There's not an opportunity to get him in there. The organization decided that over the last two weeks, the starts are going to go someplace else and the bench time, as far as coming off the bench, is going to go someplace else."
When it was suggested that Lopez's late arrival Monday didn't help, La Russa said,"Well, it was noticed. But (the move) was discussed before that."
Mozeliak said, "It's really an aggregate sense. But, it was pretty clear he wasn't going to get the at-bats (at the end of the season).
"With two weeks left in the season, you would prefer not to have to make these type of decisions and to have reacted this way. But I understand why we did it. I think we really sent a strong message to the younger players of what our expectations are.
"(Lopez's deportment) has been something the coaching staff has been very tolerant of and they came to a point where they'd just had enough."
Lopez was gone from the clubhouse well before the game, his name was scratched off on the extra men part of the lineup card posted on the wall and his locker was empty, with his number 3 plate missing.
With injuries to David Freese at third base, Lopez made 52 starts at an unfamiliar position of third base, well more than the 19 he made at shortstop and 17 at second base. Lopez, who hit .385 for the last two months of the 2008 season, was allowed to become a free agent after that season. But he was re-signed this February for a $1 million base.
Since July 28, when Lopez was hitting .272, he finished up going 16 for 115 (.139).
"There's no reason for him to be around," said La Russa. "When you've got veterans who aren't going to be playing, the young guys can learn by watching. Felipe doesn't have anything to learn."