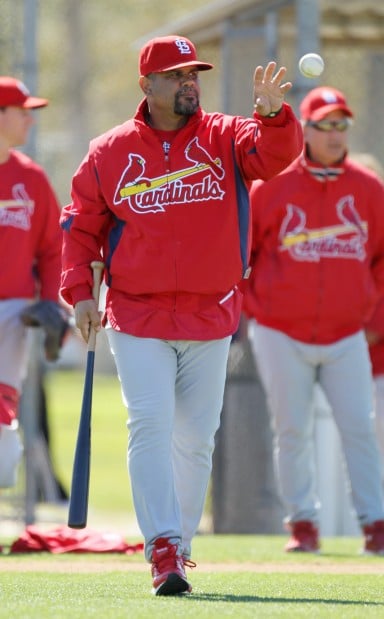 Cardinals third base coach Jose Oquendo is scheduled to interview Monday with New York Mets general manager Sandy Alderson regarding the team's managerial vacancy.
Oquendo tonight confirmed being contacted by the Mets earlier this week. The Mets sought and were granted permission for the interview by Cardinals general manager John Mozeliak, who then forwarded the club's interest to Oquendo.
Oquendo previously has interviewed for managerial jobs with the Seattle Mariners and San Diego Padres. He remains very interested in attaining a managerial post after twice guiding Puerto Rico's entry in the World Baseball Classic and serving two tours in the Puerto Rican Winter League. Oquendo, 47, has served as Tony La Russa's third-base coach for 11 seasons after joining his staff in 1999 as bench coach. Primarily a middle infielder, the "Secret Weapon" played numerous positions for the Cardinals from 1986-95 and has become a popular possibility among the fan base to succeed La Russa upon his retirement.
Oquendo will interview in Orlando, site of next week's meetings of general managers and owners at the Disney Waldorf-Astoria.
"Managing in the big leagues is something I hope to do. The opportunity to interview with the Mets is exciting," Oquendo said.
Oquendo's professional career began with the Mets organization in 1979. He spent parts of the 1983 and 1984 seasons with the parent club before being dealt to the Cardinals in April 1985.
The Mets fired Jerry Manuel as manager after a 79-83 fourth-place finish. Manuel guided the Mets for 2 1/2 seasons after taking over for Willie Randolph during the 2008 campaign. The Mets last reached the postseason in 2006, losing a compelling seven-game NLCS to the Cardinals. Alderson already has begun a front office makeover including the hires of former major league GM's J.P. Ricciardi and Paul DePodesta.
Alderson and La Russa share ties as well. Alderson served as Oakland A's general manager from 1983-97, a time that fully encompassed La Russa's 10-year term as manager. The A's captured three consecutive AL championships (1988-90) and a World Series championship (1989) with both men in place.