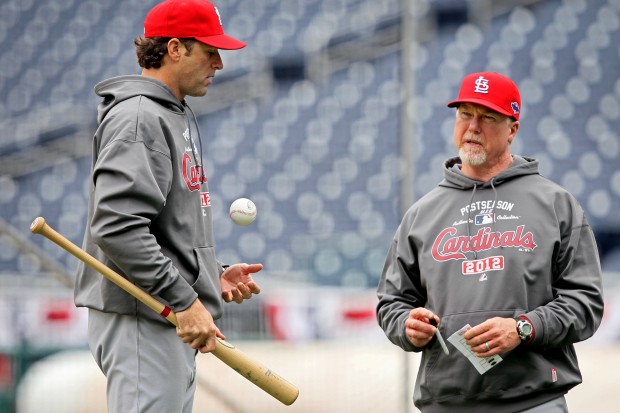 Mark McGwire, who has served as Cardinals hitting coach for three seasons under two managers, has informed the club that he intends to accept a similar position with the Los Angeles Dodgers, sources familiar with the situation told the Post-Dispatch this afternoon.
Though a deal between the Dodgers and McGwire is not considered final, McGwire has told the Cardinals that he does not anticipate accepting their offer of a contract extension.
The club last week tendered offers to all coaches except bullpen coach Dyar Miller. The staff's contracts exprired Oct. 31.
McGwire is leaning toward accepting the position with Dodgers manager Don Mattingly's staff because of geography. McGwire and his family live in Orange County and McGwire has long emphasized the role his wife and children play in career decisions.
The 12-time All-Star quickly established himself as a credible coaching figure after emerging from a lengthy exile to succeed Hal McRae as hitting coach on Oct. 26, 2009. McGwire previously had declined overtures from the Colorado Rockies regarding a similar position but made the move when encouraged by then-Cardinals manager Tony La Russa and his family.
The Cardinals have boasted one of the game's most prolific offenses since, with numerous younger hitters (Allen Craig, David Freese, Matt Carpenter, etc.) embracing McGwire's philosophies. McGwire's desire to take the Dodgers job is known by several Cardinal players.
The Cardinals have no comment about the situation, as any announcement about McGwire's hire would originate from the Dodgers.
Matheny is believed close to naming a new bullpen coach. Club sources indicate the new man will be promoted from the Cardinals' player development system. Memphis pitching coach Blaise Ilsley is considered a top candidate.