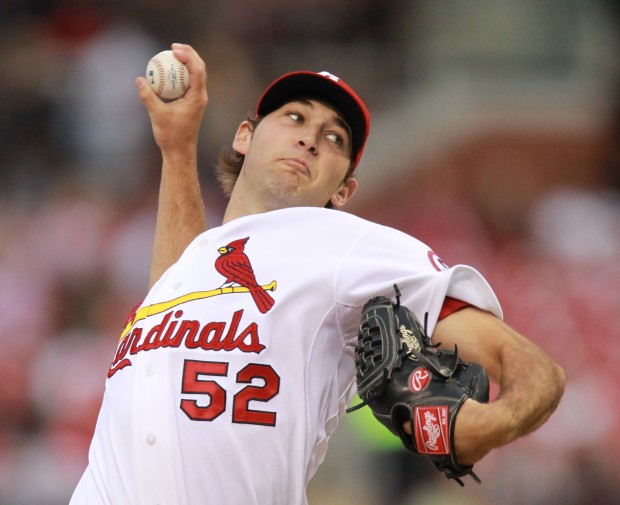 MIAMI • Prized righthanded rookie Michael Wacha was optioned to Memphis this afternoon to make room for Cardinals righthander Jake Westbrook's exit from the disabled list to pitch tonight against the Miami Marlins.
Wacha, the club's No. 1 draft pick last year, was 1-0 with a 4.58 earned run average in three starts, gaining his first win on Tuesday in New York, working six innings and giving up two runs.
Manager Mike Matheny said the decision was made on the team's flight from New York here on Thursday night. One of the things Matheny and pitching coach Derek Lilliquist want to see is for Wacha to throw his fastball more in the bottom of the strike zone, where he can pitch ahead more often in the count, and to develop his breaking ball.
Even though Wacha was impressive over his final five innings on Tuesday, he did throw 37 pitches in the first inning.
"That bottom-of-the-zone fastball is what makes his changeup so good," said Matheny. "It was time for him to go back.
"We knew. . . that we had to really monitor the amount of work he's going to have from here until the end," said Matheny, knowing that is more easily done at the minor league level where the outcome of a game isn't so paramount.
"We don't want to find ourselves in a situation at the end of the year where we find we have a kid we can't use, because he's had too much work. We're trying to be smart about that but also allow him to work on a few things. We forget Wacha was in college a year ago," Matheny said.
"It's a good opportunity for him to go out and to have Tyler (Lyons) jump back in."
Lyons, the only lefthander in the rotation, will make his next start on Sunday. He has won his first two starts and lost his last two.
Righthander Joe Kelly, who made 16 starts last season and one fairly good one some 1O days ago, hasn't pitched since. Matheny said that is the nature of being a "long man," which Kelly is on this staff.
"He's taken his role extremely well," said Matheny. "He understands it and he's ready whenever we need him.
"We're just going to have to find some innings for him but it's impossible to predict what's going to happen the following day or two days. If you stretch him out for an inning or two, and the next day your starter has a little trouble in the third or fourth inning, then you've kind of shot yourself in the foot."
CARDS SIGN 3RD ROUNDER MAYERS
The Cardinals have signed third-round draft pick Mike Mayers of Ole Miss and will assign the righthander to their Gulf Coast League team in Jupiter, Fla. Mayers was 5-6 but with a 2.83 ERA and opponents batted just .227 against him for the season. He is expected to receive slightly more than $500,000.
The club is close to agreements with talented Canadian secondary school shortstop Malik Collymore and Puerto Rican high school outfielder Ricardo Bautista, the team's 10th and 12th round selections. The Cardinals also are hopeful of luring 11th-rounder Steven Farinaro, a highly touted California high school righthander, away from his commitment to UCLA.
All three, notably Farinaro, would cost more than the amount slotted for their draft positions.
The Cardinals have a bonus cap of $6.9 million, which they can't exceed by five percent or risk not only being taxed heavily but potentially losing future picks.
With agreements all but finalized for their top three picks, lefthanded pitchers Marco Gonzales and Rob Kaminsky and shortstop Oscar Mercado, the Cardinals have flexibility basically with only their fourth-round pick, LSU second baseman Mason Katz, who is playing in the College World Series and can't sign until that competition is over.
To help sign Farinaro, the Cardinals likely would try to sign Katz for below the bonus slotted for that round selection, as they did with Mayers.
Gonzalez, Kaminsky and Mercado, among others, are expected to be in St. Louis next week for physicals.