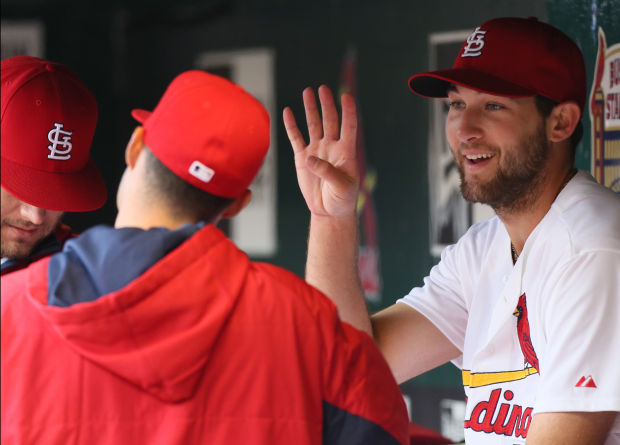 Injured Cardinals righthander Michael Wacha still hasn't been cleared to throw. But general manager John Mozeliak said today that Wacha, who has a stress reaction in his right scapula, has healed to the point that he will "ramp up" his pre-throwing program beginning Tuesday.
The Cardinals hope that Wacha can begin throwing in two weeks.
Wacha underwent both an MRI and CT scan Monday and Mozeliak said the results were encouraging to him.
"This is positive," said Mozeliak. "This still could put him (pitching for the Cardinals) in early September."
Mozeliak said he was more confident that Wacha, one of the Cardinals' postseason linchpins last year, would be able to pitch before the season ended than he was two weeks ago when Wacha began the second two-week period of his total shutdown.
The 23-year-old Wacha last pitched on June 17, when he worked six innings, striking out seven, in a 5-2 win over the New York Mets. He is 5-5 with a 2.79 earned run average in 15 starts.
If Wacha began throwing in two weeks, or early August, Mozeliak said he was told by the medical staff  it would be about three weeks for Wacha to be able to pitch somewhere.
The likelihood then would be that Wacha could get a couple of rehabilitation starts while the minor league teams still were playing and then join the Cardinals when rosters can be expanded after Sept. 1.