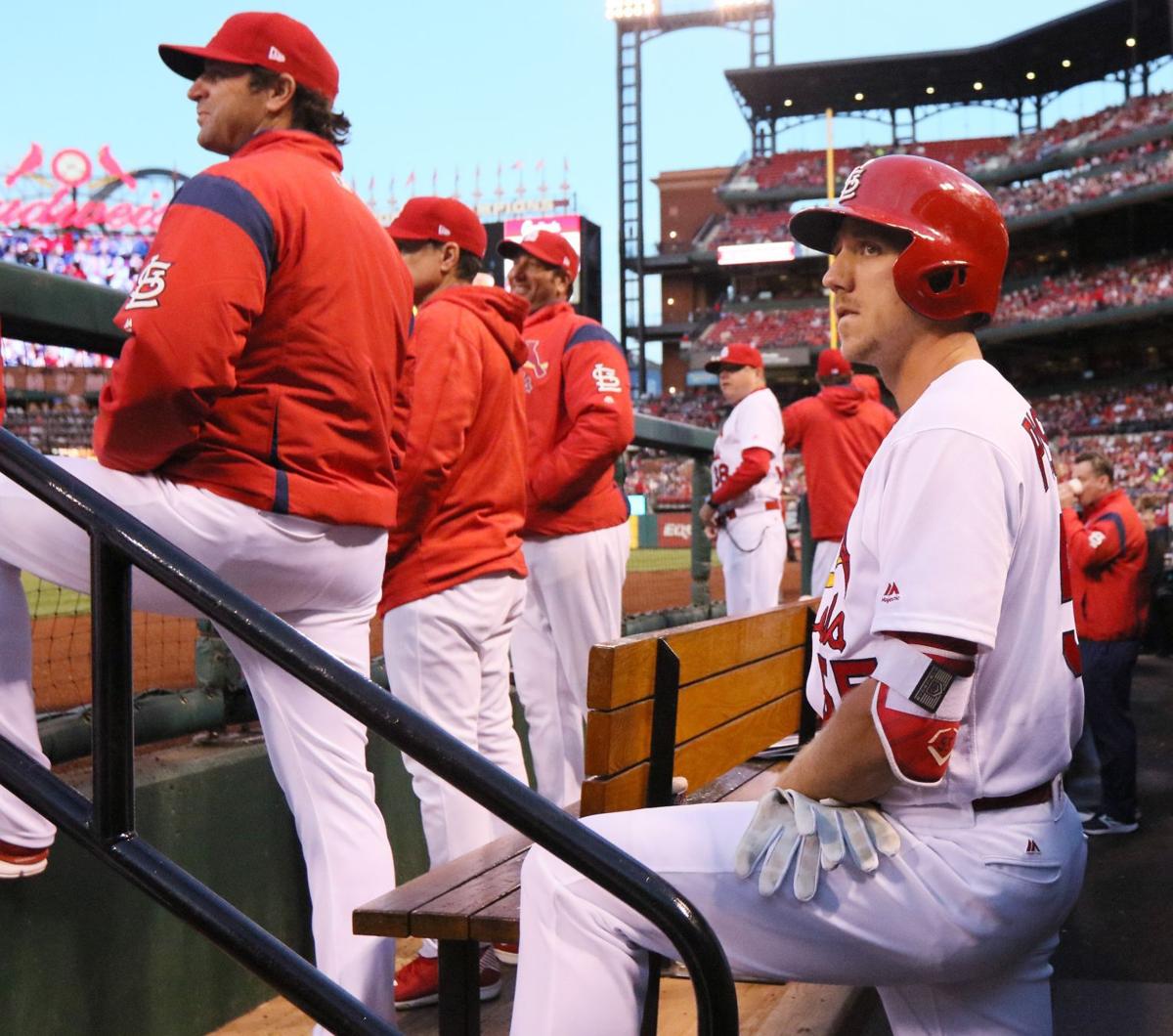 After a Memorial Day weekend with his mother and family in California to "regroup" and "support each other," outfielder Stephen Piscotty returned to the Cardinals' lineup Wednesday and revealed the reason he missed almost a week of games, and who he is playing for now.
His mother, Gretchen, was diagnosed with ALS last week, and he and his siblings sped to Pleasanton, Calif., to be together as her battle begins. Piscotty said they watched several of the Cardinals' games together, beside each other on the couch, and agreed it was time for him to get back to the team.
"I know she enjoys watching me play, so I want to give her that," Piscotty said.
ALS, or Amyotrophic Lateral Sclerosis, is also known as Lou Gehrig's disease, named after the Yankees Hall of Famer who retired as a result of it. The degenerative disease attacks the nerves and muscles and can take away a person's ability to speak, walk, write, and perform other everyday activities, or even breathe. According to the ALS Association, 5 percent of the people with ALS will live another 20 years or more after diagnosis; the average survival is 3 years.
Piscotty told manager Mike Matheny and the Cardinals last week about his mother and the team granted him time away to be with family. He left the team Friday, flying from Colorado to California.
Piscotty's brothers were able to join him in their San Francisco-area hometown.
"It was time to get back and spend time with her," Piscotty said Wednesday. "It just really puts life in perspective. When I got the news it was a little tough to focus, and I felt it was the right decision to go home and Mike was great about making that real easy. I was very thankful for that, especially my mom. It's time to get back to work and get rolling."
The Cardinals offered Piscotty access to any doctors in St. Louis who could help and made available any medical connections that the team has through Major League Baseball.
Teammates also reached out to Piscotty during his absence.
"It's hard sometimes to get away from this," Matheny said. "They need that support, and part of that support is that comfort that it's alright to go. This is life. This is tough stuff. Go home. That's the right place for you to be. Our world revolves around winning for nine months out of the year and we tend to lose sight – or at least compartmentalize and put stuff off to the side on the backburner. That's how most of the guys are wired. But when something like this comes up, that can't happen. You've got to go deal with the tough stuff."
As many as 6,000 Americans are diagnosed with ALS each year, according to the association, and it's believed that as many as 20,000 have the disease at any time.
Piscotty remained on the Cardinals' active roster during his absence because of the rules regarding when and what circumstance a player can be replaced. There are bereavement and paternity allowances for roster moves, such as the one the Cardinals will make this weekend for Jedd Gyorko so that he can be home with his wife and their newborn daughter.
When Piscotty left the team Friday, the club did not disclose the reason for his departure other than saying it was a family matter or a family emergency. The family and the club requested privacy. Gretchen Piscotty, 54, gave her son permission to share her diagnosis. Piscotty flew back from California on Tuesday, and on Wednesday he was back in the lineup and candid with the media about the reason for his absence.
Matheny said it was important to put Piscotty right back in the lineup. He played right field and batted sixth against the Los Angeles Dodgers, going 2 for 3 in the Cardinals' 2-1 victory.
"We actually watched all the games," Piscotty said. "She thought it'd be a fun, weird idea to have me there watching. So we did that. The whole family was able to come back and spend some time and kind of gather ourselves. My mom is very strong. So we're going to be behind her."