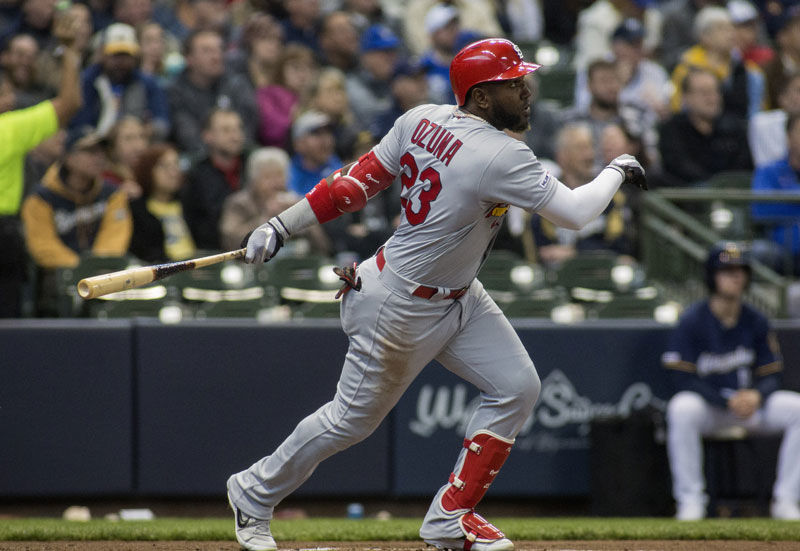 MILWAUKEE • Marcell Ozuna wasn't too far behind his former Miami Marlins teammate Christian Yelich this week in a three-game series. 
The Milwaukee Brewers' Yelich had four homers in the first two games of this three-game set with the Cardinals and eight in his first six games against the Cardinals this year.
But Ozuna hit his third homer in three games in this series and fifth in his past four games when he lined his eighth of the season in the second inning. His homer started the Cardinals on their way to a 6-3 win over Milwaukee in the series finale.
And ... news flash ... Yelich did not have a home run as Michael Wacha (six innings), John Gant, Andrew Miller and Jordan Hicks held the Brewers to just one homer — by reliever Aaron Wilkerson. Yelich did single home a run off Miller in the eighth, giving him 19 RBIs against the Cardinals in seven games this year and 25 in nine games over the last two seasons.
Matt Carpenter walloped his third homer in the fourth inning as the Cardinals touched up starter Corbin Burnes for eight hits and five runs in 3 1/3 innings. That Burnes would allow a home run was not unusual. He has surrendered 11 in 17 2/3 innings this year.
Ozuna, who also homered in four consecutive games for Miami in 2014, has hit all eight of his homers in the Cardinals' past 10 games. With eight homers in the Cardinals' first 18 games, Ozuna is tied for second in Cardinals lore with Stan Musial, Mark McGwire and Scott Rolen. Albert Pujols had 10 in the first 18 games in 2006.
Before the last two weeks or so, though, Ozuna had been the social media target of the venomous tentacle of Cardinal Nation, whether it was because he got too heavy, or that his arm was shot after off-season surgery or that he didn't have any pop in his bat anymore.
For the last of those three, there certainly can be no debate.
"I don't really pay attention to the outside world because it doesn't bring a lot of positives to me," said manager Mike Shildt. "But you could feel it; you could sense it. I've been saying all season that he's going to be a good player and he's on the right track. People don't like be patient in our game. He's back to where he can feel free with what he's doing. He's got his timing back. He's a special guy with a special skill set."
Catcher Matt Wieters, starting his second game for the Cardinals as Yadier Molina got a rare day off, singled twice, driving in two runs, giving him five runs batted in for his first three Cardinals hits. Kolten Wong had three hits, scored twice and drove in a run and Paul DeJong had four hits and drove in a run.
Wacha allowed just five hits and two runs and struck out seven in six official innings. Gant got a double play and a strikeout in the seventh. Miller allowed several hard-hit balls in the eighth although second baseman Wong saved a hit by snaring Yasmani Grandal's smash to his left.
Hicks, pitching for only the second time in 10 days, nailed down his fourth save in five tries with a scoreless ninth after walking the leadoff man when his fastball was jumping all over he 
Shildt had praise for many of his players, but, especially Wacha, who never hast lost to the Brewers in six decisions and who gained his first win overall since last June 9 before he went out with a strained oblique muscle..
Wacha's string of 12 starts against the Brewers from the beginning of his career without ever having lost to them is the longest of any active pitcher.
"His work today spoke for itself," said Shildt. "Michael Wacha was the art of pitching today. He established his fastball and established his secondary pitches. He had a great changeup today and he threw in appropriately."
Wacha worked inside on Yelich, with one pitch up and in although Wacha said not to read anything into that. But Shildt said, "We didn't control that part of the plate for most of this series but (Wacha) did today."
BREWERS' PITCHERS GET THEIR HACKS
When Yelich hasn't been tormenting the Cardinals in this series, and he hasn't, so far, on Wednesday, the Brewers' pitchers have had their hacks.
Brandon Woodruff doubled in each of the first two games of the series, once as a pinch hitter. And then reliever Aaron Wilkerson's first major league hit was a two-run, two-out homer off Wacha in the fifth to cut the Cardinals' lead to 5-2.
BADER GOES ON INJURED LIST; THOMAS RECALLED
Harrison Bader's right hamstring strain hasn't improved to the point where he is ready to play yet, so the Cardinals' center fielder was placed on the 10-day injured list Wednesday, retroactive to April 14, the day after Bader was hurt when his cleats caught in the artificial turf in Monterrey, Mexico.
Outfielder Lane Thomas, hitting .229 with no homers and five runs batted in at Memphis, was recalled from that Class AAA team.
Former center fielder Dexter Fowler, who moved to right field last year, will be back in center Wednesday and Jose Martinez in right field. Thomas, on the 40-man roster, began spring training going three for three but soon thereafter suffered an oblique strain which got him a trip back to the minor-league complex.
Bader will be eligible to come off the IL next Wednesday at home against the Milwaukee Brewers, whom the Cardinals will contest this afternoon behind Michael Wacha. Matt Wieters will make his second start behind the plate for the Cardinals, with the first one also handling Wacha.
Milwaukee, which has out-homered the Cardinals 16-13 in six games at Miller Park this year, has won five of the six meetings.
SHILDT WON'T 'BRUISE' YELICH
The main hitter, of course, has been Christian Yelich, who has eight of those 16 home runs and manager Mike Shildt admitted Wednesday morning that the Cardinals hadn't been successful in pitching inside to Yelich.
"Probably not," Shildt said when asked if his pitchers had worked inside enough to the reigning National League most valuable player.
"I can't tell you we're not trying. We just haven't been able to do it, for whatever reason. We haven't been able to get in there. But we're not going to throw at anybody because they're good. I'm not going to bruise him because the guy's got talent. We've got to be better.
"That being said, we've got to throw inside effectively. The inside part of the plate is a territory and right now, he owns that territory. We haven't established it. We've got to be able to throw in and throw in for effect. They've done it with Goldy (Paul Goldschmidt).
"I take exception with the location (to Goldschmidt) — being up a little bit. The reality is that they're pitching. They're defending their territory. That's the game. And we haven't been defending our territory well enough."
The Cardinals have allowed two or more homers in six consecutive games, the most games that has happened since 2003 when the Cardinals surrendered multiple home runs in seven games in a row.
CARDINALS' LINEUP
MILWAUKEE LINEUP
---