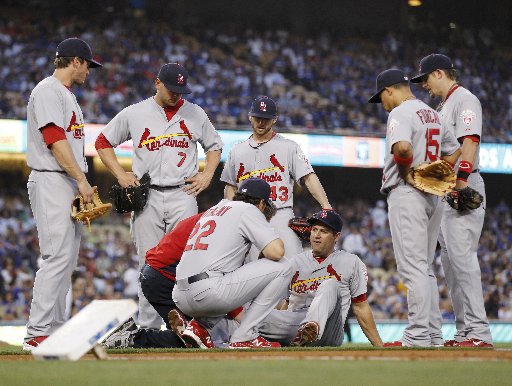 The good news, if it counts as that, is that Cardinals first baseman Lance Berkman doesn't have a torn anterior cruciate ligament.
But it may be badly stretched, which would lead to the same outcome as a tear.
The Cardinals announced Monday afternoon that Berkman suffers from severely torn meniscus and torn cartilage in his right knee. Berkman is scheduled for surgery no later than this Friday in Vail, Colo. Berkman, 36, estimated he would be sidelined at least through the All-Star break while refusing to rule out the possibility of a season-ending replacement of the ligament.
Shortly after general manager John Mozeliak voiced cautious optimism that a Monday afternoon magnetic resonance imaging failed to discover a torn ligament, Berkman appeared on crutches in the Cardinal clubhouse to say he still believes it very possible that the ligament is badly compromised.
"I don't think anybody can answer that at this point," Berkman said. "It's something that has to be evaluated. It's going to really helpful to go in there with a scope and look at it."
Monday's examination found damaged cartilage as well as meniscus shredded on both the inside and outside of Berkman's knee. An MRI is often insufficient to determine the amount of stretch within a ligament, which is why neither the club nor Berkman ruled out the possibility of a season-ending procedure later this week.
Berkman cited the routine movement that brought on Saturday's collapse at Dodger Stadium as cause for heightened concern. Berkman already underwent an ACL repair on the knee in 2006 and was aware of a sliding sensation within the joint well before it gave out during Saturday's second inning. He also acknowledged discovery of torn meniscus during a February team physical.
"All the information I'm getting plus what I felt leads me to believe there is an issue with the ACL. I'm hoping that's not the case but I'm not sure that's the case," Berkman said.
Berkman projected he would miss at least 6-8 weeks if this week's procedure is confined to addressing the meniscus and shaving torn cartilage. Any procedure involving the ACL will mean his loss for the rest of the season.
Berkman will remain in Vail for about a week after the procedure. 
"In my heart, this is exactly what I thought they would find at a minimum," he said. "I'm not putting the cart before the horse. I'm going to defer to (the specialists') wisdom. It would be premature to write or report there's a problem with the ACL until we know for sure. The question is ... is it stable enough to do what you need it to do or not?
Berkman has required four knee surgeries during his career. His previous ACL replacement required a six-month rehab.
Mozeliak described his posture as "hopeful and optimistic." While confirming no ligament tear, Mozeliak could not dismiss the possibility that Berkman requires something more serious than meniscus and cartilage damage.
Several Dodger team doctors examined Berkman after he had to be helped off the field Saturday night. Berkman said the doctors agreed there was no complete tear of the ligament but at least one noticed significantly more play within his right than the left.
"Mentally, you have to be ready to take on whatever comes," said Berkman, who must decide before the procedure whether he wants part of his hamstring or a cadaver to serve as the surrogate for his stretched ligament. The patellar tendon, typically the first option for transplant, was used in Berkman's prior ACL surgery.
"You certainly think if I have to have my ACL repaired, I might be done playing," Berkman said. "It's a tough deal. It's a very significant injury and it's very tough to come back from it."