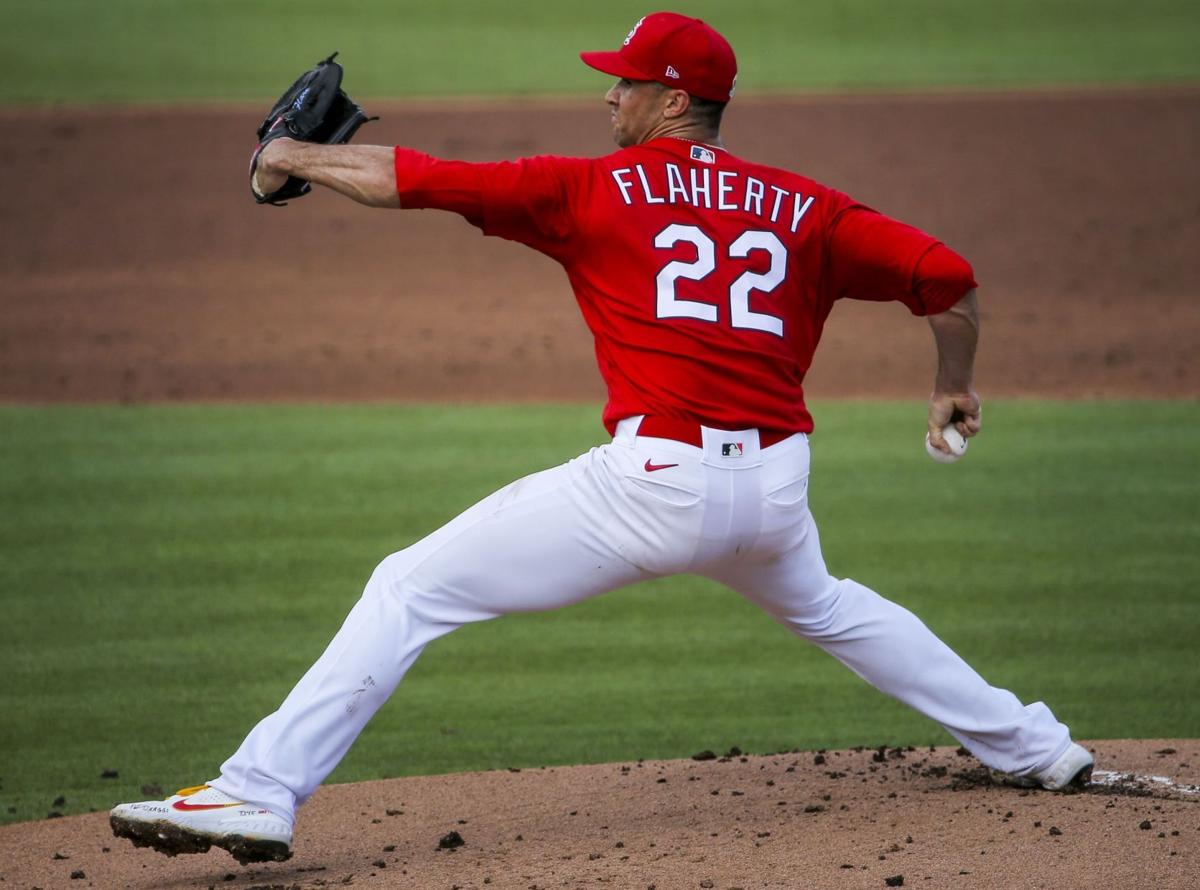 JUPITER, Fla.—Jack Flaherty, who had two spring training starts left before he opens the season in Cincinnati on April 1, knocked off four innings of one-hit shutout ball against the Miami Marlins on Monday. But, in the fifth, nearly everything went awry. 
Flaherty fired a ball over first base and into the outfield, first baseman Matt Carpenter bobbled a throw and then threw poorly to the plate and Flaherty allowed a home run to Peyton Burdick besides wild-pitching another run home. 
Suddenly, it was a four-run inning on the way to a 7-2 Miami win. And once Flaherty got to 90 pitches in the sixth, he was removed although center fielder Harrison Bader, from his vantage point, thought Flaherty looked "nasty." And manager Mike Shildt called Flaherty's body of work (minus the fielding) "fantastic."
Flaherty, who may face the Marlins again for a few innings on Saturday besides an almost certain start against them on April 7 during the regular season in Miami, was opposed by former Cardinals prospect Sandy Alcantara, an All-Star a couple of years ago and who will be Miami's first-game starter for the second season in succession, as will Flaherty.
Alcantara, who went 4 2/3 innings, was touched up only by Dylan Carlson, who continued his hot hitting with a home run in the second and a run-scoring single in the fourth. 
Cardinals lefthander Tyler Webb tossed 1 2/3 scoreless innings but Giovanny Gallegos was roughed up for thee runs in the eighth before being lifted. 
Before the game, lefthander Kwang Hyun Kim faced Cardinals hitters for a couple of innings in a simulated game on the back fields at the Cardinals' complex.
Shildt said that if Kim, whose spring work was stalled for a bit by a balky back, recovered well from this outing, his next action likely would be in a Grapefruit League game. The Cardinals will have six remaining after Monday.
Shildt said in the morning that Carlson, normally the right fielder, would see action in center sometime in the next few days. Center fielder Harrison Bader, who missed a week with forearm soreness, is hitting just .107 on three for 28 and Shildt would like to see more of Dean, Lane Thomas and Justin Williams in the outfield before making the determination of his 26-man roster, or even starting lineup.
Shildt said the club still was pondering whether to keep 13 or 14 pitchers on a 26-man roster, meaning that there could be only four extra position players if 14 pitchers are kept.