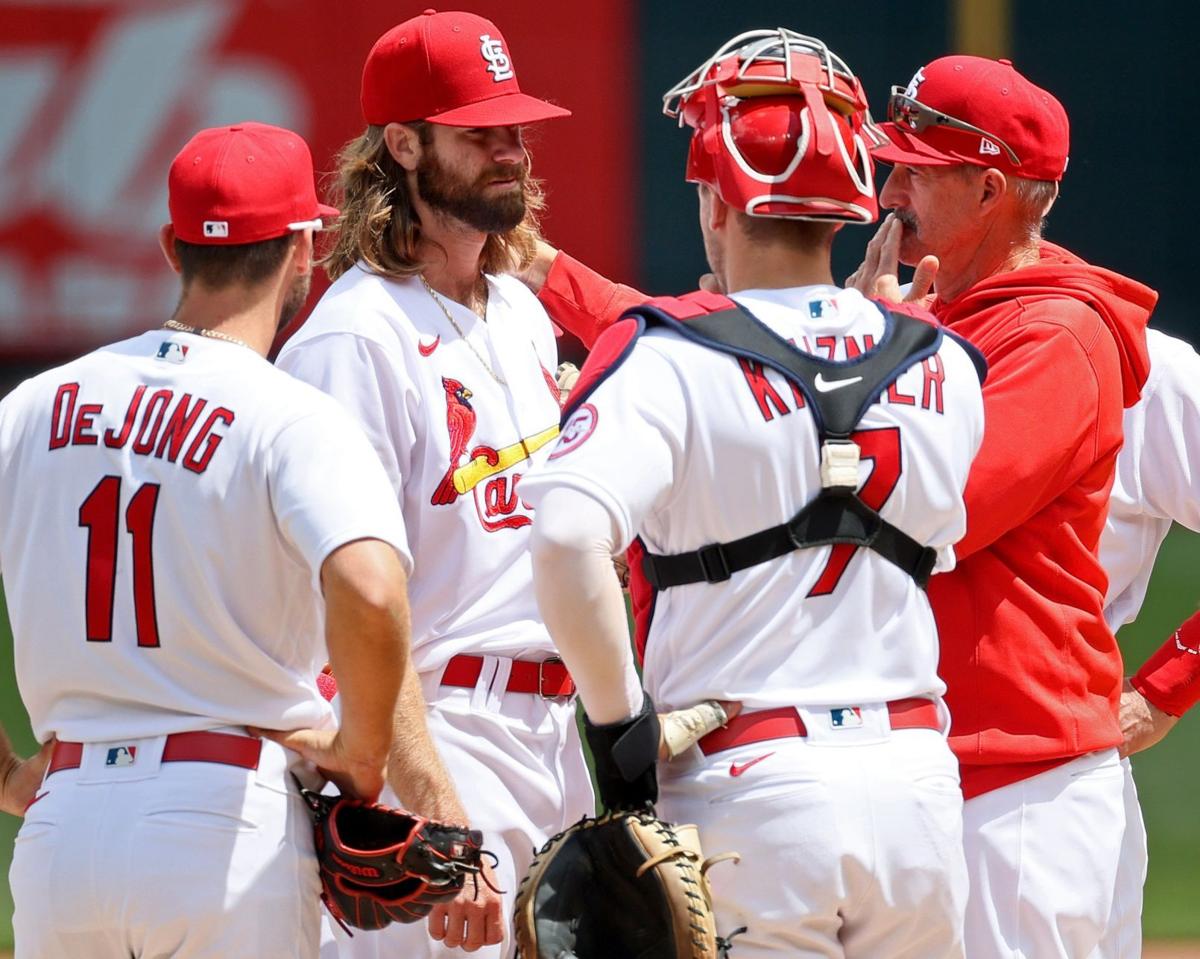 MILWAUKEE — Having walked five or more men in six or fewer innings in three of his previous four starts, Cardinals righthander John Gant is aware he needs to be more strike-conscious Wednesday night as he goes up against Milwaukee ace righthander Brandon Woodruff.
Gant has passed 24 men in 29 1/3 innings even though his earned run average is a tidy 2.15 in a 2-3 season. But Woodruff in his past six starts has an ERA of 1.19, giving up just 15 hits in 37 2/3 innings. Opponents are hitting .120 against him (15 for 125).
Woodruff, meanwhile is not an out himself, hitting .213 for his career with a home run in the regular season and one in the postseason off Los Angeles' Clayton Kershaw, who rarely has allowed home runs to lefthanded hitters, especially lefthanded-batting pitchers.
The Cardinals have hit 207 homers at Miller Park/American Family Field since 2001, tops among visiting teams, with catcher Yadier Molina's 18 ranking fourth among visiting sluggers.
Third baseman Nolan Arenado has the highest career average here for at least 80 plate appearances at .384 and first baseman Paul Goldschmidt, who has 14 homers in 40 games here, is second in average at .372. Arenado also is first in OPS at 1.253 and Goldschmidt third at 1,196 with Barry Bonds in the middle.
Reyes is on 85-inning pace
On Tuesday, in an 11-inning, 6-1 win, the Cardinals employed both Alex Reyes and Giovanny Gallegos, their most prominent late-inning relievers, for two innings apiece, making them both unlikely to pitch on Wednesday although manager Mike Shildt said they would play catch before the game and report how they felt.
When the number of innings Reyes might pitch this year was considered before the season, one number offered by the front office was no more than 100. Now that it appears that Reyes will be in the bullpen as the closer for most of the season, at least, Shildt said, "I think 80 innings to 100 innings is going to get this done. I don't feel like there's a push to get him to 100."
At 19 innings pitched while appearing in 17 of the club's first 36 games, Reyes is on pace for 85 innings over 76 games, which is a hefty number for a closer. Reyes has 10 saves in 10 tries to go with a 2-0 won-lost mark and an 0.47 earned run average 
"We want him to be able to get a certain amount of work in, but also the balance of making sure he's healthy," said Shildt. Reyes, who joined the Cardinals in the second half f the 2016 season, never has had a full season in the majors, owing to injury and surgery.  
Mikolas will start again Sunday for Memphis
Righthander Miles Mikolas, recovering from a spring training shoulder problem, allowed three runs in four innings in a rehabilitation start at Nashville Tuesday but all the runs came in the first inning. Mikolas walked nobody and fanned five, which Shildt said was "typical" of the control-minded Mikolas.
The Cardinals announced that single-game tickets for home series with Cincinnati on June 3-6 and with Cleveland on June 8-9 will go on sale to the general public Friday, beginning at noon.
On Tuesday, the Cardinals received word from the City of St. Louis that the new capacity at Busch Stadium could be doubled to nearly 30,000 by a weekend from now when the Chicago Cubs are in town. Tickets can be purchased online at cardinals.com and via phone at 314-345-9000.