The Post-Dispatch is publishing a weeklong series on the storied careers of Cardinals Albert Pujols and Yadier Molina as their final regular season in St. Louis comes to a close. Pick up the print edition on Sunday, Oct. 2.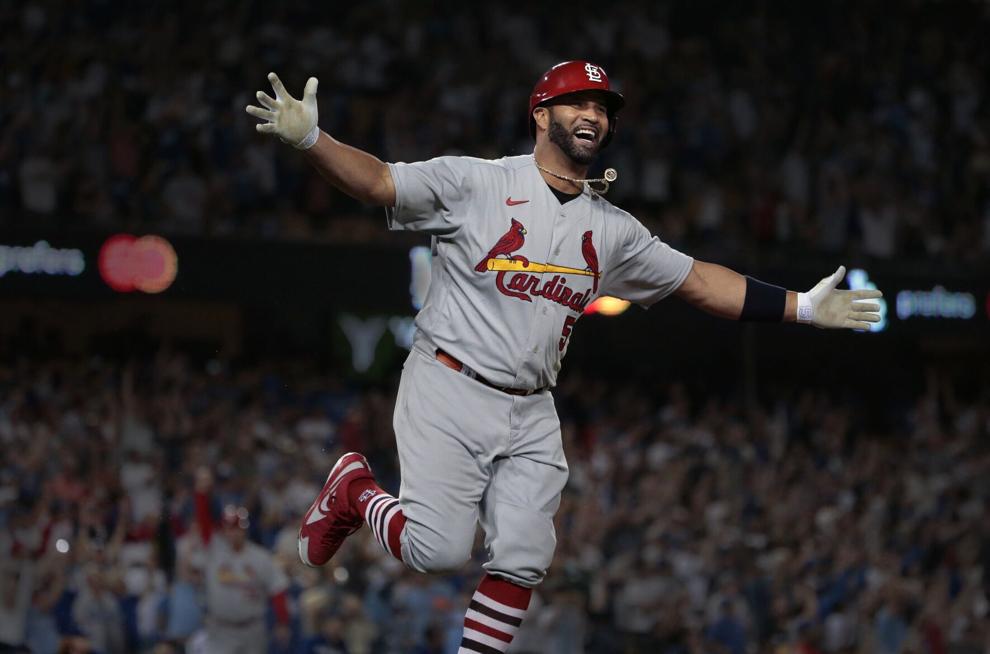 Sept. 23, 2022: In the space of two innings, against two different Los Angeles Dodgers pitchers, Pujols clubbed his 699th and 700th career homers at Dodger Stadium. Fittingly, the number of runs he drove in with a two-run home run and then three-run shot was five, matching the uniform number he wore throughout his Cardinals career and which will be worn by no other Cardinal.
When Pujols got to 700 off a slider from right-handed reliever Phil Bickford in the fourth inning of an 11-0 Cardinals win, it made him the fourth player to reach 700 behind Barry Bonds (762), Henry Aaron (755) and Babe Ruth (714). But it made him only the second player in history to have at least 3,000 hits and 700 home runs, with Aaron being the other.
You would receive little argument that Aaron and Pujols were the best right-handed hitters in the past 75 years.
From a symmetry standpoint, is makes sense that No. 5's mountain-scaling homer was the 500th of his career against a right-handed pitcher. At that point, he had an even 200 against left-handers.
"When it really is going to hit me is when I'm done at the end of the season and I'm retired, and a month or two after that and I can look back at the numbers," Pujols said after the game.
"Don't get me wrong. I know where I stand in this game, but since day one, it was never about the numbers. It was always about winning championships and getting better in the game."
A paid house of 50,841 was on hand at Dodger Stadium, where Pujols resuscitated his career last year after being let go by the neighboring Los Angels midway through 2021.
"It was pretty special to do it with the Dodgers fans here," he said. By hitting his 699th and 700th in the same game, Pujols matched his feat of hitting his 499th and 500th career homers in the same game at Washington in 2014.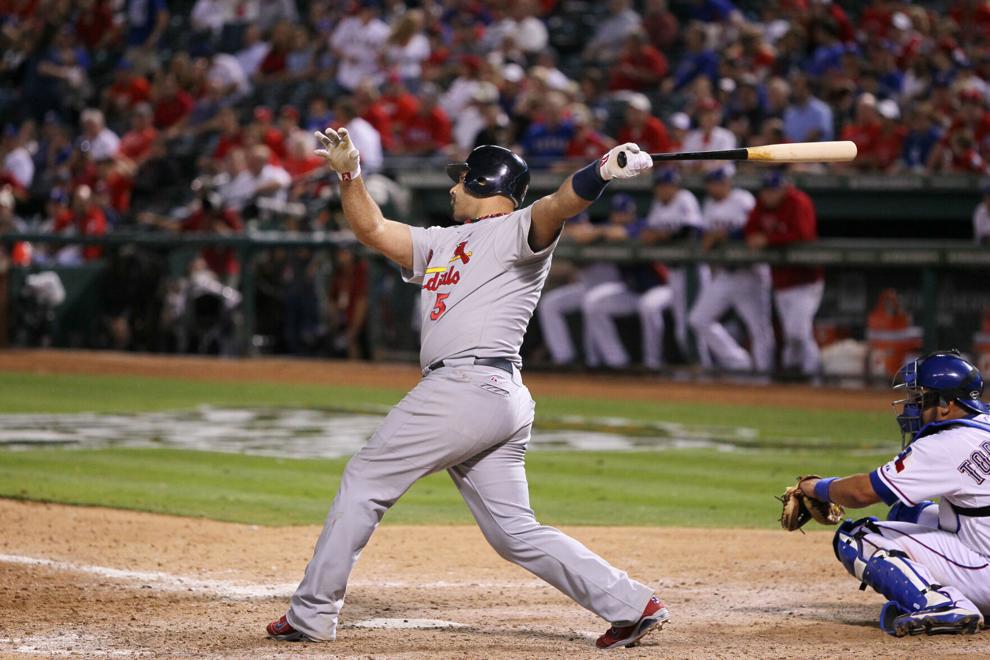 Oct. 22, 2011: Pujols hit a record-tying three homers in a World Series. In Game 3 of the Cardinals-Texas Rangers series in Arlington, Texas, Pujols homered three times from the sixth inning on to spark a 16-7 Cardinals win, the last time they would lead in the Series until the climactic Game 7.
Pujols tied Reggie Jackson and Ruth (who had two such games) as the only players to accomplish this feat in a World Series game, although San Francisco's Pablo Sandoval did it a year a later.
"He's better than Babe Ruth and Reggie Jackson combined," teammate Lance Berkman told reporters after the game.
"Show me (a game) that was better," manager Tony La Russa said. "That would be hard to do. . . . He's been great for a long time, but this has got to be the greatest."
Pujols hit a three-run shot off Alexei Ogando in the sixth, a two-run drive off left-hander Mike Gonzalez in the seventh and a solo homer off former Cardinals left-hander Darren Oliver in the ninth. Pujols also had two singles and scored four runs besides driving in six with his home runs.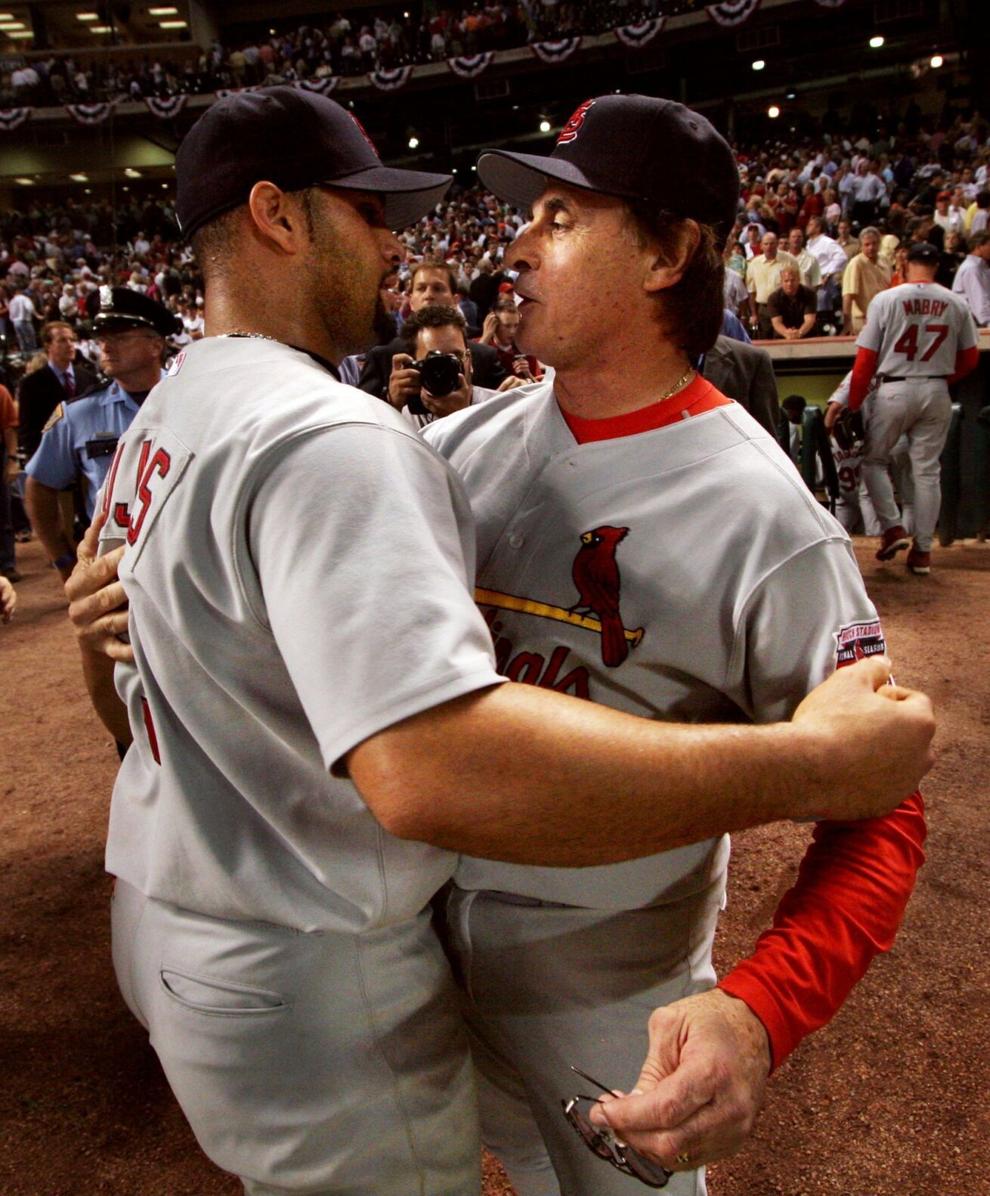 Pujols is in another galaxy
Oct. 17, 2005: Pujols also has been magical across the state in Texas at Houston's Minute Maid Park. In Game 5 of the National League championship series, the Cardinals were two runs down and down to their final out when Pujols connected for a three-run homer off Brad Lidge in the ninth inning to turn a 4-2 deficit into a 5-4 lead which the Cardinals held onto to force a Game 6 in St. Louis, which they lost.
David Eckstein singled with two out and Jim Edmonds walked before Pujols launched a massive homer which hit a window above the train tracks behind the left-center-field wall.
On the Astros' return flight to St. Louis, catcher Brad Ausmus, who called the pitch, was reported to have taken control of the microphone and said, "If you look out the left side of the plane, you'll see Albert's home run. It is orbiting the earth."
The home run, which came on an 0-1 pitch, was measured at 455 feet, which seemed a conservative estimate.
Berkman, on the other side in this game, had hit a three-run homer off Cardinals ace Chris Carpenter in the seventh to give the Astros the 4-2 lead. Until the home run, Pujols had been nothing for four with a strikeout. But Eckstein and Edmonds got him to the plate one more time.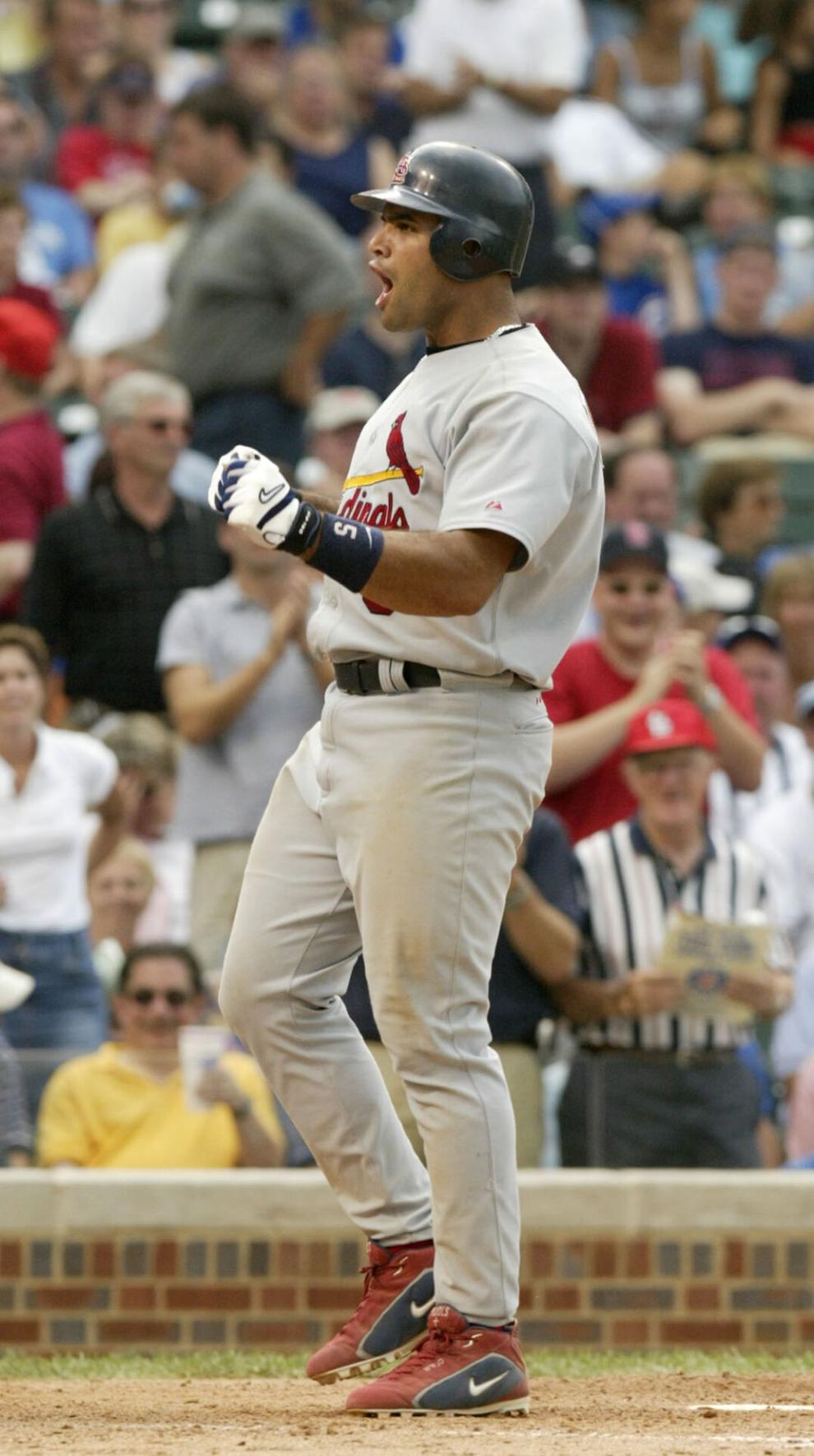 It's never over at Wrigley
July 20, 2004: The Chicago Cubs had an 8-2 lead entering the sixth inning of the teams' final meeting of the season. But this Cardinals team was headed for the National League pennant and Pujols helped them stretch their division lead to 10 games over the Cubs in an 11-8 comeback victory.
So Taguchi tied the game with a homer off Kyle Farnsworth in the eighth after Pujols had brought the Cardinals to just one run down with a homer, his second of the day, in the seventh.
Pujols then hit a two-run homer off Farnsworth in the ninth to break the tie, followed by a homer by Reggie Sanders.
"I guess, at this point," said Cubs manager Dusty Baker, "it looks like we'd rather not play them any more."
Pujols was five for five with five RBIs. "It's one of those days you never forget," he said.
The Cardinals would win 105 games in 2004 as they got to the World Series for the first time since 1987. Pujols would finish with 46 homers.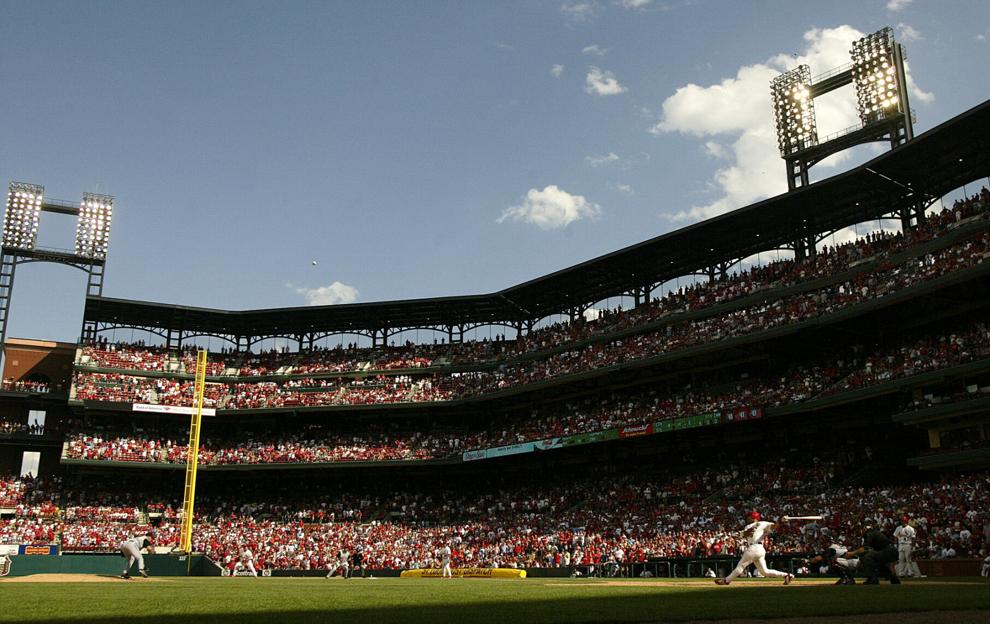 April 16, 2006: Pujols christened two-week-old Busch Stadium III with a three-homer, walk-off performance in an 8-7 win over Cincinnati, driving in five runs in the process.
His two-run blast off reliever David Weathers came on a 1-2 pitch and traveled 441 feet to left field. Scoring ahead of him was pitcher Jason Marquis, who pinch hit a single while batting for winner Braden Looper.
"This is one where you'll be lost for words," La Russa said. "No thoughts, no description of the game. … I'm at a loss to describe it, man. There's a new memory for new Busch. … It'll be tough to top that one."
Starting pitcher Mark Mulder said, "You're watching all this happen and you're asking what else is (Pujols) going to do, hit another one? "And that's exactly what he does."
Just before he crossed the plate and was mobbed by his teammates, Pujols did a brief dance.
"Hey, you hit a walk-off homer, you get to do whatever you want," Pujols said. "You need to be excited about it and you don't get too many of those, so you need to enjoy them when they come."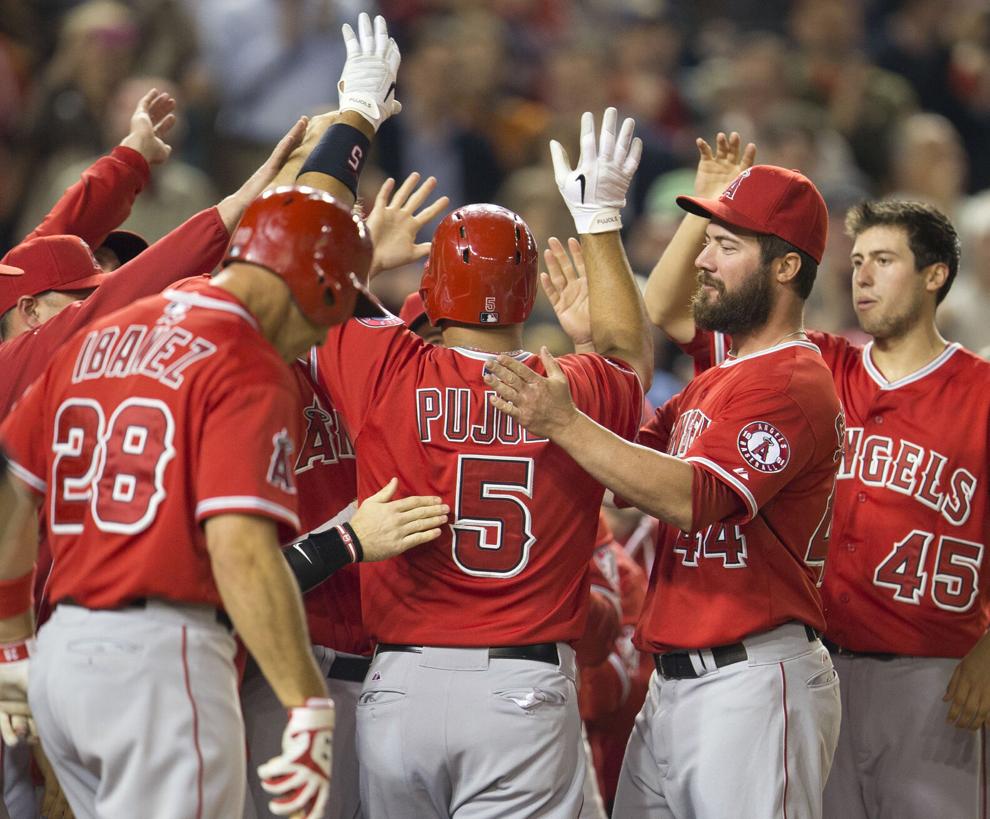 He's a hit in the nation's capital
April 22, 2014: Pujols hit his 500th career home run, where he had his 400th homer, Nationals Park in Washington. And he had called his shot before the game.
"I took my 0-for-5 yesterday," he said to a teammate and a broadcaster, "and I'm going to hit two out today."
Angels star Mike Trout said. "If he tells you something, he's gonna do it."
And he did. Pujols homered twice in the Angels' 7-2 victory over the Nationals, becoming the 26th member of the 500-home run club and the first player to hit Nos. 499 and 500 on the same day, just as he said he would.
The 400th homer came on Aug. 26, 2010 when Pujols still was with the Cardinals. Third baseman David Freese was there for both as a Cardinals and then Angels teammate.
"Starting in '01, being a kid in high school, watching him play a little third base, a little left field, amazing to think that years down the road I'd be able to witness such a special time in history, in person, wearing the same jersey," said St. Louisan Freese.
"I had a good feeling that it was going to be a special day," Pujols said. "Sometimes, as a player, as an athlete, you just have a feeling."
After No. 500, Puols received his first curtain call on the road.
"It's just the beginning," said Trout." He has a bunch of years left."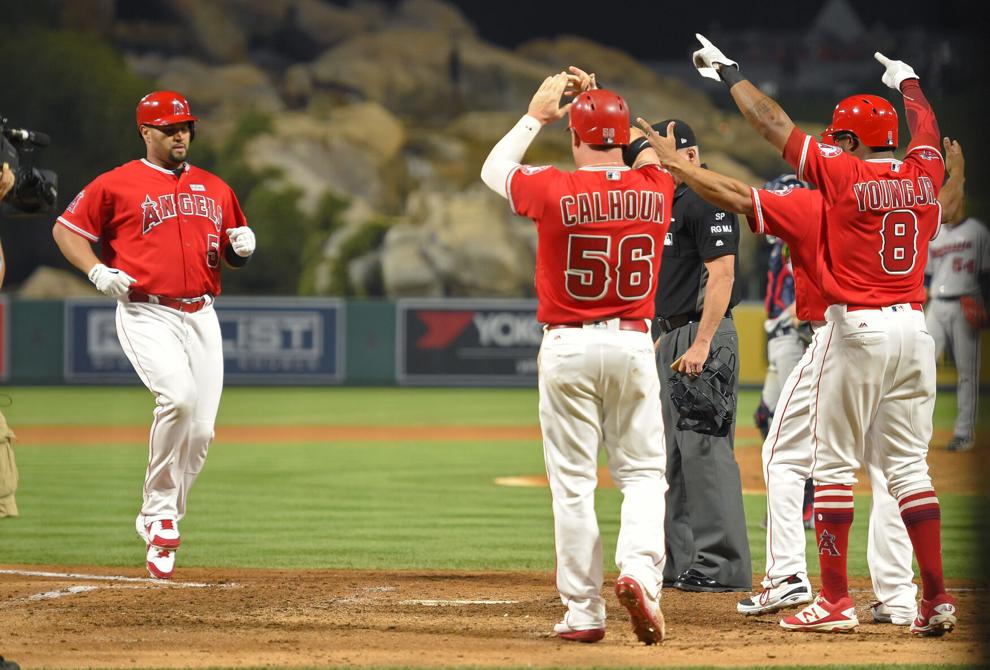 June 3, 2017: Pujols became the ninth member of the 600-homer club — he still is the ninth member — but the first to join the club by hitting a grand slam, which he did at Anaheim, California for the Angels against Minnesota right-hander Ervin Santana.
Since that day, he has passed five members of that club — Sammy Sosa, Jim Thome, Ken Griffey Jr., Willie Mays and Alex Rodriguez to rank fourth all-time and belong to a different club, the 700-homer club.
"It's a pretty special feeling," Pujols said that day in Anaheim. "You look at all the players that come through the league, to play so long to be No. 9 — it's pretty special."
Pujols had gone 16 at-bats without a home run before No. 600.
"It's an honor and privilege to be named in the same list and same sentence with those guys, but I really try to stay focused on my goal, and that's to go and be the best teammate I can be," he said. " And hopefully, help this organization to win. That's the truth."
Alas, the Angels never did win during Pujols' nearly 10-season tenure there.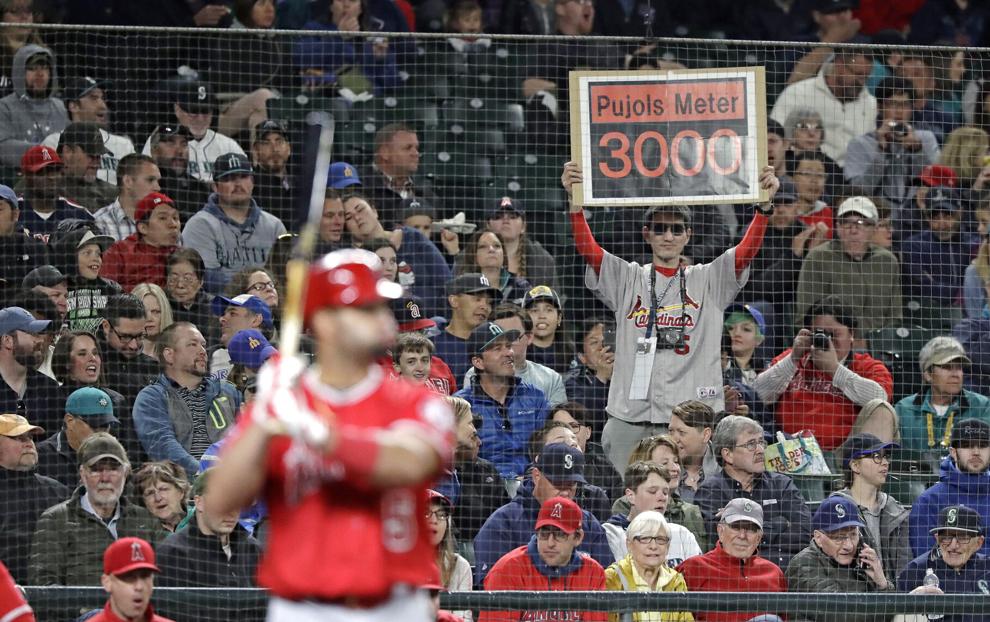 May 4, 2018: Pujols lofted a soft single to right field against former Cardinal Mike Leake in the fifth inning to become only the fourth player to have 3,000 hits and 600 home runs. The others are Aaron, Mays and Rodriguez.
"It was fun that it turned into a little bit of a battle before he got a hit. Congratulations to him," Leake said. "He's a competitor at every second that he's on the field. He's been a joy to watch and a joy to compete against, for sure."
Pujols said, "I'm aware of the legacy and the people that I am on the same page (with) right now. But at the end of the day, it's about winning a championship. Nothing would be more special than in September and October and playing in the playoffs and bringing a championship back to the city of Anaheim."
Again, that was never close to happening. The Angels did not win so much as a playoff game while Pujols was with them, no matter how many milestones he achieved.
By contrast, the Cardinals made the playoffs eight times in Pujols' 11 initial seasons with them and are headed for another appearance this year. He has played in three World Series, winning two, in 2006 and 2011. On two other occasions the Cardinals advanced to the National League championship series with Pujols as their leader.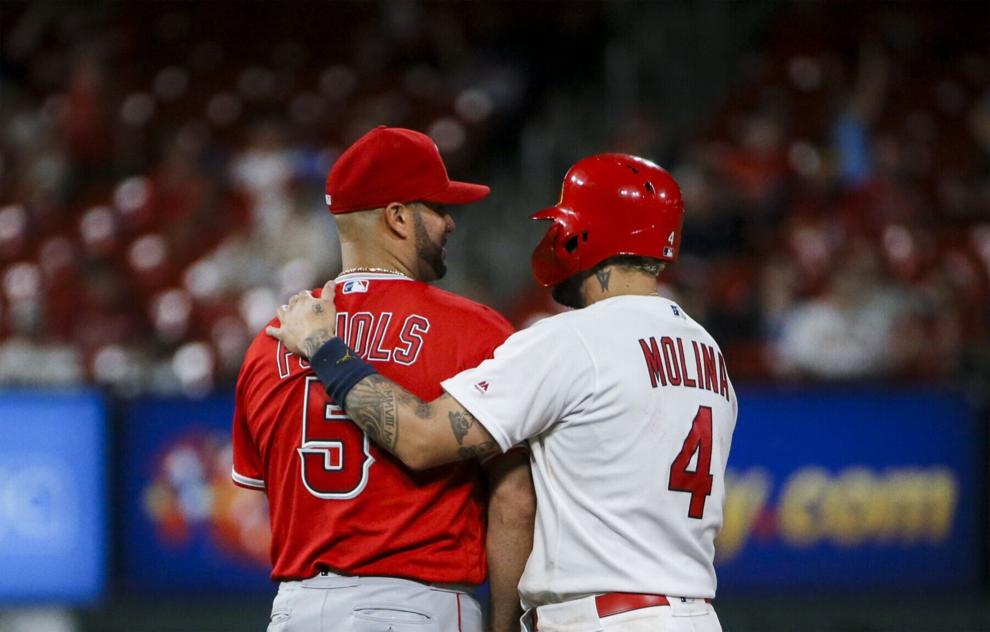 June 22, 2019: In his first series in St. Louis since 2011, Pujols homered off Cardinals starter Dakota Hudson in the seventh inning of a game the Angels would lose to the Cardinals, 4-2.
As the ball came down in the cap of an Angels reliever in the Busch Stadium bullpen, the sellout crowd roared and demanded a curtain call. They got it.
"I'm trying to go around the bases and get to the plate and get to the dugout and hold everything in," Pujols said. "It was hard."
Angels manager Ausmus, who had been on the receiving end of many Pujols home runs as a Houston catcher, said, "Cardinals fans got what they wanted today. They got a win and an Albert home run."
Pujols said, "Too bad we lost the game, but to do something special for the fans, it's amazing. This is a moment I will treasure forever."
Hudson, who had pitched six scoreless innings and had retired 11 men in succession before Pujols homered, didn't mind being the party of the second part.
"The guy deserves that ovation," Hudson said. "It was a lot of fun just being able to go out there and face him."
St. Louis manager Mike Shildt enjoyed the atmosphere, too.
"What a special moment for him," Shildt said. "And the whole stadium and really Cardinal Nation. He's an icon and a living legend."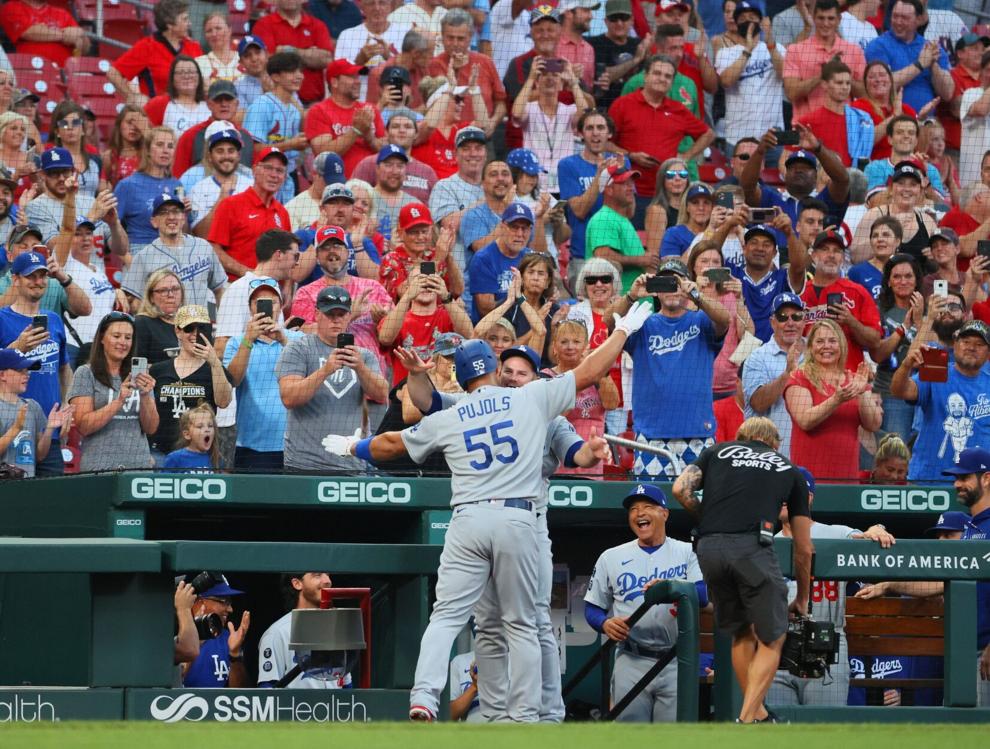 Sept. 7, 2021: Pujols, in his second return to Busch Stadium as a member of a Los Angeles team — this time the Dodgers — homered in the first inning against Cardinals left-hander J.A. Happ in a 7-2 Dodgers victory.
"It's always pretty special anytime you can come over here in St. Louis with the history that I have here with the fans," Pujols said. "It was really a great moment, once again, and to be able to deliver like that in the first at-bat was huge.
"I really appreciated my time here; it was great memories and that's something that I'll always share with these fans and this city."
Pujols hit 13 of his 17 homers last season off left-handers.
"Anytime he hits a homer, you're watching history happen," said Dodgers third baseman Justin Turner. "For him to do it here in St. Louis, it's extra special. St. Louis has a really special place in his heart and that was pretty cool for everyone in the stadium, not just Albert."
Dodgers manager Dave Roberts said, "Storybook. I'm a big believer that the game honors you, and the way Albert has played the game for so long and the right way, that's the way it was supposed to work out."
It worked out for the Cardinals, too. After this loss, they won 19 of 20 games, including 17 in succession, to roar into the postseason, where they lost to the Dodgers in a one-game, wild-card playoff.