The Post-Dispatch is publishing a weeklong series on the storied careers of Cardinals Albert Pujols and Yadier Molina as their final regular season in St. Louis comes to a close. Pick up the print edition on Sunday, Oct. 2.
Home run sends Cardinals to World Series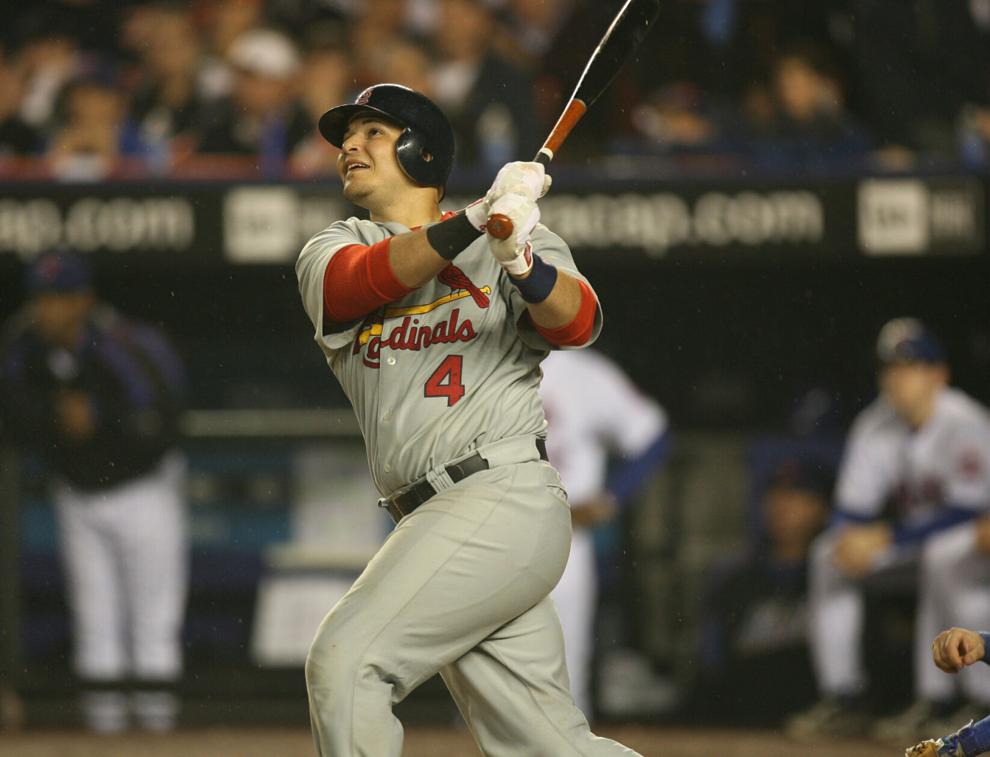 Oct. 19, 2006: Yadier Molina, who hit just .216 during the season, cracked a two-run, tiebreaking homer off the New York Mets' Aaron Heilman in the ninth inning of Game 7 in the National League championship series to put the Cardinals ahead in what would be a 3-1 win over the Mets, sending the Cardinals to the World Series. They would beat Detroit much more easily in five games.
Molina, in his second full season as the Cardinals' starting catcher, came of age offensively in this series, driving in six runs and hitting two homers in the seven games.
"It was definitely one of those pitches where as soon as I threw it, that's not where I wanted it to go," Heilman said. "I knew it was up. Usually when your off-speed pitches are up, it's not a good thing."
"It just seemed like an eternity for him to round the bases," third baseman David Wright said of Molina.
But the game wasn't over yet. Molina had to shepherd rookie closer Adam Wainwright through a minefield in the bottom of the inning.
The Mets loaded the bases with two out and Carlos Beltran, later a Cardinals teammate of both Molina and Wainwright, at the plate. Molina stunningly called for a changeup on strike one and Beltran, fooled, took it. At 0-2 Molina surprised Beltran again by calling for a second consecutive curveball after Beltran had fouled off the first one. Again, Beltran couldn't pull the trigger and the Cardinals were on their way to the World Series.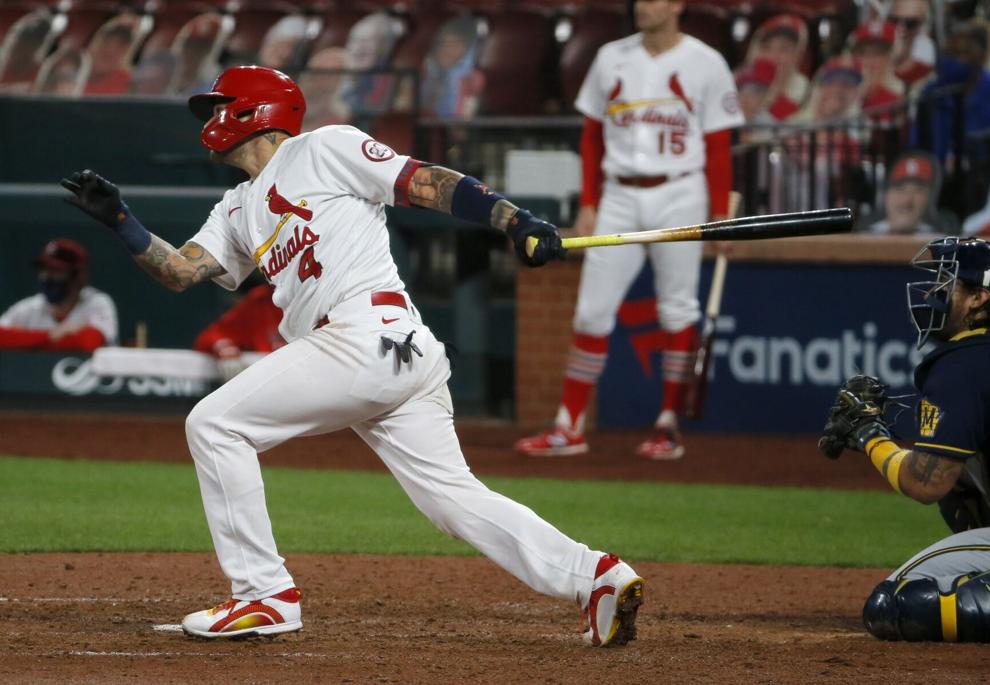 He's in the 2,000 hit club
Sept. 24, 2020: Seen primarily as a defensive catcher in his storied career, Molina put his career in a different perspective with a seventh-inning single against the Milwaukee Brewers.
But, since there were no fans during the COVID-shortened 2020 season, the only standing ovation accorded was by his teammates in the dugout.
"Probably one of the biggest games where we missed not having a crowd," said manager Mike Shildt, "because you know what the crowd would have been like. So we gave him a standing ovation. It was just a fun moment. A moment to pause and honor a great accomplishment for a great player."
Molina said, "When I came up I was focused on my defense. A lot of people in the media, they just give up on me and my offense. Obviously, I was a poor hitter, but I worked hard to prove them wrong.
"Right now, I'm in this moment and thank you to them for giving me the motivation. … It's been many years. You want to get to this point. I'm finally here. I'll enjoy it."
Earlier this season, Molina reached the 1,000 hit plateau at Busch Stadium III, where he leads all Cardinals in hits.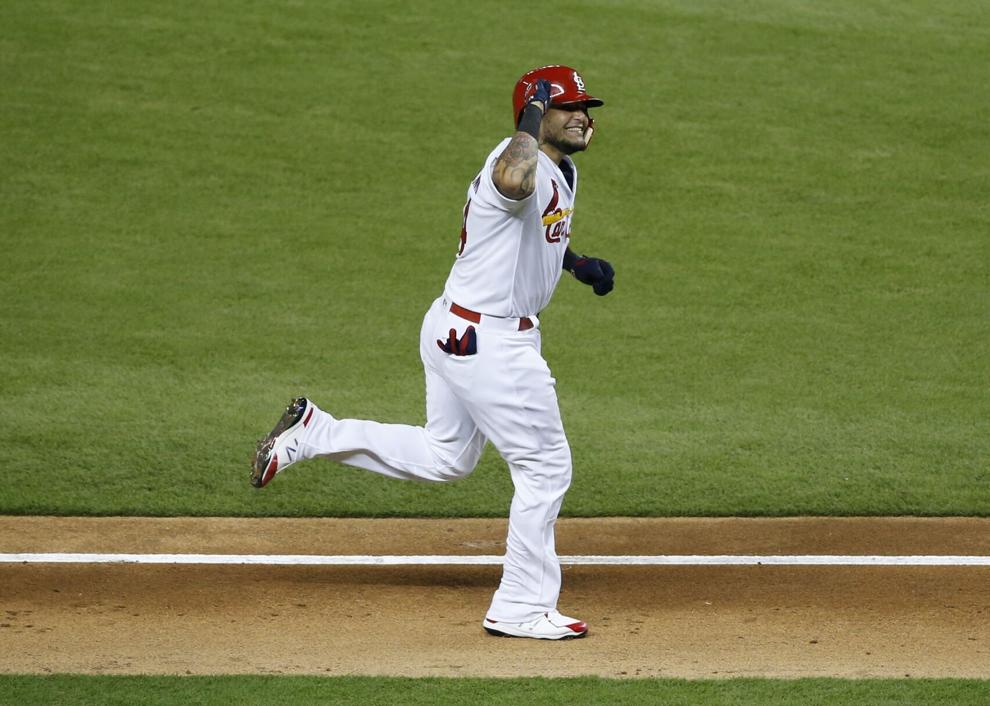 Rare All-Star Game homer for Cardinals
July 11, 2017: Molina hit his first All-Star Game homer in Miami and the first by a Cardinals player since Reggie Smith in 1974. He was the oldest catcher to hit a homer in an All-Star Game at nearly 35, surpassing St. Louisan and Hall of Famer Yogi Berra, who was 34 and 83 days old.
The drive off Minnesota's Ervin Santana was the only run the National League scored in the game as it lost 2-1.
"When you're in the All-Star Game and facing good players, superstar players, and you get a hit like that, it's a great moment," Molina said. "I felt like a little kid."
Molina, five for nine in All-Star competition, was versatile in this one, too. He also played shutterbug.
When American League star Nelson Cruz came to the plate with his cell phone, he asked Molina if he would take a picture of Cruz and home-plate umpire Joe West, who recently had worked his 5,000th Major League game. Molina took two shots.
"He asked me for a picture and I was like, 'Are you serious?'" recalled Molina.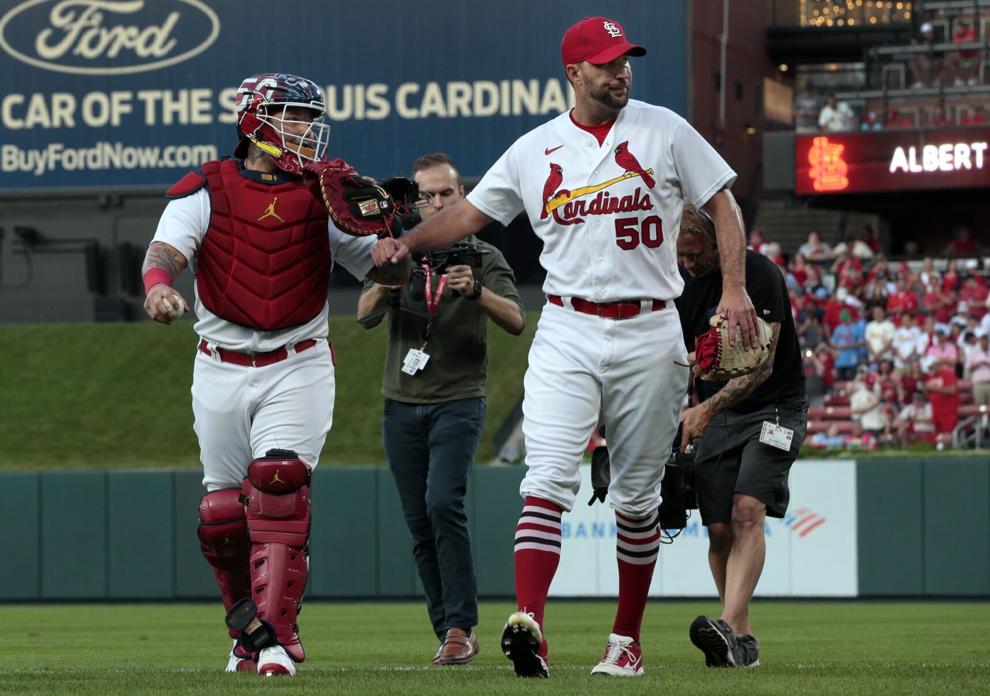 325 and counting
Sept. 14, 2022: Molina and Wainwright team for their record 325th start as a battery, most in major league history.
"It's such a great feeling to reach that number and ... to be on top of that list," said Molina.
Molina helped Wainwright as the back end of one of the pair's patented double plays in which Wainwright strikes out a hitter and Molina throws out a runner. On this occasion, it was former teammate Kolten Wong of Milwaukee, who was cut down at second base to end the fourth inning as the crowd of 46,459 at Busch Stadium went wild.
"Amazing, crazy," said Molina. "I looked around all night and to see everybody cheering and clapping, it was great. Emotionally, I was on top."
Wainwright, in trouble several times early in the game, vowed not to lose this one. And he didn't, posting victory 195 of his career. Molina and Wainwright also extended the major league record for team wins in their starts together at 213.
This was their 18th season together with the Cardinals although Molina also had caught Wainwright at Class AAA Memphis in 2014. Only two tandems have been teammates longer in the majors, the most recent infielders Lou Whitaker and Alan Trammell, who spent 19 years together in Detroit from 1977-95.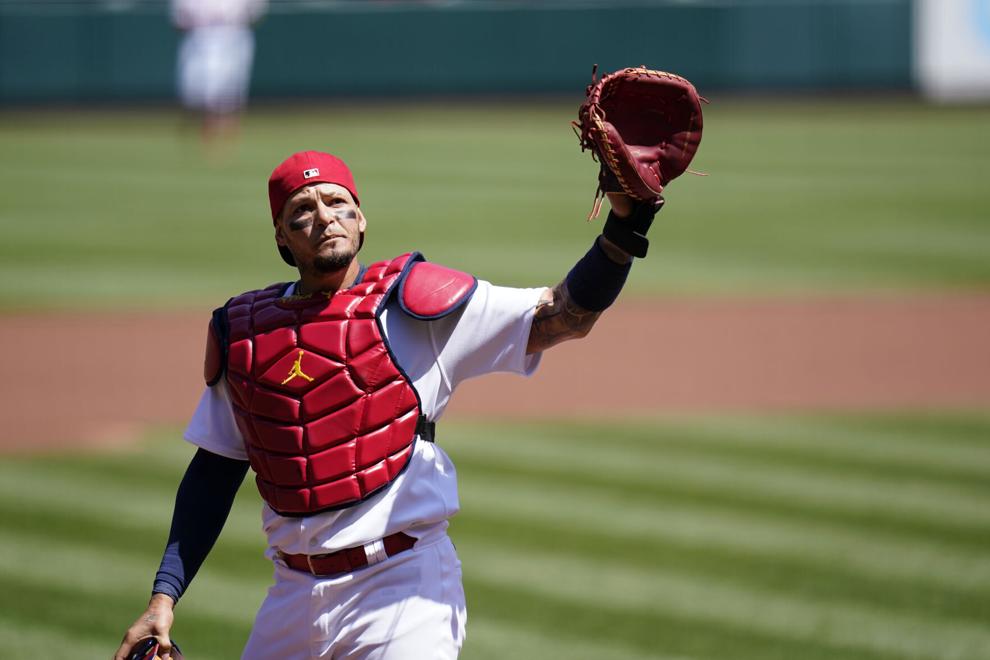 Just another number?
April 14, 2021: In a 6-0 loss here to Washington, Molina caught the 2,000th game of his career with Wainwright, of course, on the mound. Only six catchers have achieved this but only Molina did it for one team.
"To be honest, it's just another number," Molina said.
"I just want to be there and play the game for our team and for our city and play to win it. I never think to go out there and make my numbers. I always think about the team first ... I wish this day ended with a different result. If we would have won this game, it would have been more special for me."
After throwing a ball on his first pitch of the game, Wainwright stepped off the mound. The 13,206 fans in attendance stood and applauded as did Shildt and his players, who came out of the dugout.
"I never expected less from Waino," Molina said. "He is one of the great human beings."
With his arms, Wainwright exhorted the fans to cheer even louder.
"I don't want to call him a clown, because he's not a clown, but he tried to make me laugh," Molina said. "Most of the time, I don't laugh that often."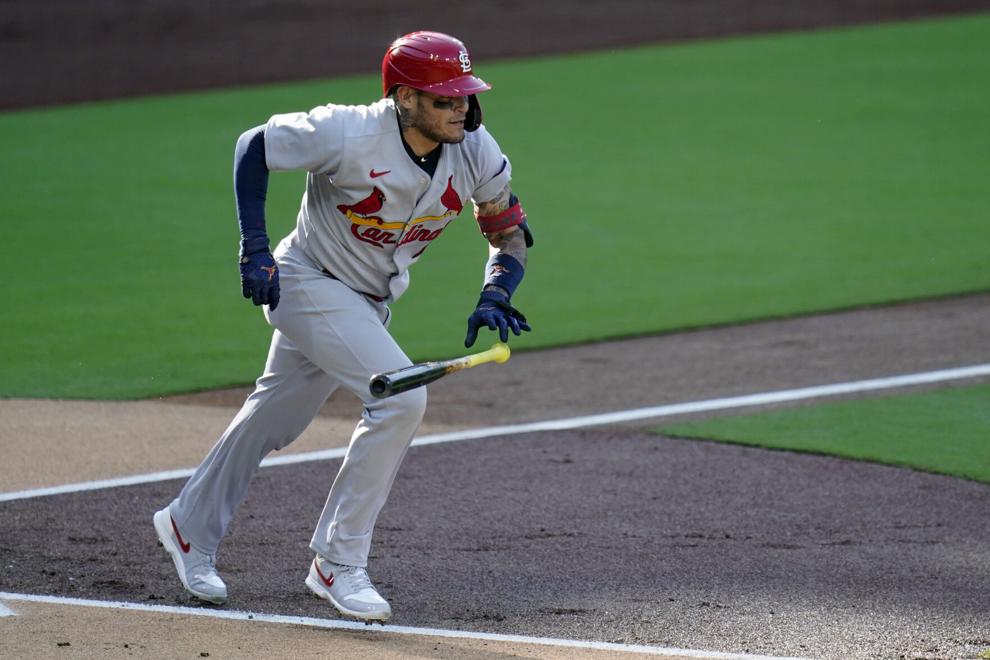 The 100-100 club
Oct. 1, 2020: In Game two of the National League wild-card playoff in San Diego, Molina singled in the ninth inning off former Cardinals teammate Trevor Rosenthal.
It was Molina's 100th postseason hit in his 100th postseason game.
The number of postseason games, now 102, is a National League record, ranking behind only Derek Jeter (158), Jorge Posada, Bernie Williams, David Justice and Manny Ramirez, who all either played with the New York Yankees or played in both leagues.
Molina's 101 postseason hits place him first in Cardinals annals, as do his 52 post-season wins. Most of his damage has been done in the two most important postseason exercises — the league championship series and the World Series.
In NLCS play, Molina has batted .312 with 44 hits in eight series. In his four World Series, he has batted .328 with an OPS of .798.
"You don't get to 100 (postseason games and hits) by happenstance," said Shildt. "He's a big anchor since the time he got here in 2004."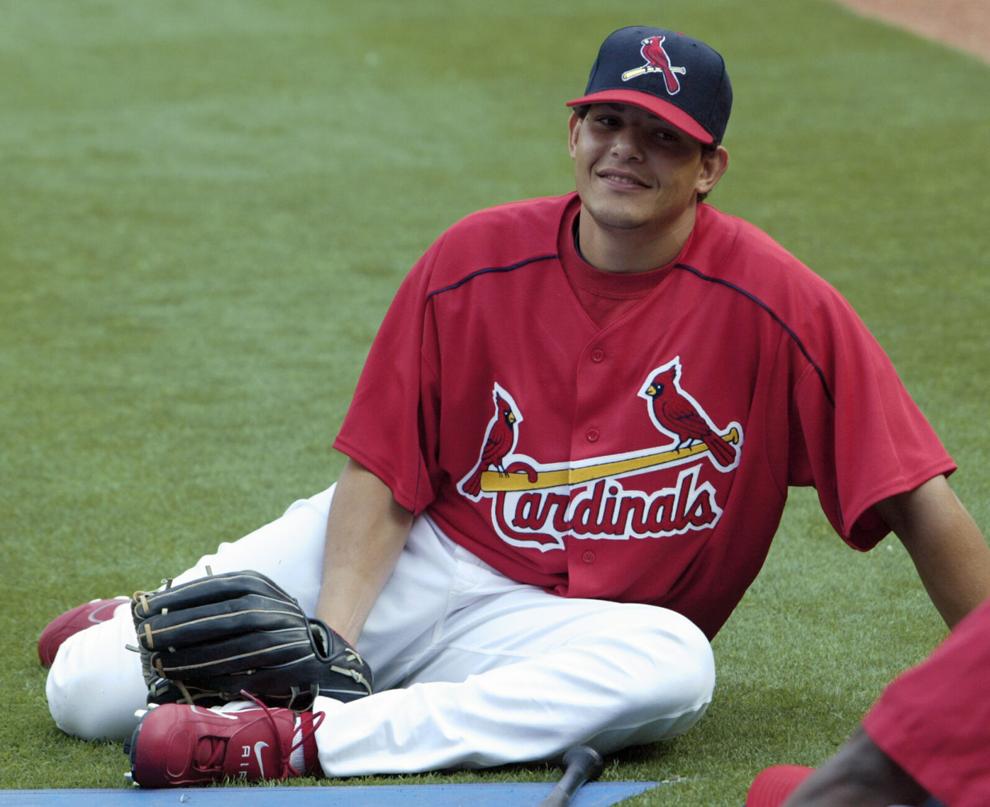 It all started in Pittsburgh
June 3, 2004: When regular catcher Mike Matheny had to be sidelined with a strained muscle in his right side, 21-year-old Molina was recalled from Memphis. In his first game at PNC Park in Pittsburgh, Molina threw out a runner at second, tagged out another at the plate and had two hits and scored a run in the Cardinals' 4-2 victory.
General manager Walt Jocketty said, "It's a great opportunity for him and a great opportunity for us to see what he can do."
Manager Tony La Russa said, "He's an excellent receiver and thrower. He has a lot of poise and maturity beyond his age and experience. And he's got the kind of stroke where he can get some base hits."
Pitching coach Dave Duncan noted, "He's not intimidated by the major leaguers. He should do all right."
Yadier was the youngest of the Molina big-league catching family which included Bengie and Jose.
Asked what advice his brothers might have given him, the youngest Molina said, "They told me to just keep working hard and not to pay attention to the fans. Just keep working hard like in the minor leagues. They've taught me a lot about how to play this game."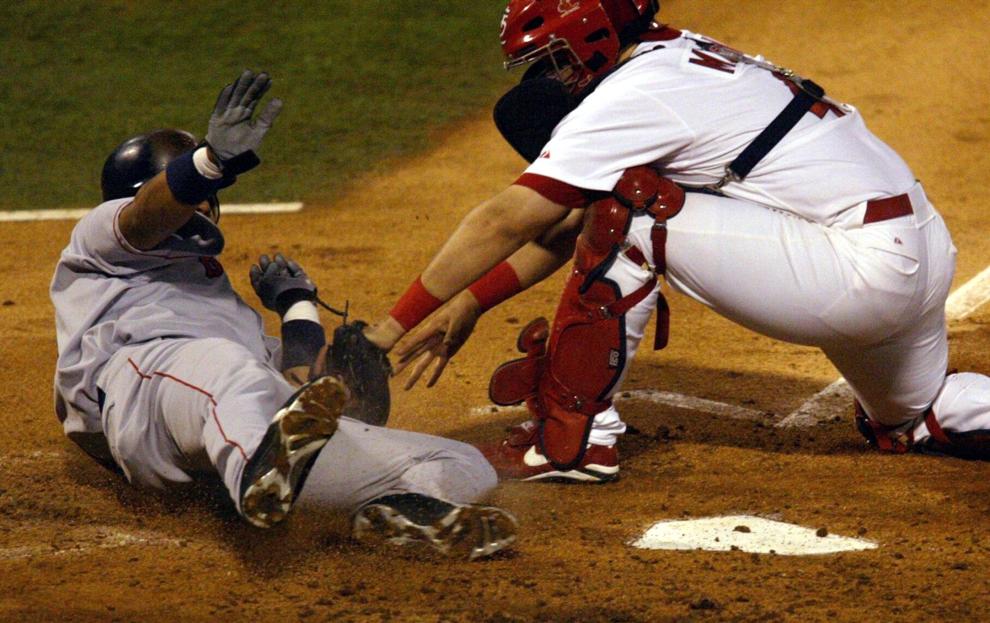 In your face, Manny
Oct. 27, 2004: Young Molina started Game 4 of the 2004 World Series in St. Louis and though his presence did little to alter the outcome of a four-game Boston Red Sox sweep, it reinforced the theory that he was not going to back down to anyone.
Convinced that Boston hitter Manny Ramirez, while he was on base, was stealing Molina's signs when David Ortiz was hitting, Molina confronted Ramirez the next time Ramirez came to bat.
Molina had talked to Matheny about what he should do and Matheny said, "When he comes up, make sure he knows you're on to it. I didn't know he was going to ... get in Ramirez's face."
The star and the rookie got into it at home plate and manager Terry Francona of the Red Sox raced out to make peace. Francona, as he later detailed in a book, told home plate umpire Chuck Meriwether, "Chuck. Manny doesn't even know OUR signs."
Molina had made his point, though. Just ask Brandon Phillips.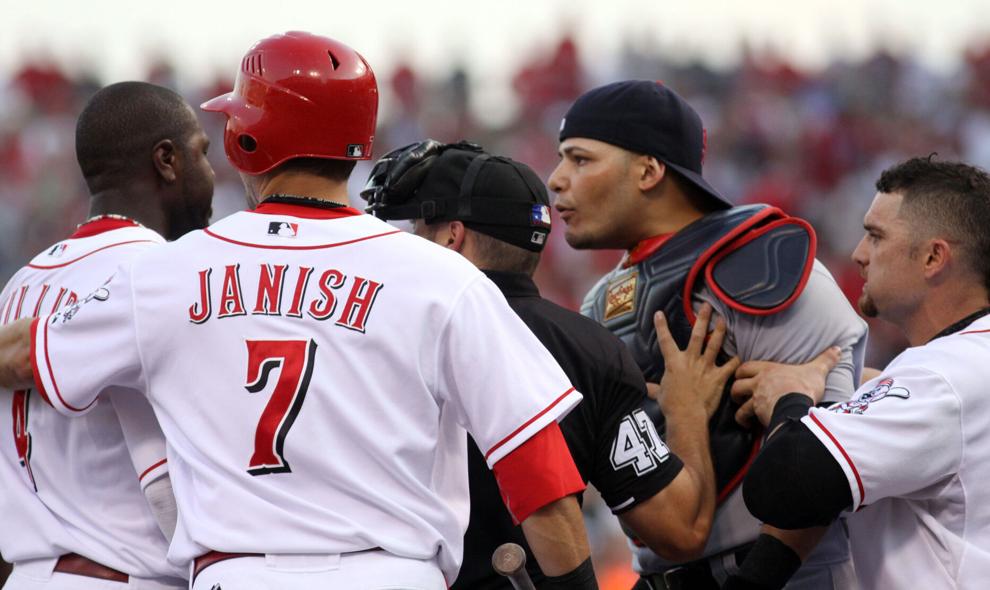 Seeing Red in Cincinnati
Aug. 10, 2010: Cincinnati second baseman Brandon Phillips, never the Cardinals' favorite player anyway, had said some derogatory things about the Cardinals in a Cincinnati area newspaper. So, when Phillips came to the plate to lead off the Reds' half of the first, he tapped the catcher with his bat, as was his custom. Molina kicked it away.
Phillips tried again and Molina got into Phillips' face for what he had said and soon the brawl was on. Feisty managers La Russa and Dusty Baker, who escalated it, both were kicked out and suspended. Molina wasn't ejected. Cardinals backup catcher Jason LaRue was kicked in the head by Reds' pitcher Johnny Cueto, who, ironically plays for La Russa's Chicago White Sox team now.
The Cardinals won the game 8-4 and went into first place that day. But they couldn't hold on as the Reds won the Central Division title.
More irony. When the All-Star Game was played in Cincinnati in 2015, the National League team used the Reds' clubhouse. All-Star catcher Molina got Phillips' locker. Perhaps, luckily, Phillips wasn't in it at the time.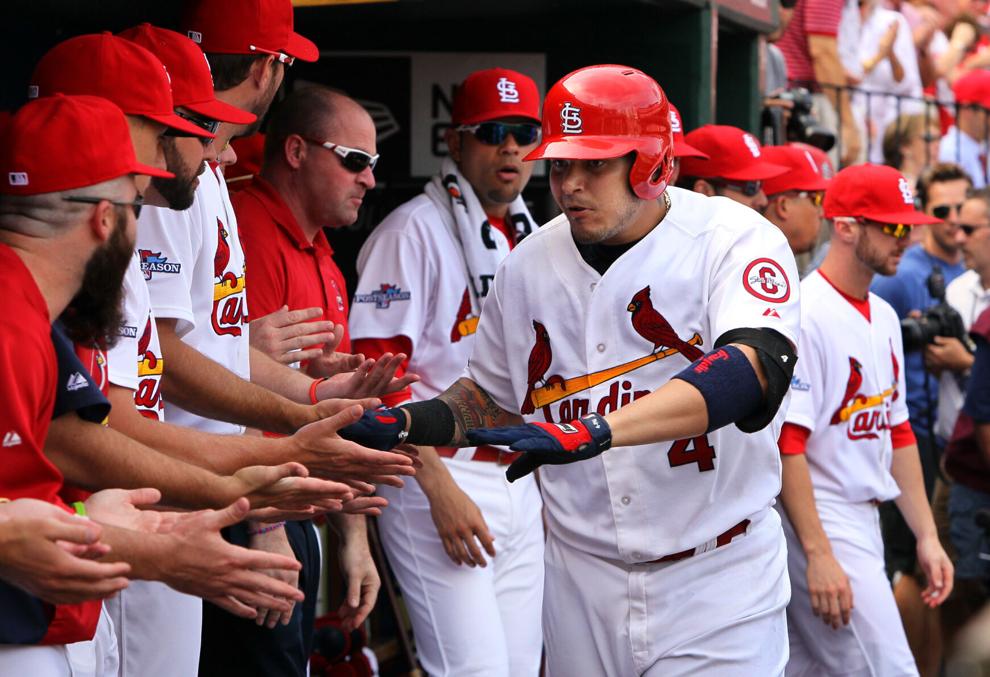 A bag of riches: Molina won both Gold and Silver
2013: For the only time in his career, Molina won a Gold Glove for fielding excellence and a Silver Slugger for offensive might in the same year.
The 2013 season was one of five in which Molina hit better than .300. But he actually led the league in batting average for more than two months and finished at a career-high .319.
He also had career highs in runs batted in at 80 and hits at 161 as he helped the Cardinals to their most recent World Series appearance. Molina also hit better than .300 in the Series against Boston, batting .304.
Fans everywhere knew the season he was having. He led all National League players in All-Star voting as he was selected to the squad for the fifth consecutive time.
The baseball writers knew, too. Molina finished third in the Most Valuable Player balloting, finishing behind only Pittsburgh's Andrew McCutchen, now with Milwaukee, and current teammate Paul Goldschmidt, who was with Arizona then.