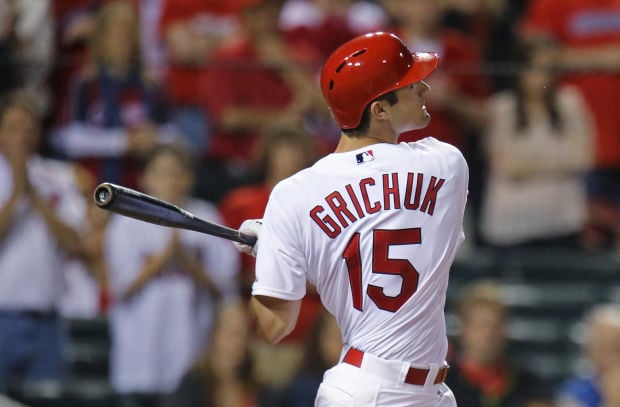 ST. LOUIS   •  In a move that speaks possibly to the condition of Matt Adams calf and definitely to their search for more consistent offense, the Cardinals promoted prospect Randal Grichuk to the majors this afternoon.
To make room, they optioned Shane Robinson once again to Class AAA Memphis.
This is the second promotion of the season for Grichuk, and it comes as the Cardinals near a seven-game stretch where they will visit American League ballparks. With the DH in play for those games, the Cardinals intended to promote an outfielder from Class AAA Memphis to take advantage of the added at-bats. The choice appeared to be between Grichuk and top prospect Oscar Taveras.
Both of whom have had exceptional starts in Memphis.
Both of whom are already on the 40-man roster.
One of whom presents an option to play regularly in center field.
Grichuk has already started at the position in the majors earlier this season, and he earned high marks from manager Mike Matheny and staff for what he showed them during spring training. At Class AAA Memphis, Grichuk has hit .315 with a .363 on-base percentage and a .589 slugging percentage. He has 10 homers and 25 extra base hits for the Redbirds.
The righthanded-hitting former first-round pick hit a home run last night and he has six RBIs and 11 hits in his past nine games.
The Cardinals acquired Grichuk this past November from the Los Angeles Angels in the trade that sent David Freese and Fernando Salas west and also returned Peter Bourjos.
Check back throughout the afternoon here at C-Beat and STLtoday.com for more on the promotion.