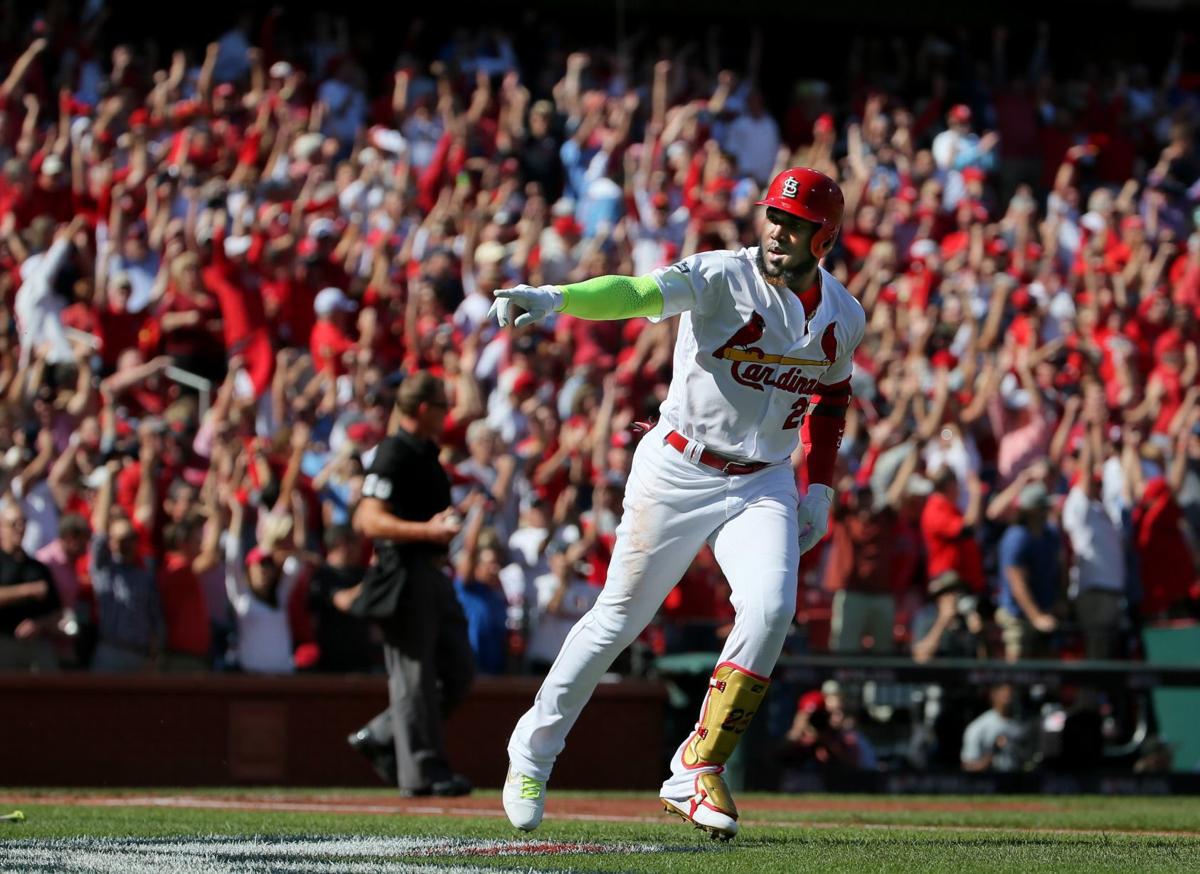 The Cardinals took their first step Monday toward retaining free-agent outfielder Marcell Ozuna when they made a one-year, qualifying offer of $17.8 million to him, ensuring they will receive a compensatory draft pick should Ozuna sign elsewhere for next season.
But a source said that the Cardinals had talked recently with Ozuna's new agent, Melvin Roman, and that the sides planned to meet in the next 10 days to see if a multiyear deal can be found that is agreeable to both parties. Until this year, Ozuna had Scott Boras as his agent.
Players who received qualifying offers have until Nov. 14 to decide whether they will accept them. If the player accepts, he is a signed player. If he declines, which 74 of the 80 previous players involved have done, then the player is free to negotiate with any team — including the one for which he had been playing.
Ozuna, who will turn 29 next week, was acquired from the Miami Marlins in a multi-player deal after the 2017 season following the Cardinals' inability to convince Miami slugger Giancarlo Stanton to agree to come to St. Louis in trade.
Ozuna, bothered by a right shoulder problem in 2018, hit .280 with 23 homers and 88 runs batted in. This past season Ozuna, who missed 28 games because of fractured fingers on his right hand, drove in 89 runs and hit 29 homers but batted only .243, going 12 for 100 at one stretch late in the season.
After he had offseason shoulder surgery and he rehabilitated his arm, some strength came back. But his throwing still was not a notable part of his game.
Despite his low batting average, the worst of his seven-season career, Ozuna led the club with 29 two-out RBIs and stole a career-high 12 bases.
The Cardinals did not make qualifying offers to any of their other four free agents — pitchers Adam Wainwright, Michael Wacha and Tony Cingrani (who never pitched for them) and catcher Matt Wieters.
The club is interested in retaining Wainwright and perhaps Wieters. More from the Cardinals will be gleaned Tuesday afternoon when the club has announced a news conference to review 2019 and discuss 2020.
Nine other players received qualifying offers from their 2019 teams. They were San Francisco pitchers Madison Bumgarner and Will Smith; Houston pitcher Gerrit Cole; Washington pitcher Stephen Strasburg and third baseman Anthony Rendon; Atlanta third baseman Josh Donaldson; New York Mets pitcher Zack Wheeler; Chicago White Sox first baseman Jose Abreu and Minnesota pitcher Jake Odorizzi, a native of Highland, Ill.
Shildt candidate for top manager
After leading his Cardinals team to the National League Central Division title, Mike Shildt, in his first full year as their manager, has been named as one of the top three vote-getters for the Baseball Writers' Association of America's National League Manager of the Year award. The winner will be announced next Tuesday.
At the All-Star break, the Cardinals were 44-44 but they went 47-27 after that, winning the National League Central Division title on the last day of the regular season. They then beat Atlanta in the divisional playoff round before losing to Washington in the National League Championship Series.
Shildt, until then the team's bench coach, took over for Mike Matheny as manager in mid-July 2018 and went 41-28 the rest of the way, shedding the interim manager tag in the process. His regular-season mark for 1½ seasons is 132-99.
The other two manager of the year candidates are 2018 winner Brian Snitker and Milwaukee's Craig Counsell. Voting done by the BBWAA was conducted after the regular season and before the postseason, thus omitting World Series champion manager Dave Martinez of Washington, whose team finished a distant second to Atlanta in the regular season in the National League Eastern Division.
Simmons on Hall ballot
Longtime Cardinals All-Star catcher Ted Simmons was announced Monday as among the 10 men on the ballot for the National Baseball Hall of Fame's Modern Baseball Era election, to be conducted at baseball's winter meetings on Dec. 8 in San Diego.
Marvin Miller, renowned head of the Major League Players' Association for nearly two decades, is the only non-player on the ballot. The other nine players are Dwight Evans, Steve Garvey, Tommy John, Don Mattingly, Thurman Munson, Dale Murphy, Dave Parker and Lou Whitaker. All candidates are alive but Miller and Munson.
Any candidate who receives votes on 75 percent of the ballots cast by the 16-member Modern Baseball Era Committee will earn election to the Hall of Fame and will be inducted in Cooperstown on July 26, 2020.
The Modern Baseball Era ballot was determined this fall by the Hall's Historical Overview Committee, comprised of 11 veteran historians, including the Post-Dispatch's Rick Hummel. The 16-member Hall of Fame Board-appointed electorate for the Modern Baseball Era ballot will be announced this month.
Simmons, who missed election by one vote in the most recent Modern Baseball Era election two years ago after largely being passed over in previous elections, had 2,472 hits in his 21-season career, averaging .285 with 1,389 runs batted in. He played most of those years, 1968-80, with the Cardinals, finishing up with Milwaukee and Atlanta, and he made eight All-Star clubs.
He is a member of the Cardinals' Hall of Fame.
Keep up with the latest Cardinals coverage from our award-winning team of reporters and columnists.