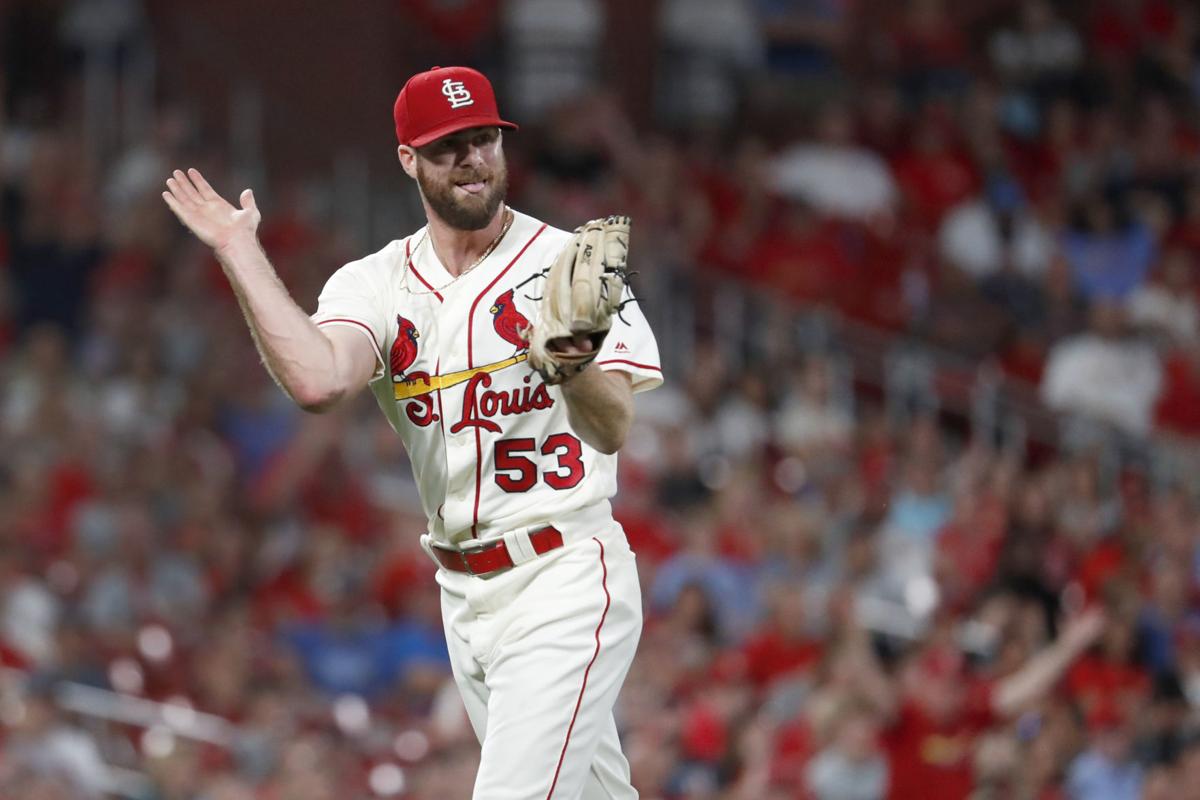 One of the things the Cardinals have said over and over again this offseason is how the answers to many of their questions for 2020 can be found somewhere on their roster and how that could lead to few surprises this winter.
The latest roster deadline arrived Monday as advertised — predictably.
The Cardinals presented pitcher John Gant, their only arbitration-eligible player, a contract for 2020. The Cardinals could have non-tendered Gant and he would have become a free agent immediately. The Cardinals preemptively made that decision in November with reliever Dominic Leone, removing him from the roster and passing him through waivers before having to make the decision to tender or non-tender a contract to him.
The Cardinals also presented contracts for 2020 to all of the players on the 40-man roster with fewer than three years of experience who do not already have contracts and salaries for the coming season.
The annual deadline to tender contracts spurs trade talks up until the deadline and serves as the last of the offseason mile markers before the winter meetings, which start next week in San Diego. Teams looking to avoid arbitration raises explored trades on Monday, and there was some action. Infielder Jurickson Profar went from Oakland to San Diego in a move that helped the A's avoid non-tendering Profar and making him a free agent with no compensation.
The non-tender deadline also means a fresh wave of free agents that help clarify that market.
Gant, 27, flirted with being an All-Star candidate with his success in the setup role. The righthander came to spring training with a chance to be a starter, and when he was outdueled by Dakota Hudson for the fifth spot in the rotation Gant became a vital part of the first-half bullpen. He was 11-1 overall — plucking wins with late-game work — and had a 3.66 ERA in 66 1/3 innings spread over 64 outings. His performance frayed late in the year and he was not on the team's postseason roster.
Gant's salary will be set through the arbitration process unless the Cardinals and the righthander can agree before January's deadline to exchange salary figures.
In recent years the Cardinals have adopted a file-and-trial approach — meaning if they get to a point where they officially submit their salary proposals to arbiter they will go to a hearing. They did that with Michael Wacha this past spring. Gant made $571,300 this past season and he'll likely see his salary more than double through the arbitration process.
He can agree to a salary at any point.
For the other players offered contracts before Monday evening's 7 p.m. St. Louis time deadline, their salaries will be set during spring, and the Cardinals have power to impose those salaries as long as they are set at the major-league minimum. The Cardinals have an in-house formal to determine those offers to players with fewer than three years of service time who are not arbitration-eligible. This past spring, the Cardinals did not come to agreements with pitchers Jack Flaherty nor Jordan Hicks and had to impose salaries on the two young pitchers. 
That process is called "renewal," and the Cardinals applied a $10,000 penalty on Flaherty's salary as a result of not agreeing.
Flaherty will be eligible for arbitration a year from now.
With slightly less than three years of service time, Cardinals shortstop Paul DeJong qualified for arbitration rights this winter as a Super-2 player. But he signed an extension during spring training in 2018 that has already guaranteed his salary for 2020.