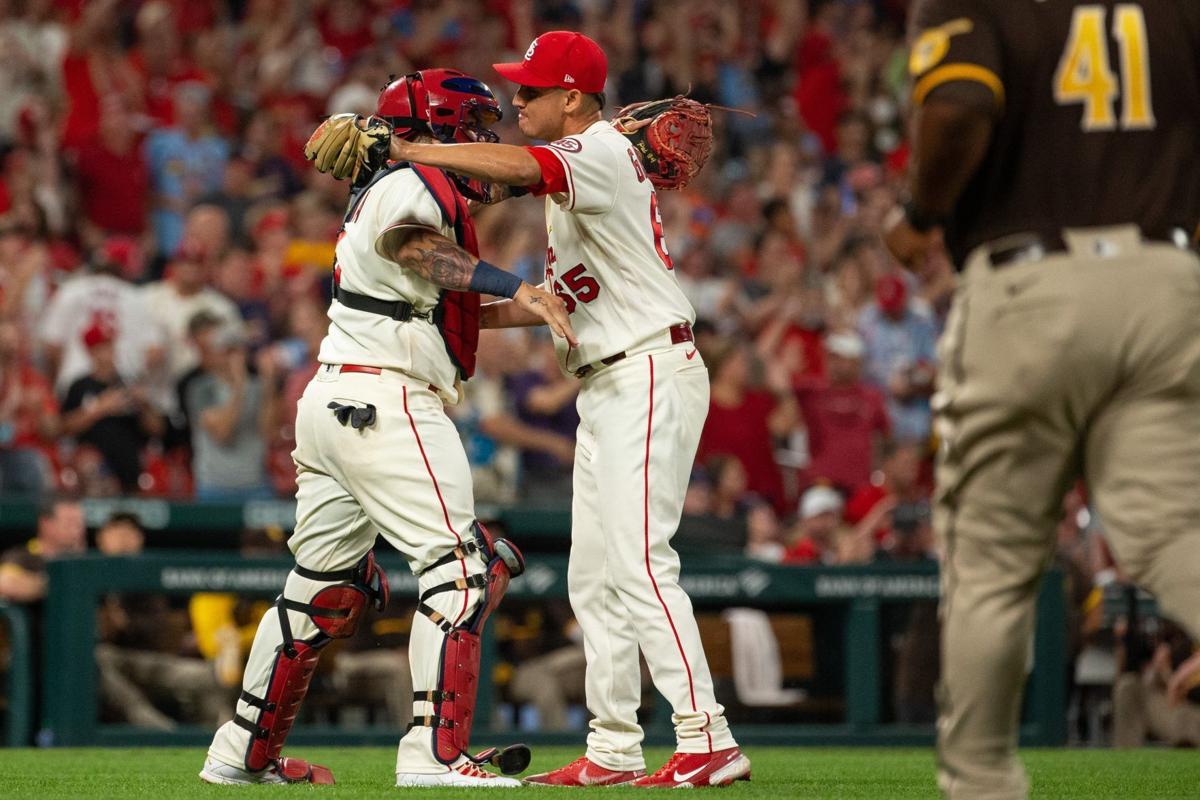 Saying they were going to "honor his rehab," Cardinals manager Mike Shildt said Sunday that pitcher Dakota Hudson would make one more rehab start in the minors before returning to the major-league roster.
"Part of his rehab was getting another opportunity in the minors, so he's going to pitch on Wednesday for Memphis," Shildt said. "He's coming off really advanced surgery so we want to make sure we're honoring him and his dedication to his rehab and as much as we clearly want to have him back, we also want to make sure we don't have a setback so he'll get his one more scheduled rehab and we'll evaluate after that.
"There's a protocol to rehabs that we've been really successful with in this organization and you're required to get to a certain point and built up to a certain amount of throws and there's some science behind it and some art to it as well. That's what was on the schedule and that's what we've historically done. Timing works out to where after that start on Wednesday there's a chance he could join us, but we'd be irresponsible not to continue the trajectory that has been mapped out to make sure he's OK and healthy, not only for this year but for moving forward."
A Wednesday rehab appearance knocks Hudson out of an appearance on Friday, when the Cardinals have a doubleheader in Chicago against the Cubs. J.A. Happ, today's starter, will be on turn for one of those games, but who will pitch the other game is up in the air.
With two seven-inning games on Friday, the other game could well be handed over the bullpen.
"We're in a very fluid situation," Shildt said. "We've got some thoughts about it but there's some baseball to be played between now and then so we'll evaluate on that day."
Jack Flaherty will accompany the team to Milwaukee and throw to hitters there on Tuesday. "Then we'll evaluate him then," Shildt said. 
Scoreboard watching
The Reds are at home against the Dodgers starting at 12:10. The Phillies are the Sunday night game at the Mets at 6 p.m. The Cardinals start the day 2 games up on Cincinnati and 2 1/2 up on the Phillies and Padres. 
Knizner in for Sunday
For the final game of the Cardinals series with the Padres, Yadier Molina is getting the afternoon off and Andrew Knizner will be starting behind the plate. Knizner has caught six of the Cardinals' 15 shutouts this season, plus a pair of 1-0 losses. Knizner has hit safely in 18 of his 36 starts. The Cardinals are 21-15 in Knizner's starts.
Otherwise, the Cardinals will have the same group on the field.