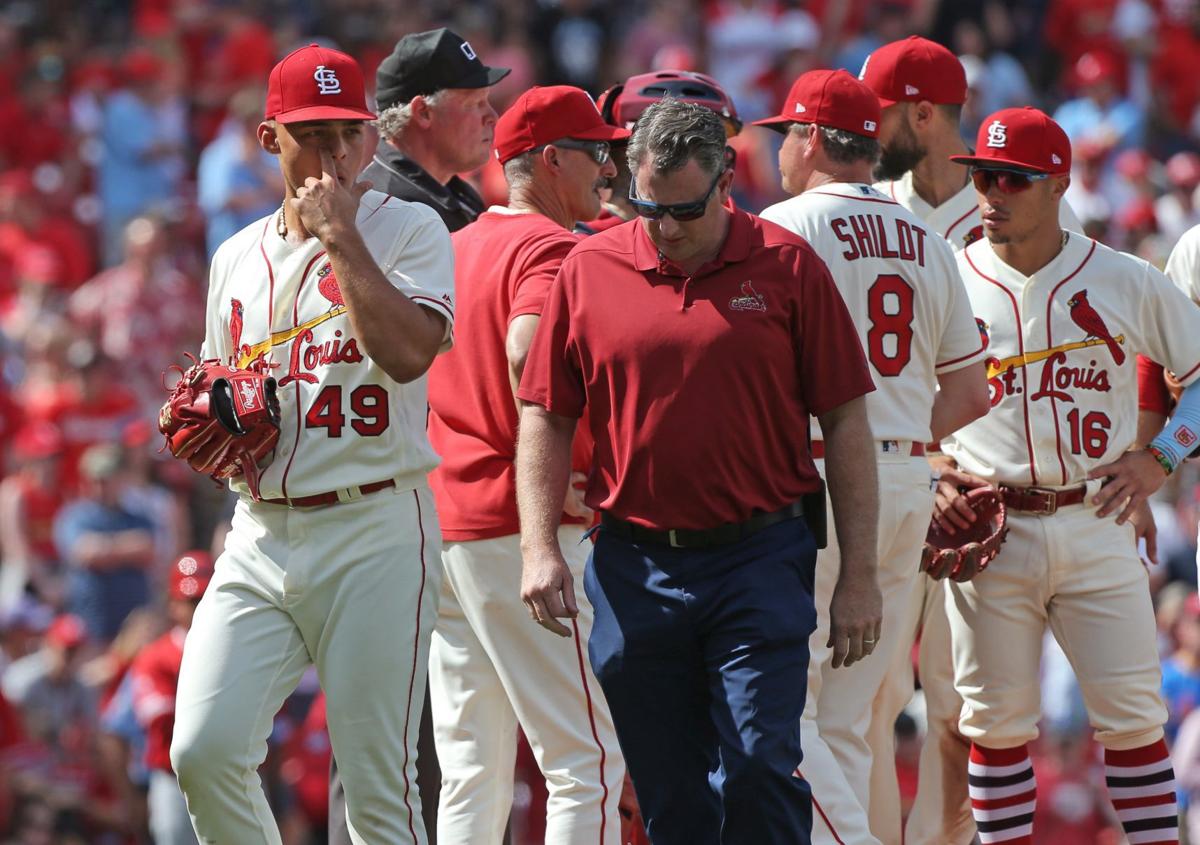 What was initially termed to be tendinitis in his triceps has turned into much more for reliever Jordan Hicks and the Cardinals.
An MRI examination Monday revealed that the 22-year-old Hicks has a torn ulnar collateral ligament in his right elbow.
A Cardinals press release stated that the team was determining the next course of action but it seems unlikely that Hicks would pitch much, if any, the rest of the season. Tommy John surgery certainly would rule him out for the rest of this season and part of the next season.
Neither John Mozeliak, president of baseball operations, nor manager Mike Shildt returned telephone messages, apparently preferring to comment Tuesday before the Cardinals play the Oakland A's here..
Hicks, who was on his way to his 15th save in 16 tries, had to be removed from Saturday's game with the Los Angeles Angels with two out in the ninth inning, even though he said he could continue. At the time, the theory was that there was cramping in the arm.
The righthander, in his second year in the majors, has a 2-2 mark with a 3.14 earned run average and 14 saves, all in succession for the longest current streak in the majors. Opposing batters had been limited to a .163 mark.
Hicks, who by far has thrown more 100 mph pitches than anybody in baseball _ he averages 101.1 mph on his sinker, according to Statcast, has struck out 31 in 28 2/3 innings. He suffered his injury while throwing a slider to strike out David Fletcher of the Angels.
This season, Hicks has thrown 48 of the 50 fastest pitches in the majors, topping out at 104.3 mph against Chicago's Victor Caratini on May 31 and he got to the 105 mark last year against Philadelphia Odubel Herrera. But it was the slider that created most of his strikeouts.
As a rookie, Hicks held opponents to a .208 average and had six saves. He had made the jump from Class A to the big leagues without ever stopping at Class AA or Class AAA.
Converted starter Carlos Martinez is expected to take over most of the closer duties although Andrew Miller has had some experience at that and John Gant has three saves this season.
Martinez, whose arm hasn't been deemed strong enough _ by both the Cardinals and himself _ the last two years to resume being a starter _ has made 13 relief appearances this season since coming off the injured list where he had been stationed because of a shoulder cuff strain. He has two saves in three tries and one win and opponents have batted only .212 against him.
In first tenure as the closer last September, he knocked off five saves in five tries and had a 1.47 ERA in 15 relief appearances for the season, with opponent batting just .177 against him as a reliever. This year, his shoulder has held up to the point where he has pitched back-to-back days on three occasions and three days in succession once.
Martinez, since returning from the injured list, has been saying he wanted to start after the All-Star break but it doesn't appear the Cardinals have that luxury now although they might look for another veteran starter to take some of the strain off the bullpen.
The Cardinals have had difficulty with elbow problems troubling their closers since they won their last World Series in 2011.
Jason Motte, their closer at the end of that season, needed Tommy John surgery at the start of the 2013 season and wasn't the same again. He is out of baseball.
Trevor Rosenthal, the Cardinals' single-season saves leader with 48 in 2015, had to undergo Tommy John surgery late in the 2017 season and never pitched for the Cardinals again. After sitting out last season, he signed with Washington before this season but was released by the Nationals two days ago after experiencing severe control problems.