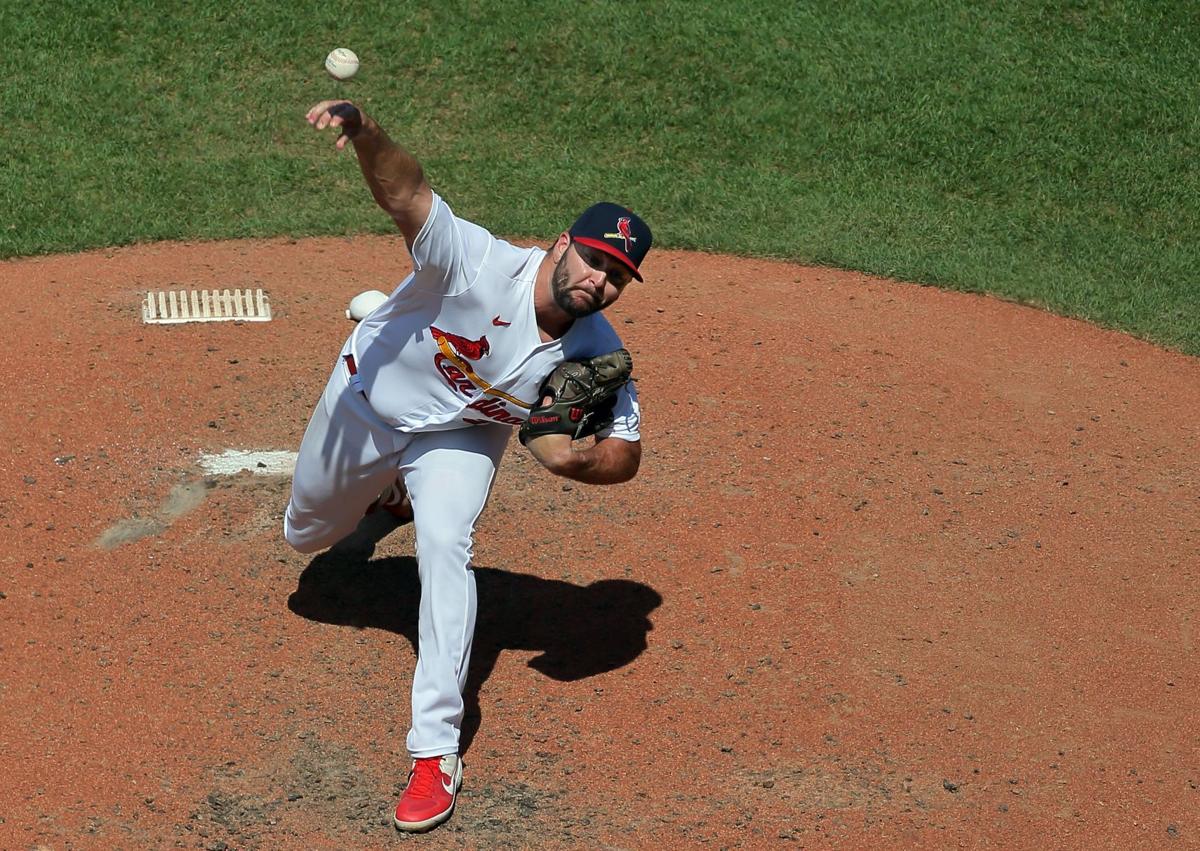 Righthander Kodi Whitley, who had a 1.93 earned run average for 4 2/3 innings last season and who was impressive in spring training, was recalled by the Cardinals from the alternate site in Sauget, Illinois on Tuesday and Johan Oviedo, who worked 4 2/3 innings of scoreless relief on Sunday, was optioned to the site.
Oviedo probably couldn't have pitched until this weekend anyway after his long outing on Sunday but there is a plan in store for him, just as there is for lefthander Kwang Hyun Kim, who will start Saturday in Philadelphia, manager Mike Shildt said.
Kim's start will move righthander Daniel Ponce de Leon, knocked out in the second inning on Sunday to the bullpen, Shildt said, with John Gant, who has had two good starts, remaining in the rotation. Gant will pitch on Sunday in Philadelphia.
Oviedo soon may be in the rotation himself as Shildt, citing a 17-day stretch of games beginning on April 23, said there would be a sixth starter in Oviedo during that time.
"We want to make sure that 'Ovie' stays on a track that allows him to be built up," Shildt said. "We'll start a stretch of 17 in a row and at that point we'll honor the five days off for the starters, which will require a 'spot start' sixth starter which 'Ovie,' at the moment, will look to fill.
"I don't want to put too much out there for him but he's got the ability to be a very good starter in this league. He demonstrated the other day that he's more than capable of doing just that."
The 26-year-old Whitley, who was on the taxi squad for the first trip,  pitched 7 1/3 scoreless innings in spring training this year, striking out 10 and Shildt said there was a need for a "fresh arm" in the bullpen for Tuesday night's game against Washington, which will feature a high-profile Stephen Strasburg-Jack Flaherty matchup.
Ponce de Leon, who retired only four of 14 Milwaukee hitters he faced on Sunday, could be available in the bullpen as early as Tuesday night, Shildt said.
The date was June 3, 2004 in Pittsburgh. That was when Yadier Molina caught his first game for the Cardinals.
From his big-league debut that night, only two others are still playing. One is Molina's teammate of eight years with the Cardinals, Albert Pujols, who is with the Los Angeles Angels. The other is the opposing pitcher, Oliver Perez, off whom Molina singled in the fourth inning and who plays for Cleveland now.
On Wednesday afternoon, unless he gets into Tuesday night's game with Washington, Molina will play in his 2,036th game as a Cardinal and his 2,000th behind the plate. He is only the fourth player to reach 2,000 games caught and the first to attain that number with just one team.
As he approaches age 39 on July 13, Molina also has been the best Cardinals hitter in this young season.
"He'd gone 10 in a row," Shildt said. "We've had some days off sprinkled, which have clearly helped. And we've got a 12:15 game tomorrow.
"He'll grab his brother, Waino, tomorrow," said Shildt, meaning that longtime battery mate Adam Wainwright, will be on the mound when Molina reaches the milestone.
Shildt said he did not know until later Monday that Molina was just one game away from 2,000. "I should probably be more aware of some of the milestones. For Yadi, it's about every other day and for Waino, it's pretty frequent, which is awesome," Shildt said. 
Paul DeJong, who ended a nothing-for-26 slide with a single on Monday, will replace Molina in the cleanup spot Tuesday as backup Andrew Knizner draws his first starting assignment of the season and bats seventh.  Matt Carpenter will hit fifth and play second base.