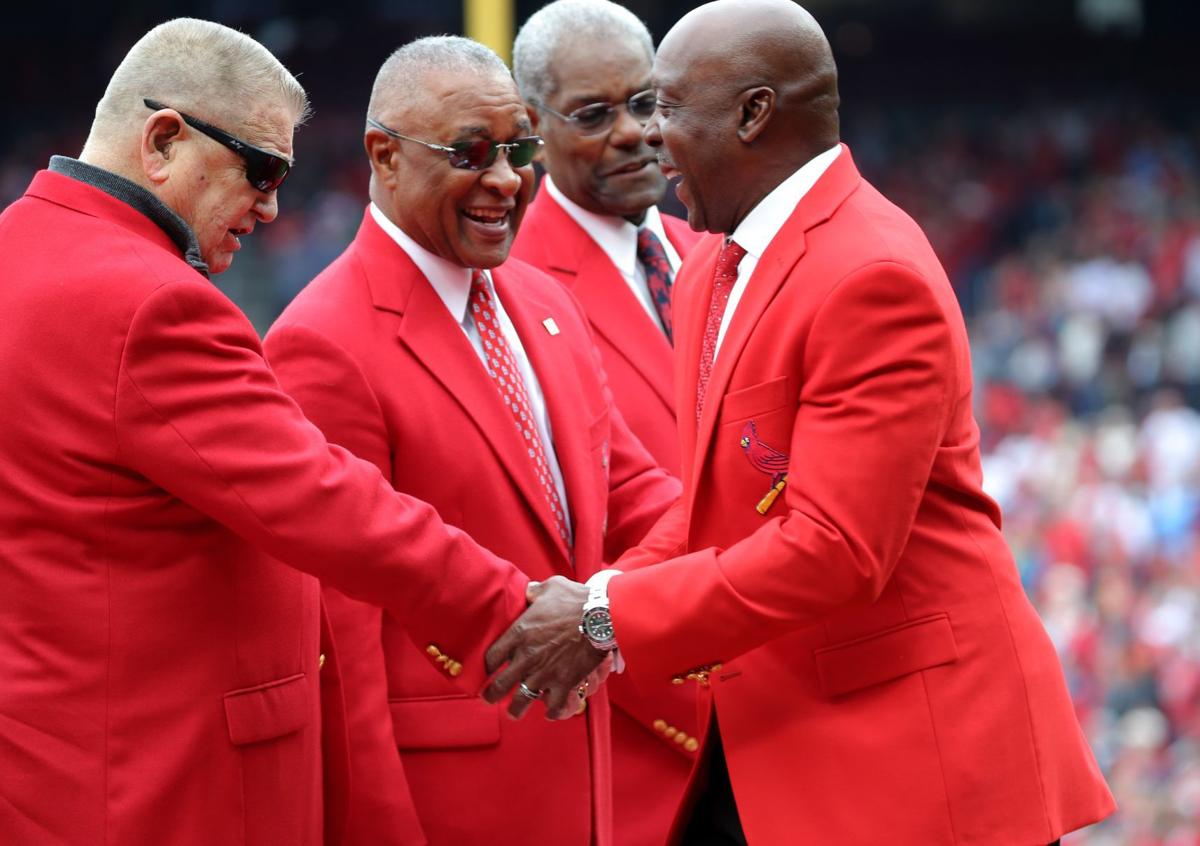 The Cardinals' Hall of Fame family has taken a hit in the last few years with the death of Stan Musial in 2013, Red Schoendienst last year and the varied health struggles of Lou Brock. On Saturday, Hall of Fame righthander Bob Gibson, generally acknowledged as the greatest Cardinals pitcher of all time, sent a message to the living Hall of Famers that he was battling pancreatic cancer.
Gibson, who will be 84 in November, was diagnosed with pancreatic cancer several weeks ago, said his longtime agent, Dick Zitzmann. Gibson has visited Johns Hopkins Hospital in Baltimore and has been hospitalized in his hometown of Omaha, Neb., for the past two weeks.
Zitzmann, after speaking to Gibson, said that chemotherapy is likely to begin on Monday in Omaha. "We all know what a competitor he is," said Zitzmann.
The news became public Saturday evening when Hall of Famer Jack Morris, broadcasting a Minnesota Twins game, spoke of it, having received his notification. The Cardinals' front office subsequently was notified.
The Hall of Fame ceremonies, honoring six former players, will be held a week from Sunday at Cooperstown, N.Y., but Gibson already had sent word that he would not attend.
Gibson, a staple at the Cardinals' opening-day ceremonies, ranks first in many pitching categories for the club. He won 251 games, completed 255, threw 56 shutouts, pitches 3,885 1/3 innings and had 3,117 strikeouts. All are club records.
He also threw a no-hitter in 1971 and, most significantly, posted a record-setting earned run average of 1.12 in 1968. The next year, Major League Baseball lowered the height of the pitching mound from 15 inches to 10, trying to increase hitting.
In 1968, Gibson had a 22-9 record, featuring 13 shutouts. During one stretch, he gave up only two runs in 95 innings.
This came the year after he had suffered a broken leg — and pitched to several more hitters — after being struck by a line drive hit by Pittsburgh Hall of Famer Roberto Clemente.
He was sidelined 52 days after that, but returned to pitch the pennant clincher and then won three games in the World Series, hitting a home run in the seventh game as he beat the Boston Red Sox.
Gibson pitched nine post-season games in three World Series for the Cardinals, winning seven of them and pitching 81 innings. He worked 10 innings one time and eight on another and pitched nine innings in the other seven.
Speaking to the Post-Dispatch last year, Gibson said there had been terrific pressure in the 1968 season.
"I think I developed ulcers then," he said. "I had a lot of stomach problems and no one ever knew about it. My stomach was always tied in knots because it was always the sixth or seventh inning and the score was 1-0 or 2-1 or something like that, either behind or ahead. And you couldn't relax. People thought I was relaxed but I was tied in knots all the time."
In 34 starts, Gibson received an average of 3.03 runs per game. In 18 of those games, the Cardinals scored two or fewer runs for Gibson. Of his nine losses, two were by 1-0 scores and another by 3-0. In three of his wins, he had to pitch 10 or more innings and in one of his three no-decisions, he pitched 11 innings.
"When we got into the World Series, " Gibson said, "Denny McLain (who won 31 games), was there with the (Detroit) Tigers and they were scoring six, seven runs a game for him. I thought about that. How many games could I have won if I had gotten that kind of support?
"It sure as hell would have been a lot easier. Maybe I wouldn't have got that thing. . . I think they called it a peptic stomach."
Asked how he treated that, Gibson, replied with a chuckle, "A glass of wine. I didn't check with the doctors that much."
Gibson also had revealed he had had a heart issue at about this time in his career.
"We were in Houston and I had cramps in the top of my stomach that hurt so bad that I couldn't get out of bed. I didn't know what it was and it lasted half a day. It would start in the front and go all the way to the back. I thought it was indigestion.
"Twenty years later, I had a checkup and some doctor ticked me off when he said, 'Have you ever had a heart attack?' The EKG looks like you've had a heart attack. I walked out of his office and never went back. I said, 'It's too late to tell me now. You're going to cause another one.'
"I got to thinking about that. I was (32) but I said, 'I wonder if that's what it could have been.' It hurt so bad that I was down on my knees. You know when you're young, you say, 'Ah, just take some aspirin.' But that's the only time I can remember having something hurt that badly that it could have been a heart attack. It started in my rib cavity and went straight through to my back.
"If I had gone to the doctor and if I were having heart attack, I probably never would have pitched after that," Gibson said. "Good thing I didn't go check it out.
"All I know was that it was really painful. Doc (Bob) Bauman said, 'You've probably got the gout. Too much rich eating.' He didn't even know what I ate. You can't get the gout by eating red beans and rice. But he called everything the gout."
As a youth in Omaha, Gibson was afflicted with rickets and asthma, but neither stopped him from beginning his athletic career that took him to the Hall of Fame in 1981 and even a stint with the Harlem Globetrotters basketball team.
He won the Cy Young Award for pitchers twice and the Most Valuable Player award in 1968.