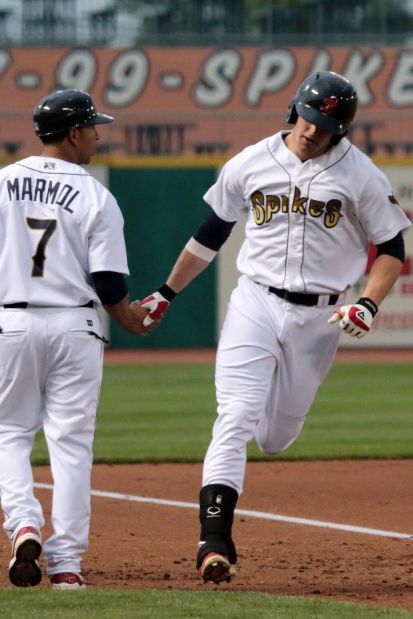 Reports began circulating this week that the Boston Red Sox were scouting Cardinals outfield prospect Rowan Wick, in case the Cards made a push for Sox pitcher Jake Peavy as the trade deadline neared.
Which is why ears perked up and small alarms sounded when Wick wasn't in the State College Spikes' lineup last night, despite his .378 average and affiliate-record 14 home runs through 35 games.
Turns out, he was. Just not to Boston.
The British Columbia native, a ninth-round pick in 2012 out of Cypress College, hit 10 home runs in 56 games as a 20-year-old for Rookie League Johnson City in 2013.
But after a stint at extended spring training this year, he exploded on the scene for short-season State College. Wick mashed two homers and five RBIs on Opening Night, and hasn't stopped since. 
It took him just 19 games to break the affiliate home run record, and after 35 games he left the New York Penn League as the leader in all three Triple Crown categories as well as hits, doubles, on base percentage, slugging and OPS.
Outfielder Kenneth Peoples-Walls was demoted to State College in a corresponding move. The Los Angeles native was hitting .234 with three homers and 28 RBIs in 81 games with the Chiefs.
Wick started in left field and batted sixth for the Chiefs in his debut.
You guessed it — he homered and drove in three runs. 
Class AAA Memphis 5, Omaha 3
Tyler Lyons struck out five and allowed three runs over seven innings to earn his fourth win. The lefty lowered his ERA to 4.56 as he attempts to recover from a bad midseason stretch during which he went three starts without making the fifth inning. 
Jorge Rondon struck out three over two scoreless frames. Xavier Scruggs and Randal Grichuk hit solo home runs. 
Class AA Springfield 10, Tulsa 0
Curt Smith mashed a grand slam and drove in five to support Sam Gaviglio, who tossed six scoreless for his fifth win. Gaviglio struck out nine, allowed two hits and walked one to lower his ERA to 4.53. The righty rebounded nicely from rough, six-run outing his last time out.
Smtih had two of the Cardinals 14 hits. His slam broke the game open in the sixth.
Charlie Tilson went had a hit and two RBI in his second game since being promoted from High-A Palm Beach.
Daytona 6, High-A Palm Beach 2
Speaking of Palm Beach, those most southern of Cardinals fell to Daytona pitcher and former Missouri ace Rob Zastryzny. Zastryzny scattered three hits over six scoreless frames. 
The lefty has struggled since being taken in the second round in 2013 by the Cubs. He owns a 4.63 ERA over 23 starts. But he was dominate Wednesday to earn his second win. 
Zastryzny beat Kyle Helisek, who allowed five runs (three earned) in four innings.
Lansing 8, Low-A Peoria 7
Wick's three-run shot highlighted a five-run ninth, but the Chiefs fell in extras. 
The bullpen squandered a quality start by Alex Reyes, 19, who struck out five over six one-run innings. 
Designated hitter Vaughn Bryan drove in two runs.
Short Season State College 5, Mahoning Valley 3
Alex De Leon homered and the Spikes scored three in the eighth to claim a comeback win. Brian O'Keefe had two hits, and new Spike Kenneth Peoples-Walls doubled. 
Cody Schumacher allowed three runs over six innings, and Anderson Gerdel earned the win in relief.
Princeton 7, Rookie Johnson City 3
Only one of the four runs Juan Perez allowed was earned, but the righty took his second loss. Casey Turgeon had one of the Cardinals five hits. The second baseman is hitting .379. 
Joe Trezza is a sports intern at the St. Louis Post-Dispatch. Follow him on Twitter at JoeTrezz" @JoeTrezz