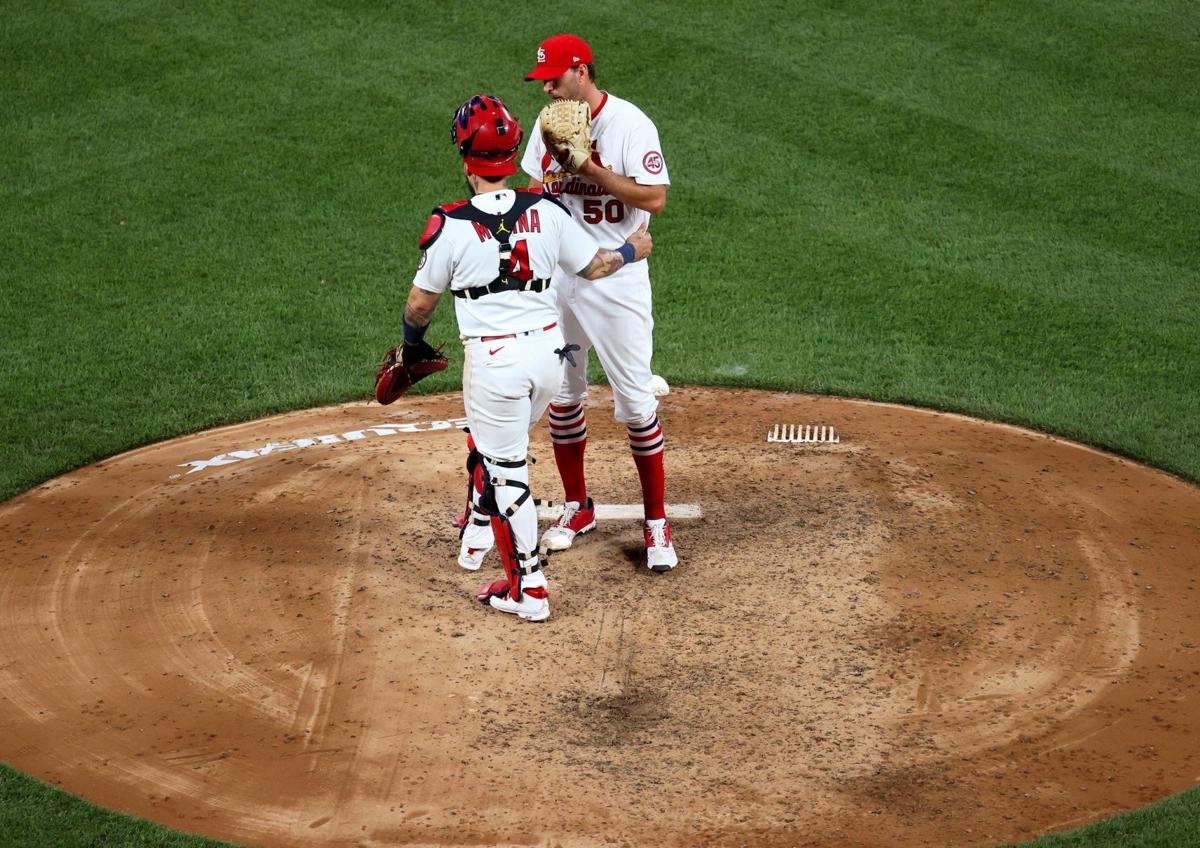 Neither injured catcher Yadier Molina (bruised left knee) nor shortstop Paul DeJong (non-displaced rib fracture) will be in the Cardinals' lineup Tuesday night against Cleveland although DeJong, his medical rehabilitation option still in play, would have been in the Memphis lineup against Gwinnett had had not the Redbirds been rained out.
Meanwhile, center fielder Harrison Bader, who has his own non-displaced rib fracture, is not progressing quickly and hasn't even resumed baseball activities yet.
Cardinals manager Mike Shildt said he spoke to Molina and Molina had told him he expected to be ready to play Wednesday night in the series finale when Adam Wainwright, his battery mate for 284 major league starts, will face the Indians.
Shildt classified Molina, hit on Saturday by a foul tip as "better. . . but still sore. He's getting a lot closer. Optimistic about tomorrow. Could be available in an emergency situation tonight. Getting there. Making steady improvement. Just needs another day."
DeJong, who has been out since May 12, went one for five in two games for Memphis this past weekend and is targeted to play in one and possibly two games on Wednesday night before potentially being ready for a three-game series starting Friday in Chicago.
Outfielder Justin Williams, who has a stiff neck, was reported to be "30 percent" better, according to Shildt but still wasn't doing anything baseball-wise. And reliever Kodi Whitley (back spasms) possibly could be ready for a rehab option to Memphis this weekend.
"I wouldn't rule it out, but I wouldn't say it's etched in stone," said Shildt, who added, "I don't know if anyone etches in stone anymore."
Bader, who has been out two weeks with his injury, still isn't doing anything baseball-related, Shildt said.
"Harrison is going to be a little bit longer than we anticipated," said Shildt. "He hasn't gotten over that proverbial hump yet. So rest is taking place at the moment. And a little longer recovery, which means further away from baseball activity, which means a longer baseball ramp-up to playing in the big leagues.
"It would be irresponsible to give you a time line but it's not around the immediate corner."
Carlos Martinez, tagged for 10 runs in the first inning by the Los Angeles Dodgers in his previous start, will face Cleveland righthanded ace Shane Bieber in Tuesday's game.