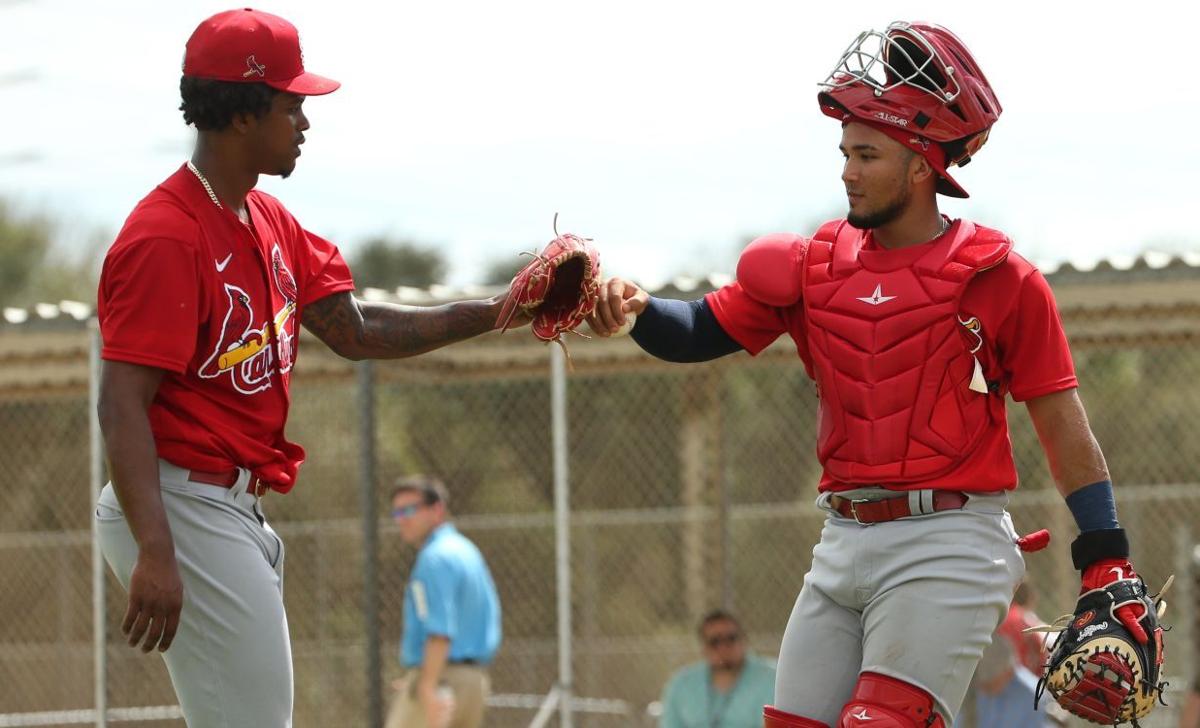 The Cardinals made only one move Wednesday to protect a minor league player from next month's Rule 5 draft by promoting promising catcher Ivan Herrera. The 20-year-old Panamanian joins Andrew Knizner as the only backstops on the roster, with 2020 catchers Yadier Molina and Matt Wieters free agents.
The Cardinals have 38 players on their 40-man roster, including injured pitchers Dakota Hudson and John Brebbia, both of whom are likely to be out much, if not all, of next season. Herrera, viewed as the ultimate successor to Molina, took part in the alternate training camp in Springfield, Mo., this year but never was added to the big-league roster and there was no minor league season.
In 2019, the last previous season Herrera played, he hit .286 with eight homers at Class A Peoria and .276 at High-A Palm Beach. He likely would turn up at Class AA Springfield next season, if there is a minor league season.
Players signed at age 18 or younger need to be added to their club's 40-man roster within five seasons or they become eligible for the Rule V draft. Players who signed at age 19 or older need to be protected within four seasons.
Herrera was signed as an international free agent when he was 16 years old in 2016.
No one who contributed much to the Cardinals this season was left off the 40-man. Lefthanded reliever Rob Kaminsky had a 3.86 earned run average in five outings and righthanded reliever Nabil Crismatt had a 3.74 ERA in six bullpen appearances. 
Prime prospects Nolan Gorman, a third baseman, and pitchers Matt Liberatore and Zack Thompson did not have to be protected. 
The next procedural move for front offices is that by Dec. 2, players have to have one-year contract offers tendered to them, if they already aren't signed on a long-term basis. There will be some arbitration-eligible players on nearly every team who won't be tendered and those players would become free agents.
The Cardinals' 40-man roster, which stands at 38:
Pitchers (21)—John Brebbia, Genesis Cabrera, Seth Elledge, Junior Fernandez, Jack Flaherty, Giovanny Gallegos, John Gant, Austin Gomber, Ryan Helsley, Jordan Hicks, Dakota Hudson, Kwang Hyun Kim, Carlos Martinez, Miles Mikolas, Andrew Miller, Johan Oviedo, Daniel Ponce de Leon, Alex Reyes, Tyler Webb, Kodi Whitley, Jake Woodford.
Catchers (2)—Ivan Herrera, Andrew Knizner.
Infielders (8)—Matt Carpenter, Paul DeJong, Tommy Edman, Paul Goldschmidt, Elehuris Montero, John Nogowski, Rangel Ravelo, Edmundo Sosa.
Outfielders (7)—Harrison Bader, Dylan Carlson, Austin Dean, Dexter Fowler, Tyler O'Neill, Lane Thomas, Justin Williams.
Keep up with the latest Cardinals coverage from our award-winning team of reporters and columnists.