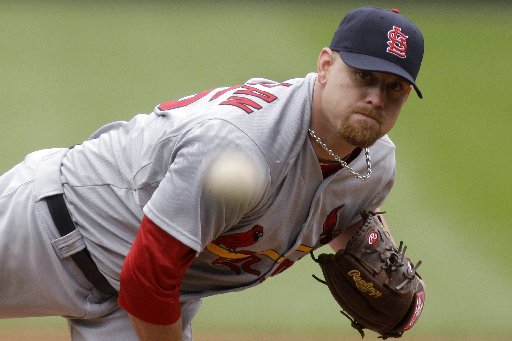 The Cardinals released relief pitcher Kyle McClellan today. The Florissant native and Hazelwood West High product pitched for the Cardinals from 2008-2011 and won 12 games for the World Series championship team in 2011. But arm fatigue limited him to one-third of an inning in the '11 postseason, and he missed most of the 2012 season because of elbow and shoulder problems.
"When you look at the situation from my standpoint you see that they have a lot of young, exciting arms coming up and they're excited about that and have every reason to be," said McClellan, who had the longest tenure with the Cardinals of any reliever in the 2012 bullpen.
"They have guys ready to contribute at the major-league level. They want to see them get that chance. And you can see how it makes sense for both sides to explore other opportunities."
McClellan has been advancing through a long-toss program in recent weeks. He expects his arm to be ready for spring training and recognizes that whatever awaits him as a free agent will require him "to pitch well in spring training to get or keep my job."
The righty appeared in 261 games for the Cardinals — 244 of them as a reliever — and compiled a 19-23 record with a 3.69 earned-run average.
Cardinals lefty Jaime Garcia threw about 25 pitches off the mound at Busch Stadium on Monday and has taken strides toward what the team now expects to be a "normal offseason," general manager John Mozeliak said.
Garcia was placed on the disabled list during the postseason with ongoing troubles inside his left shoulder. The pitcher and the team sought to rehab the injury without turning to surgery.
Mozeliak said Garcia's prognosis after his recent rehab is good.
"By December he'll have a normal offseason and in January begin the throwing program for spring," Mozeliak said. "In everything I heard (from the team medical staff) today, the word surgery never came up."
That included conversations about shortstop Rafael Furcal.
Furcal has been in the Dominican Republic and continuing the rehab for the tear within his right elbow. The shortstop has not thrown a baseball yet. He will return to his home in Florida and meet with medical staff in Jupiter, Fla., as early as this weekend. The team is taking and comparing MRIs to monitor the healing of the torn ligament inside Furcal's right elbow.
"Everything is positive," Mozeliak said.
The team also signed catcher Rob Johnson to a minor-league contract. He offers depth as a third catcher behind backup Tony Cruz.