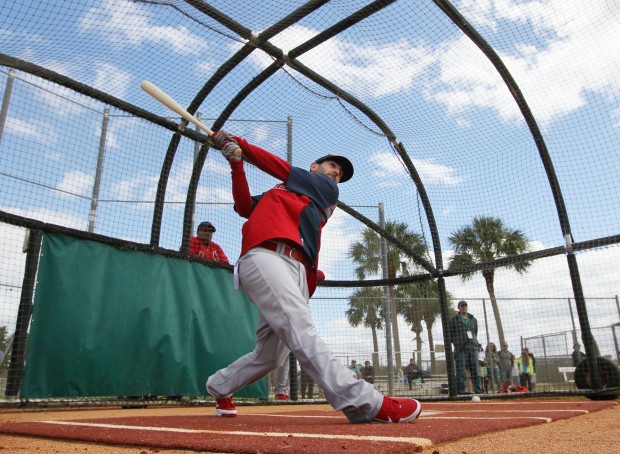 JUPITER, Fla. • Having spent most of his spring at second base, engaged in a long-term duel with Matt Carpenter for playing time at his natural position, Daniel Descalso has started roving around  the infield.
Today's move is notable for location as well as meaning.
Descalso will start at shortstop for the first time this spring, with apparently Ronny Cedeno to his right at third base.
This morning manager Mike Matheny confirmed the obvious with the shortstop position: Pete Kozma will be the starter.
Matheny said the former first-round pick has performed well enough to make the club confident he can handle the everyday position.
"Make of that what you will," Matheny said.
The Cardinals' bench remains one of the few tossups when it comes to the likely opening day roster. Matt Adams has slugged his way into contention for a bench spot, and that pits him directly against infielder Ronny Cedeno, who has been edged for the starting job at shortstop by Pete Kozma to this point in spring training. Descalso offers a backup at the shortstop position that could give the Cardinals the spot on the bench for Adams ... but not for Cedeno.
The Cardinals optioned Ryan Jackson to Class AAA Memphis on Sunday. Greg Garcia remains in camp. Either of them could be the starter at shortstop in Memphis, though the organization would like to see what Garcia does with increased playing time at the level.
Garcia hasn't been the priority prospect given a look because of his reputation this spring, Matheny said. He's earned the long look.
Here is the lineup for the day's game vs. Mets:
1. Jon Jay, CF

2. Matt Carpenter, 2B

3. Matt Holliday, DH

4. Matt Adams,1B

5. Oscar Taveras, RF

6. Daniel Descalso, SS

7. Tony Cruz, C

8. Adron Chambers, LF

9. Ronny Cedeno, 3B*

* the original lineup listed two shortstops. This has been clarified, as clearly stated in the headline.
Jake Westbrook is the starting pitcher for today's game.
Check back throughout the day here at C-Beat and StlToday.com for coverage from the game. There will also be the weekly Cardinals chat today at 1 p.m. St. Louis time.