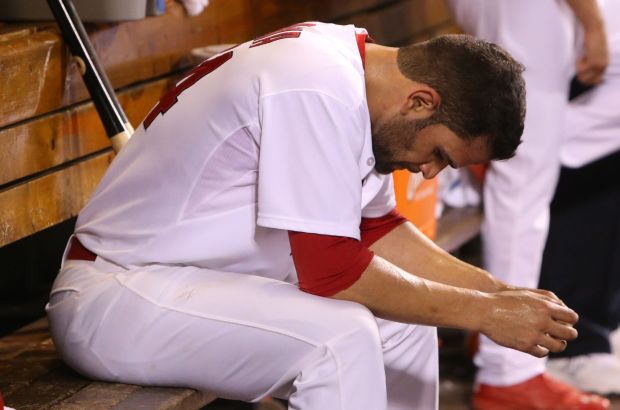 Although he was offered a menu of rehab options before having surgery, Cardinals starter Jaime Garcia alerted the Cardinals this morning that he intends to have a procedure this coming week that will end his season.
Cardinals general manager John Mozeliak confirmed the informal announcement made to the media this morning by Garcia that he will have surgery to address thoracic outlet syndrome.
"He's been a hard guy to count on," Mozeliak said of the oft-injured lefty. "He's been a hard guy to keep on the field." 
Garcia has seen a specialist in Dallas as well as former team physician George Paletta, who performed surgery on Garcia's shoulder last year.
Mozeliak said the thoracic outlet syndrome did not come up as a possibility until the past couple weeks. Garcia will seen a local surgeon Monday as a pre-surgery consultation, and Mozeliak said he expects the lefty to have the procedure shortly thereafter. The player has the right to tell the team of the treatment he would prefer to receive.
The club was irritated by how Garcia notified them.
"It could have been handled a little different," Mozeliak said. "This (injury) appears to have generated itself in the last couple weeks."
The injury is not affecting the same nerve Garcia had moved from his wrist to his elbow and irritated earlier in his career. This appears to be a completely different injury.
"I started getting tingling in my neck and shooting in my hand ever single throw I was making. The last two starts, it got worse," said the 27-year-old Garcia, 42-26 in his Cardinals career and 3-1 this year.
"It's very disappointing, especially with how bad I want to be out there. But what can you do? I've done everything in my control that's been asked of me." 
Garcia mentioned that he can trace the current troubles to being hit by a pitch during his rehab assignment, though he also said he had some of the symptoms long before, even dating back to previous shoulder troubles.
The Cardinals have one guaranteed year remaining on Garcia's contract. Mozeliak said he'll get a chance to prove his health next spring training.
"He's in a tough spot," manager Mike Matheny said. "He has a lot of people who are helping him make his decisions."
"Most of it goes beyond our abilities as coaches and to understand we have a very good medical staff in place for a purpose," the manager added. "They are professionals there to help us understand the things that he's feeling."
Garcia pitched to a 3-1 record and 4.12 ERA in seven starts before hitting the disabled list for the second time in two years. 
Craig back, hitting third
Now to the players who will play today.
For the first time in three days that includes Allen Craig, who comes off the bench and slides back into the No.3 spot in Matheny's lineup.
With lefty rookie Andrew Heaney on the mound for Miami, Matheny gives Matt Adams and Oscar Taveras both breathers. For Taveras, its his first off day since being recalled on July 1. 
The merry-go-round continues as Jon Jay moves from center to right field, and Peter Bourjos gets the start in center. It is Borujos' first start in six days.
Joe Trezza is a sports intern at the St. Louis Post-Dispatch. Follow him on Twitter at JoeTrezz" @JoeTrezz