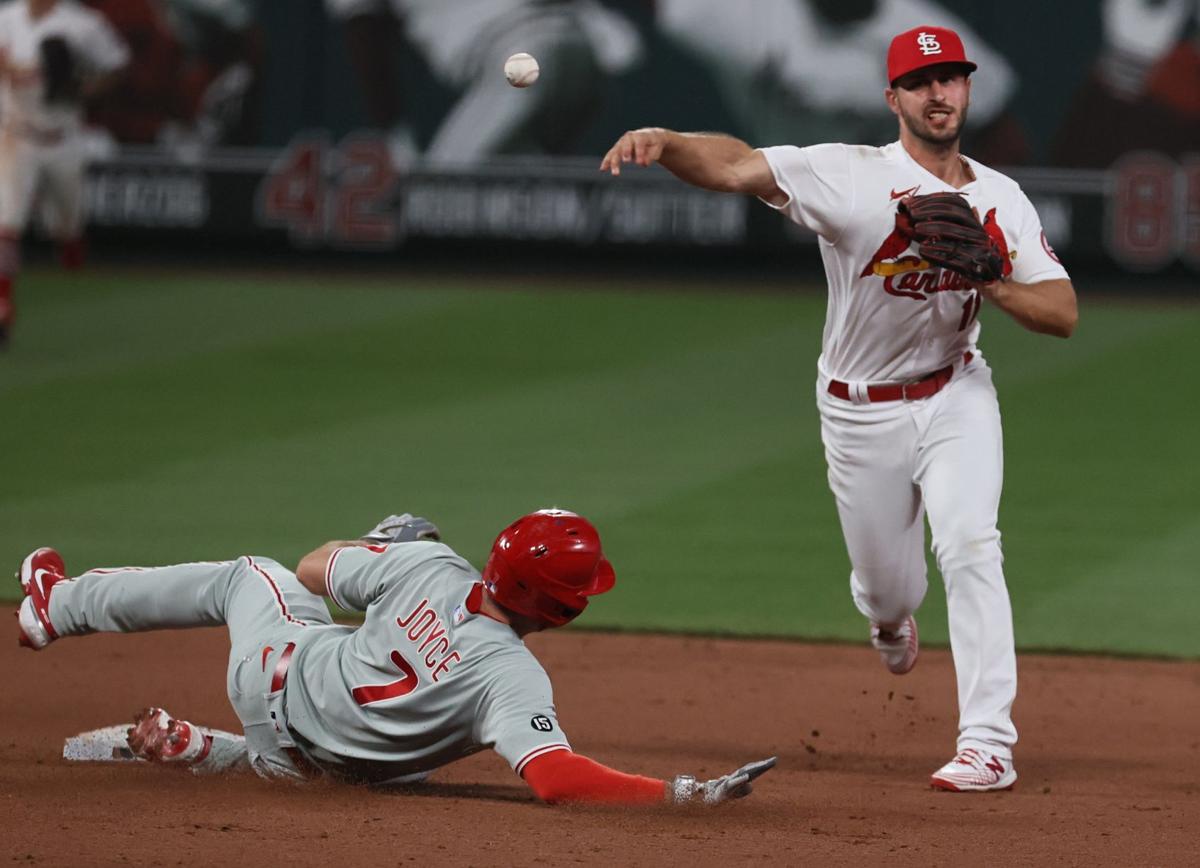 There will be several notable omissions from the lineups for both the Philadelphia Phillies and the Cardinals in Thursday afternoon's series finale of a four-game series at Busch Stadium.
Most prominent are the absences of Phils right fielder Bryce Harper and shortstop Didi Gregorius, who were hit in the cheek and ribs, respectively, by Cardinals reliever Genesis Cabrera on Wednesday night. Both, however, still are active.
Cardinals manager Mike Shildt said he wasn't likely to use Cabrera Thursday in the final meeting of the two teams. He also isn't starting shortstop Paul DeJong, who is down to .173, with Edmundo Sosa gaining his second start at that position.
Also, Shildt will have a new reliever in righthander Seth Elledge, who was with the club periodically in 2020, posting a 1-0 record with 4.63 earned run average and striking out 14 in 11 2/3 innings.
 Righthander Jovan Oviedo, who pitched five innings in a start on Wednesdsay,  was optioned to the alternate site camp. During the Cardinals' stretch of 17 games in 17 days—they are at game 7 now—Shildt said Oviedo would make a couple of starts as the sixth starter but he didn't say they would be in succession.
Oviedo would have to stay down for 10 days before he could be brought back, unless there was an injury but he could return at the end of the stretch to start against Colorado here next weekend. 
And, speaking of injury. . .
It appears that Harper isn't seriously hurt although he didn't start Thursday. Shildt, asked if he was worried that some of his sluggers might be hit after the Cardinals hit two Phillies batters on Wednesday and Cincinnati's Jonathan India in the head to Sunday, answered, "Yeah. (But) we hope that people can separate it in a sense of clearly being unintentional.
"We also appreciate the fact that people are going to be rightfully upset that guys got hit in some really ugly places. cases.
"You would hope they would look at it in a big picture but I can't say it's out of the realm of possibility. Ultimately, I can't control what other people do or think.
"It was an ugly situation last night that was handled very well, as well as it could have been handled, I felt like. It's part of the game. It's competition. It's something we don't like to see.
"Our dugout, our training staff, 'Mad Dog' (pitching coach Mike Maddux) and I were all trying to get on the field to see f he was OK. And then we realized, 'He's not our player.'
"Then we checked in to see if Cabrera was OK and I think he's going to be OK as well." 
Lefthander Kwang Hyun Kim will go for the Cardinals against Phils ace Aaron Nola, who blanked the Cardinals some 10 days ago in Philadelphia.