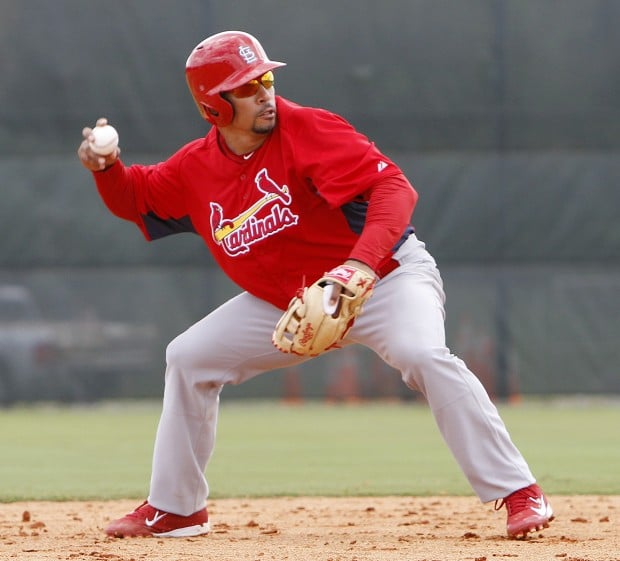 JUPITER, Fla. • Cardinals shortstop Rafael Furcal continues to be hampered by pain in his right elbow, and on Thursday the club suggested that the switch-hitter only bat from the right side of the plate, limiting the stress caused on his elbow by batting lefthanded.
Furcal said the soreness in the elbow was likely related to too many swings on Wednesday.
Throwing at full effort continues to be off limits for the shortstop.
"It still hurts. A lot," Furcal said. "When I'm throwing."
Furcal continues to take part in drills to keep his feet and legs and glove active, but the strength with which he throws the ball is dialed-back considerably, especially when compared to his teammates. He has taken more off his throws in recent days since he started dealing with the bone spur. Furcal said the ligament, which tore last August, has not caused him any pain. The soreness is on the nob of the elbow, not along the side.
He suggested that he could throw at 50-percent strength all day.
"I can play (at that pace) right now," Furcal said. "I don't want to push it."
Furcal and the club continue say that opening day is not a question for the starting shortstop who missed the final two months of last season, including the postseason.
Furcal suggested earlier in the week to The Post-Dispatch that he could miss the first 10 or 15 games of spring training -- in the field. Manager Mike Matheny and he have talked about appearing as a designated hitter in the early games to start developing his timing at the plate.
He said the treatment in the recent days -- which has included anti-inflammatory medication -- has reduced the soreness in his elbow.