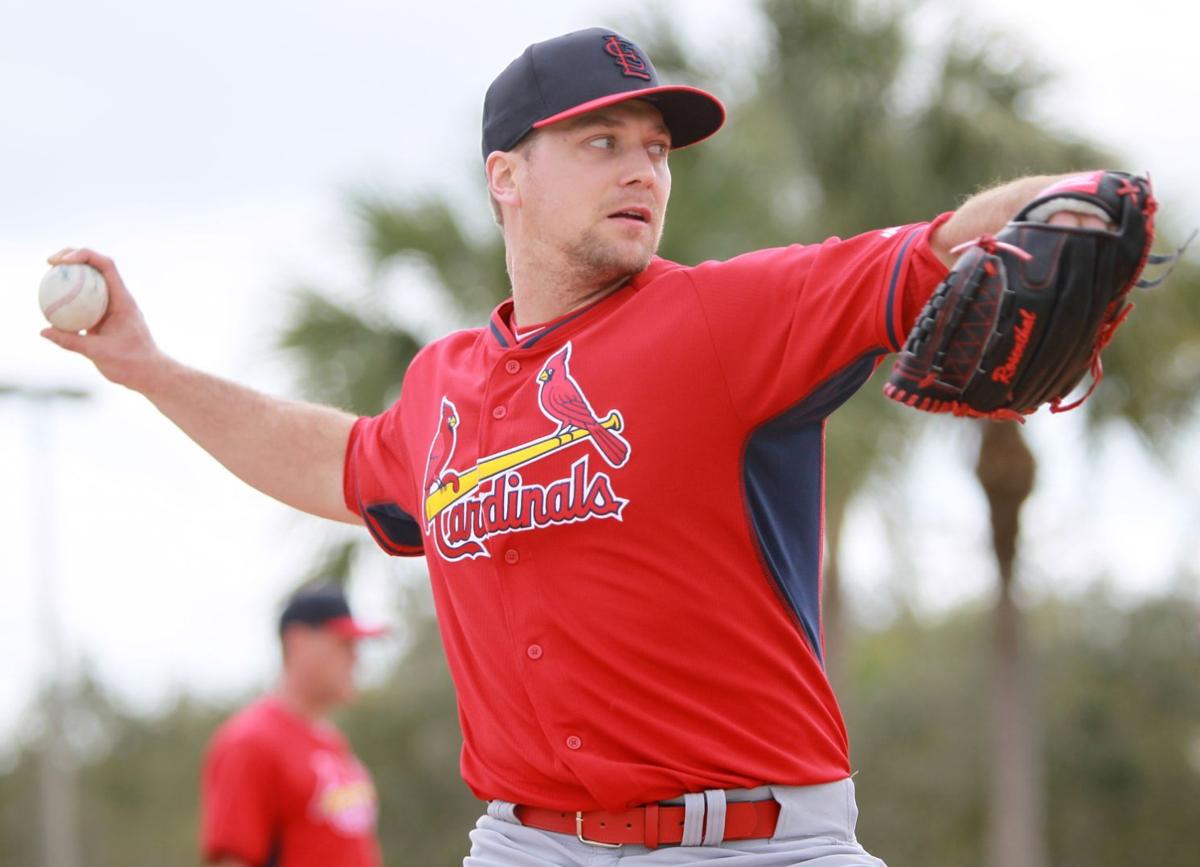 KISSIMMEE, Fla. • There is a downside, Cardinals manager Mike Matheny explained after his team's 7-6 loss to Houston on Tuesday afternoon, to always having Yadier Molina behind the plate to call pitches for the relievers during the regular season.
The faith in Molina's game-calling is such that sometimes, Matheny said, the pitchers can "check out" even when he's not there and shake off less than they should.
Consider today's example: Trevor Rosenthal.
With Class AAA Memphis stalwart Ed Easley behind the plate, Rosenthal threw fastball after fastball after fastball in his work during the seventh inning. He is a fastball-based pitcher, and that is where he's going to go with a lot of his work in the ninth inning.
But there's a price for going to the fastball too often and Max Tressi turned on one to change the game. Matheny said there was a moment or two when Rosenthal should have shook off the call and pushed for something off-speed. He's going to have to use it.
"Just keep trusting your stuff," Matheny said. "He looks good, he really does. There's a difference too with the catcher. You didn't see a lot of off-speed pitches from him. He needs to keep guys off balance with his off-speed pitches. Even in tough counts -- if he's not going to shake his head and get to the pitch he wants. Times like this you can see it works against because guys need to do what they should be doing."
Rosenthal struck out a batter but allowed a walk and that led to the trouble that them twisted on him with the tie-breaking homer.
The Cardinals answered with a homer of their own in the top of the ninth inning. Jacob Wilson lifted a home run over the left-field fence to complete his three-for-four day. Wilson also played well at second and third base. He started a double play at the latter position.
Carlos Martinez said he fought the command of his fastball early in the game but was able to get one pitch shy of his target of 50 pitches.
Rosenthal, from the stretch, allows deciding runs
Cardinals closer Trevor Rosenthal has continued his experiment with abandoning the windup and pitching exclusively from the stretch, even when there isn't a runner on base.
That's how he started the seventh inning Tuesday afternoon against the Astros and that's how he would have finished.
Trouble only started when a runner got on base.
Max Stassi connected on a two-out, two-run home run over the wall in right-center field that snapped a 5-5 tie. The shot off Rosenthal put the Astros ahead 7-5, and they held on for a 7-6 victory at Osceola County Stadium.
The Cardinals rallied twice to either take the lead or tie the score. Aledmys Diaz's first hit of spring training helped tie the game in the top of the sixth inning.
Rosenthal pitched one inning and allowed the two runs on one hit and a walk. He also struck out a batter.
Rasmus' double leads to Astros 5-3 lead
Houston center fielder Colby Rasmus, the beguiling talent that continues to intrigue Cardinals Nation even four years after he was traded en route to the World Series, drilled a double off the wall that upended his former team.
Rasmus' double off the right-field wall scored two runs and tied the game, 3-3. He wasn't done turning the game on his former team.
The double did give the Cardinals an excuse to use Carlos Villanueva in a role he might encounter if he makes the team.
John Gast started the bottom of the fourth inning but did not record an out before Rasmus tattooed a pitch from the lefty for his two-run double. That brought Villanueva into the game with no outs and the go-ahead runner at second base. Villanueva struck out the first two batters he faced and Rasmus didn't budge from second.
The reliever then couldn't get batting champ Jose Altuve.
The Astros' All-Star lined a single to left field to score Rasmus and give Houston back the lead, 4-3. Altuve then scored with a two-out line-drive single to right field by Luis Valbuena off Villanueva. Headed into the top of the fifth inning with former Cardinals farmhand Luke Gregerson taking the mound for Houston, the Astros lead, 5-3.
Heyward, Reynolds strike to give Cards the lead
In its second look at Houston lefty Brett Oberholtzer, the top of the Cardinals order made enough of a ruckus to take a lead Tuesday afternoon at Osceola County Stadium.
A rally started by Tony Cruz's base hit continued with singles by lefthanded hitters Matt Carpenter and Jason Heyward and ended with Mark Reynolds sharp grounder through one of the few seams on the left side of the infield. RBIs from newcomers Heyward and Reynolds gave the Cardinals a 2-1 lead against the Astros.
Reynolds laced an RBI single past the three infielders who had shifted to the left side of second base for an exaggerated defense.
His single scored Carpenter from second. Heyward had previously scored Cruz with his single to right field that tied the game, 1-1.
Cardinals starter Carlos Martinez did not have an encore for his strong start. The Cardinals righty spent a lot of time pitching deep into counts, and he routinely fell behind, especially early in the game. The second batter he faced was able to start with a 3-0 count before Martinez allowed a double. Four batters into the game, the Astros had two doubles and a 1-0 lead against Martinez.
Of his first 24 pitches, 12 were balls.
Martinez righted himself in the second inning with nine strikes in 14 pitches and three outs from four batters. He did get to a three-ball count on Domingo Santana, the No. 8 hitter, before coaxing a fly ball from him. Martinez hit the final batter he faced and was promptly removed from the game at that point. He pitched 2 2/3 innings and allowed one run on three hits. He did not issue a walk despite the deep counts.
He threw a total of 48 pitches, 28 of which were strikes.
Neshek sidelined by sore right foot
Before he could take the field during Cardinals batting practice to chat with former teammates, righty Pat Neshek had to have a small but nagging soreness in his right foot examined and his cleat adjusted.
Neshek will miss at least a week of spring training with the Houston Astros to give his right foot a chance to heal from what he described as a stress reaction. An X-ray taken of the foot Tuesday morning revealed what could become a stress fracture in the middle part of his foot.
"We have the time here," Neshek said. "It could be a lot worse. Yesterday they were telling me it could be surgery. We got the best news."
He said that the pain may have been caused by the cleat that is affixed on the outside of his right cleat. He looked back at the shoe he wore last year with the Cardinals and there was a nub there, not a cleat.
So, too, were the Cardinals.
Neshek signed with the Cardinals on the eve of spring training as a non-roster invitation, and by July he was the team's setup man and an All-Star. The last time Neshek and the Cardinals talked about having him sign beyond the 2014 season was shortly before the All-Star Game. After the Cardinals made it clear to Neshek that they believed he'd find more money and a better offer elsewhere. He did.
The Astros signed him to a two-year deal. That kept him close to home for spring training -- he's about 30 minutes closer than his commute was last season to Jupiter, Fla. -- and also gives him some security.
(Aside: The deal Neshek signed with the Cardinals last season did not include any of the standard bonuses players get, so he did not receive a cash bonus for being in the All-Star Game.)
"It was unbelievable last year to get that opportunity, one, to make the team as a non-roster guy and then to get handed more and more the bigger innings," Neshek said. "It seemed like when I got that eighth-inning it was really fun. We were winning games. The crowds were fun. I just kind of rode that wave."
Keep up with the latest Cardinals coverage from our award-winning team of reporters and columnists.