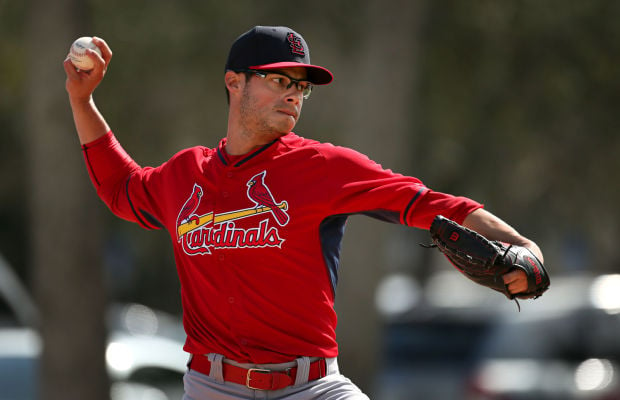 JUPITER, Fla. • Joe Kelly confirmed today a decision manager Mike Matheny and his staff had made earlier in the day.
After Kelly had no-hit the Houston Astros for five innings and allowed two hits in the sixth before coming out of a 6-3 Cardinals exhibition win, Matheny said, "Joe did a real nice job today and I will also say that he's going to be our fifth starter."
This means that Carlos Martinez, who had a 1.76 earned run average for his spring, will go back to the bullpen, specifically the eighth inning, Matheny said.
Matheny told the media, "I don't have to tell anybody in this room or anybody that's watched us at all that this has zero to do with what Carlos Martinez did not do. He threw the ball exceptionally well. We've just got to figure out what's best for our club."
Matheny said the club needed the 22-year-old Martinez in the setup role he filled so well in the postseason last year.
"I'm not saying that's going to be the end of where he'll always be," said Matheny. "I believe he's going to be a starter and I believe he's going to be a very good one.
"But right now, we need him to help our club out of the bullpen.
"None of us could deny the back end of our bullpen last season. I do believe Joe could have gone in there and done a very nice job. But we have a lot of certainty with what Carlos brings. That really was kind of the deciding factor.
"This was a group decision," Matheny said. "We've been talking about it since day one. We watched Carlos throw his first game and we watched Joe throw his first game and we're thinking we could be at the end of this month with a really tough decision and that's exactly where we found ourselves.
"I also remember saying that if we found ourselves in that position, it's not a bad place to be."
Matheny had told Martinez through a translator of his decision but had neglected to tell Kelly until asked about it by a reporter. Matheny scurried out of the room to run down Kelly before the latter had departed the clubhouse.
A couple of media members had tweeted the news and Matheny said, "I'm still not used to how quick this stuff can get all the way around the world."
Soon, former closer Jason Motte, rebounding from Tommy John surgery of a year ago, is expected to be at the back end of the bullpen. This, in theory, could free up Martinez to start.
"We believe it wouldn't take long if we did need some help in our rotation," Matheny said.
"Carlos competed. He did everything he could possibly do," Matheny said.
Kelly had been in Martinez's shoes last spring when he was told he was going to the bullpen and that Shelby Miller would start. But Kelly emerged from the bullpen and Martinez might, too.
"I know it's not easy," said Matheny. "But I also know that Carlos is the type of player who realizes what our club needs right now.
"We also made it very clear we see him as a starter. When that day comes, we don't really know. But we don't want him to believe that this is taking away from that opportunity to do that in the future."
Lance Lynn will take the exhibition start on Tuesday that would have been Martinez's. Matheny said he would reveal the list of his first week's starters soon but not today. Adam Wainwright already has been nominated to pitch the opener a week from Monday in Cincinnati.
Kelly, 9-3 with a 2.28 earned run average as a starter last year, walked four and fanned four as he threw 88 pitches a spring high for a Cardinals pitcher.
He had plenty of early support in the form of home runs in the first three innings by Jhonny Peralta, Matt Holliday and Matt Adams, who has had two home runs in the last two games and four for the season.
The Cardinals finally evened their exhibition record at 10-10-2 after starting out 2-7-2. Their pitching has allowed more than three runs in just one of the last five games.
Closer Trevor Rosenthal took a hard ground ball off his left side in the ninth but stayed in the game after third baseman Daniel Descalso swiftly had fielded the carom and recorded the out at first.
The Astros, now in the American League, won't play the Cardinals in the regular season for the first time since they came into the National League in 1962.
The Cardinals optioned infielder Greg Garcia to Class AAA Memphis and reassigned infielder Luis Mateo to the minor league camp after the game. Earlier they had optioned lefthander Sam Freeman, outfielder Joey Butler and newly signed infielder Aledmys Diaz to the minors. Freeman and Butler went to Memphis and Diaz, who was three for six, to Class AA Springfield.
Righthander Angel Castro, previously optioned to Memphis, was taken off the Cardinals' 40-man roster and outrighted to Memphis. The Cardinals have 29 roster players and six non-roster players in camp.
Cardinals righthander Joe Kelly held the Houston Astros hitless for five innings before allowing two hits, including a triple, in the sixth inning today. Kelly, who walked four and fanned four as he continued his bid to stay in the rotation, threw 88 pitches, the highest total by a Cardinals starter this spring.
The Cardinals lead 6-3 after seven.
Adams, Holliday HRs spark four-run third  
Matt Adams hit his second homer in two days and fourth of the spring and Matt Holliday belted his first to highlight a four-run third inning as the Cardinals briskly moved ahead of Houston, 6-0, in a Grapefruit League game today.
Adams' blast to right off Jerome Williams followed a rare, run-scoring triple by Yadier Molina. Holliday had started the scoring in the inning, all the runs coming with two out, with a homer to right with a prevailing wind.
Jhonny Peralta had homered off Williams in the previous inning. Cardinals starter Joe Kelly, meanwhile, didn't allow a hit through four innings, striking out five.
Peralta belts third homer 
After getting the last two days off, Cardinals shortstop Jhonny Peralta belted his third homer of the spring in the second inning today. The drive off Houston righthander Jerome Williams gave the Cardinals a 2-0 lead.
Kolten Wong and Matt Holliday singled to set up a first-inning run. Wong stole third and scored on an infield hit by Allen Craig.
Joe Kelly blanked the Astros in the first three innings, issuing only a walk and striking out four. He made his first out of the spring, however. Kelly went three for three in his first start but grounded to third in his first at-bat today, ending the second inning. 
Freeman sent to Memphis, Diaz to Springfield 
The Cardinals reduced the competition for the final bullpen spot by one this morning by sending lefthander Sam Freeman back to Memphis.
Freeman had a 2.84 earned run average for seven appearances but had caused concern by walking four hitters in 6 1/3 innings.
Recently signed Cuban shortstop Aledmys Diaz, who was three for six in his two big-league games, was optioned to Class AA Springfield and outfielder Joey Butler was optioned to Memphis.
Righthanders Keith Butler, Jorge Rondon and Scott McGregor seem to be the finalists for the 12th pitching spot if non-roster righthander Pat Neshek makes the team, as expected.
Joe Kelly, who is fighting to stay out of the bullpen and in the rotation, will start against Houston here today.
Kolten Wong will hit second and Jon Jay eighth today in what could approximate the Opening Day lineup, minus pitcher Adam Wainwright.