Yadier Molina's two singles didn't figure in the scoring Thursday night as the Cardinals downed the Milwaukee Brewers 4-2 at Busch Stadium. But they made history.
After Molina legged out an infield single in the second inning for career hit No. 1,999, he singled to right center off righthander Justin Topa in the seventh inning for the 2,000th hit of his career with the Cardinals.
Molina became the 12th player who primarily played as a catcher to have 2,000 and only the sixth player of any position to have 2,000 hits as a Cardinal. That list is an esteemed one, with the other members Stan Musial, Lou Brock, Rogers Hornsby, Enos Slaughter and Molina's longtime teammate and friend, Albert Pujols.
Molina began his career here in 2004 and earlier this season he passed the 2,000 games played mark with the Cardinals.  
As the Cardinals moved a half game ahead of idle Cincinnati for second place in the National League Central Division and an automatic playoff spot, Dylan Carlson smacked a two-run homer and drove in another run with a double.
Kwang Hyun Kim, who required 56 pitches to get through the fourth and fifth innings, left after five innings but received spotless relief as he gained his third win. Giovanny Gallegos, Genesis Cabrera, Alex Reyes and Andrew Miller took care of the final four innings, allowing just one run and striking out six.  
Milwaukee dropped two games behind the Cardinals in the division and the Cardinals suddenly trail the first-place Chicago Cubs by just 2 ½ games and just one on the loss side.  The Brewers and Cardinals have four more games here this weekend while Cincinnati plays three at Minnesota and the Cubs visit the crosstown White Sox for three.  
Carlson homers, doubles for three RBIs 
Dylan Carlson, who fell 10 or so feet short of a home run which would have given him a cycle a few nights ago in Kansas City, found the extra distance and more in the fourth inning against Milwaukee righthander Corbin Burnes Thursday night when he sent a two-run homer to right field to give the Cardinals a 3-1 lead at Busch Stadium. Carlson then made that lead 4-1 with a run-scoring double in the sixth off Corey Knebel. 
The Cardinals had caused Burnes, who entered the game with a 1.77 earned run average, to labor all night long and, with Carlson at bat, the Brewers' manager, pitching coach and trainer had visited the mound to see if Burnes was all right. The homer and then a groundout by Kolten Wong followed. With Tommy Edman at bat, Burnes, who already was at the 81-pitch mark for four innings, walked off the mound in distress and was removed from the game with lower back discomfort.
Carlson's double in the sixth chased home Dexter Fowler, who had walked for the second time, also scoring in front of Carlson's home run. The two extra-base hits for Carlson gave him four in his past 11 at-bats and the homer was his third of the year. 
Cardinals strike first but Brewers catch up at 1-1 
Consecutive singles by Kolten Wong, Tommy Edman and Paul Goldschmidt created the first scoring of the game as the Cardinals took a 1-0 lead over Milwaukee in the first of five games between the two clubs this weekend at Busch Stadium.
But the Cardinals, who were peppering Milwaukee starter Corbin Burnes, were leaving a lot of money on the table, stranding five runners through three. And the Brewers tied the score at 1-1 in the fourth on three singles, the last by Tyrone Taylor, as they scored for the first time this year against Cardinals lefthander Kwang Hyun Kim.
After Goldshmidt knocked in only his 20th run of the season, Matt Carpenter lined to deep right where Taylor snagged the ball before he banged into the wall. Yadier Molina, seeking the 2,000th hit of his career, struck out and Brad Miller lined to first baseman Jedd Gyorko.
Molina gets 1,999th hit--an infield single 
The Cardinals made Milwaukee Brewers ace Corbin Burnes work hard in the first two innings Thursday night at Busch Stadium, but had little to show for it other than the 1,999th hit of Cardinals catcher Yadier Molina's career.
Molina legged out an infield single to deep short—or short left field—to open the second inning and Brad Miller also singled. But Burnes, who needed 46 pitches to complete the first two innings, struck out Paul DeJong, mired in a terrible slump at nothing for 16 and one for 27. Burnes got Dexter Fowler on a groundout and Dylan Carlson on a liner to left to maintain a 0-0 tie.
Burnes had fanned the side in the first when Kolten Wong had walked and gone to second and then third on Burnes' error on a pickoff attempt and then a wild pitch.
Kwang Hyun Kim, who blanked the Brewers for seven innings on three hits earlier this month, ran his scoreless streak against Milwaukee to 10 with two tidy innings and the third inning which presented a little more stress after Orlando Arcia opened with a double.
Kim, whose changeup was a big pitch for him early, fanned Luis Urias and Jacob Nottingham and retired Avisail Garcia on a liner to first baseman Paul Goldschmidt.
Martinez on injured list, replaced by Oviedo 
Carlos Martinez, officially, has thrown his last ball for the regular season and there is very little chance he would reappear even if the Cardinals made a long playoff run—if they run into the playoffs at all.
Martinez was diagnosed Thursday with the dreaded (left) oblique strain suffered while facing his final hitter Wednesday in a 12-3 debacle in Kansas City in which he allowed eight runs. The 29-year-old righthander was placed on the 10-day injured list and Johan Oviedo, who was going to be brought up on Sunday, joined the club a few days early and will work out of the bullpen during the five-game series with the Milwaukee Brewers, which begins on Thursday night at Busch Stadium.
Manager Mike Shildt, discussing Martinez's situation, said he wouldn't "absolutely assume" that Martinez could not pitch any more this season. "But it's not favorable," Shildt said. "Even if we make that deep run, it's not likely."
Pitchers routinely are a month or more with such an injury.
"It's clearly impactful for him the next several weeks. We're not anticipating him doing a lot of anything," Shildt said. 
Martinez, a two-time All-Star, made one start before the COVID-19 outbreak hit the club and four starts afterward. None of them was particularly good, notably the final one, but Shildt noted that Martinez was hit harder than most by the virus.
Martinez had a dazzling spring training appearance in West Palm Beach, Fla., against the World Series champion Washington Nationals the night of Shildt's engagement party at the ball park there. And Shildt, on Thursday night, recalling Martinez's spring, said, "We really did have a lot high hopes. (He) threw a lot of time and energy into it. He had a really good spring, a lot of positives.
"He just couldn't get off on the right foot. But you don't want to minimize the fact—nor make an excuse—but this guy was affected by COVID probably more than anybody in this league and at one point was just concerned about his own personal well-being and livelihood.
"It's kind of hard to come back from that and not get to pitch a whole lot. People wonder why his stuff wasn't the same. Who knows? But (the COVID effect) could be a contributing factor. The guy was hooked to IVs for multiple days."
Shildt first managed Martinez in 2012 at Springfield. "I appreciate very much what he's invested recently in his career and you always want to see that return on the investment," Shildt said. 
Hudson news will not be 'fantastic'
No official word has down yet concerning Dakota Hudson's strained right elbow but surgery seems a very probable option. Shildt said, "The medical team will make a more formal announcement. There's a lot of moving parts. There's opinions still being weighed. I'd like to be able to tell you it's fantastic news but I can't say that's going to be the case."
DeJong (0 for 15 and 1 for 26) dropped to seventh
Shildt made a bold lineup move, dropping Paul DeJong from fourth to seventh. DeJong hadn't had a hit in his previous 15 at-bats and was one for 26.
Tommy Edman made a rare start in left field with the balance of the outfield Dylan Carlson in center and Dexter Fowler n right against Brewers ace righthander Corbin Burnes, who will be opposed by stylish Cardinals lefthander Kwang Hyun Kim.
The Cardinals need to win to hang onto second place in the National League Central Division. They are in a virtual tie with Cincinnati and one game ahead of Milwaukee. But Cincinnati is off Thursday before starting a three-game series on Friday at Minnesota.
Cardinals catcher Yadier Molina starts the night two hits shy of 2,000 for his career. Third baseman Matt Carpenter will hit fourth for the Cardinals and former Cardinals infielder Jedd Gyorko will bat cleanup for the Brewers.
Photos: Cardinals 4, Brewers 2
Cardinals host Brewers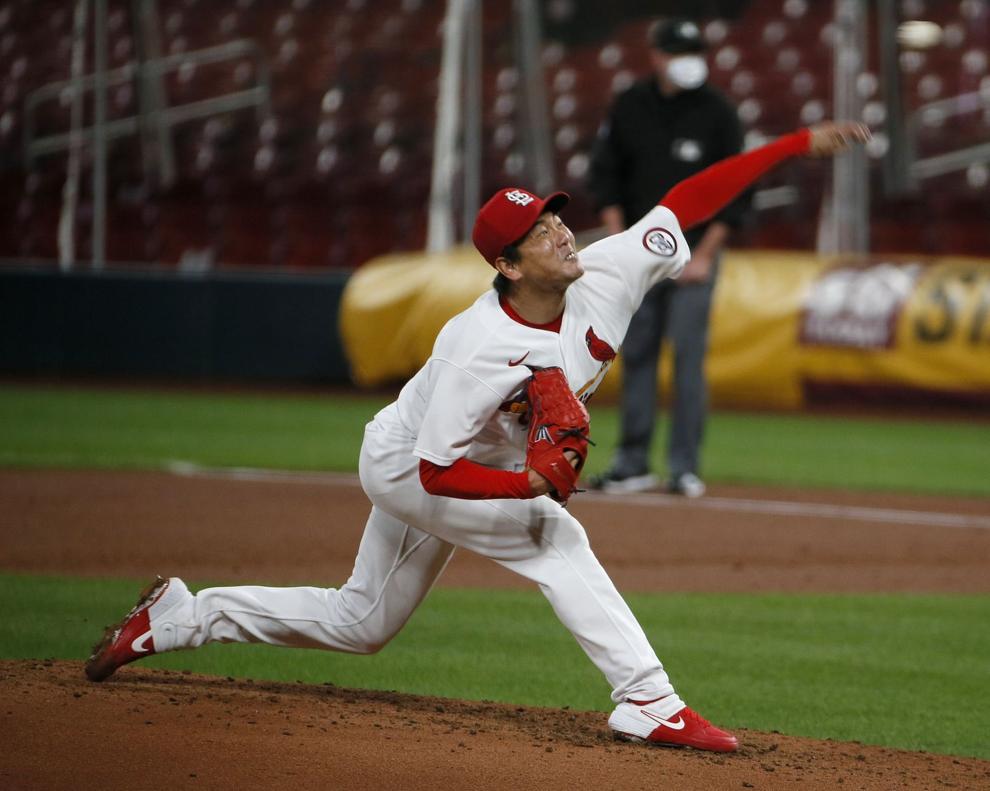 Cardinals host Brewers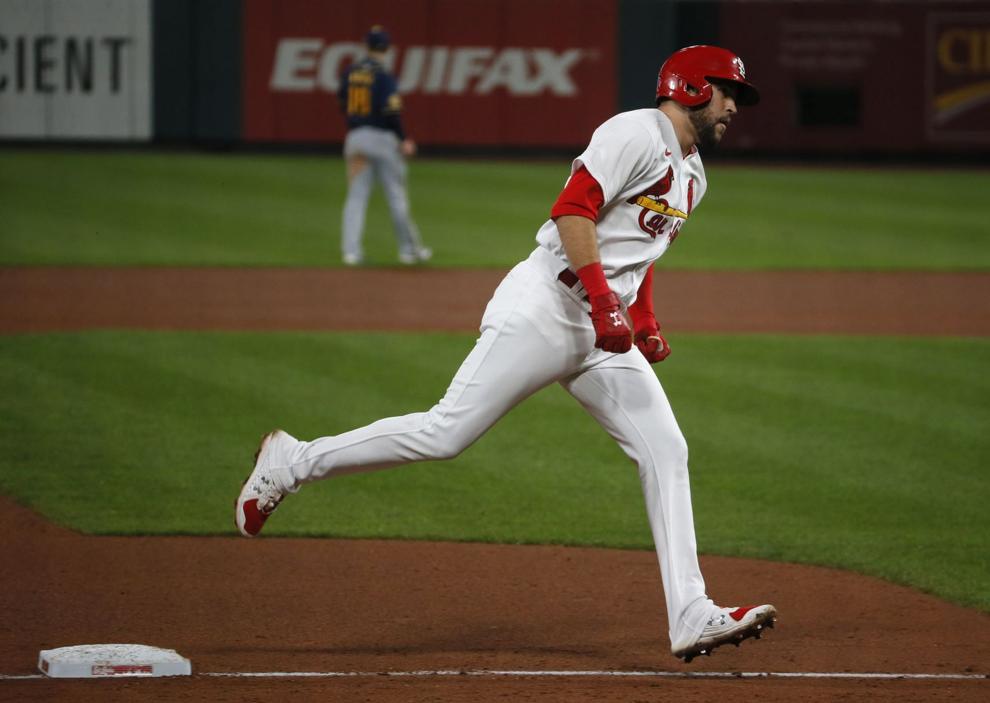 Cardinals host Brewers
Cardinals host Brewers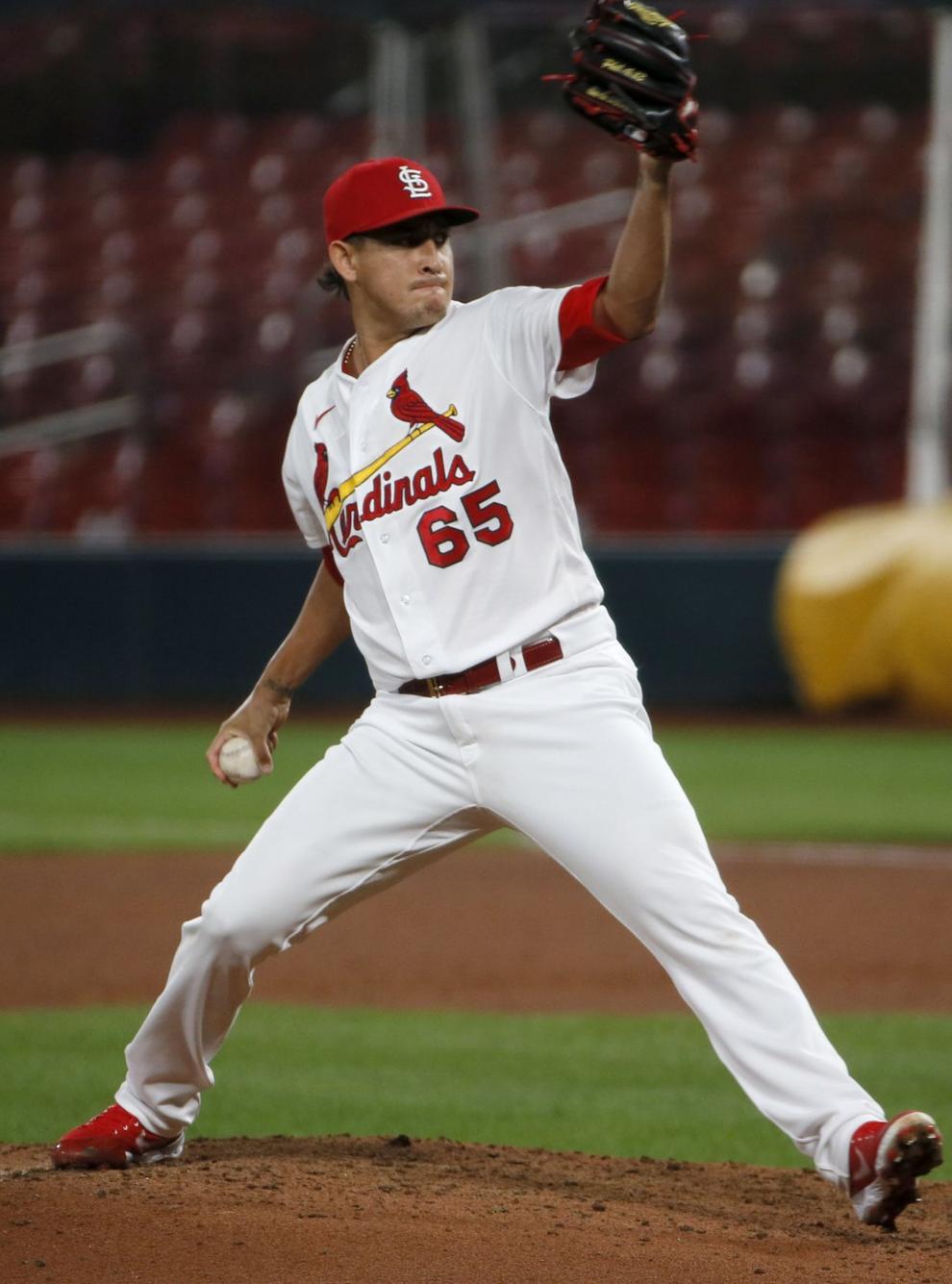 Cardinals host Brewers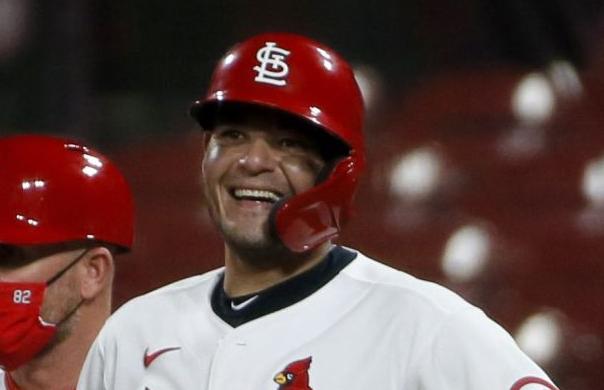 Cardinals host Brewers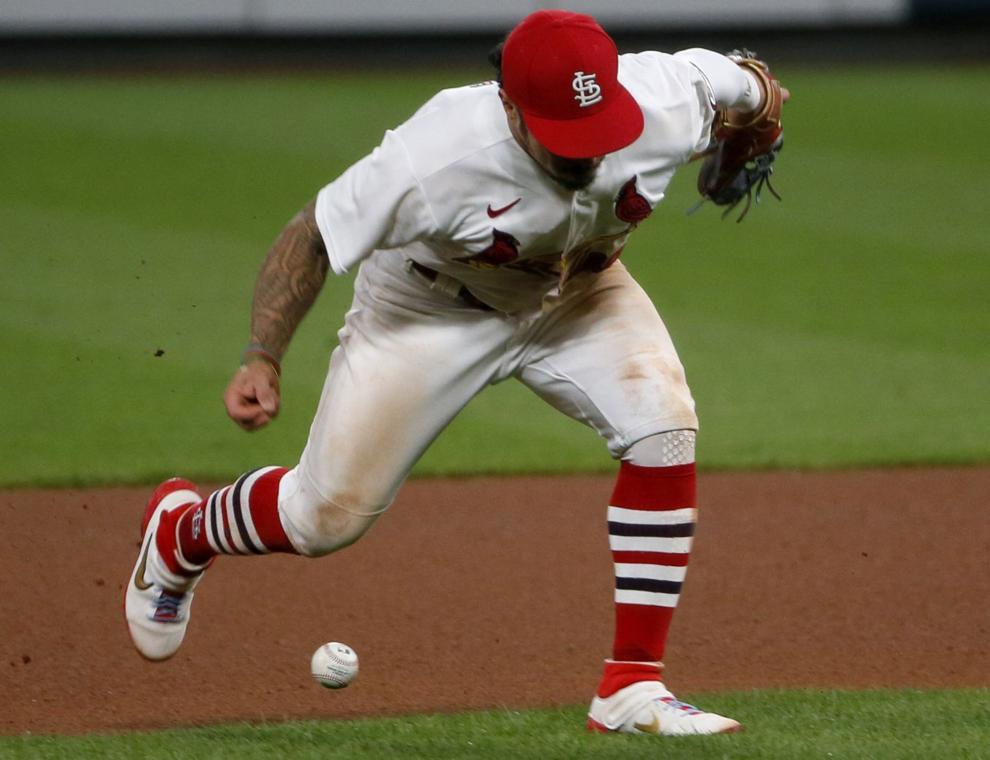 Cardinals host Brewers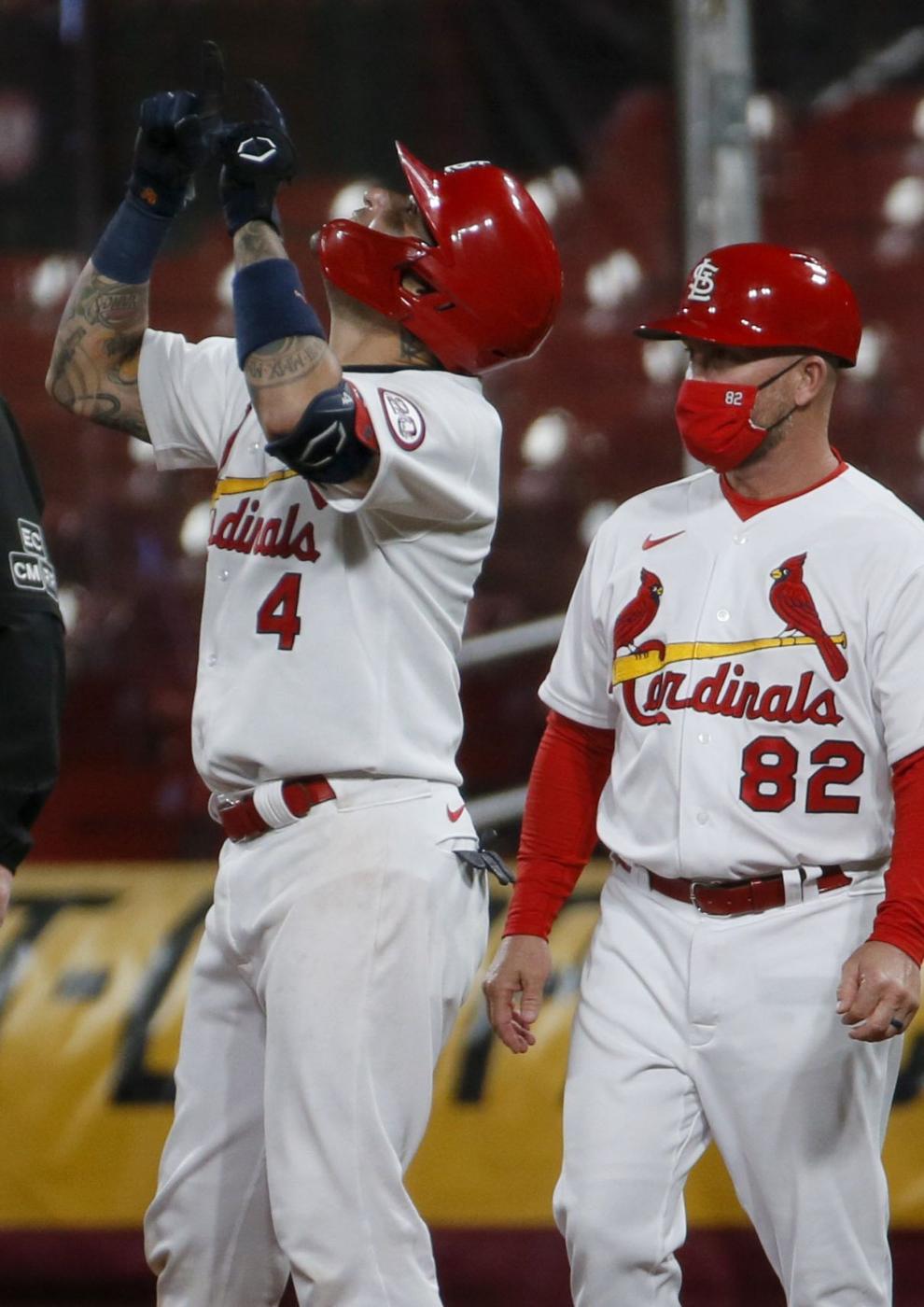 Cardinals host Brewers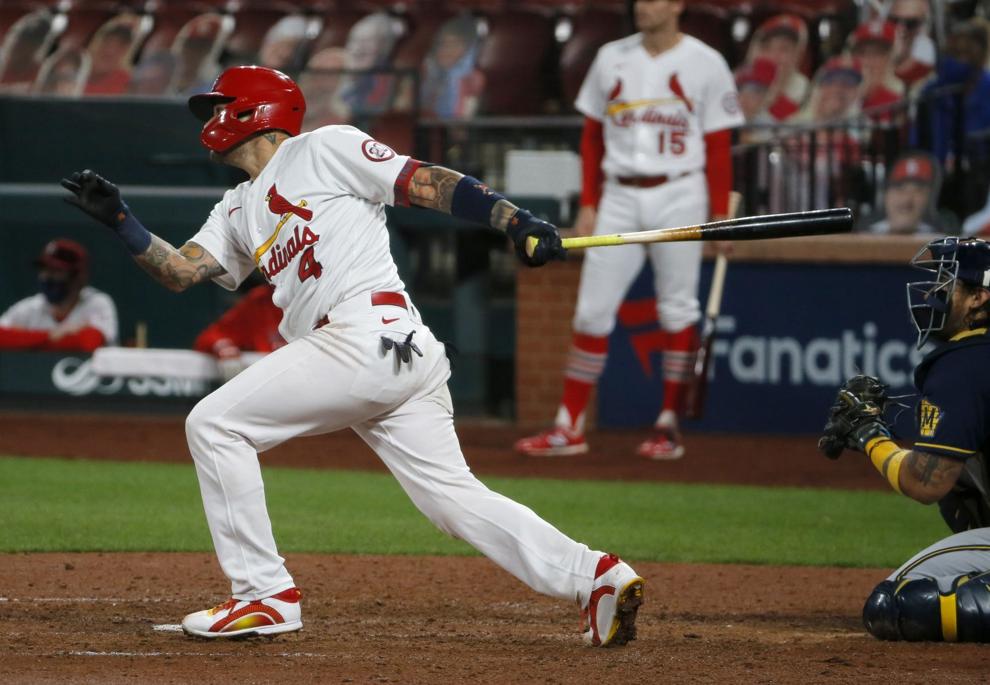 Cardinals host Brewers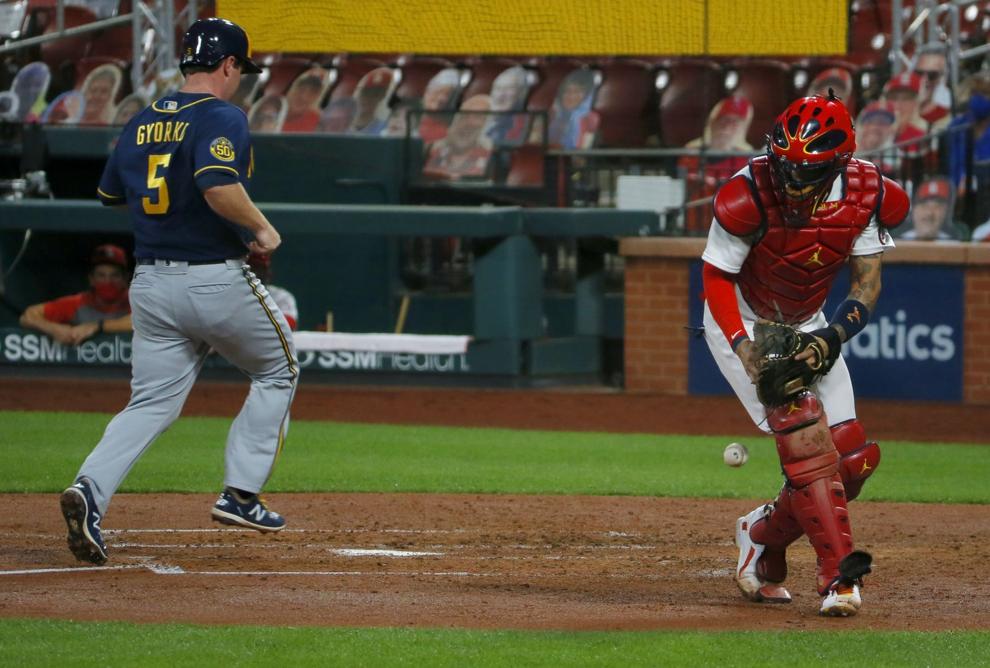 Cardinals host Brewers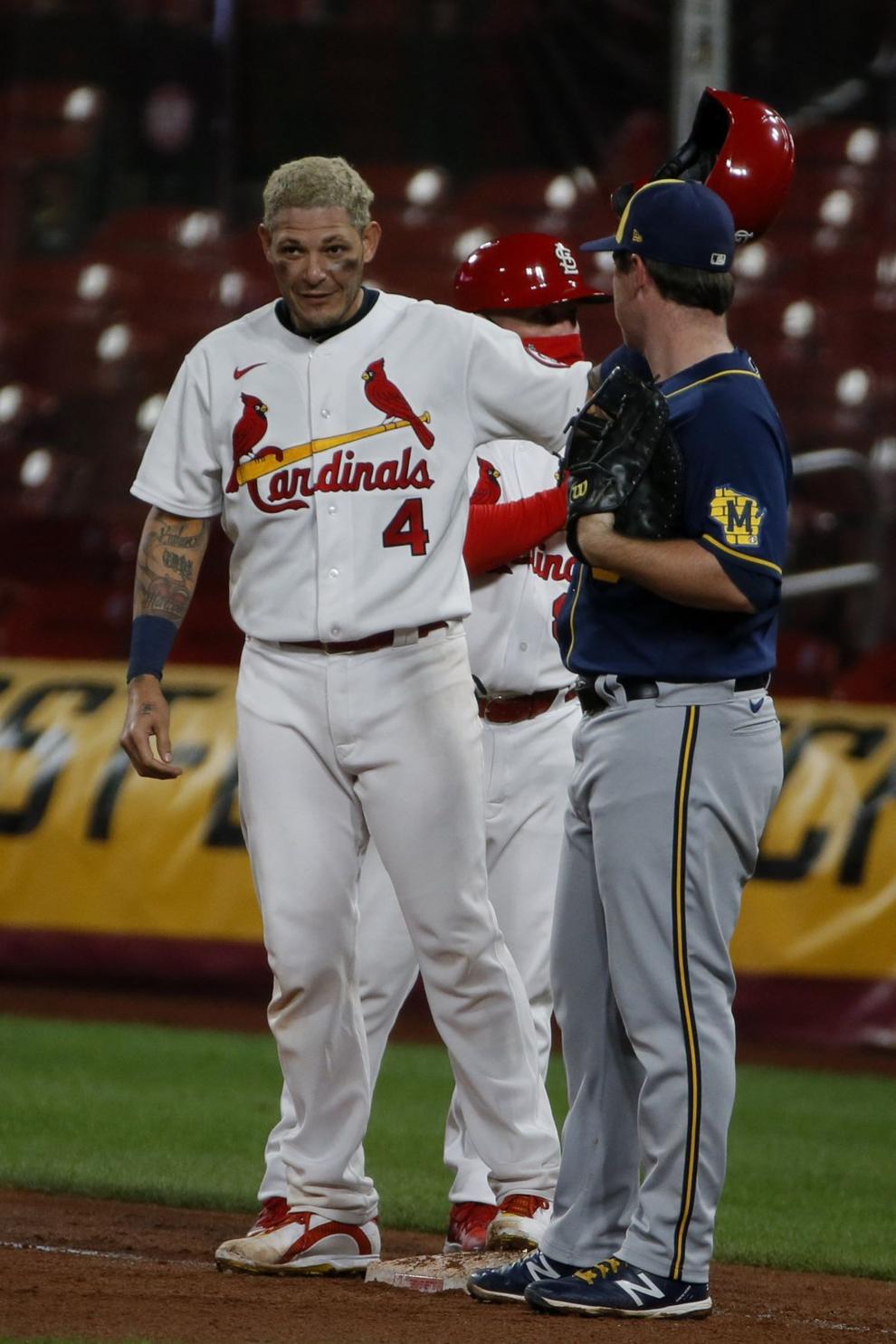 Cardinals host Brewers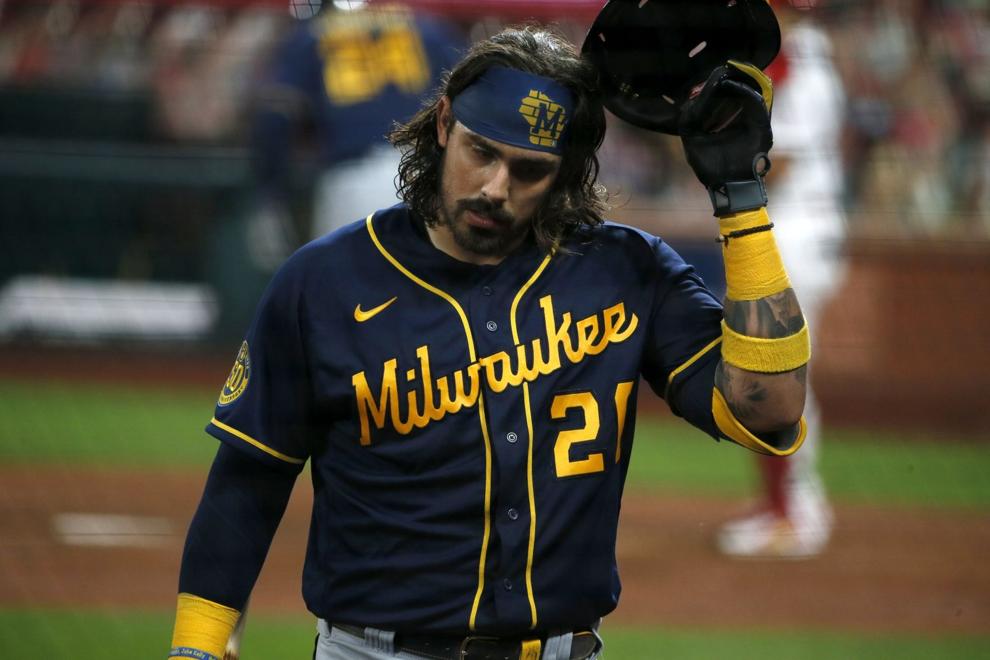 Cardinals host Brewers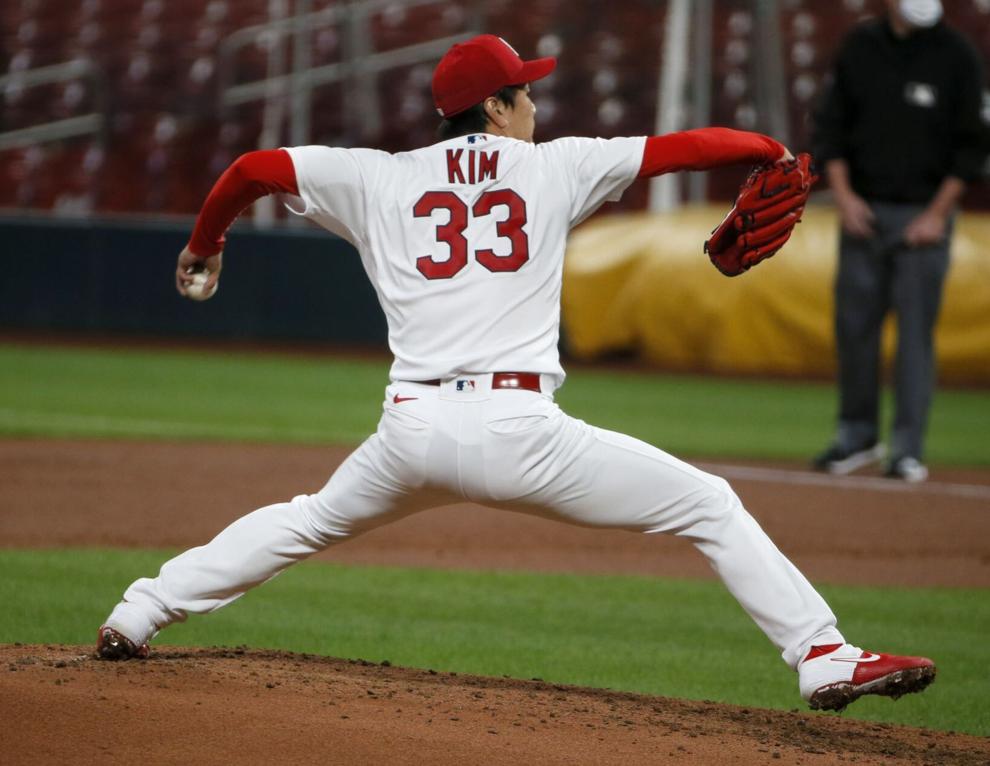 Cardinals host Brewers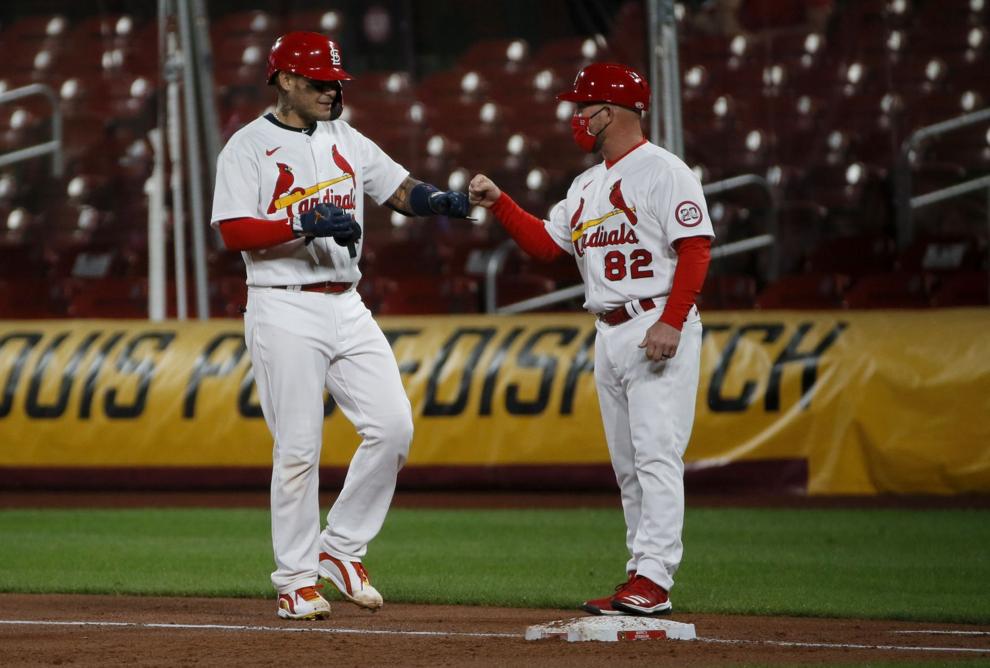 Cardinals host Brewers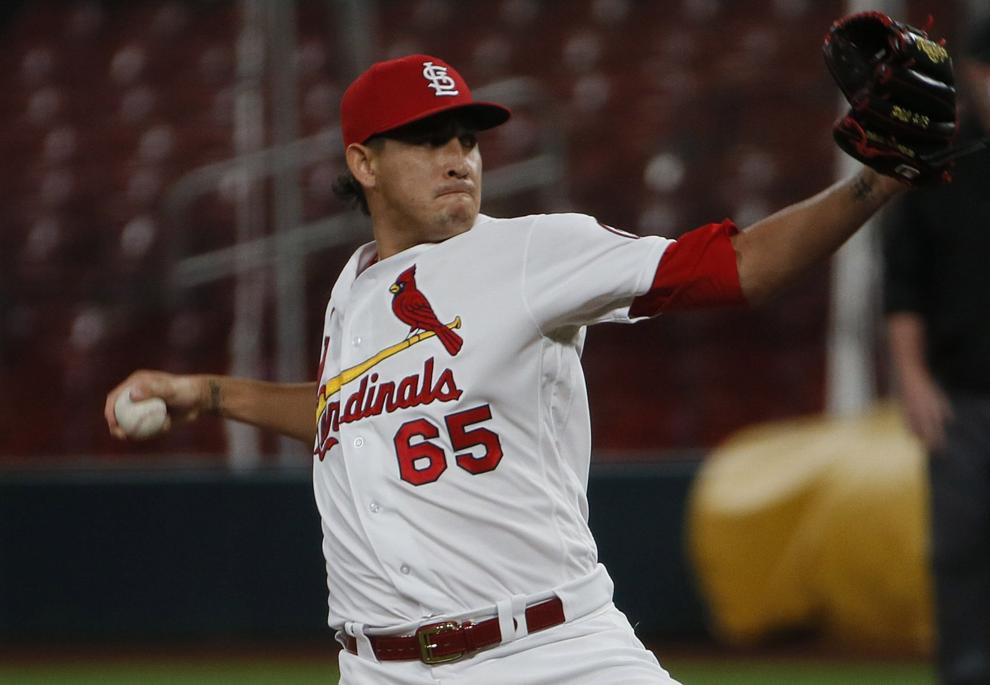 Cardinals host Brewers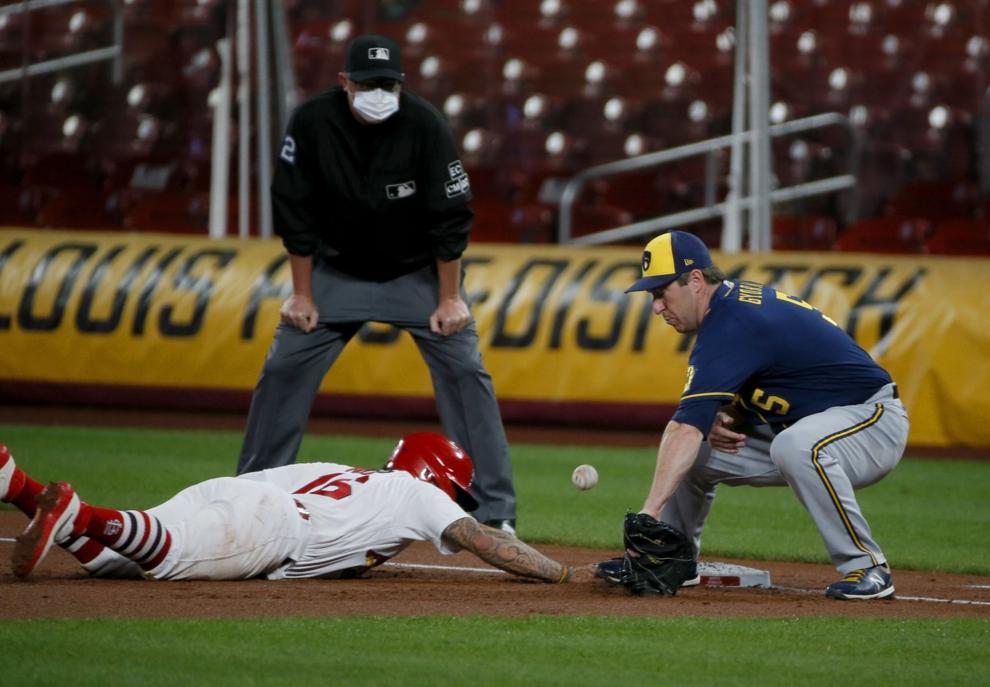 Cardinals host Brewers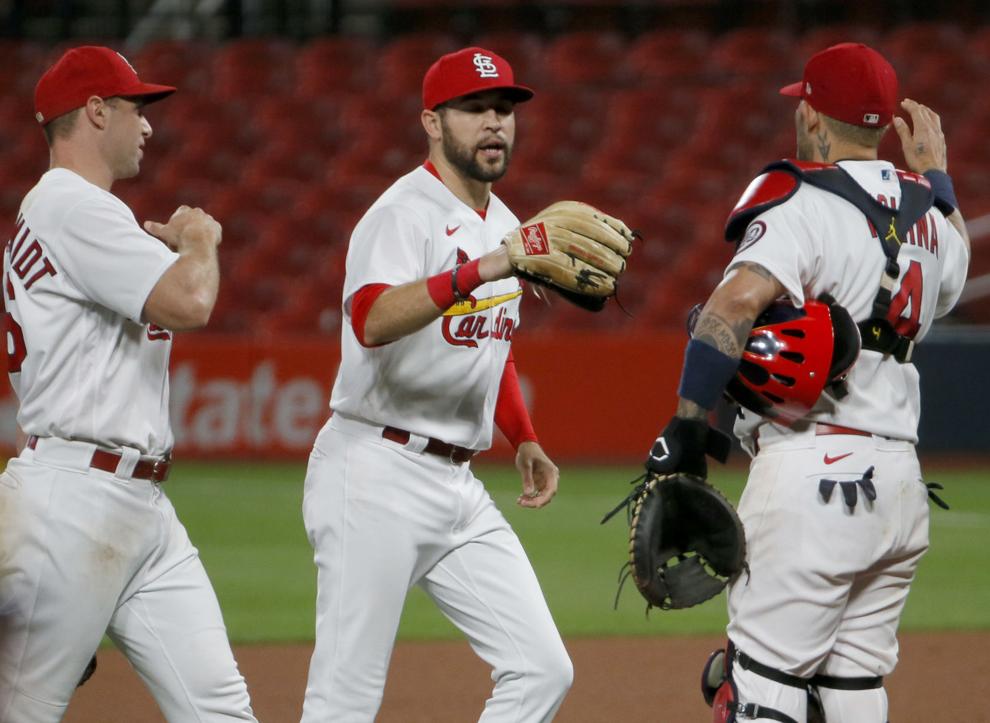 Cardinals host Brewers