Deposed Cardinals manager Mike Matheny took the high road Sunday. He threw no daggers at anyone in the organization for his abrupt dismissal after Saturday's come-from-ahead 8-2 loss here to Cincinnati.
"I've got nothing but gratitude," said Matheny," and this goes way back. I got two new lives with this organization, first when (manager) Tony La Russa and (pitching coach) Dave Duncan and (general manager) Walt Jocketty gave me a chance to have a second life as a player to play in a place I already called home."
Matheny was signed as a free agent in 2000 and spent five seasons here. After a few years as a part-time instructor with the Cardinals, he was hired with no professional managerial experience to take over the Cardinals in 2012, the year after they had won the World Series.
During a 30-minute telephone conversation with the Post-Dispatch, Matheny said he appreciated how chairman Bill DeWitt Jr., general manager John Mozeliak and others had "made a decision to really go outside the box to do something that I loved even more than playing, which I didn't think was possible.
"I saw how good this organization has been to me, regardless of that last game or anything between that and the first day. This was very special to me and something live-changing. I'm an unabashed Christ follower and I do believe in things happening for a reason. Not about me being let go, but me getting the opportunity in the first place."
Matheny, 47, leaves after becoming the only manager to lead his team to four playoff appearances in his first four seasons and he never has had a losing season, even this one in which the team was 47-46 before Sunday's game. But, while he was in his office after Saturday's loss, he was visited by DeWitt and Mozeliak and Matheny said, "They thought it was time for a new voice."
DeWitt said, after the club's press conference Sunday, that Matheny was "a super guy. Obviously, he's disappointed and we're disappointed with the way the team has gone. But he's a great person."
Matheny said was not totally blindsided by what happened late Saturday.
"This has been in conversation for quite a while," he said. "We had conversations even last season that if we didn't improve the way we went about, this would be inevitable.
"You always hear the term, 'Shake-up.' Cincinnati is a real good example with how well they're playing. They decided to make (managerial) move early in the year and not to forfeit a season, which I completely agree with.
"This is a good Cardinals team, which is much better than their record shows."
Matheny said he had only to look at himself for the Cardinals' many problems this season. "I realize I have to take the responsibility. When we can't get things going right, that's my job," he said. "When you have a number of good players and you've tried a number of things to get everyone going . . . I know who shoulders the blame. The blame falls on my shoulders.
"We all do our part. I don't try to raise the value of what I do but I don't want to devalue it, whether it's lineups or something strategically . . . I believe all those things can make a difference."
Matheny conceded that Saturday's game, the Cardinals' sixth consecutive loss at home 'might have been the final touch.
''Obviously, you hear all of the so-called 'noise,' that something could always happen if it's not going well. But nothing really alerted me.
"Was I knocked off my feet? My answer is no." Then, Matheny laughed as he alluded to his detractors when he said, "They think it should have happened last off-season _ or six years ago."
With two non-playoff seasons staring him in the face, Matheny said, "You can sense how things in the game are going and I went into this off-season thinking we we need to win the World Series this year, so I can stick around and do the job I love and the city that I love."
Matheny, who has two years more remaining on his contract, will get to do only the latter but he still the premise that the Cardinals can be playing in October.
''I still believe we can can go on that run we've been talking about. I still believe in this team and, if they get in, I like their chances when they get there. We have good players," he said. "We have very good players."
Matheny said, "I knew what my responsibility was and what I'd signed up for."
He said his goals had been twofold, but they were on a completely different level. One was "trying to put these guys in a place where they can shine and maximize their talents they have showcased. Let them get into a place where they can just do thing."
But then, Matheny said he hoped to make an impact on his players as "men." And he said he had received many texts and calls overnight from current and former players.
"Very few were talking about the baseball side," he said.
Hitting coaches John Mabry and Bill Mueller felt the axe and Matheny said he did everything he could to spare their jobs, but was unsuccessful. "Their decision already had been made," he said.
Matheny said a "big part of my job is fighting for my staff and defending them. It's very hard to see those guys not be acknowledged and appreciated. All of us were just beating our chests and screaming into the wind about how good these guys are and how talented they are and how the amount of work and time they put into it is unequaled.
"To see that not be appreciated to the point where they're not still around is something I take very seriously. I feel like I let them down by not being able to keep them in their jobs."
Occasionally, when a managerial change is made, it is said the manager "lost the clubhouse," i.e., didn't have the respect and/or trust from the players. Matheny said he could understand how this phrase has legs.
"You're always walking that fine line, trying to keep enough people happy," said Matheny. "You can't get them all happy, especially with veteran players a lot of times.
"Keeping the clubhouse and not losing it is a tightrope that you're always walking. That started from the first day I got here. Communications lines are better with some than with others. Some relationships go really well, like you want them to, and other times not so much. But, it's amazing how going on a nice winning streak fixes all that in a hurry."
It was never easy for Matheny, trying to follow in footsteps of Hall of Famers Red Schoendienst, Whitey Herzog, Joe Torre and Tony La Russa. But Matheny said that never had been an issue with him.
"I never set that as one of my goals — to be as successful as Whitey or Red or Joe or Tony," Matheny said. "That was never part of my definition of what success looked like. That would have been a very bad version of me. I can't be what other people want to be.
"One goal I had was not to fall into the trap of trying to appease the masses.. You can't sacrifice the truths you have and I can't sacrifice the trust of my players if I'm trying to gain public approval."
Matheny said he hoped he would get a chance to manage again. "I'd love to," he said. "I'm anxious to looking to see where my life is being guided and see what doors are open and what (God) is going to do."
2018: Matheny, before the start of his last game with the team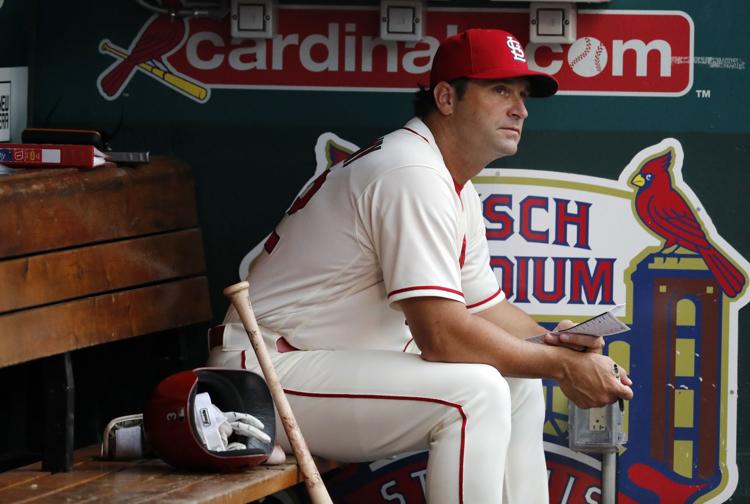 2011: Introducing Cardinals manager Mike Matheny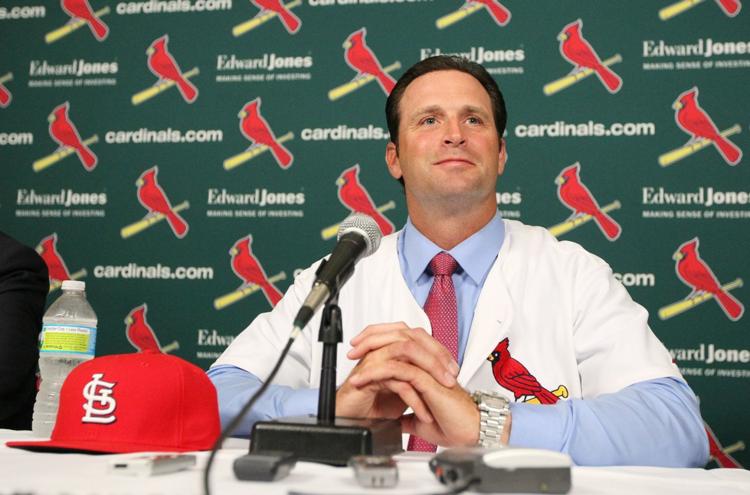 2004: President Bush with Matheny, then a catcher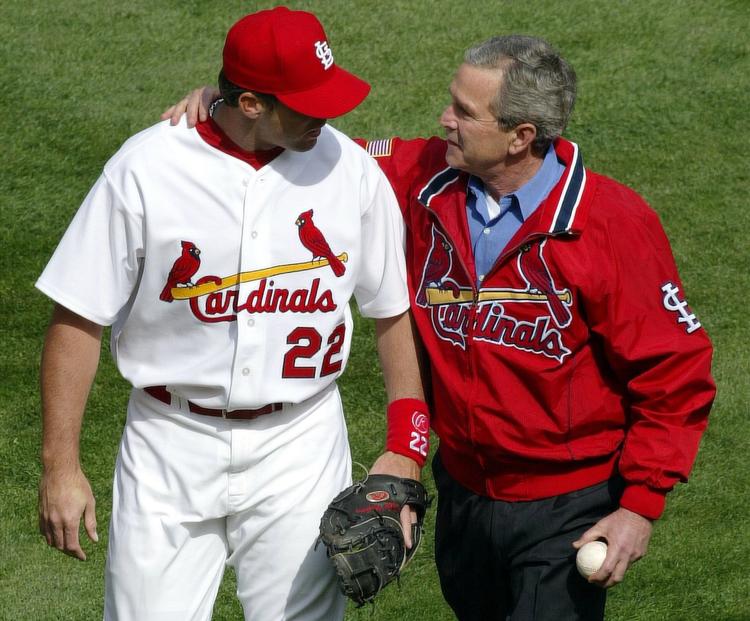 2011: St. Louis Cardinals manager Mike Matheny's family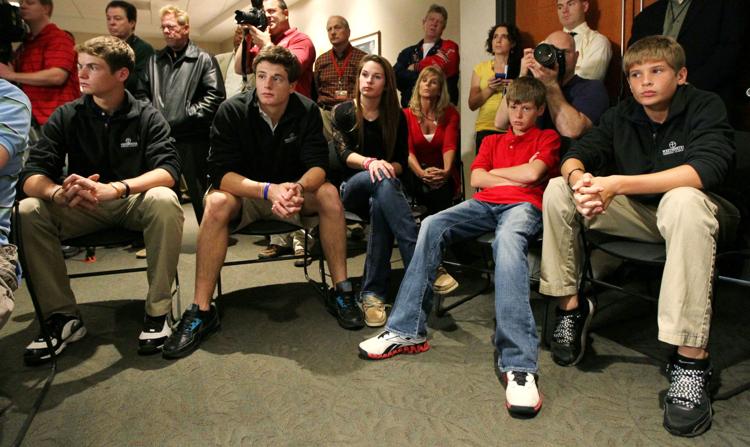 2012: Celebrating opening day with Musial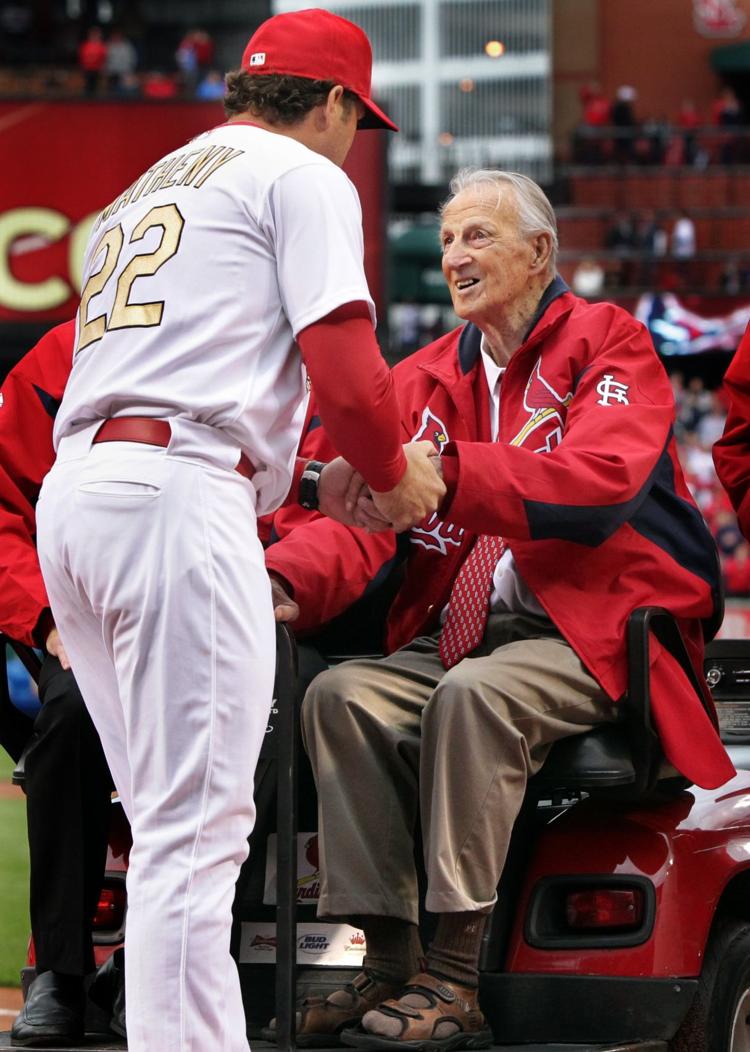 2012: Baseball Writers' Dinner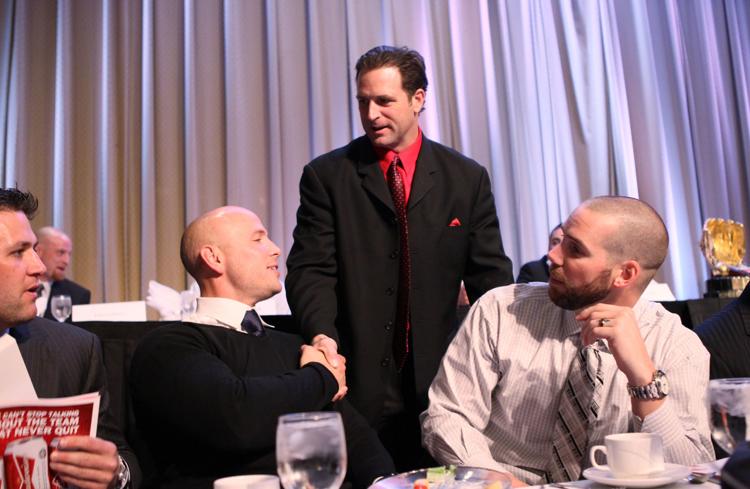 2012: Cardinals Spring Training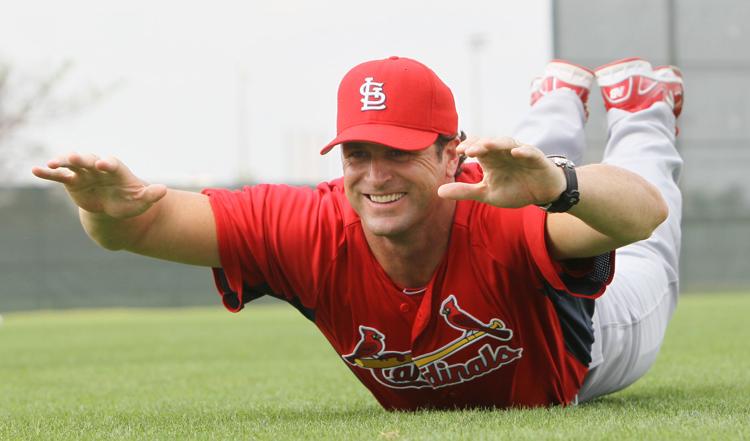 2012: Cardinals Spring Training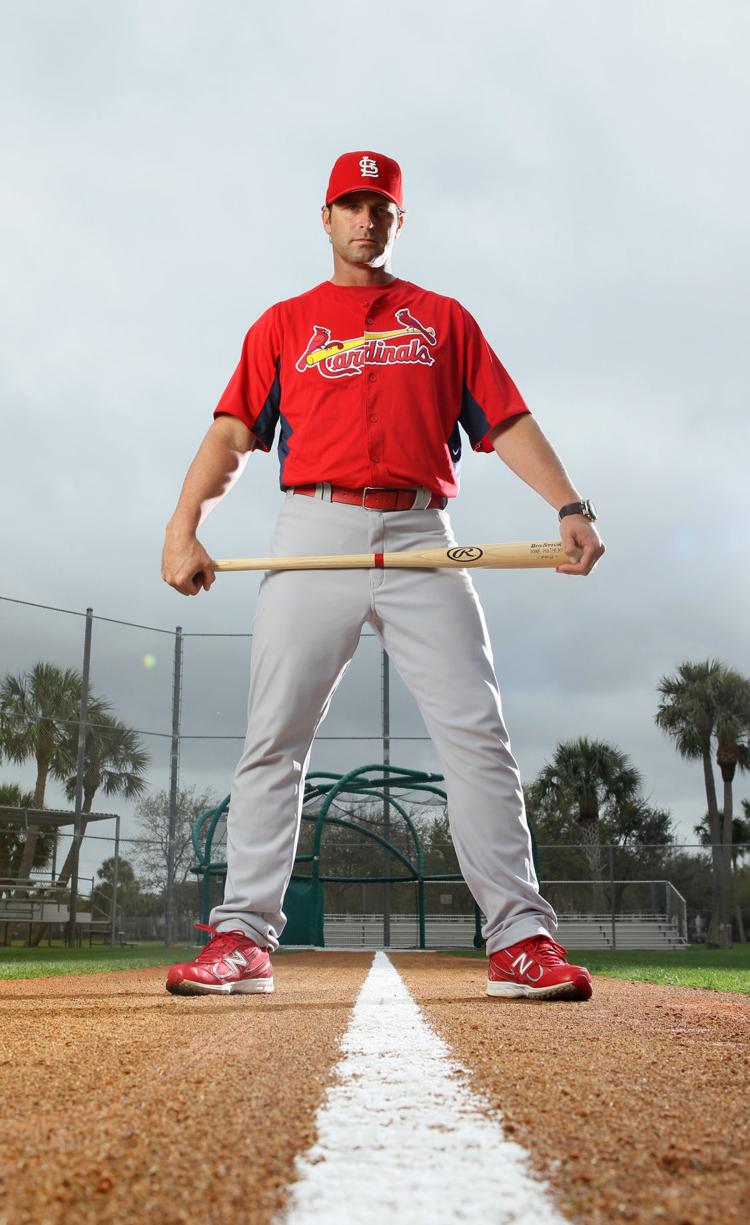 2012: Cardinals Spring Training
2012: Celebrating after a wildcard playoff game against the Atlanta Braves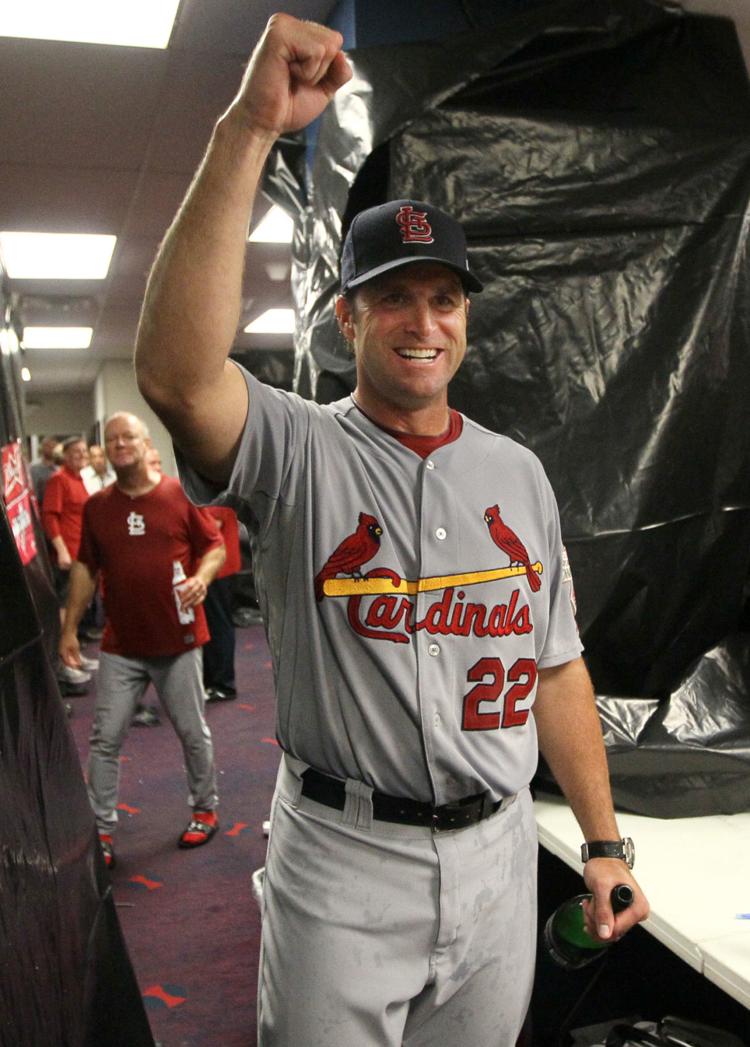 2013: Cardinals spring training portrait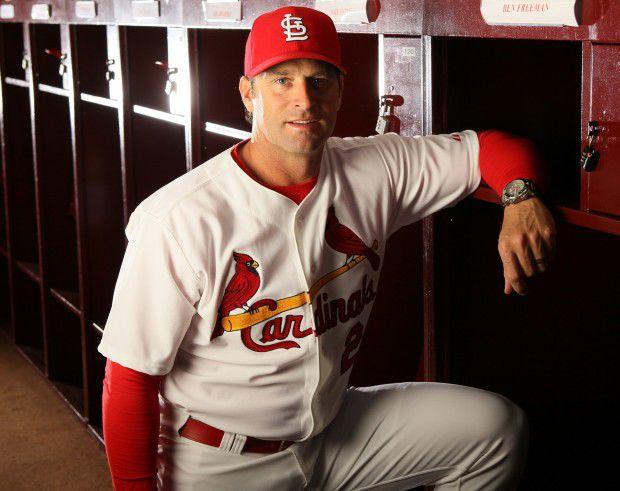 2013: Cardinals spring training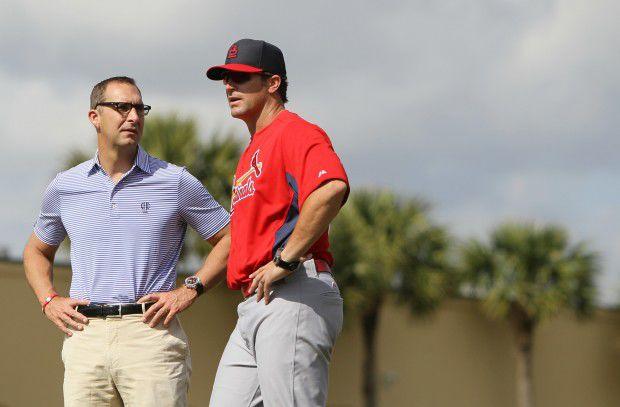 2013: Cardinals v Chicago Cubs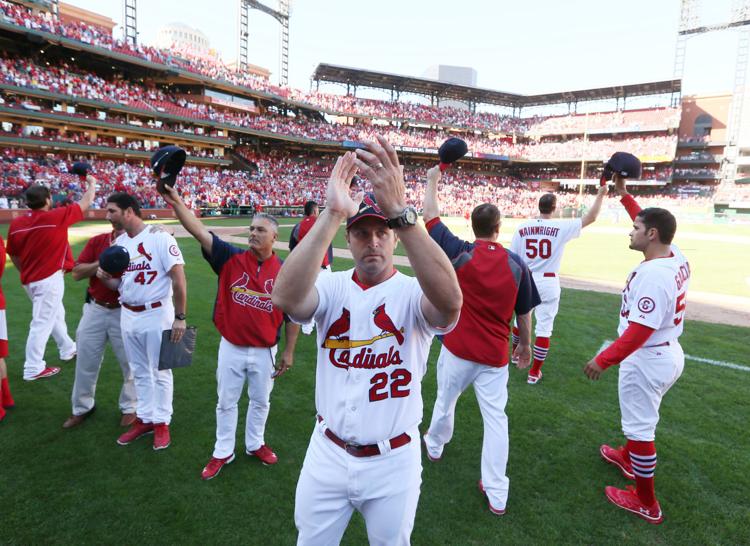 2013: Ejected in game against Giants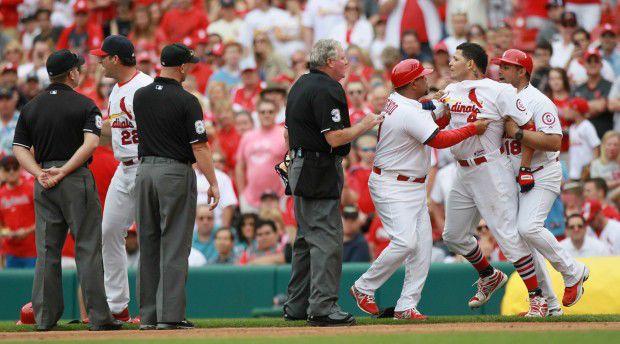 2013: Ejected in game against the Cubs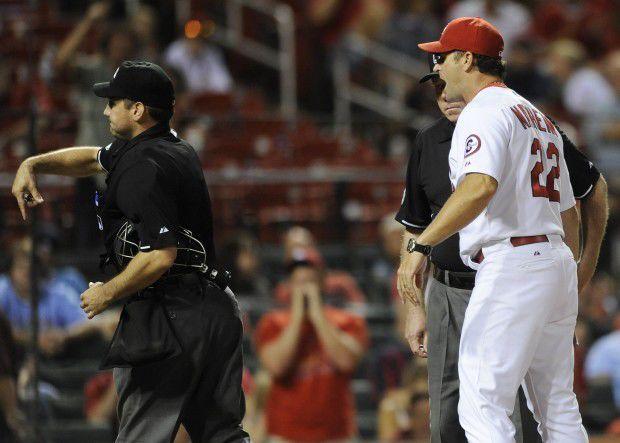 2013: World Series workout at Fenway Park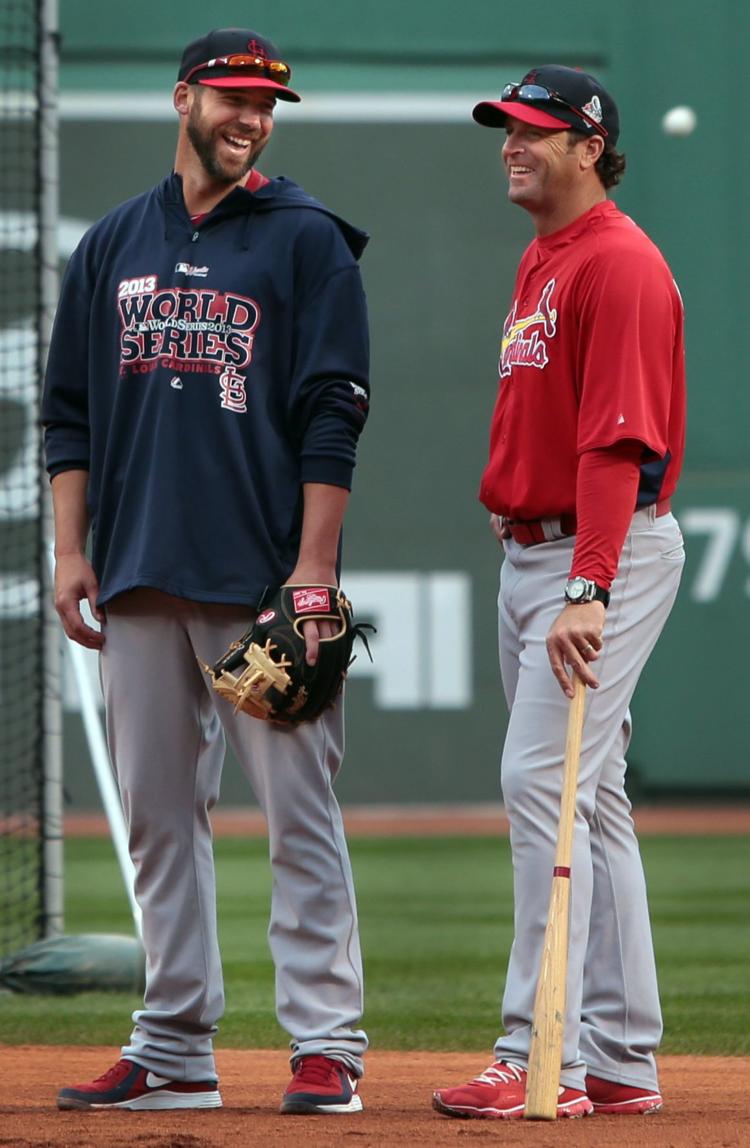 2013: Red Sox World Series champs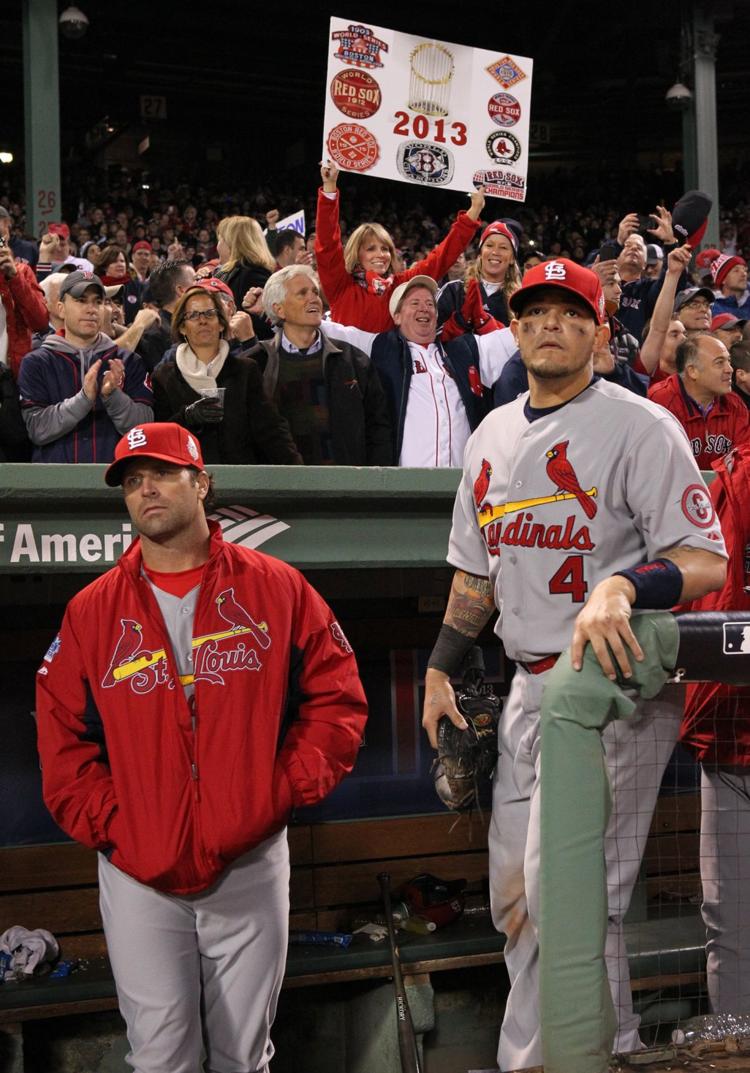 2014: Spring training portrait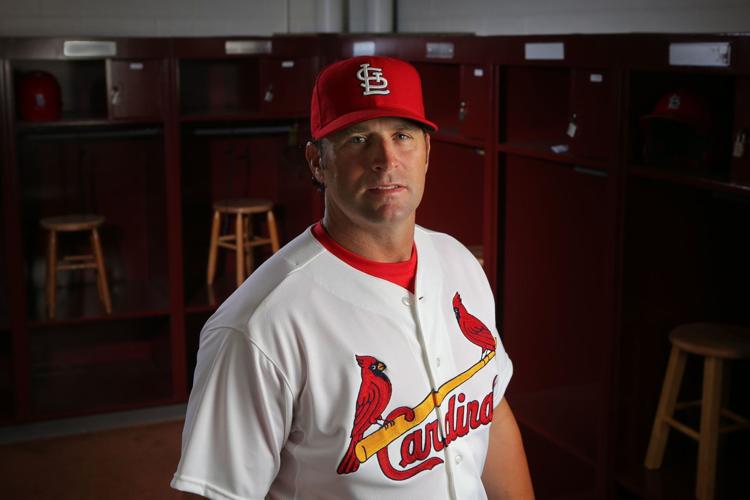 2014: Rain cancels preseason game against Memphis Redbirds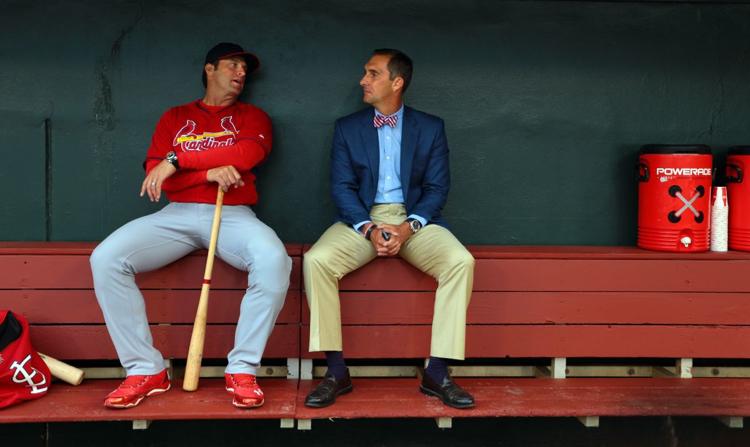 2014: St. Louis Cardinals opening day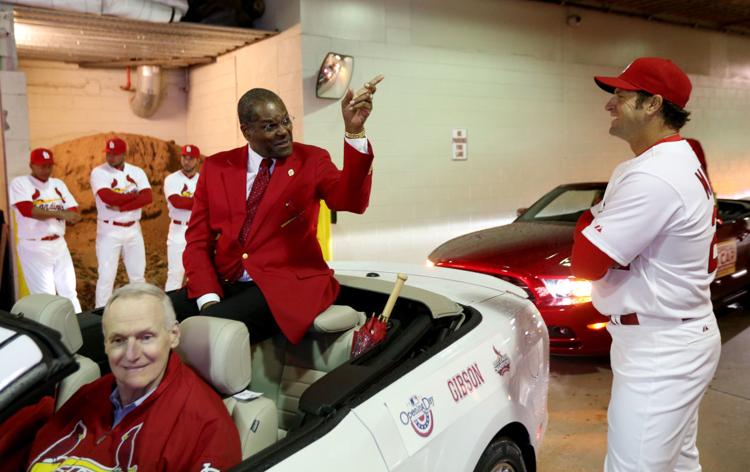 2014: Ejected during game against the Atlanta Braves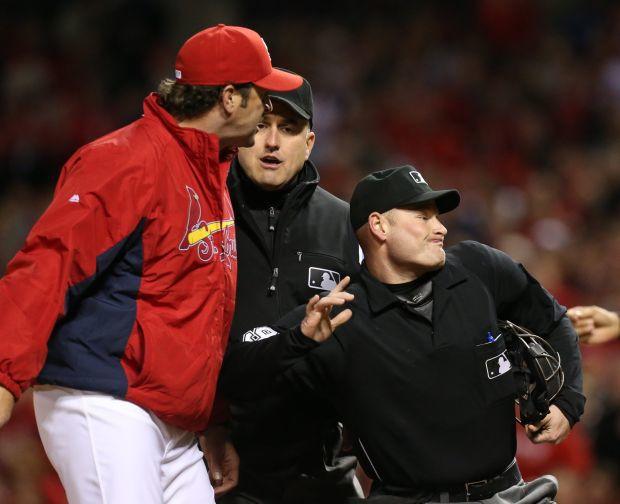 2015: Cardinals spring training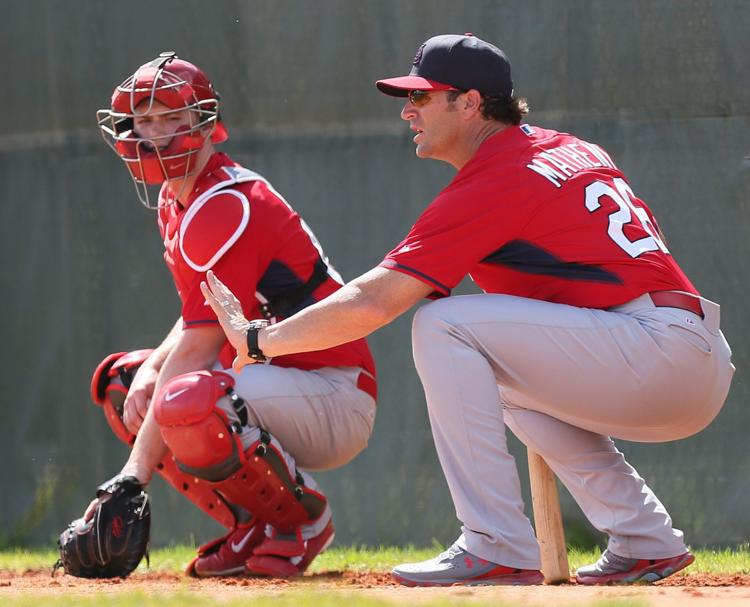 2015: Arguing with umpire during game with the Brewers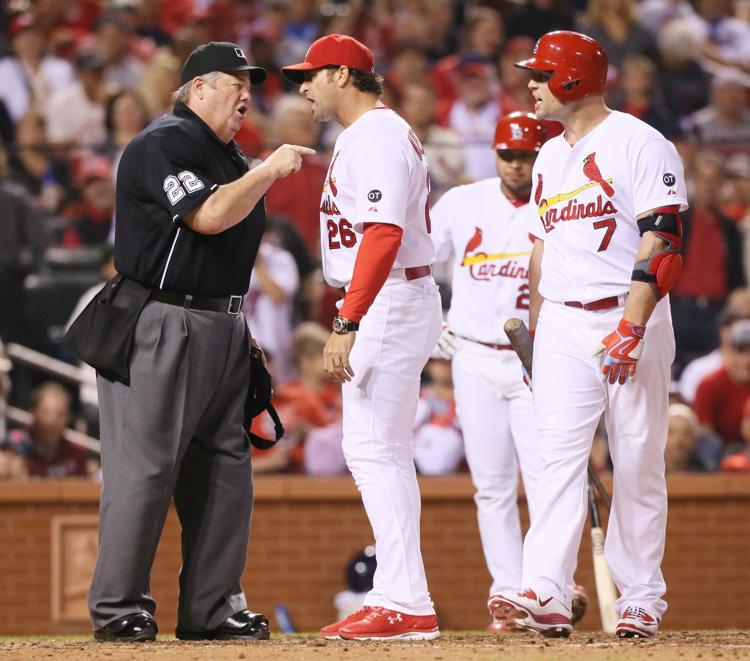 2015: Cardinals v Reds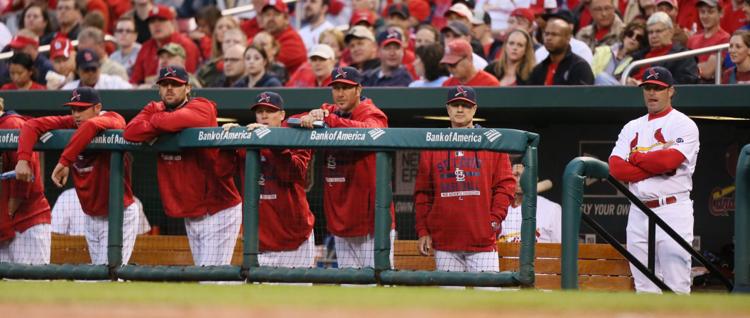 2015: Fredbird bows to the manager during playoff introductions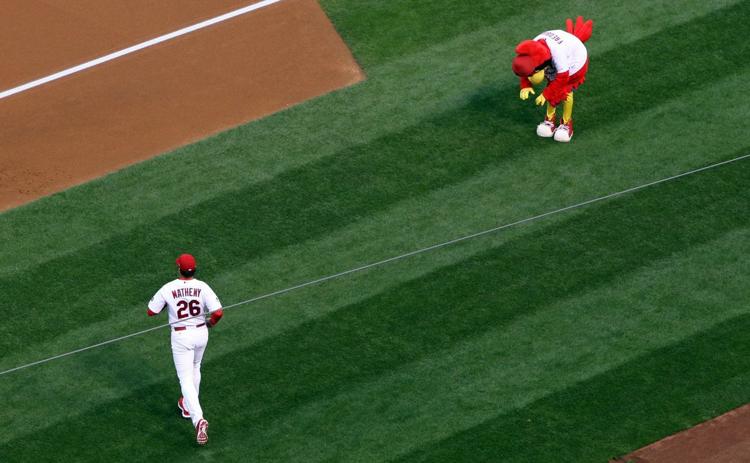 2015: Cardinals lose final home game to Brewers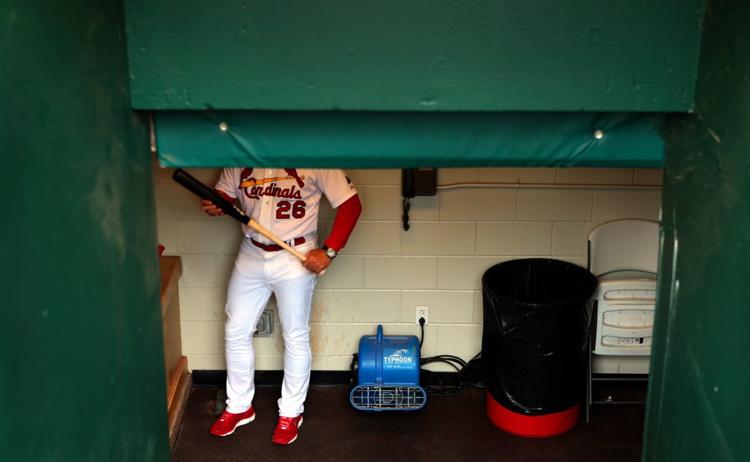 2015: Chat with reporters before hosting Cubs in NLDS
2016: Spring training portrait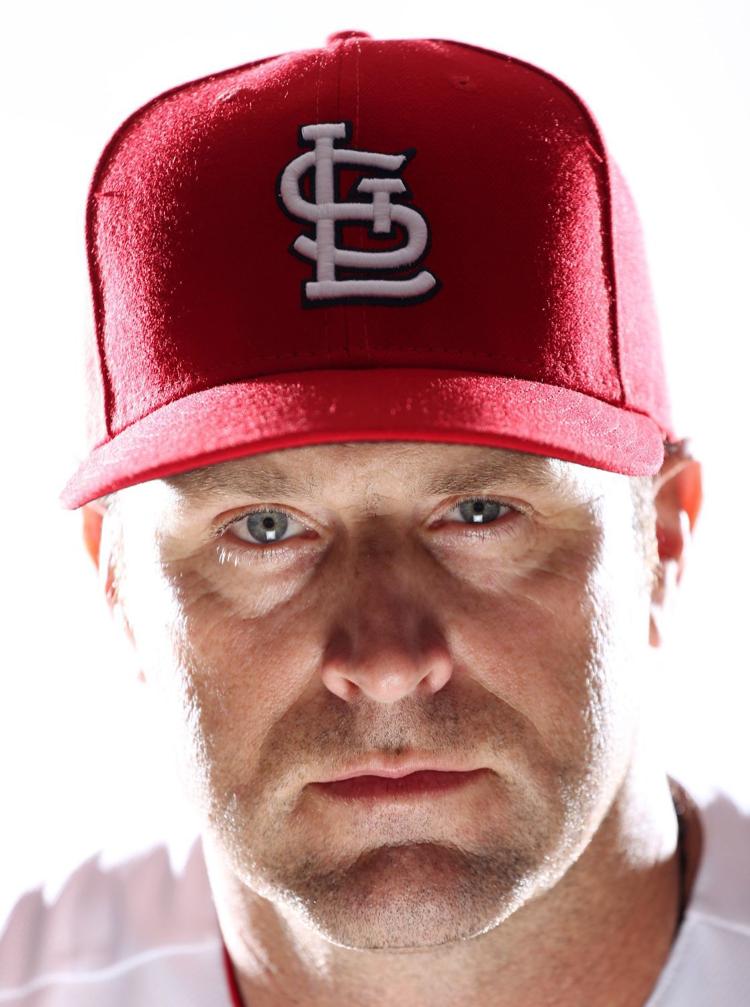 2016: Cardinals spring training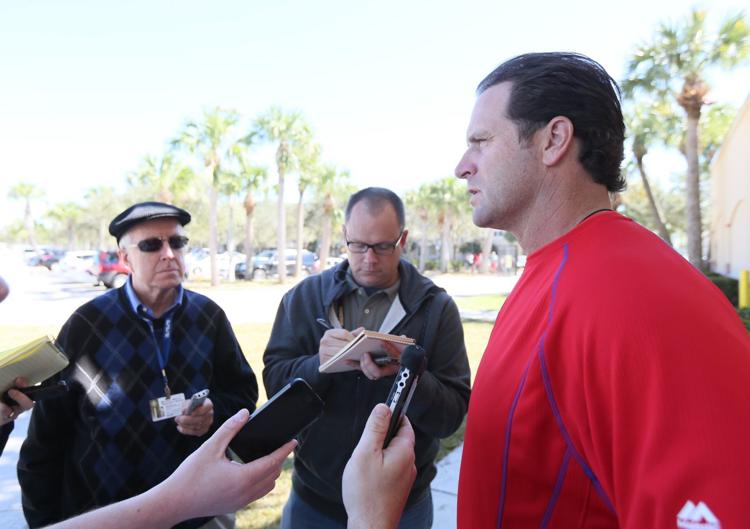 2017: Spring training portrait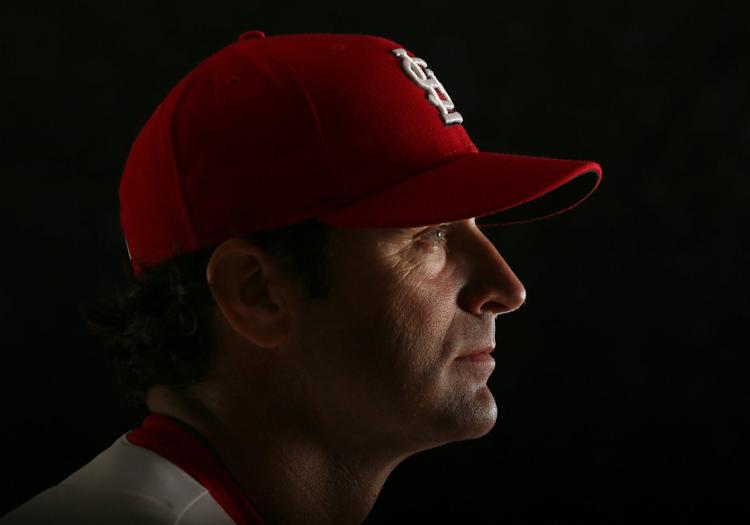 2017: During a game against the Chicago Cubs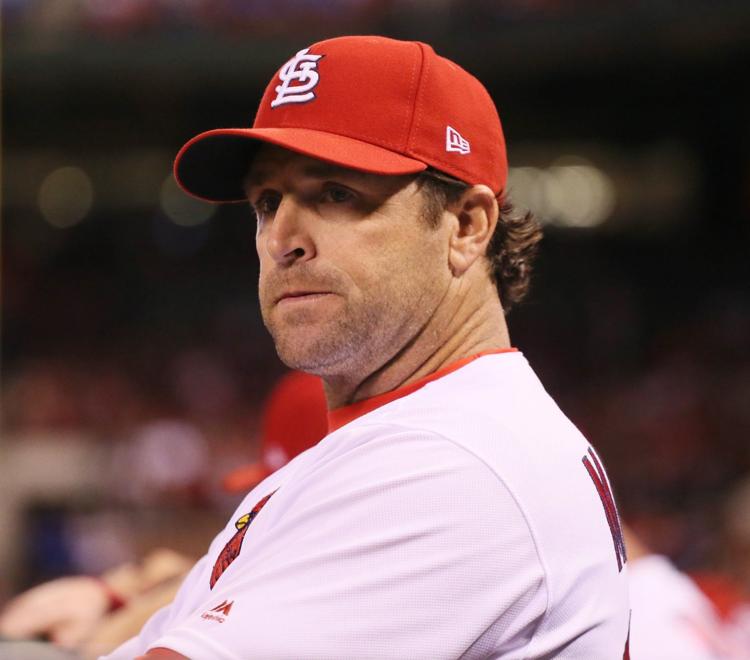 2017: Arguing during game against the Brewers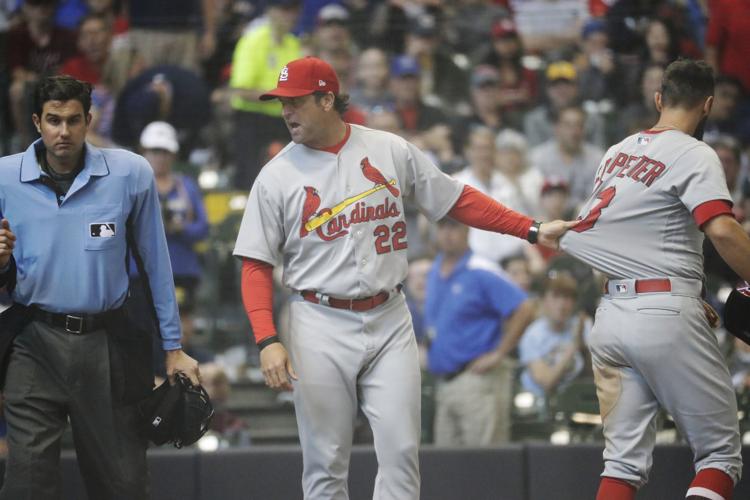 2017: St. Louis Cardinals season wrap press conference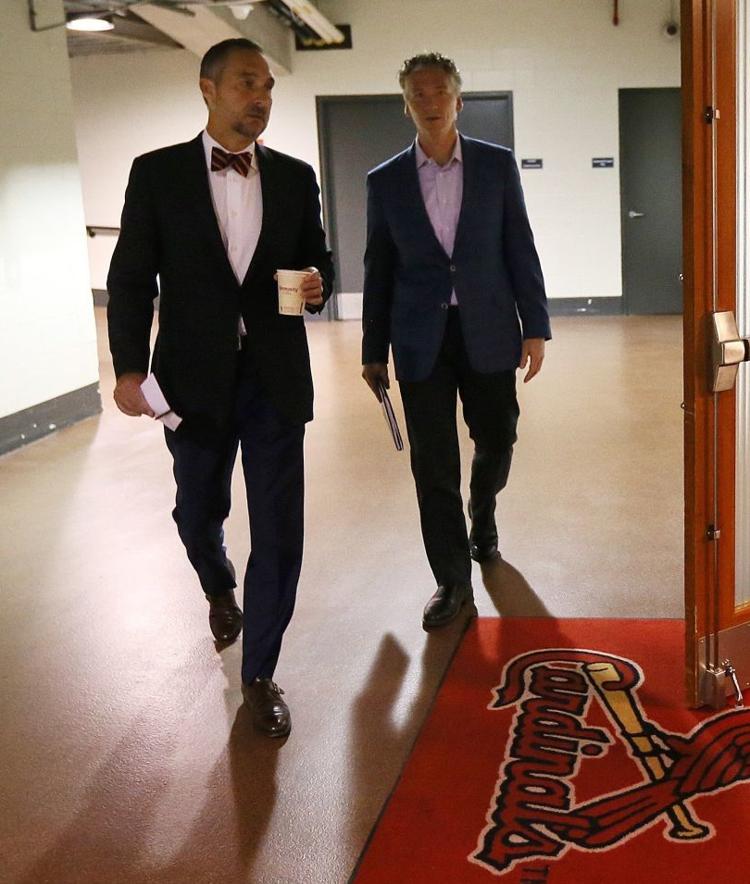 2017: Ejected from game with the San Francisco Giants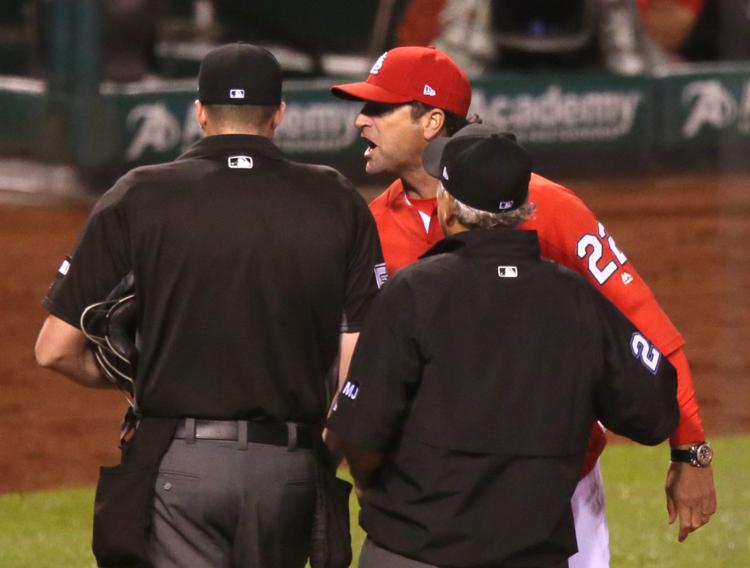 2017: St. Louis Cardinals season wrap press conference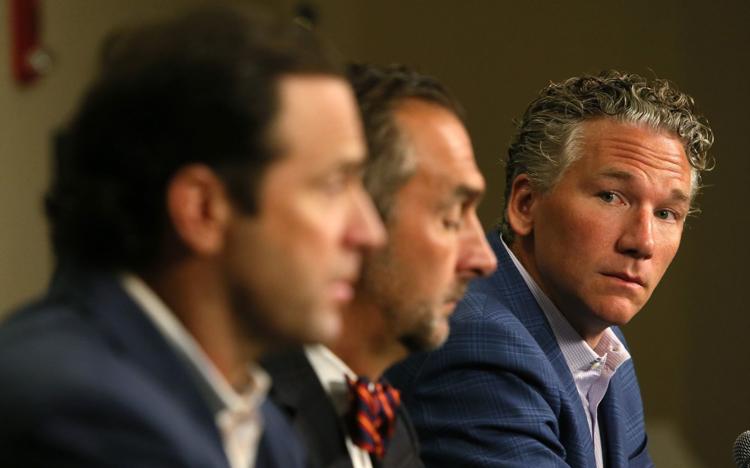 2017: St. Louis Cardinals season wrap press conference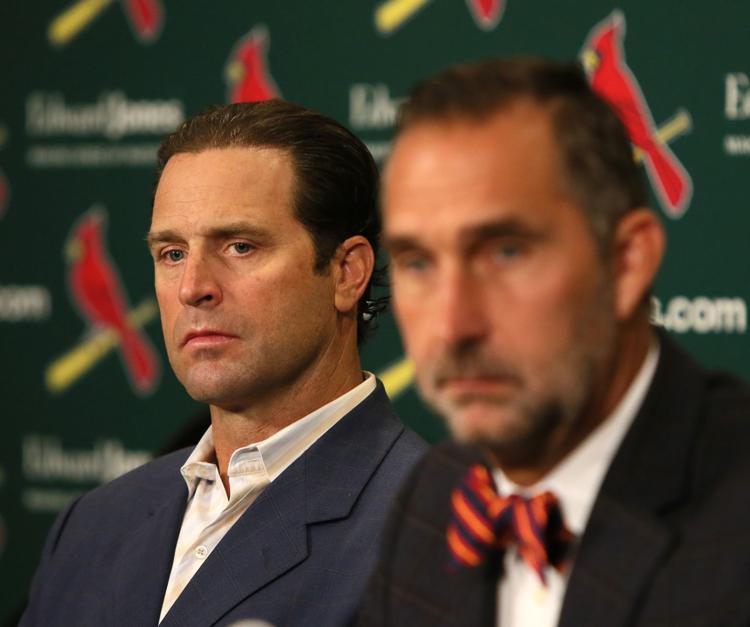 2018: Spring training portrait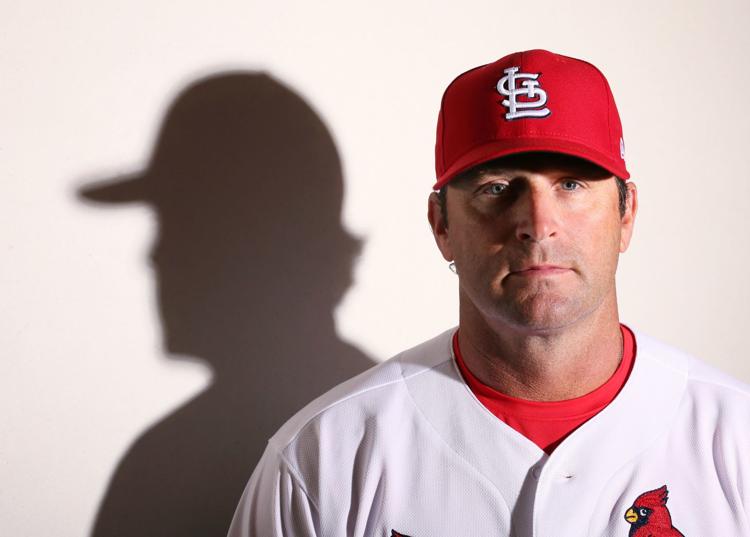 2018: Cardinals spring training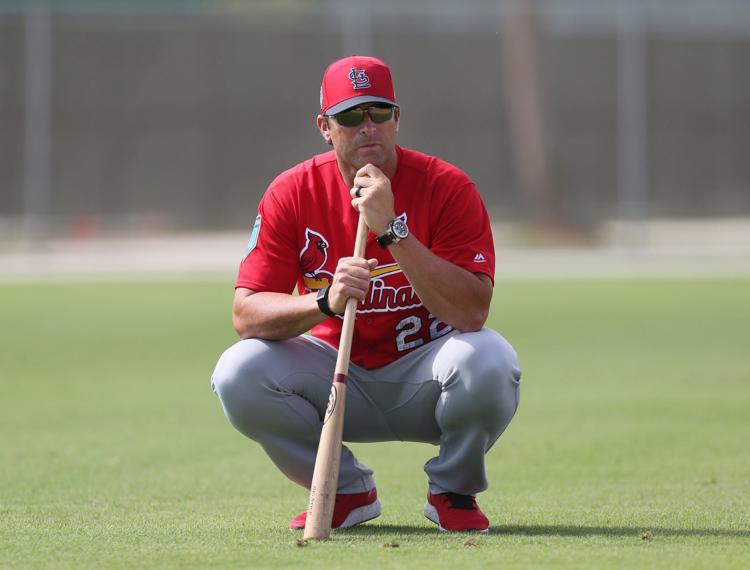 2018: Cardinals spring training