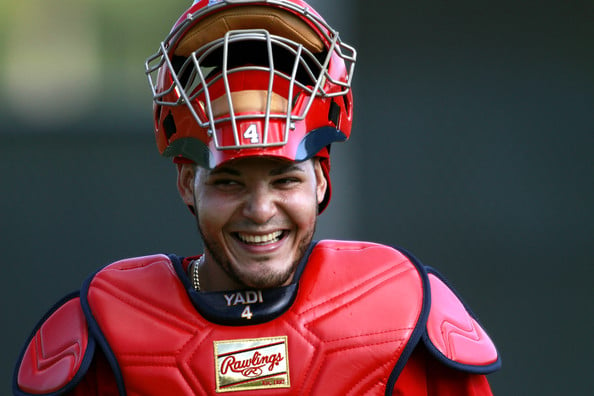 JUPITER, Fla. -- Cardinals manager Mike Matheny knows well the significance that Gold Glove catcher Yadier Molina carries on his team. Matheny also knows the gravity that an unsettled contract situation can exert and what the absence of a close friend can mean.
That said, Matheny says he came away from a recent conversation with Molina confident that the loss of free agent first baseman Albert Pujols and Molina's negotiations regarding a contract extension won't influence a player recognized as a clubhouse pillar.
"Obviously, Albert is one of Yadi's best friends. So for him not to be here... certainly it hurts him on a personal level,"said Matheny, who phoned Molina when the Cardinals' recent cruise docked in San Juan, Puerto Rico near Molina's winter residence. "Everyone in there understands the value Albert brought on the professional side. But as far as being hurt, Yadi's words were, 'All right, let's go.'"
After reaching the Roger Dean Stadium complex two weeks before pitchers and catchers report, Molina acknowledged this week that he will miss Pujols, who reports to Arizona this spring after signing a 10-year, $240 million deal with the Los Angeles Angels. The combination of Pujols' high-profile departure from the Cardinals and Molina's absence last month from several team-related functions, including the Cardinals Care Winter Warm-Up, made for easy assumptions that the veteran catcher is disenchanted with the organization. Molina on Thursday explained his absence as related more to charitable commitments he had in Puerto Rico.
"I talked to him about the Winter Warm-Up and wanting to make it work," Matheny said. "But to draw a connection between what happened [with Pujols] and him not attending... I think you're reading more into it than what's there."
Molina, 29, is entering the option year of a five-year contract. He led the team in hitting last season while enjoying career-high production totals. Pitchers describe his ability to call a game and control an opponent's running game as invaluable. Indeed, some within the organization believe Molina's absence would create a void at least as large as did Pujols' exit.
"The last thing I heard from him is that he wanted to play 162 games," said Matheny, who shared the same mentality as a player. "I know he wants to play."
The first-year manager added: "Part of what players confront on the professional side is dealing with the business end of it. His contract being up in the air is something that could become a distraction if he lets it. But every indication I've had so far is that this is a guy who can't wait to go out and have the best year of his career."