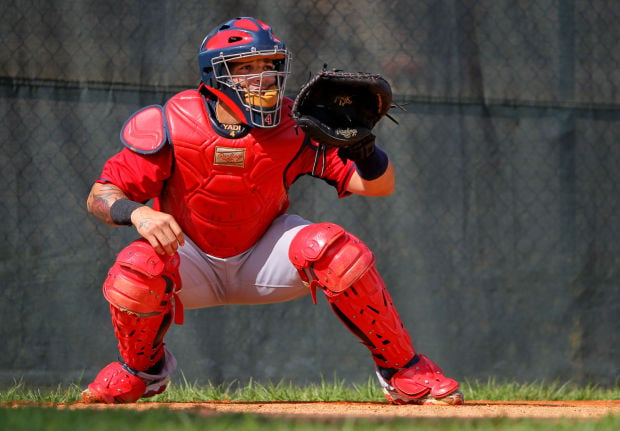 JUPITER, Fla. • Gold Glove catcher Yadier Molina will be behind the plate today for the first time this spring as the Boston Red Sox visit from across the state.
Molina has been starting at designated hitter so far this spring in order to ease him into the grind of catching.
Manager Mike Matheny presented the plan by saying that Molina would save the workload now at the start of the season that the Cardinals often talk about doing during season. Molina will catch second-year starter Shelby Miller, who will be the penultimate starter to make his spring debut here after the first week of games. Adam Wainwright will make his first start of spring Thursday in Fort Myers, Fla., against Minnesota.
Miller will be headed for close to 40 pitches, and they'd like to see at least two innings from the righty.
The game will be televised in St. Louis in Fox Sports Midwest.
This will also be the first game that the Cardinals will have access to baseball's new replay exercise. The Cardinals have been holding dress rehearsals through the other games -- using communication between the video room and the dugout to discuss potential calls that they would challenge. Today Matheny can challenge the call. There will be a replay setup for the umpires to view the television feed and video if necessary, and there will be an official on site.
Managers are not limited in the number of challenges they can make today. During the regular season season, they will have at most two challengers per game.
Shortstop Jhonny Peralta bats second for the first time today.
The Cardinals have a B-game scheduled for this morning as well, and it will be played on the Marlins side of the complex.
Here's the lineup for the Cardinals:
Starter: RHP Shelby Miller.
The pitchers available for today's game has not been listed on the lineup provided here in the media room. The Cardinals are having their annual meeting with officials from the Major League Baseball Players' Association and that could go deep into the morning.
The Red Sox are not exactly bringing their varsity over from the west coast of Florida ...
2. Jackie Bradley Jr., CF
Starting pitcher: LHP Chris Capuano
Check back throughout the day for coverage here at C-Beat and StlToday.com.