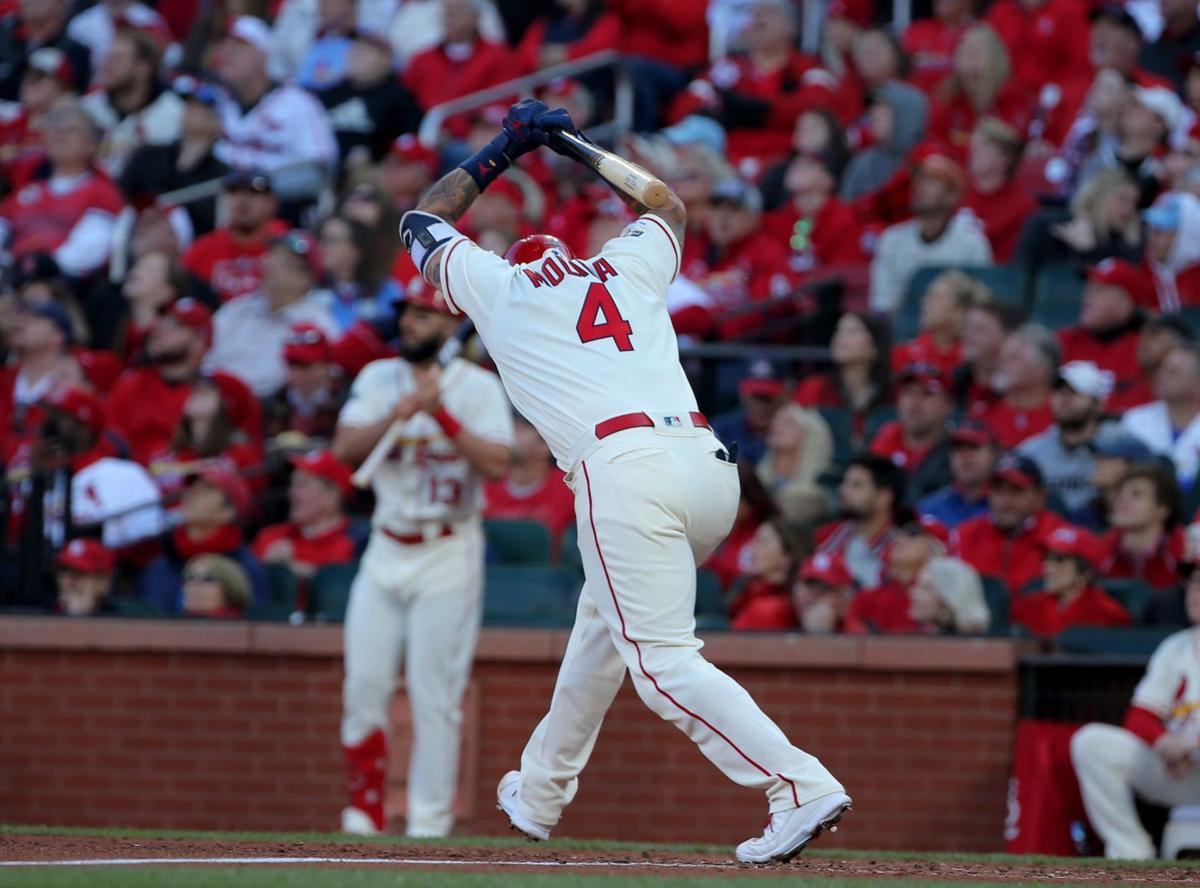 The Cardinals' offense remained lethargic in Game 2 of the National League Championship Series, as Max Scherzer held them without a hit for the first six innings and Washington went on to post a 3-1 win at Busch Stadium.
The Nationals opened a 2-0 lead in the best-of-seven series, which will move to Washington on Monday night. The Cardinals will need to win at least twice in three road games to get the series back to St. Louis.
Adam Eaton doubled in two runs in the eighth against Adam Wainwright, who otherwise had a strong outing that saw him allow seven hits and strike out 11 in 7 1/3 innings.
"We're down 2-0. That's why we play best-of-seven," Wainwright said. "They're going to bring out all the stops. They have a pretty strong advantage right now, but they won two games at our place and we're going to try to do at least that at theirs. I have a lot of confidence in our hitters. I think our hitters might do something special."
After being held without a hit until two were out in the eighth in Game 1, the Cardinals went without a hit against Scherzer until Paul Goldschmidt led off the seventh inning with a clean single to left field.
However, a strikeout and double play kept the Cardinals from threatening. The Cardinals had three hits for the game.
"Look, this is a good pitching team we've faced," Matt Carpenter said. "The narrative is not going to change during any of this series."
The Cardinals finally ended a 22-inning drought without a run in the eighth when Paul DeJong singled with two outs and pinch-hitter Jose Martinez followed with a double over the head of center fielder Michael Taylor.
The Cardinals starters went 45 at-bats without a hit in the NLCS until Goldschmidt's single.
"We just have to make sure we're swinging at our pitches rather than chasing them around the zone," Tommy Edman said. "We haven't done a good job of that the last two days. ... When you see on the scoreboard no hits, everyone is going to be pushing to get a hit. You just have to stick to the process instead of everyone trying to get the first hit."
Scherzer served notice that he was at the top of his game by recording three strikeouts in the first inning and working around a walk issued to Kolten Wong.
After the walk, he retired 16 consecutive hitters. Wong nearly had a single in the fourth but Howie Kendrick made a diving stop going to his left at second base and threw him out.
The Cardinals might have done more damage in the eighth, but Eaton made a spectacular catch on a ball hit by Tommy Edman before DeJong singled.
Washington closer Daniel Hudson returned from paternity leave and recorded the final two outs for the save.
Wong was discouraged but not ready to count out the Cardinals.
"We feel right at home, man," he said. "We're not worried about it. We've been in this situation this whole year -- people counting us out, getting booed. That's part of it. But we've constantly come back fighting and ready to go. I feel like we're road warriors. We've found our niche on the road, so we're excited to get there and get going."
Center fielder Michael Taylor misplayed a line drive by Jose Martinez into a run-scoring double in the eighth inning as the Cardinals ended a streak of 22 scoreless innings by cutting Washington's lead to 3-1 at Busch Stadium.
Paul DeJong singled with two outs in the eighth against reliever Sean Doolittle. Martinez then fouled off four consecutive pitches with a 2-and-2 count before hitting a line drive to straightaway center.
It was the second consecutive game that Martinez has picked up a hit in a pinch-hitting role.
Taylor took a step in and then realized too late the ball was going to sail over his head and roll to the wall allowing DeJong to score. Dexter Fowler flew out to right field to end the inning.
Nationals add to lead
Washington broke through against Adam Wainwright in the eighth inning and ended his day, collecting three hits and scoring twice to open a 3-0 lead on the Cardinals in Game 2 of the National League Championship Series.
Wainwright worked 7 1/3 innings and struck out 11, but Adam Eaton doubled in two runners who had singled in the eighth.
Andrew Miller entered the game to finish the inning by retiring two batters.
Sean Doolittle relieved Max Scherzer in the eighth. Scherzer went seven innings and struck out 11 while allowing only one single by Paul Goldschmidt.
The Cardinals will start the eighth inning with No. 6 hitter Matt Carpenter.
Goldy gets first hit
Paul Goldschmidt ended Max Scherzer's no-hit bid when he led off the seventh inning with a line drive single to left field.
But Scherzer was unfazed. He struck out Marcell Ozuna and got Yadier Molina to ground into a double play as Washington preserved a 1-0 lead over the Cardinals at Busch Stadium.
Scherzer reached the 100-pitch mark in the seventh. He has 11 strikeouts.
Adam Wainwright has 10 strikeouts through seven innings and remained in the game to start the eighth.
No-hitter through six
The only thing the Cardinals had to celebrate in the sixth inning was that they ended a string of 16 consecutive batters retired by Washington starter Max Scherzer.
However, they remain without a hit and trail the Nationals 1-0 at Busch Stadium.
Dexter Fowler drew a two-out walk but the Cards have been helpless as Scherzer has struck out 10. He ended the sixth by getting Kolten Wong on a check-swing ground out to third base.
Adam Wainwright has allowed four Washington hits but one was a solo home run by No. 8 hitter Michael Taylor in the second inning.
The Cardinals have one hit in the last 20 innings and their starters are zero for 45 in the National League Championship Series.
Cards hitless through four
A familiar storyline is developing at Busch Stadium, where the Cardinals are again hitless through four innings and trailing Washington 1-0.
Nationals starting pitcher Max Scherzer has seven strikeouts. Kolten Wong had the closest thing to a hit in the fourth inning, but second baseman Howie Kendrick made a diving stop of his sharp ground ball and threw him out.
Here are some updated recent offensive numbers for the Cardinals:
--They have one hit in the last 18 innings and are one for 55 in that span;
--They haven't scored a run in the last 19 innings;
--Their starting players have no hits in 39 at-bats so far in the National League Championship Series.
Adam Wainwright is doing his best to match Scherzer, having allowed only a solo home run by Michael Taylor.
Taylor homer makes it 1-0
After the Cardinals extended their scoreless streak to 17 innings, Michael Taylor led off the third inning with a home run to give Washington a 1-0 lead in Game 2 of the National League Championship Series at Busch Stadium.
Taylor's homer against Adam Wainwright carried into the left field seats.
Meanwhile, Max Scherzer has not allowed a hit in the first two innings. The Cardinals have one hit in the last 16 innings, stretching back to the fourth inning of Game 5 of the NLDS.
Kolten Wong reached on a walk in the first inning and stole second base but did not get any further as Scherzer recorded three strikeouts in the inning.
Fly balls falling short
Marcell Ozuna had a long fly out in Game 1 that seemed not to travel as far as the same ball might have on a warmer night.
Asked about the fly ball, Shildt said he was informed by "our front office analytical group" that the ball was traveling about four and a half feet less than normal.
Not four feet and not five feet, but four and a half. Either way, Shildt said it's not enough information to dictate lineup decisions.
"There's probably all kind of different theories behind that," he said. "It could be any number of things. It's more of a fact than it is a tidbit we're going to really ultimately act upon. I don't know if it's our games or in total in postseason baseball."
Tommy Edman said he hadn't noticed a change. He then asked Jose Martinez, who joined him at a pregame press conference, and Martinez concurred.
"I would say yesterday it was just a matter of it being a little bit colder out and to have a day where it doesn't travel as much, maybe (it was) just the weather changing," Edman said.
Cards use same lineup
After being held to one hit on Friday night, Cardinals manager Mike Shildt professed the utmost confidence in the lineup he put on the field.
He reiterated that point Saturday morning by posting the identical lineup for Game 2 of the National League Championship Series against Washington.
The same batting order will be in place at Busch Stadium in support of Adam Wainwright, who will make the 14th postseason start of his career in a 3:08 p.m. start.
"If we make a change, it will be because we think something needs to be changed," Shildt said Saturday morning. "But I just don't like to get overly knee-jerk. ... You know we looked at it, but we like our lineup and this lineup is capable and this is a similar lineup that beat (Max) Scherzer a couple weeks ago. So, we'll ride with it."
It's been slow going for the Cardinals' offense since they scored 10 runs in the first inning at Atlanta and 13 runs in the first three innings of Game 5 of the NLDS.
The last time Wainwright faced off against Washington's Scherzer in September, the Cardinals emerged with a 5-1 win.
Thus far, Shildt has opted not to alter his outfield with options of using Harrison Bader in center field or Jose Martinez in right field. Martinez had the lone hit for the Cardinals against the Nationals in Game 1.
Martinez is three for four in the playoffs and seven for his last 13.
"The good thing about our team is we have depth," Shildt said. "So, there's a lot of great choices. It is important to have somebody like Jose be able to come up and take a good at-bat off the bench and be able to not always pick the ideal spot but have a spot where we can get him in there that we feel good about."
Meanwhile, Fower is two for 26 so far in the playoffs and has walked only twice.
"To look at it a little more holistically, you say 'Is he taking good at-bats? Is he getting good pitches to hit?' He's doing all these things," Shildt said. "That's ultimately all you can ask hitters to do."
The Nationals have yet to attempt a stolen base in the postseason, in part because of the lefthanded pitching they faced against Los Angeles and in part because of the presence of Yadier Molina behind the plate for the Cardinals.
The Cardinals, meanwhile, stole two bases on Friday night alone and gave themselves a chance to stay in the game despite failing to get a hit until the eighth inning. Kolten Wong stole second after a walk and went to third when the throw went into the outfield, and Randy Arozarena stole second after being hit by a pitch and went to third on a ground out.
"We're not going to run for the sake of running," Shildt said. "But I really applaud those guys and, of course, our staff did their part to help prep them for what they were going to see. We felt really good about the guys  understanding what they were looking at and not trying to force it."
Washington closer arrives
Washington closer Daniel Hudson arrived in St. Louis on Saturday morning and will be available to pitch in Game 2. He admitted to being tired after taking a 7 a.m. flight from Los Angeles to Phoenix on Thursday morning and a 6 a.m. flight from Phoenix to St. Louis on Saturday.
"Mentally I'm there. Physically I'm a little tired," he said. "Not a lot of sleep the last few nights. … I'll try to make (the day) as normal as possible."