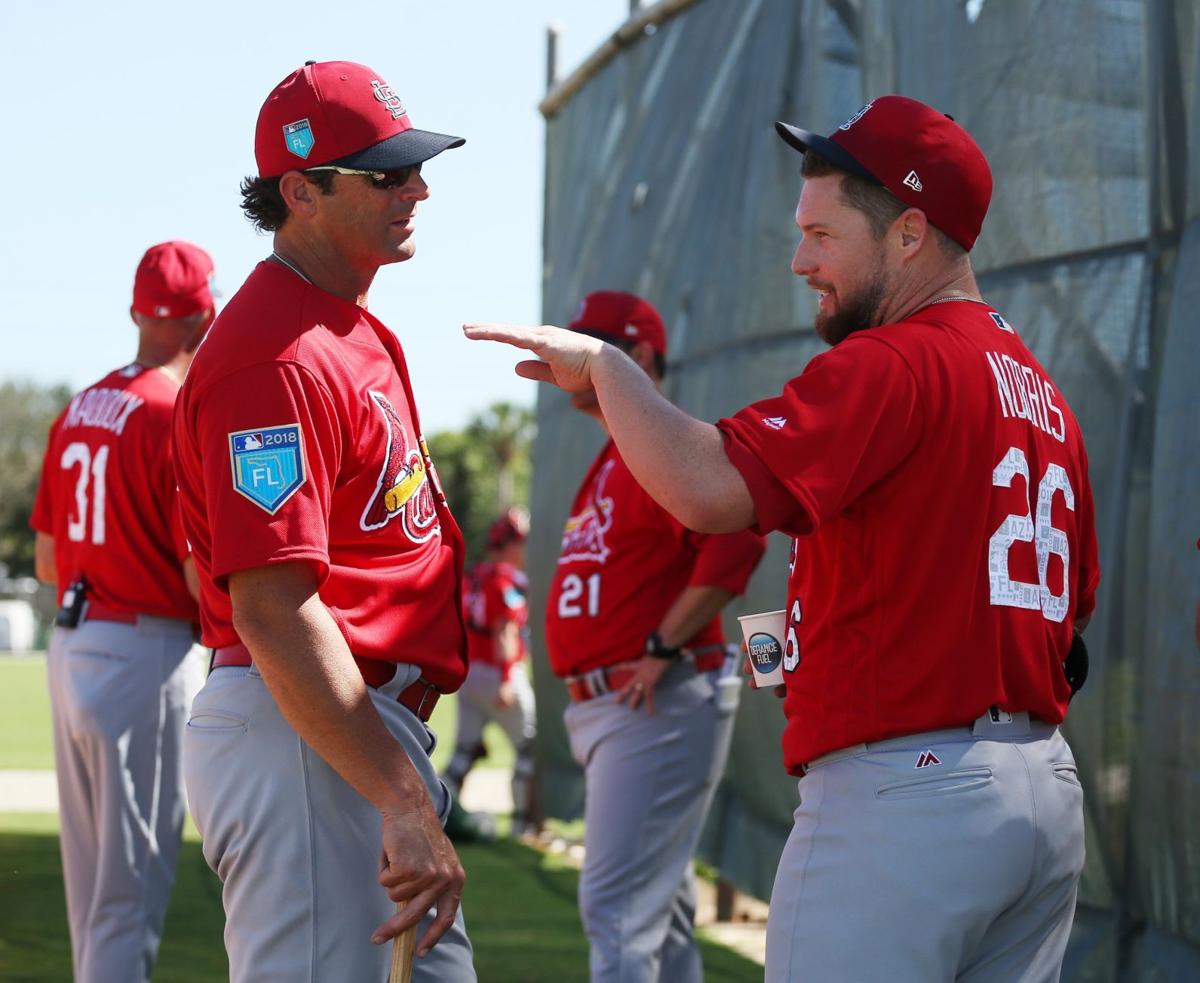 WEST PALM BEACH, Fla. • _Nobody really said that Miles Mikolas was pitching for his job Friday night but he acted as if he was.
Roughed up in his first two Cardinals starts, to the tune of a 19.29 earned run average, Mikolas blanked the World Series champion Houston Astros for four innings although the Cardinals lost to the Astros 4-2 in exhibition baseball. The Astros were employing almost their "A" lineup, with the exception of third baseman Alex Bregman. But Mikolas mixed fastballs which ranged as high as 98 miles an hour and were consistent at 94 and 95 with a 91 mph sinker and an improved curveball.
He also wasn't afraid to pitch inside, moving, among others, American League Most Valuable Player Jose Altuve off the plate.
The Astros had four hits off Mikolas but two of them were on the infield. Mikolas did his best work in the fourth, escaping a bases-loaded, one-out spot by getting Brian McCann on a foul pop and J.D. Davis on a forceout grounder.
Mikolas, who pitched in Japan the last three years, was matched with the estimable Justin Verlander, who struck out eight in the first three innings. One player Verlander  didn't strike out was shortstop Paul DeJong, who banged a long homer to left in the second inning. Mikolas threw 45 strikes in 68 pitches.
Mike Mayers, unscored on in seven innings this spring, struck out four in two perfect innings for the Cardinals, being caught on the radar gun at 99 on one pitch.
John Brebbia, who hadn't been scored on in four outings, gave up four runs in the seventh, the last three scoring on a line drive which center fielder Oscar Mercado didn't draw a good bead on as it sailed over his head for a triple. Brebbia did walk home the first run in the inning, though.
It was a rough night for muscular right fielder Tyler O'Neill, who had been out for some 10 days with a strained oblique muscle. Not only was he hit in the derriere by a Verlander fastball but he left the game later with a right hamstring strain.
NORRIS WILL RELIEVE RATHER THAN START
Righthander Bud Norris, whom the Cardinals signed early in spring training to provide coverage in the rotation or to pitch in the bullpen, will be doing the latter from now on this spring, manager Mike Matheny said Friday afternoon.
Norris, who pitched a perfect eighth inning in Friday night's  game, had 19 saves with the Los Angeles Angels last year but had been pitching starters' innings this spring before being sidelined briefly with a hamstring spasm.
Matheny said Norris, 33, would be concentrating on "shorter stints. Inevitably, it was going to be moving in that direction unless something happened where we truly felt his best opportunity would be as a starter," said Matheny.
"Now, could he be a hybrid (long reliever, starter)? He certainly could, but using the experience he had last year and how well he responded . . .  as a one-inning guy, it's worth taking a look at."
The emergence of young Jack Flaherty as the next starter-in-waiting helped make the decision for Matheny, he said.
Matheny said he had talked to Norris before the spring games started and he asked Norris what he wanted to do. He said Norris, who won 15 games as a starter for Baltimore in 2014, told him he wanted to start "but I bring more value in the back end of the bullpen. I notice I've used my stuff different and I've had success there and I think I can help this team. But, if you need me to start, I'll start."
A couple of days ago, the early conversation was revisited, and Matheny said Norris was excited about coming into late-game situations.
EIGHT IS ENOUGH IN BULLPEN?
With Norris slated for the bullpen, it means the Cardinals might be keeping eight relievers, who well could be Norris, Luke Gregerson, Brebbia, Matt Bowman, Dominic Leone and Sam Tuivailala as righthanders and Tyler Lyons and Brett Cecil as lefthanders.
It had been thought that seven relievers would be kept but it seems unlikely any of the aformentioned would be sent out. So eight might be enough,
"That's a good number," said Matheny.
Which one, seven or eight?
"The more the merrier," said Matheny, not exactly answering the question, but sort of.
"Stuff seems to take care of itself over time but we're happy all these guys are throwing well. We're going to need a number of arms."
O'NEILL STARTS BUT RUNNING OUT OF TIME
Outfielder Tyler O'Neill, who has missed more than half the exhibition schedule with a strained left oblique muscle, was in the lineup but not for long.  O'Neill, who hadn't started a game in some 10 days, left the game halfway through with a right hamstring strain after being hit by a Verlander pitch in the rear earlier in the game.
"The unfortunate things about injuries is (they) take away the number of looks we can get (at a player)," said Matheny. "Those early games are so important because we keep handing the reins over to the young players. But, as more and more of our regular guys are looking for at-bats and getting stretched out, those (games) aren't as available.
"A guys like O'Neill is somebody we've had a lot of talk about since we got him, so want to see him as much as we can. But it isn't going to be as easy as it was early on."
The righthanded hitter bashed 31 homers last year at Class AAA Tacoma and Memphis but has six strikeouts and two singles in nine spring at-bats. 
MIKOLAS GETS THE START
Miles Mikolas, roughed up in his first two Cardinals starts after signing a two-year, $15.5 million contract in the off-season, will try to make better use of his curveball and have more movement on his fastball when he pitches for the Cardinals against mostly the defending World Series champions' regular lineup.  Mike Mayers, John Brebbia, Sam Tuivailala and former Astro Norris also are on tap.
The Cardinals' regulars in the lineup are Kolten Wong, Tommy Pham, Yadier Molina, Marcell Ozuna and Paul DeJong.
The game starts at 5:05 p.m. (St. Louis time) and will be shown on Fox Sports Midwest.