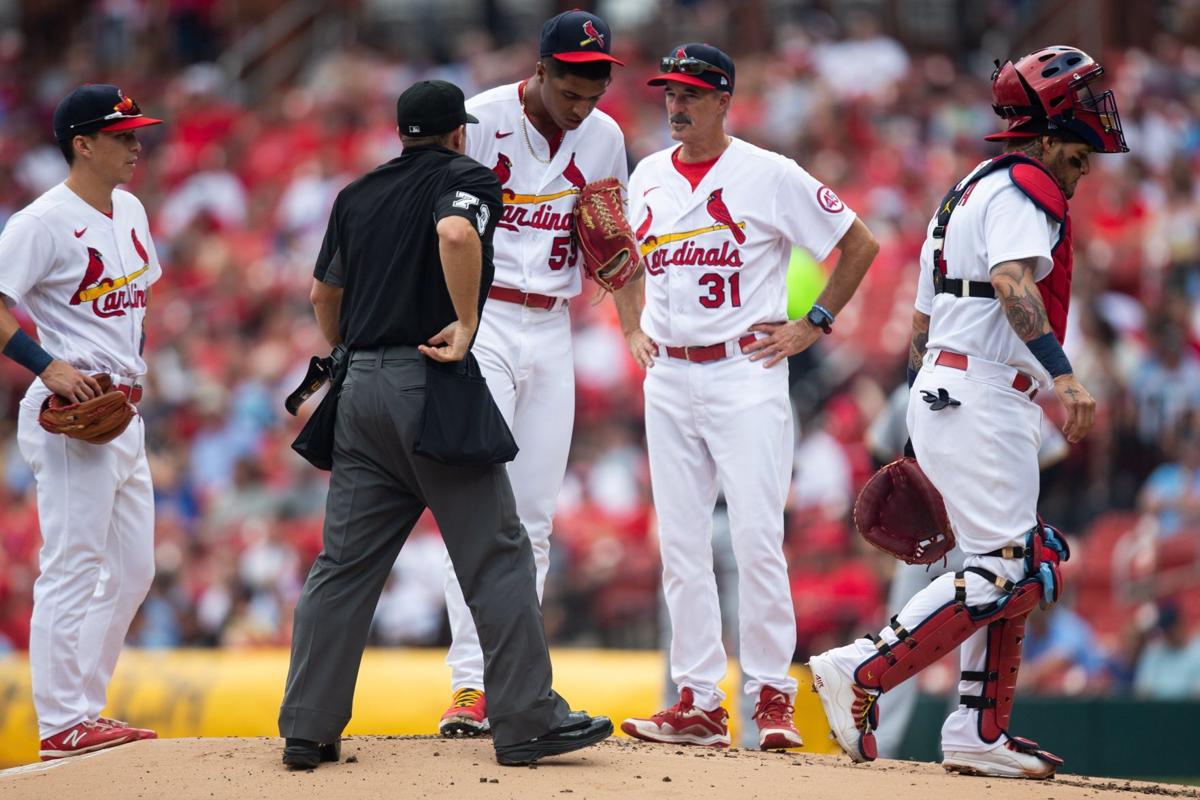 Johan Oviedo will make his 12th start this season and 17th of his two-season career for the Cardinals. He still is seeking his first victory in the major leagues as he takes on the Chicago Cubs and Trevor Williams on Tuesday night at Busch Stadium.
"It's a game of some failure and that's the part which can be super-frustrating," said manager Mike Shildt.
"We do recognize results are important but just keep your process going well. . . we know the wins will come."
The other message manager Shildt and pitching coach Mike Maddux wanted to impart to Oviedo was "use your strengths. Don't make situations bigger than they are. Trust your talent. You're here for a reason," Shildt said.
"He's a hungry, young man. He's embraced the challenge.
"His issue is that sometimes he wants it too bad."
Mikolas goes through final test
Righthander Miles Mikolas, recovering from a right forearm problem, seemed to handle well enough a three-inning stint of batting practice Tuesday that he is likely to make his next appearance for Class AAA Memphis at Louisville this weekend. "That's the unofficial plan," said Shildt.
But Mikolas, smiling, said, "Until the team makes an official announcement, that can neither be confirmed nor denied."  
After his outing in Louisville, Mikolas next would pitch at Memphis when the Redbirds return there next week and then probably go to Class AA Springfield for his last start or so.
Righthander Jack Flaherty, 8-1 before he suffered a torn oblique muscle, may not need as much time on a minor league rehab because he pitched two months this year instead of four innings in the majors for Mikolas although the latter was on a rehab stint for a shoulder problem earlier this season.
"I'm going to try to have home runs in Double-A and Triple-A this year. Maybe two in Triple-A," said Mikolas, who already has homered for Memphis this season.
The pencil-marked plan calls for Mikolas and Flaherty to be ready somewhere around Aug. 22-23 although it is possible one or both could be live for the start of a three-game series here with Milwaukee on Aug. 17. The Cardinals have 13 games remaining with the Brewers, who lead the National League Central Division. Ten of those will be in September when both Cardinals righthanders almost certainly would be ready.
Arenado is back after break
Nolan Arenado is back at third base and hitting third for the Cardinals after getting a mostly mental break on Monday night, having just returned from a two-week trip, which included two emotional visits to Colorado (regular season and All-Star Game), where he played his first eight big-league seasons.
"I don't think there's any question that there's a mental toll that takes place no matter how mentally strong you are," Shildt said.