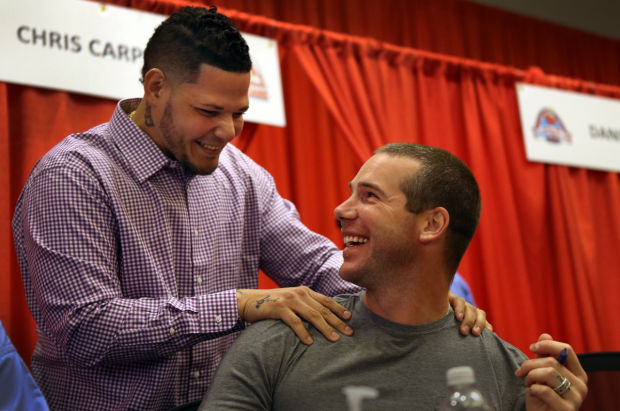 JUPITER, Fla. • There were a few times this past winter, fleeting as they were, that Chris Carpenter played catch with former teammate Lance Lynn or watched Trevor Rosenthal throw off a mound and felt that familiar tug to compete.
He didn't feel compelled to respond.
Another sensation quelled the instinct.
"I'm at peace with this stage and where I'm at," Carpenter said Wednesday at the Cardinals' spring training complex. "It's weird. But I don't feel uneasy. I don't feel like I should be out there doing it. I don't miss it. … I don't have that desire to go out and put a uniform on and try to get guys out."
Carpenter, 38, has spoken rarely since the club announced his retirement this past winter, and is only now starting to find out the details of his post-retirement role with the front office. Carpenter is one of the most-decorated postseason pitchers in Cardinals' history, and he retired from the game after 15 years and 144 wins, nine years and 95 wins of which came with the Cardinals. Unrelenting nerve issues in his shoulder forced him to have a surgery that removed a portion of a rib to relieve the area choking his nerves. It did not allow him to return to pitch without trouble.
The pitcher who returned from shoulder surgery and elbow surgeries had to surrender after years of fighting through nerve issues.
He worked out this winter with Lynn and Shelby Miller, and several times he saw Rosenthal and the others throw. He knew he couldn't.
"It's not going to work," Carpenter said. "No matter how hard I push it's just not going to happen."
Cardinals general manager John Mozeliak and the former ace agreed earlier this year to have Carpenter join the front office in a to-be-defined role. Carpenter has come to spring training for a two-week stay that will allow him to explore the possibilities. Carpenter said he talked with Mozeliak already this week and stressed that he wants to be told the role the organization thinks best for him.
Wearing street clothes Wednesday, Carpenter watched Joe Kelly and Miller throw bullpens. He spent several minutes on the bullpen practice mounds talking with Lynn, Adam Wainwright, and pitching coach Derek Lilliquist. He just expects to be around in the coming week.
The specifics remain TBD.
He notified Mozeliak that he would be willing to put on a uniform again, that taking the field as a coach would not be awkward.
"I want him to tell me. He's the boss," Carpenter said. "Tell me what I need to do and what you want me to do. … I just don't want to be that charity guy. If I have something to offer that they want, that they need, I'm here for that and I always will be."
Cardinals manager Mike Matheny suggested that Carpenter's presence alone around the clubhouse is enough to improve his club.
He doesn't have to make a pitch.
But he probably won't hesitate to say a word.
"Every day that he can be around the clubhouse, we've got a chance to be better mainly because he cannot control himself," Matheny said. "He's going to say something. I know what his drive is. It's not to be an imposing force. It's to do what's right. He's passionate about what's right for the game. That's something that we all respect about him."
Initially, Mozeliak and the front office discussed a range of roles within the organization for Carpenter. Mozeliak said he intended to let Carpenter dip his toes in a lot of different pools before asking him to jump in. Carpenter did not attend the scout school the Cardinals held here in Jupiter, Fla., earlier this spring, though he still could hit the road to get scouting experience in the same way former closer Ryan Franklin did. Or, Carpenter could tug on a jersey again and take the field as a guest instructor, like Ozzie Smith did earlier this spring. Carpenter would like to hear from Mozeliak what he believes is the best fit.
He's come to grips with the reality it won't be on the mound.
He's eager to see where it will be in the game.
"Baseball is who I am and what I do," Carpenter said. "I appreciate the opportunity they're giving me to stay involved. Not all organizations do that, and for Mo to come to me and ask me to stay involved is pretty special. … My competitive nature is on the mound and being around these guys not competing – the knowledge and the experience that's all you're trying to pass along. I'm a very honest, open person, who speaks freely, and that would help a lot of people, not just at this level but throughout this organization.
"That's where we're at," he concluded. "We'll see what happens."
NOTES: Cardinals reliever Jason Motte said his recovery from an intensive throw Tuesday was better than he's experienced all spring. Motte was able to throw at full effort and utilize all of his pitches without concern during a bullpen session Tuesday. The righty, who is likely to start the season on the disabled list as he recovers from elbow surgery, could face hitters Friday in his first live batting practice of spring. … Jaime Garcia returned to camp Wednesday after visiting Dr. James Andrews and his facility in Birmingham, Ala., for tests and some additional rehab on his lefty shoulder. Garcia said the inflammation in his left shoulder has been tamed and he expects to begin light throwing soon. "Before the team leaves (at the end of this month), I want to be pretty close to being on the mound," Garcia said. "That's my goal. I haven't heard from the trainers if that's possible. I want to be ready, but I know we want to be careful, smart, too."