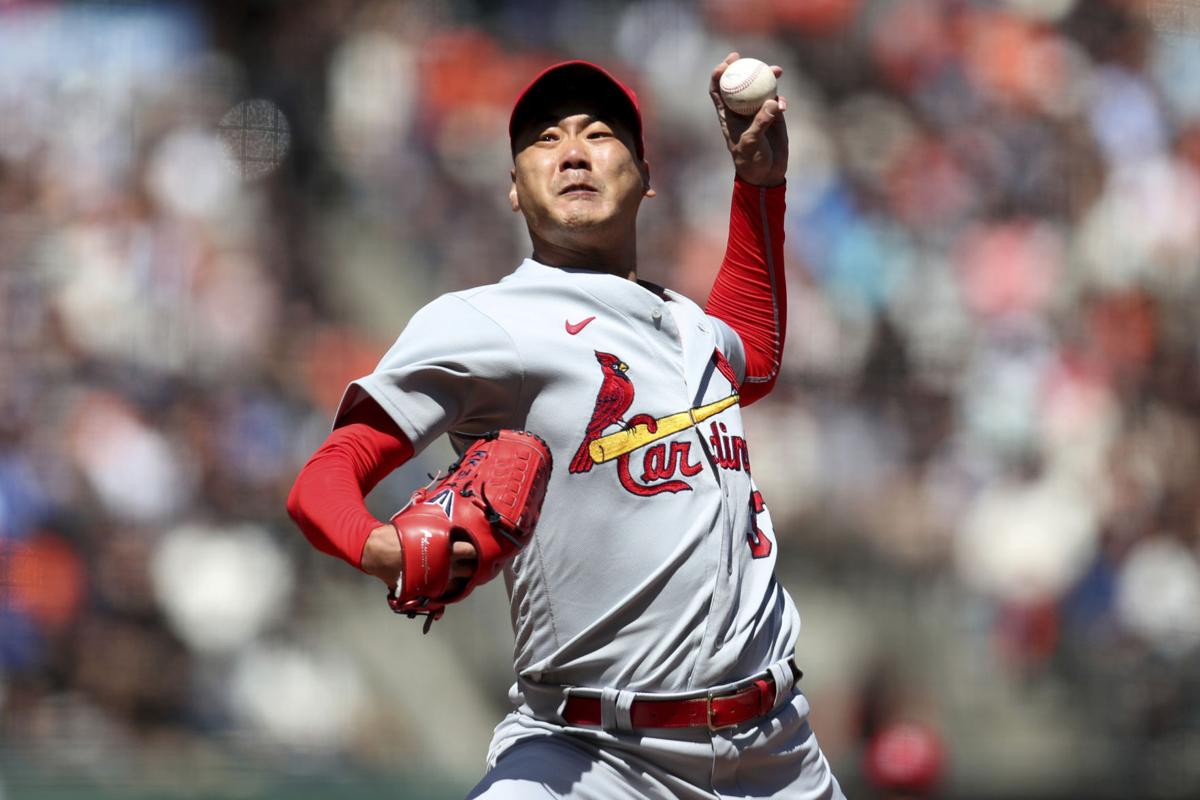 Kwang Hyun Kim, the Cardinals' best starter lately, will carry a scoreless streak of 15 innings into Saturday night's matchup against the San Francisco Giants.
Kim has won his past three starts after suffering five consecutive losses and appears over the back problems that plagued him during spring training and the season. He is 4-1 with a 2.47 career earned run average at Busch Stadium in his career and, given that, it is surprising that there isn't more talk about the South Korean lefthander being in the rotation next season after his two-year, $8 million deal expires.
One of the issues is that Kim hasn't been able to see his family which has remained in Korea during the coronavirus pandemic. Manager Mike Shildt said he hadn't had a conservation with Kim, who will be 33 next week, about his returning but said, "I think he enjoys it here. He walks around with a smile on his face a lot."
Shildt said, "Of course," he would like Kim to come back. "Last year was really, really good and he's pitched well a lot this year," Shildt said. "Of course, I'd like to have a competitive guy who fits in well and likes to win.
"I would imagine his name should be in consideration, for sure."
Kim has pitched seven and six scoreless innings in his previous two starts, against the Giants and the Chicago Cubs.
Carpenter has owned DeSclafani but won't start
Shildt admitted he "looked hard" at Matt Carpenter's career record against Giants starter Anthony DeSclafani. When the latter was with the Reds, Carpenter hit .448 with a ridiculous 1.600 OPS against the righthander with four homers and 11 RBIs. But  Shildt said he was happy with the way such other hitters as Tyler O'Neill, Harrison Bader and Paul DeJong had been swinging the bat lately.
"There wasn't any room at the inn for the game today," said Shildt, who said he would look for an early pinch hitting opportunity for Carpenter if DeSclafani remained in the game.
Righthander Miles Mikolas (forearm flexor problem) said he expected to throw one more batting practice session at Busch Stadium, probably on Tuesday, before beginning a medical rehabilitation option that could last up to 20 days. Mikolas said that would involve him going to affiliates within driving range, which covers Memphis, Springfield and even Class A Peoria but not Jupiter, where Mikolas lives.
"We're finalizing that," said Shildt. "There's a real possibility he could go to an affiliate and get his next work," which would mean Mikolas would bypass the extra session here. Mikolas faced Cardinals hitters here on Friday and said he was satisfied with everything except his curveball.