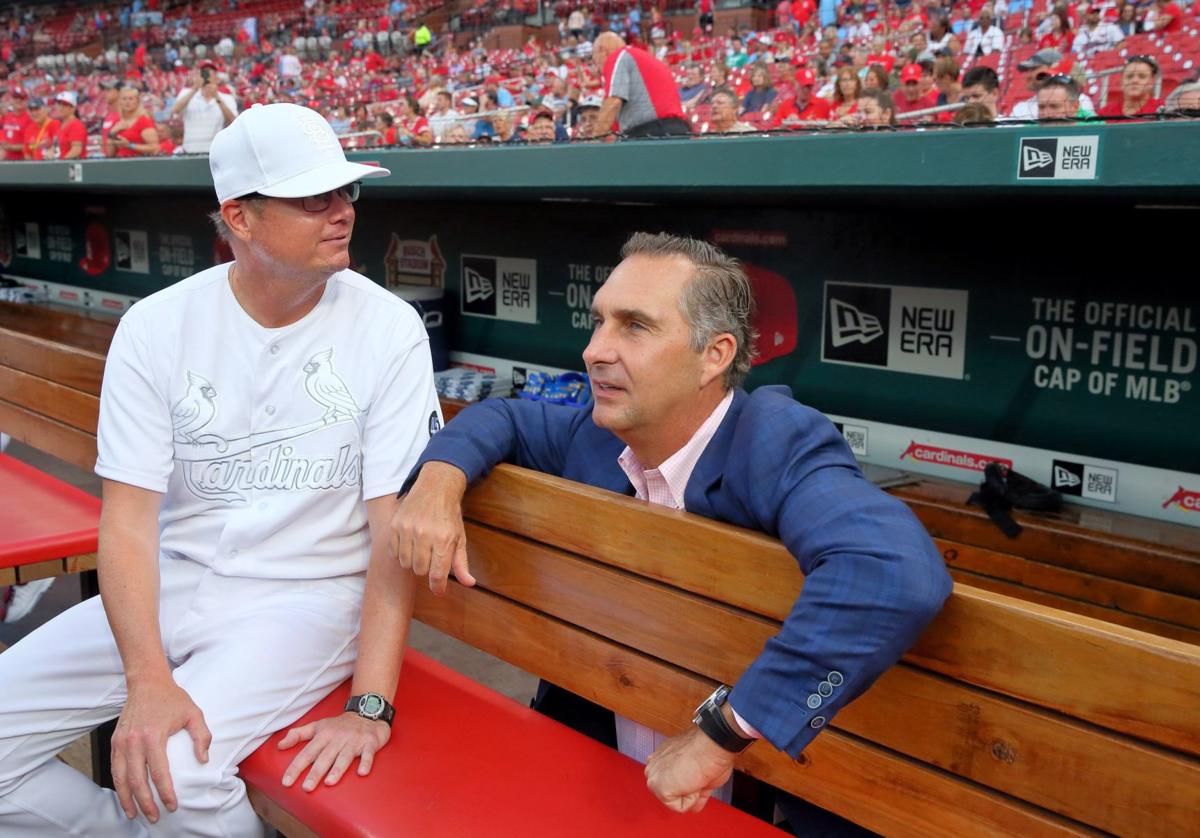 The final barriers between the major league owners and the players' association were cleared Tuesday night and the baseball season will begin, belatedly, on July 23 or July 24 with a 60-game schedule implemented by commissioner Rob Manfred when the two sides couldn't reach an agreement.
Reporting date for spring training camp, which has become summer training camp, will be a week from Wednesday (July 1) at major league parks around the country, including Busch Stadium. Actual drills, after health and safety testing, are targeted to begin on July 3, according to USA Today, prompting Cardinals third baseman Matt Carpenter to tweet, "Baseball is back! I could cry." 
Much of Tuesday's discussions, which apparently were more cordial than most of the first 102 days without baseball since spring training was shut down on March 12, settled on health and safety concerns created by the coronavirus pandemic. Those discussions continued well after the 4 p.m. presumed deadline for agreement on the start of training camp and the health and safety protocols but at about 7:30 p.m. those discussions had been completed. 
"All remaining issues have been resolved and players are reporting to training camps," said a release from the players' association. 
The regular-season schedule, which in the Cardinals' case, will be against National League Central Division and American League Central teams, is slated to end Sept. 27.
John Mozeliak, Cardinals president of baseball operations, said Tuesday night he hadn't seen any finalized schedule yet. But sources say that teams are slated to play teams in their division 10 times each for a total of 40 games and play teams in the corresponding division in the American League a total of 20 games.  Manfred said in a release that the schedule had been sent to the Major League Baseball Players' Association for approval.
Clubs have been informed they can have 30 players for the first two weeks of the season, then 28 for the next two weeks. In the final month of the two-week season, clubs will have 26 active players.
Teams reportedly can have as many as 60 players available for the season meaning the 40 on the 40-man roster and then 20 more on a "taxi" squad, which, in the Cardinals' case would be in Springfield, Mo., site of the Cardinals' Class AA farm club.
The designated hitter will be used in both leagues this year for the first time and also Major League Baseball for the first time will adopt an extra-inning approach employed by the minors, with each team starting an extra inning with a man at second and nobody out.
As for off-field rules, reports are that temperature checks will be conducted twice daily on players and other personnel. Coronavirus tests will be administered every other day and antibody testing once a month.
Pending official announcement of the particulars of the health and safety parts of the agreement, Mozeliak was hesitant to say too much. But he did say, "The city has signed off on our tentative strategy," on opening camp at Busch Stadium. "Right now, we have a few players coming through our clubhouse but it's not in volume.
"There's a long list of what we need to prepare for over the next week or so—how to space lockers, developing the timing of players as to when to come in and come out, which is going to be different as to what we think of (as) normal."
Mozeliak said he hadn't been notified that anybody on the Cardinals' 40-man roster didn't intend to play nor has he heard of anyone on the club testing positive for coronavirus since the club left Jupiter, Fla., in mid-March.
"I am optimistic, but there's. . . a little pessimism when you see what's happening elsewhere," Mozeliak said during a Zoom call with the media. "Obviously this virus knows no boundaries. The bubble we're trying to create  will be as good as we can do but there's only so much we can control."
Mozeliak said this before word came out that Colorado Rockies All-Star outfielder Charlie Blackmon and two teammates had tested positive for the virus while at Coors Field for a workout.  
Keep up with the latest Cardinals coverage from our award-winning team of reporters and columnists.