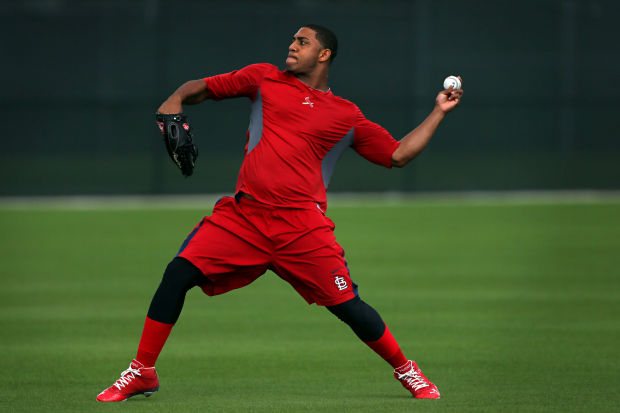 JUPITER, Fla. • Prized outfield prospect Oscar Taveras, who had right ankle surgery last season, is sidelined indefinitely with a tight hamstring in the same leg. And Cardinals manager Mike Matheny said Taveras won't come north with the team if he can't show he can be 100 percent and play appreciably by the end of camp in just more than two weeks, which seems unlikely.
"It's not possible — without him being healthy," Matheny said. "He needed for everything to go right for that to be a possibility. It's definitely something that's holding him up."
The Cardinals were relatively muted in their expectations for the 21-year-old Taveras before camp began, inasmuch as he had missed more than half of last season at Class AAA Memphis because of his ankle problems.
"We kept saying we need to see him healthy before we can make any determination," said Matheny, "and we say the same thing right now. We just thought we had kind of crossed that hurdle where we could watch him play on a consistent basis. Now we're held up again. He just hit another roadblock.
"It's not like he came out on the field and (wasn't) prepared," said Matheny. "We had a very rigorous set of things he needed to get accomplished, but something just didn't click in the game the other day."
Taveras, once he had convinced himself he was all right to run full speed on his ankle, appeared in two exhibition games, one in the field, before feeling something amiss with his hamstring on Saturday.
Matheny said he had been hopeful that Taveras would be able to go about "70 to 75 percent," in running drills but that isn't happening. 
"I think he's a little tentative," said Matheny. "He's going about 50.
"Guys who have had injuries and haven't healed up right are typically hesitant to push it."
Reliever Jason Motte, rebounding from Tommy John elbow surgery of last May, threw perhaps his last bullpen session before facing hitters and was impressive. Motte likely will be able appear in some minor league games before camp is over.
If Motte pitched in major league spring games and then was placed on the disabled list before the start of the season, the Cardinals would not be able to backdate him 10 days from the season-opening date to March 21. If they did that, Motte would be eligible to pitch in the majors as soon as the second series of the season when the Cardinals get to Pittsburgh.