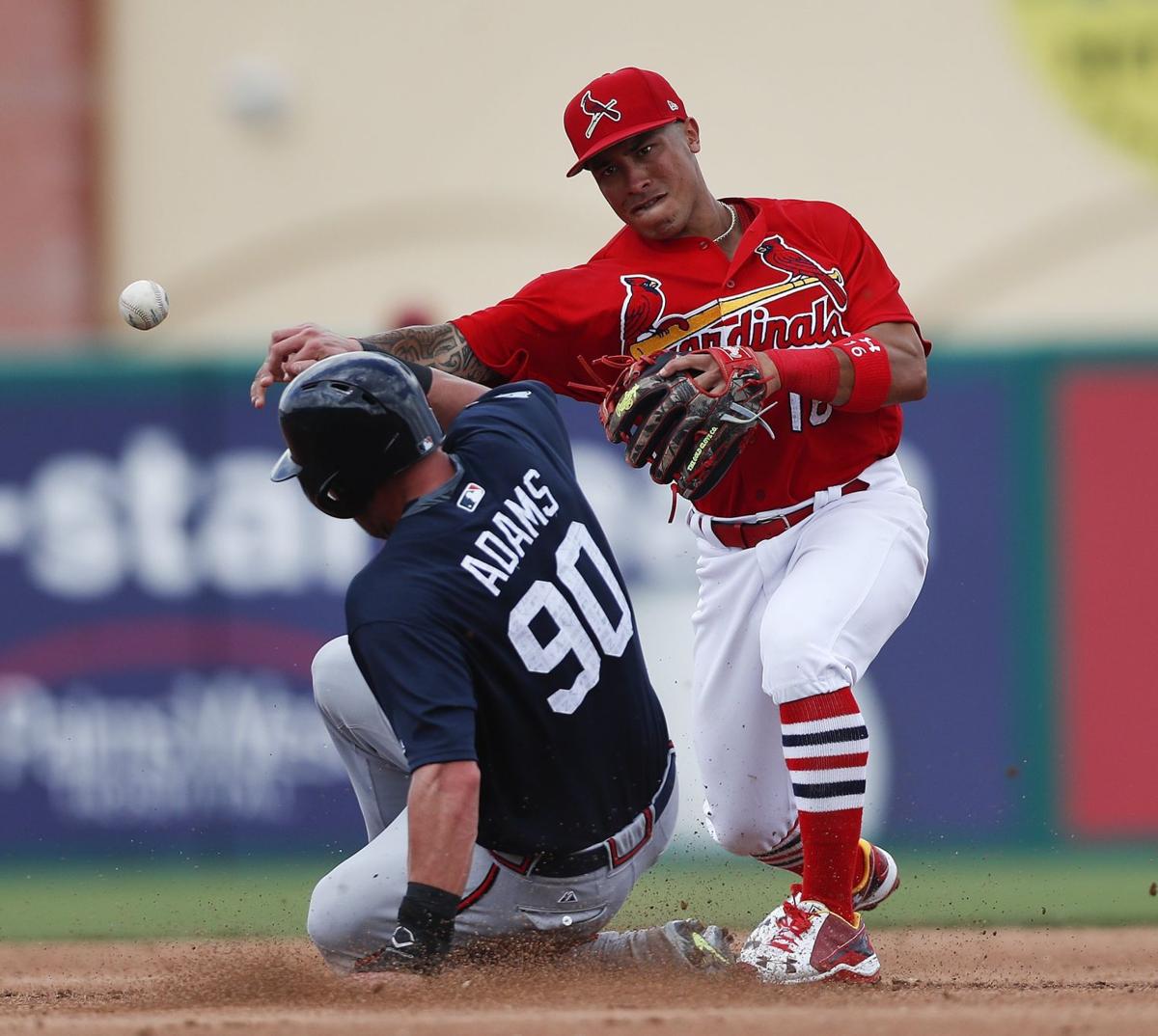 JUPITER, Fla. • After Sunday's game, Cardinals second baseman Kolten Wong asked the Post-Dispatch to clarify comments he made earlier in the day about the team considering a platoon approach to second base to start the season. His words, in full, appear below:
"That platoon word is something I don't get along with real well," Wong said. "When that came off, obviously I kind of blew off the top a little bit. Just because I've put in the work this offseason offensively, defensively, offensively, trying to figure out my swing. At spring training, we all understand we are trying to figure out something. You are trying to make sure that you are getting yourself ready for the season.
"My whole thing was, I just got mad at the fact, thinking, I'm over here trying to work on things, trying to get myself better. Not trying to go out here and have an amazing spring training. I'm trying to go out there and have an amazing season. To hear that (he might be platooned) was something that hit me out of left field. I didn't mean it in a bad way. I didn't mean it for me to come off  seeming like I wanted to be traded or wanted to get out of this organization. I love playing for the Cardinals. If that wasn't the reason, then I never would have signed that extension. I wanted to be here for the long term. I still want to.
"Right now, I'm going through a rough stretch, trying to figure out my stuff. Eventually it will turn around. I'm so locked in and trying to figure my stuff out, that when I hear other stuff like that, it kind of hit me the wrong way, knowing I'm putting in all this effort and work and doing all I can to help this team win. And to hear that, it was something I wasn't expecting."
Wong said previously that he would rather be traded than not be the everyday starter in St. Louis. He asked to clarify those comments as well.
"I'm not trying to sell myself to any other team," Wong said. "My play speaks for itself and what kind of player I can be. I want to be that player for the Cardinals. If the worst-case scenario comes down, I understand there are a lot of good guys on this team right now. If it's my time to get moved, it's my time to get moved. But at the end of the day, I want to be a Cardinal. And that's the most important thing."
---
The earlier story, in which Wong expressed his frustration about possibly being platooned at second base when the season starts:
JUPITER, Fla. • Second baseman Kolten Wong expressed confusion and frustration Sunday about the news that the Cardinals are considering a platoon approach at Wong's position to start the regular season.
"You know what, that's out of my control," Wong said before the Cardinals played the Marlins in a Grapefruit League game at Roger Dean Stadium. "I was told that I was going to be the starting second baseman. If that's what they want to do, then that's their decision. The thing with me, and my frustrations is that, I think when you give someone a contract and you expect him to be the guy, you should have belief in that guy. It's hard when you don't feel that belief. But it is what it is. If that's the case, then I'll be ready to do what I gotta do to help the team win."
Last March, Wong and the Cardinals agreed to a five-year deal worth a guaranteed $25.5 million. He wondered aloud if that contract will reach its end in St. Louis.
"I don't think you give somebody a contract for no reason," Wong said. "When you are given a contract, you are expected to get a chance to work through some things and figure yourself out. Josh Donaldson, Jose Bautista, all these guys never figured their stuff out until later on down the road. It's the big leagues. It's tough, man. For me, the biggest thing is I just need people to have my back. When that comes, it will be good. But, I think right now, it's just staying with my play, understanding I'm working toward getting myself more consistent, understanding what kind of player I can be. If that's going to be with another team, so be it."
Wong was asked to clarify what sounded like an interest in being traded.
"I just feel like, you know, my time here, it's almost limited," he said. "So, we will see what happens. I don't know what's going on. No one has told me anything. I'm just working hard, doing what I gotta do to get myself ready for whatever happens."
Wong has not requested a trade but confirmed he would rather depart if he is not going to be a regular starter in St. Louis.
"One hundred percent," he said. "One hundred percent. I don't want to be here wasting my time. I know what kind of player I am. If I don't have the belief here, then I'll go somewhere else."
Wong, 26 is averaging .182 with a .265 on-base percentage and a .250 slugging percentage this spring. Cardinals manager Mike Matheny acknowledged Saturday that second base could be a place to find at-bats for utility infielders Jedd Gyorko and Greg Garcia. The lefthanded hitting Wong did not start against a lefthanded starter on Saturday. That is one scenario in which the righthanded-hitting Gyorko, who led the Cardinals with 30 homers last season, could find starts.
"That's something we're going to have to consider," Matheny said Saturday. "We can't expect to see these (bench) guys to stay sharp if they never play."
General manager John Mozeliak, who this offseason campaigned for more regular playing time for Wong as a way to improve a shaky defense in 2016, said Saturday that Wong's defense alone might not be enough to hold off other challengers for playing time at second base.
"You still have to do both," Mozeliak said Saturday. "There is that sort of balance. But sometimes, with Kolten you sometimes feel he takes his at-bats with him out there to the field. Then you have the problem. In essence, what we are hoping to see is that he gets off to a good start and he can keep pushing forward. If he takes hold of that job, then it's his. I do feel like what you've seen from other players in this camp gives you reason for confidence that there are other alternatives."
The notion of a timeshare at second frustrated Wong. He made 57 starts at second base last season, the fewest since he debuted in 2013. He believed he had secured a starting spot headed into the season, based on his contract and comments made by team officials. He said he had not discussed the idea with Matheny.
"He's the manager, and he's going to make the decisions," Wong said. "For me, it's just frustrating knowing I put in all this work and effort, and for someone to just look at a spring training debut and think that that's it, when everybody is working on things during spring training. If that was the case I would have came in with a different mindset knowing I had to keep my job right now. I knew I wanted to get more consistent. I'm still figuring out my swing and how I can make it as consistent as I possibly can."
"I don't want to come off as being like bitter or anything," Wong said. "It's just that when you are told something, and it doesn't go that way, it's frustrating. As a player, I put my mindset as, I'm going to be the second baseman every day. I'm not going to hit every day. I'm not going to get base hits every day. I'm not having the greatest spring training. But I don't really care about spring training. Spring training is about getting you ready for the season. For me, if I can figure out how to get my swing where I can consistently know what I'm doing every single time, that's all I care about in spring training. If they are going to base everything off spring training games, then so be it. I don't want to come of as being like 'that guy'. That's what I'm trying to explain right now. But I feel like if I am given the chance to be an every-day guy and don't have that pressure of, if you don't do good today you're not going to play the next day."
"Not even the contract. It was more of the comments being said this offseason. OK, you're going to be the guy, because we need defense. And, I prove that every single day. On defense, I'm one of the best second basemen in the league. I believe that and I know that. I know there are other guys on this team who haven't hit well. You need time. Everybody works that way. Even Yadi (Molina), I talk with him all the time. When he first started, he wasn't a hitter. It took him a process, it took him time to figure out how to succeed at this level. And that's where I'm at. I need the time to consistently figure out how to be me and succeed at this level. Everybody goes through it. Not everybody is Mike Trout."
Wong started at second Sunday and faced a lefthanded pitcher in Marlins starter Wei-Yin Chen.
"I'm playing today, and I guess we are facing a lefty today, so I don't really know what the whole deal is," Wong said. "If that's the case, hey, it is what it is. You can't hold nothing from Jedd. Jedd had an amazing year last year. Being told what I was told this offseason was a cool thing, but I still had in the back of my mind, knowing that with the year he had, he deserves to get a chance. So, it is what it is. I'm not happy with it. But it is what it is, you know?"