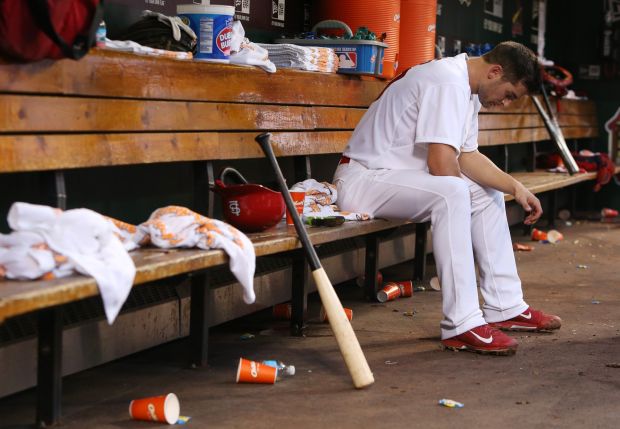 Cardinals manager Mike Matheny had talked before Monday night's game about the potential momentum engendered by closer Trevor Rosenthal having escaped a frightful, bases-loaded, no-out spot to save a one-run win in Pittsburgh on Sunday night.
But that old Beaumont High and Baltimore Orioles sage, Earl Weaver, had it right — he was a Hall of Famer, after all — when he was quoted in 1985 as saying, "Momentum is the next day's starting pitcher."
Young lefthander Tyler Lyons, impressive in his first three starts this season in relief of injured Joe Kelly although not winning any of them, allowed a hitting cycle to the Chicago Cubs inside the first five batters Monday at Busch Stadium. Generally, that isn't good news for the home team and, indeed, Chicago was four runs ahead after the inning, capped by a two-run homer by Mike Olt, who had only 16 hits in his first 86 at-bats this season, but eight of them homers.
It didn't get any better after that as the Cubs, who actually arrived in St. Louis seven or eight hours ahead of the road-weary Cardinals, ruined that homecoming with a 17-5 smackdown before a sellout house of 44,434. It was the most runs the Cardinals had allowed this season and the most they had allowed to the Cubs since the Cubs hit them up for 19 on Sept. 21, 1974.
The game was the first of 19 the Cardinals will play at home out of the next 22. The Cubs will be here for the next three of those games, too, after winning only their second in their last nine on Monday.
Part-time player Junior Lake drove in six of the runs and leadoff man Emilio Bonifacio scored five of them, one of them after a successful challenge by Cubs manager Rick Renteria, as the Cubs pounded five Cardinals pitchers for 20 hits. Infielder Daniel Descalso was not among them as he retired the only hitter he faced on a fly to left to end the top of the ninth inning.
So much, perhaps, for the Cardinals sending their starting pitcher ahead of the rest of the team before a Sunday night game. Lyons (0-3), who allowed seven runs in the first two innings and nine in four frames, was back in St. Louis even before the start of the game in Pittsburgh on Sunday.
A terse Matheny said that a pitching move was very probable before tonight's game. It would seem to involve rookie Eric Fornataro, who worked two innings Monday and who probably would be replaced by a pitcher from Memphis.
As for Lyons, his night still was not over nearly an hour after the game. For the second time in five days, he was the subject of random drug testing, according to the Major League Baseball policy, and his body wasn't cooperating yet.
"I'd much rather get out of here right now, but I'm still sticking around," he said.
Lyons, who had two excellent starts last year after being called up from Memphis before faltering, had two very good ones and one adequate one this year. He said he actually felt good in the first and second innings, but he said, "I just got hit. I felt really good in the bullpen. The results just weren't there."
Lyons' next turn would come Saturday against Atlanta, but lefthander Jaime Garcia threw 74 pitches and allowed two runs in what seemed to be an impressive five-inning outing on a rehabilitation option at Memphis on Monday. If he feels all right today, the club might decide his next start would be here Saturday, rather than in Memphis. Lyons, however, did pitch very well against the Braves last week.
No one had much to say in the clubhouse afterward, and Matheny spoke in clipped tones.
"Tyler had a rough start, no question about it," said Matheny. "It looked like he was getting the ball in the middle of the plate. Regardless of what pitch it was, it seemed like he was finding more of the plate than he was looking for. And they didn't miss them."
Often, when a position player pitches at the end of a blowout game, there is some lightheartedness about it afterward. But not this time. After veteran Randy Choate, who hadn't pitched since last Tuesday, was raked for six runs in the ninth, Descalso trotted from the dugout onto the field and retired Olt on two pitches.
"It's embarrassing to have to put him into that spot," said Matheny. "He's a team guy and understands. We should never have been in that spot to begin with. It's tough for all of us to watch."
Descalso was surprised that anybody would want to talk to him afterward.
"Really?" he said. "I just went out there and did what they asked me to do."
He said he last had pitched in high school and said he was "OK" at it. "But I don't really want to talk about it," he said. "We got our butts kicked tonight and it's never a good thing when you have a position player on the mound."
One batter before Descalso's emergence, Matheny had visited Choate and given Choate an opportunity to come out, but Choate wanted to stay in and retire the next hitter, which he did not.
"I was realizing he had thrown more pitches than we wanted him to (35) but he also had another run out there (on the bases) and we're bringing in a position player," said Matheny.
Choate, whose earned run average shot to 6.75 from 2.38, said, "It was just a bad day. I left the ball up and I couldn't get them out. They were better. They just beat our butts."
But the Cardinals did put some rallies together, helped by some loose defense by the Cubs and after five innings, it was 9-5.
"We saw some fight," said Matheny. "We got within four runs and then we just weren't able to shut it off. If we stay down four, I like our chances of making something happen.
"Then it just got out of hand. But that's not what we've seen all year and that's not the message of today.