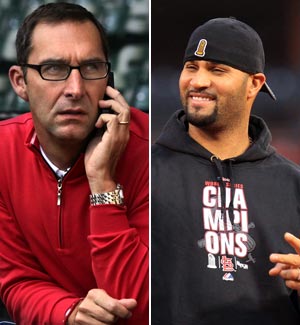 DALLAS • The Cardinals rejoined the fray for free agent first baseman Albert Pujols on Tuesday by offering the three-time National League MVP a deal believed to potentially approach $220 million for up to 10 years.
Now they wait to see if it's enough.
A flurry of activity among the Cardinals, the Miami Marlins and a third team that emerged from what one source familiar with the process described as "the tall weeds" apparently leaves Pujols with his choice of proposals that would carry through his 41st birthday. Though the Cardinals declined to place a deadline on their offer, the Marlins are believed to be pushing for a resolution before the meetings adjourn Thursday.
Cardinals general manager John Mozeliak confirmed the team's new bid Tuesday afternoon. He indicated the bid was not necessarily the club's final offer but acknowledged that the defending World Series champions control neither the pace nor the outcome at this point.
"In this situation we're participants," Mozeliak said. "We're not dictating anything."
The Cardinals communicated their offer to Pujols' agent, Dan Lozano, early Tuesday afternoon after postponing a morning meeting. It remains unclear whether the Cardinals' bid is fully guaranteed or involves options to reach its 10th year.
The offer was an answer to the Marlins' modified, "creative" 10-year proposal believed to include significant deferred money while averaging little more than $20 million per season.
Though the Post-Dispatch had reported a Monday offer from the Chicago Cubs, the Cardinals' chief rival is not believed to be the third leading challenger for Pujols' services. USA Today first reported the presence of the unidentified additional bidder.
Mozeliak declined to describe the Cardinals' bid, but it is longer and carries a greater average annual value than the nine-year, $198 million tender made in January. The bid had become moot after the past season since its terms used the 2011 season as the first installment. The Cardinals' latest proposal would run through 2021 compared to their initial offer, which ran through 2019.
The Cardinals expect a speedy resolution one way or another, though Mozeliak stopped short of predicting an outcome at the meetings.
"I suspect (a decision) is going to come quickly," Mozeliak said, adding that the next move belonged to Pujols' representation.
Mozeliak described himself as "hopeful" — a term employed by chairman Bill DeWitt Jr. on Monday — and said, "It sounds like it's moving. As far as a conclusion, I couldn't tell you."
The Marlins so far have appeared the most active team in pursuit of Pujols, having met multiple times with Lozano on Monday and Tuesday. The process advanced far enough Tuesday for Marlins owner Jeffrey Loria and several club officials to meet with Major League Baseball to seek clarification of contractual issues, including deferred money.
Baseball's most aggressive team this winter, the Marlins appear eager to learn Pujols' decision for fear of being exploited as a stalking horse and to commit resources elsewhere should they fail to land him.
"I know that some teams have strategies. We make decisions. We have convictions, and we just go," said Marlins general manage Larry Beinfest. "Maybe it's the best thing to do. Maybe it's not. I konw some teams wait for things to materialize and things to happen. If you look at our track record, that's just how we operate."
The Marlins are philosophically opposed to granting the no-trade protection Pujols is believed to seek. A source familiar with negotiations suggests that the sides may be willing to circumvent the hurdle.
Beinfest said no-trade language is "just not something we're comfortable with including in contracts. We're more than happy to pay fairly and hopefully present a winning option for players who sign with us. But [no-trade protection] really takes away the team's flexibility in the event you want to better the team or adjust here or there."
Inserting a significant trade bonus into a deal is one common method used to offset a club's reluctance to grant a no-trade clause.
Holding to custom, the Cardinals refused to discuss their bid. Nor did Mozeliak offer insight on why DeWitt left Dallas on Monday afternoon before returning Tuesday.
"I'm not real comfortable talking about the details of our offer or talking about the scope of what we've done at this point," Mozeliak said.
The Cardinals had held their offer in an attempt not to drive the process. Tuesday's offer came one day after reports surfaced that the Marlins had improved their bid. Mozeliak denied its role in shaping the Cardinals' tender.
"Can I draw conclusion from that, yeah," he said. "Would I make bets on that, no."
Mozeliak did not draw a direct connection between the Cardinals' offer to Pujols and the club's sudden willingness to discuss veteran starting pitchers Kyle Lohse and Jake Westbrook for trade. Lohse and Westbrook received full no-trade protection as part of their current deals, which can expire at the end of next season. Westbrook's two-year contract includes an option for 2013. Mozeliak disputed a suggestion that the Cardinals may be clearing money to pursue free agent lefthander Mark Buehrle, a St. Charles native who has long voiced a desire to pitch for the Cardinals.
"We're exploring everything that's out there, but our intent is not necessarily to move Lohse," Mozeliak said. "We're looking big picture. If something made sense we would."
Mozeliak suggested the club may investigate ways to "address a need or reallocate resources" and said any replacements for a traded starter would come from within the organization, most likely Lance Lynn or Marc Rzepczynski. Mozeliak has not mentioned Kyle McClellan for the role, as the second-time arbitration-eligible righthander may also be offered for trade.
Admitting he had not discussed their availability with either Lohse or Westbrook, Mozeliak indicated that he planned to contact both pitchers in coming days. He called their no-trade status "a major complication" to any deal.
"People have asked us a lot about our starting pitching," Mozeliak said.
Recent surgery on outfielder Allen Craig's right knee has placed his availability for next opening day in doubt, leaving the club to seek another outfielder such as free agent Carlos Beltran, another Lozano client.
The Cardinals also remain in search of a shortstop and lefthanded relief. Retaining Pujols would push the team's payroll close to its projected $110 million limit.
"We've definitely put all of our eggs into this basket as far as trying to address it," Mozeliak said. "So for the resources up here it would be helpful to start looking at other options if necessary."