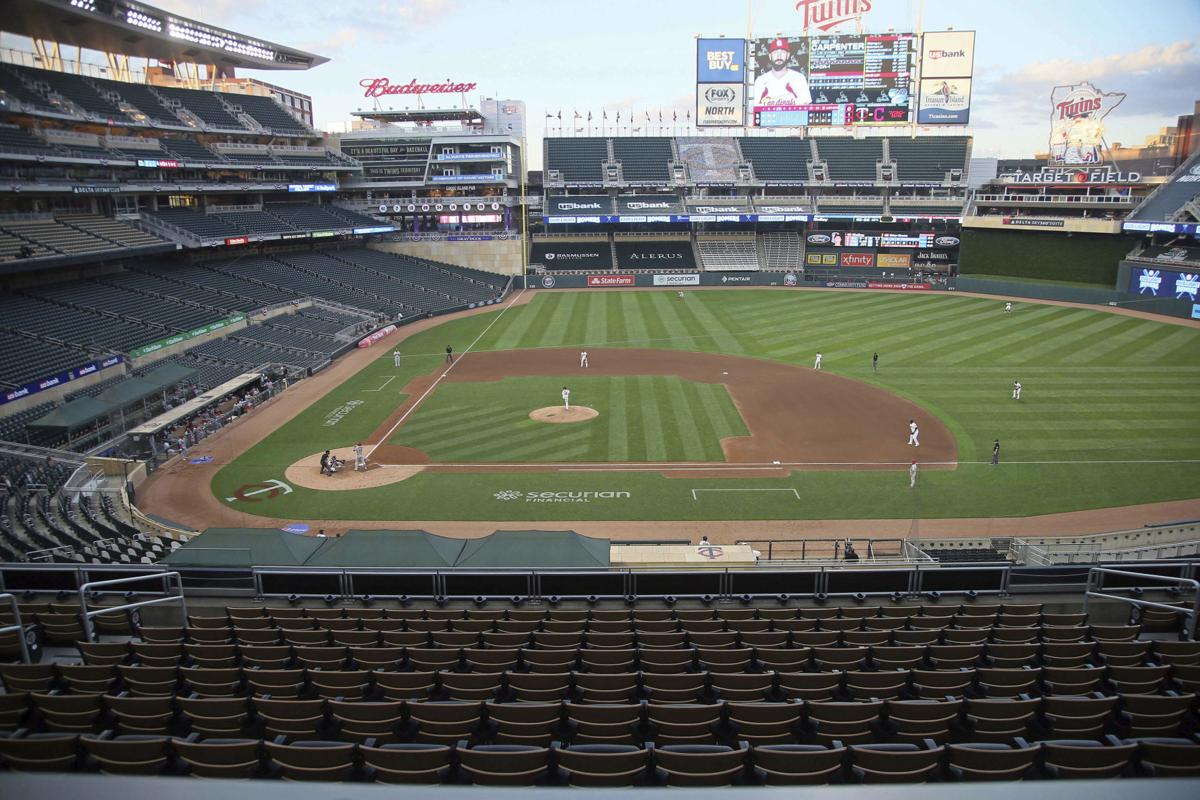 MILWAUKEE — Still marooned Sunday in their downtown Milwaukee hotel, the Cardinals have had plenty of the time they wanted to continue measuring the breadth of the coronavirus outbreak that seeped into their traveling party, but still were waiting on enough clarity to determine their next move.
The Cardinals were waiting on additional test results late Sunday and, in a statement, said they did not expect to have a complete update until Monday.
The team had hoped to get confirmed results on four inconclusive tests taken over the weekend, and they also learned Sunday that they had at least one more COVID-19 confirmed positive, sources confirmed. The team had braced itself that any or all of the four inconclusive results, which included one player and three staff members, would return positive and that possibility had been included in their plan to travel to Detroit on Monday.
The delay in complete results means a delay in the team's decisions.
"We have been separated for some time now," said John Mozeliak, president of baseball operations, on Saturday as he outlined the steps needed for the team to resume its season. "The fact that we have the ability to test gives you some idea of how this can be contained. As I've stated (before), we're learning every day. But I feel like, given the fact that we weren't forced to play (Sunday) or even on Monday, we're buying time. I think that gives you an advantage to help understand where it is."
Team officials declined further comment Sunday.
The Cardinals are scheduled to start a four-game series in Detroit on Tuesday, and the team had intended to workout at Comerica Park on Monday. Their schedule has remained fluid, responding to the test results and their handle on the virus' spread. They are, as Mozeliak has said in the past week, adjusting their "GPS" each day.
It likely will be Monday morning when their travel plans for the day become clear. The Cardinals discussed delaying their return to the field in order to put distance between the initial positive tests — two players on Thursday — and the next time they gather as a group or face an opponent.
During an interview with MLB Network Radio on Sunday, Mozeliak discussed how the protective protocols the team had urged players and staff to follow leaked and caused the scramble to stem the virus' spread.
"We had someone that was infected and unfortunately it was someone that was able to spread it," Mozeliak said on the Sirius/XM radio show. "Containing is now our main focus."
He added: "Time is going to be our biggest asset."
As part of keeping members of the 58-person traveling party isolated from each other and the virus, the Cardinals had two players who tested positive return to their St. Louis-area homes Saturday. A third player and staff member, both of whom had confirmed positives, were expected to follow as early as Sunday. The four confirmed positive tests are asymptomatic.
The team had those four confirmed positives as of Saturday, officials said. Additionally, they had the four inconclusive results because of invalid results or discrepancies between tests taken. The Cardinals were awaiting final results on tests sent to one of MLB's labs for clarity on the inconclusive exams. The team also had been tested daily, including Sunday, so more players and staffers are awaiting those results.
The three players with confirmed positives have not yet been added to the injured list, and they have exercised their right to medical privacy or declined consent to be identified.
A majority of the roster has had multiple negative tests in the past three days, the team confirmed. The team has hoped to rebuild its bubble by keeping players apart and locked down at a hotel the Cardinals already infamously were tied to because a former player once told a Milwaukee TV station it was haunted.
Players have been improvising entertainment in their room.
Jack Flaherty shared on social media how he lifted the bed's mattress against the wall in an attempt to throw a bullpen session Sunday. When the Cardinals are next able to play a game, Flaherty figures to be the starter. He showed on Instagram that he had two baseballs, and he scattered pillows as landing spots after the baseball hit the upright mattress.
"Let's see what happens," he said in the video.
Adam Wainwright posted videos of golf shots he had created for himself around his hotel room, including one shot into the holder for the television remote control device and another into a cup. Coach Stubby Clapp gave some suggestions on the workouts he's doing in his room. Paul DeJong celebrated his 27th birthday on Sunday — in quarantine.
In addition to those windows offered on social media, there remains some anxiety and frustration that the virus found a seam and entered the Cardinals' clubhouse and has upended the start of their season two games into their first trip.
"It's really trying times right now," Mozeliak said from his hotel room on the radio interview. "Fingers crossed we can get to a point where our curve flattens."
Keep up with the latest Cardinals coverage from our award-winning team of reporters and columnists.