After matchups they wanted to see Saturday for Jordan Hicks against two of the best righthanded hitters of their generations, the Cardinals saw something else from their prized closer that gave them pause.
Hicks started flexing and stretching his right arm between pitches in a way that brought catcher Yadier Molina to the mound and sent concern rippling through the dugout. Hicks was removed from the game two batters into the ninth inning and sent for testing on his right elbow that manager Mike Shildt said was "favorable." Hicks called the initial diagnosis "triceps tendinitis," though he'll likely go for deeper look at his elbow Sunday to determine if it's anything more sinister.
"A couple of days," Hicks said. "Maybe a week. We're working through it."
He said he did not have any pain in the joint after the game.
Hicks came one out shy of collecting his 15th save in the Cardinals' 4-2 victory Saturday against the Angels. Two of the outs he did get were from former MVPs Mike Trout and Albert Pujols. The righthander allowed one run on a homer in his 1 1/3 innings pitched, and the home run by Justin Upton was the first ever hit by a righthander off Hicks. He had faced 231 righthanded hitters in his career without allowing one.
The Cardinals discussed a variety of approaches to the eighth inning and settled on using one of the game's best arms against the game's consensus best player.
Trout came up second in the eighth, and Hicks relieved lefty Andrew Miller to face him. Hicks used his fastball early in the count, but on his 3-2 pitch he shaped a slider that caught Trout looking at a called strike 3. That strikeout, one of two for Hicks in the abbreviated outing, was the 100th of his career.
"Struck out Mike Trout," he said. "That's pretty cool. I don't think he's expecting slider."
Hicks said he took so much velocity off the pitch that it felt like he threw it at 74 mph. It left his fingers at 84 mph, and when told that he noted the velocity on his slider was off and "clearly something's there." To lead off the ninth, Hicks faced Pujols and got a groundout on a 100-mph sinker from the former Cardinal.
Pujols called Hicks' pitches "legit."
"Pretty special. Good movement. Really coming on the offspeed," Pujols said. "On top of that you put a guy like Yadier Molina behind the plate – it's like, you don't have any chance."
Hicks struck out the batter after Pujols, and that's when Molina came to the mound. Shildt described the initial read as fatigue in the triceps. There was irritation that the Cardinals will also try to calm. Hicks did not have a scan taken of the elbow at the ballpark, but he did go through a series of elbow tests. Additional tests will follow as the irritation calms.
"Nothing too crazy," Shildt said. "Just a little more of a cramp. It's not in an area where we feel there's any structural (damage) or (ligament) related. He was actually saying, 'Look, I can finish this. It's just a little tight.' Doctors feel optimistic."
GYORKO SET FOR SURGERY
With an extended stay on the injured list already planned as he recovers from a sudden calf injury, infielder Jedd Gyorko will now pair that rehab with wrist surgery. Gyorko will have an arthroscopic procedure done on his right wrist Monday to repair damage that has required routine maintenance during the past two seasons. He has received cortisone shots and other treatment into the wrist to alleviate pain and allow him to play through recent summers, but with time needed to heal his leg the team and player opted for the surgery.
"Nothing compromised," Shildt said. "It's something to deal with. The calf was going to be somewhat parallel with that time. The shots are working but they're masking something that needs to be corrected."
The surgery will give the Cardinals clarity on Gyorko's timetable for a return, though they do not expect him to participate in baseball activities for at least three weeks. He will require a spin cycle through the minors on a rehab assignment to regain his timing.
GOLDY JOINS LAGA
"This is what we're writing about? Foul Balls?" Paul Goldschmidt asked.
Yes, legendary foul balls.
During Friday night's game against the Angels, Goldschmidt turned on a pitch and hit a ball well foul – and out of Busch Stadium III. He is believed to be the first player to clear the stadium's top, and that puts him alongside Mike Laga, who has become a cult favorite in Cardinals history because he did the same thing at Busch II. On Sept. 15, 1986, according to a well-told tale, Laga hit a foul ball that cleared the Crown of Arches at the old ballpark and was later found along the sidewalk, outside the stadium. A replay of Goldschmidt's foul ball showed it clearing the top of Busch III.
The Cardinals' first baseman, who has had a series of deep foul balls to the left-field seats in the past week, went into the dugout and joked about how wide left this one went.
"Man, how did that not stay fair?" he said. "I think that one (swing) was too early. I think the ones that I hit the other days that were just foul – that's at least, like, OK, man that was pretty close. You pull one over the dugout, I'm not so sure that's good."
STANLEY'S COMING
The Stanley Cup, escorted by several Blues, will visit Busch Stadium and the Cardinals on Wednesday before that night's interleague game against Oakland. Players Ryan O'Reilly, Vladimir Tarasenko, and Pat Maroon, a St. Louis native, will be featured with the Cup before the game and during in-game ceremonies. The giveaway T-shirt that night will be Blues-themed but feature a picture of noted Blues fan, Molina. During the Blues' championship run, they had line shifts of players attend a doubleheader at Busch, and in between games several of the Blues took turns against the curveball machine in the Cardinals' batting cage.
Cardinals 4, Angels 2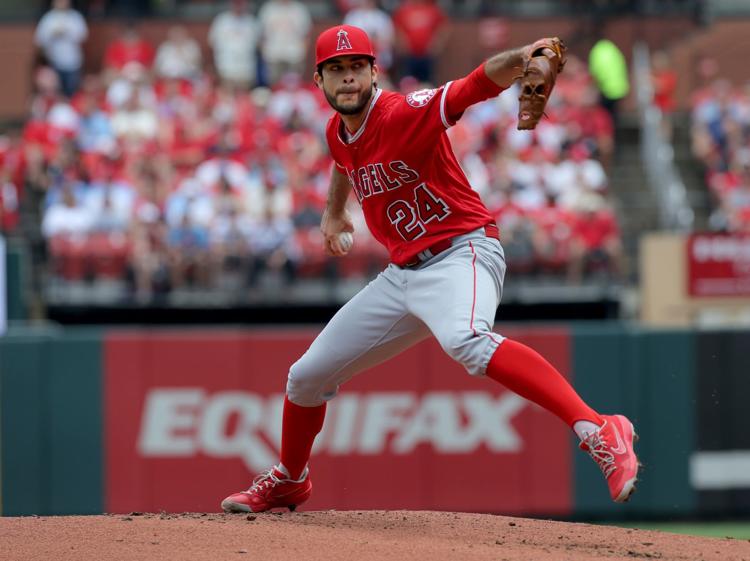 Cardinals 4, Angels 2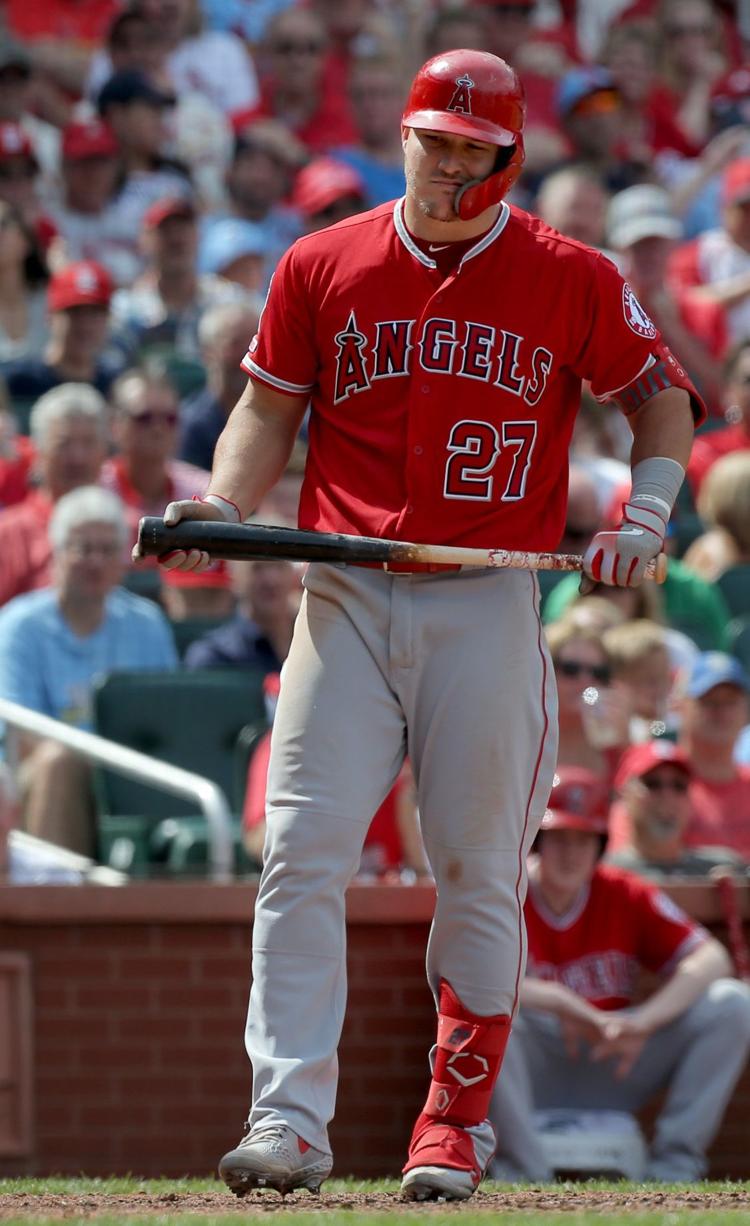 Cardinals 4, Angels 2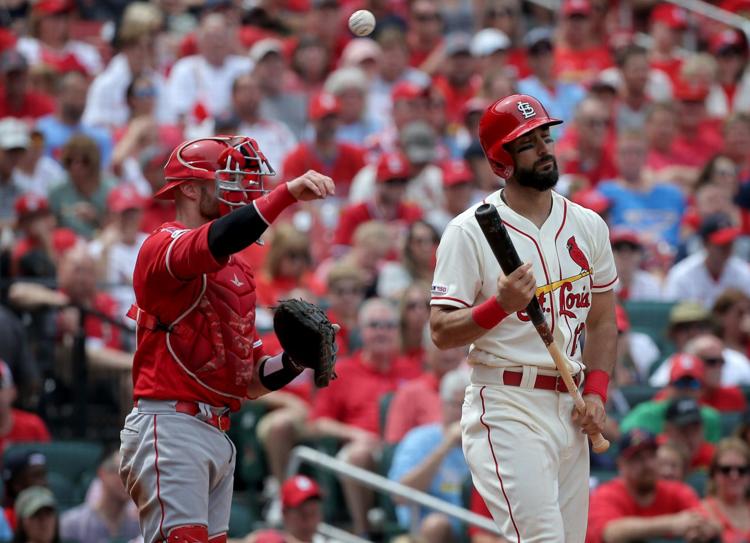 Cardinals 4, Angels 2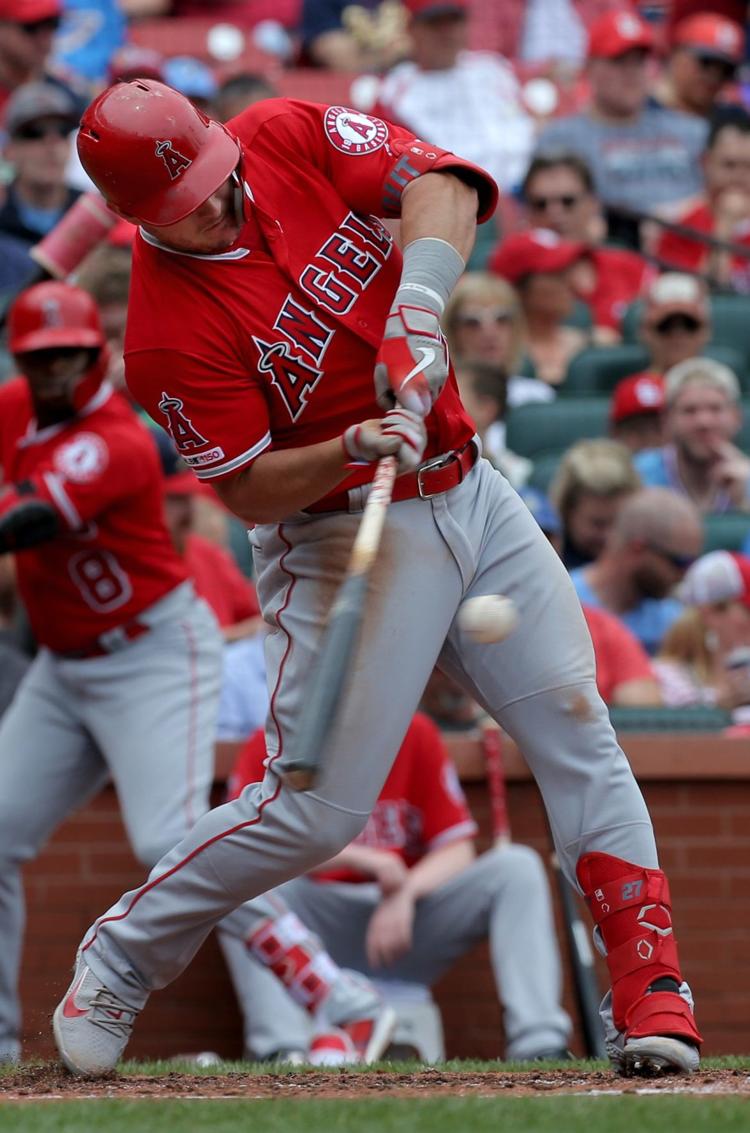 Cardinals 4, Angels 2
Jordan Hicks leaves the field with trainer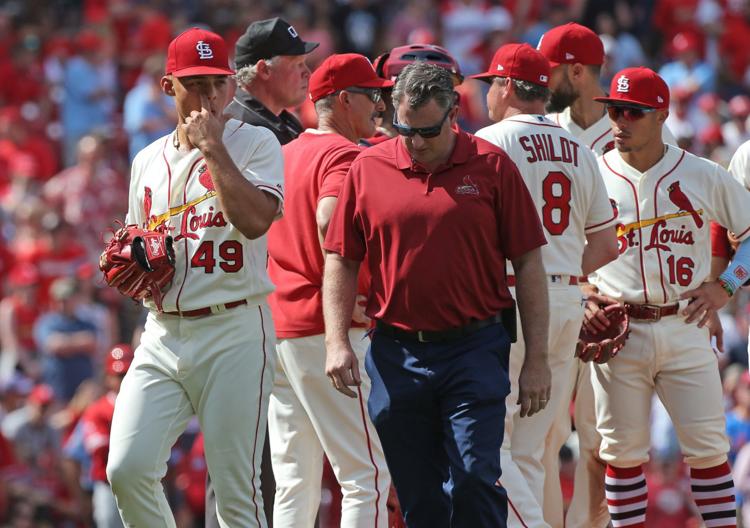 Cardinals host Angels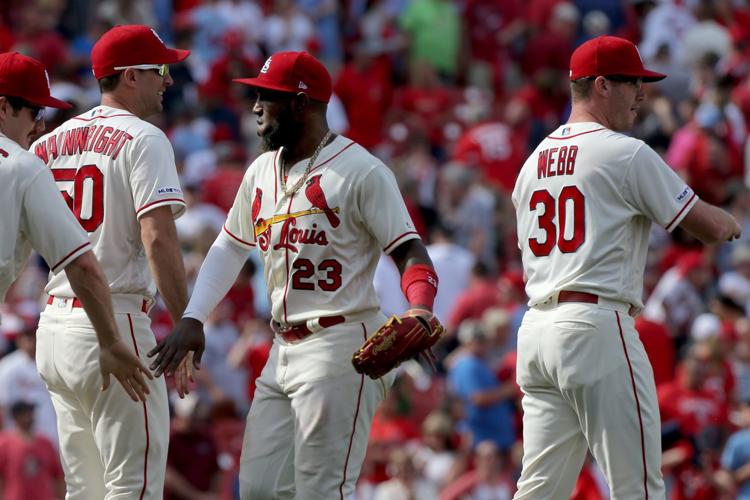 Cardinals host Angels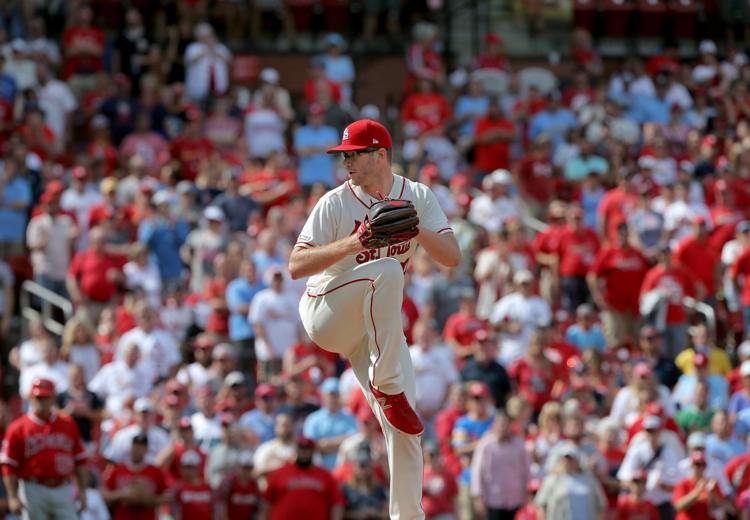 Cardinals host Angels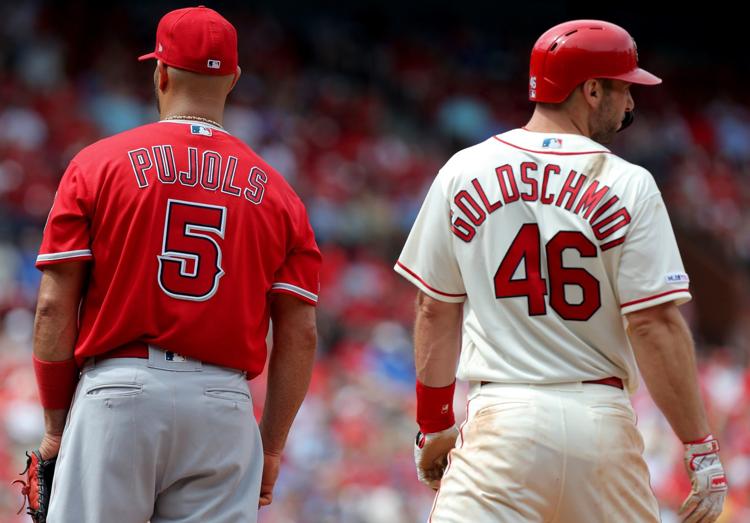 Cardinals host Angels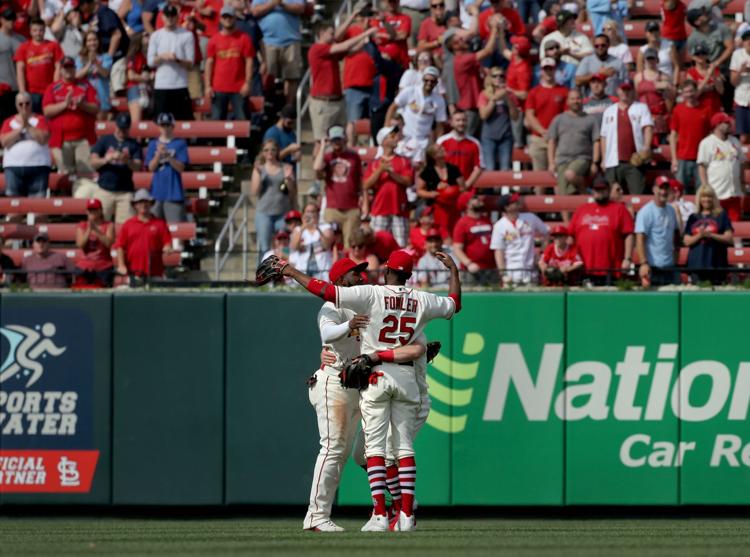 Cardinals host Angels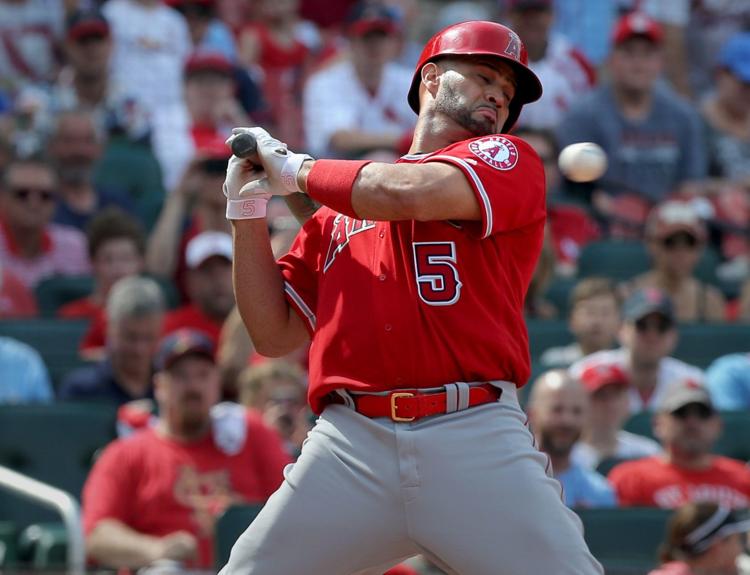 Cardinals host Angels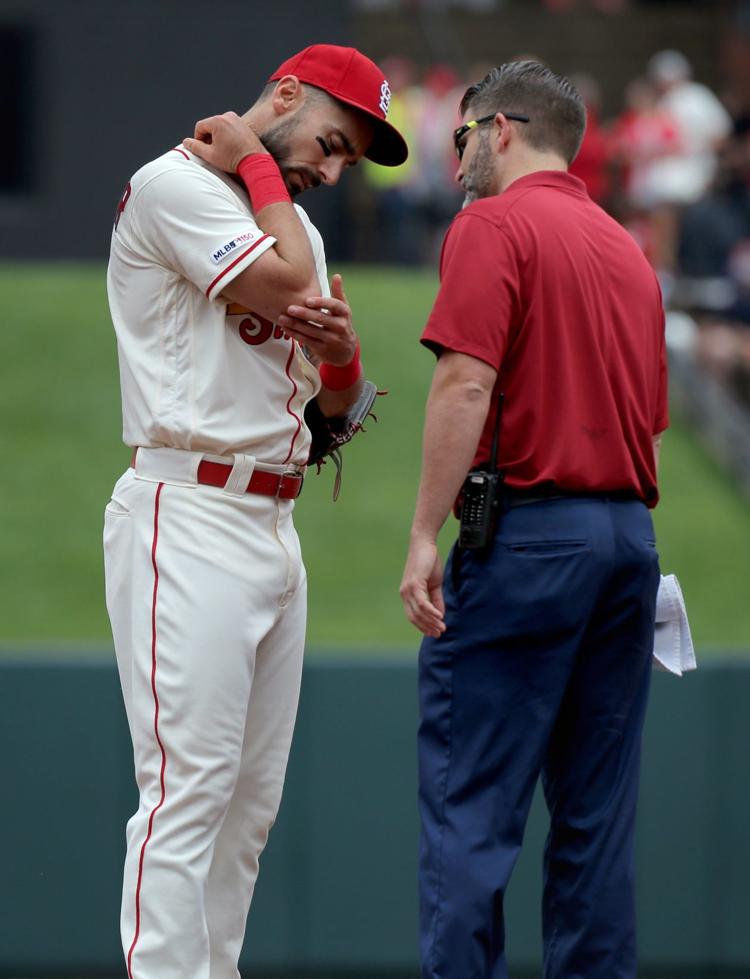 Cardinals host Angels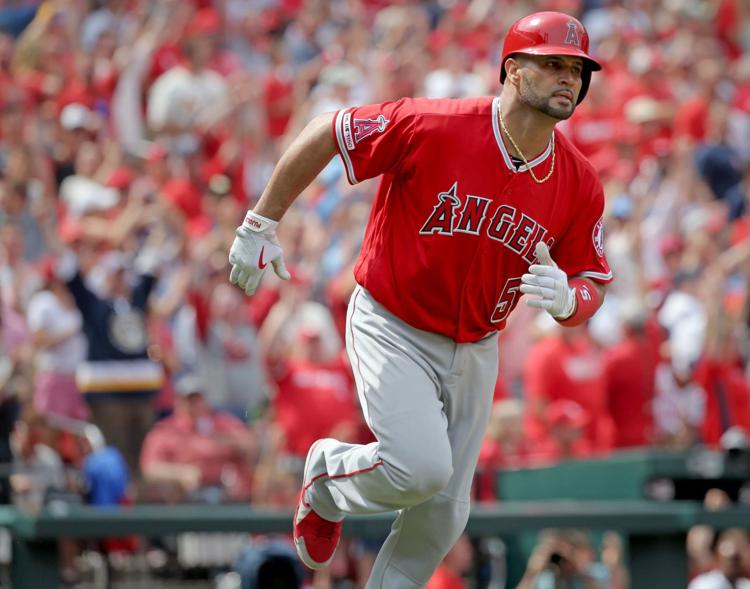 Cardinals host Angels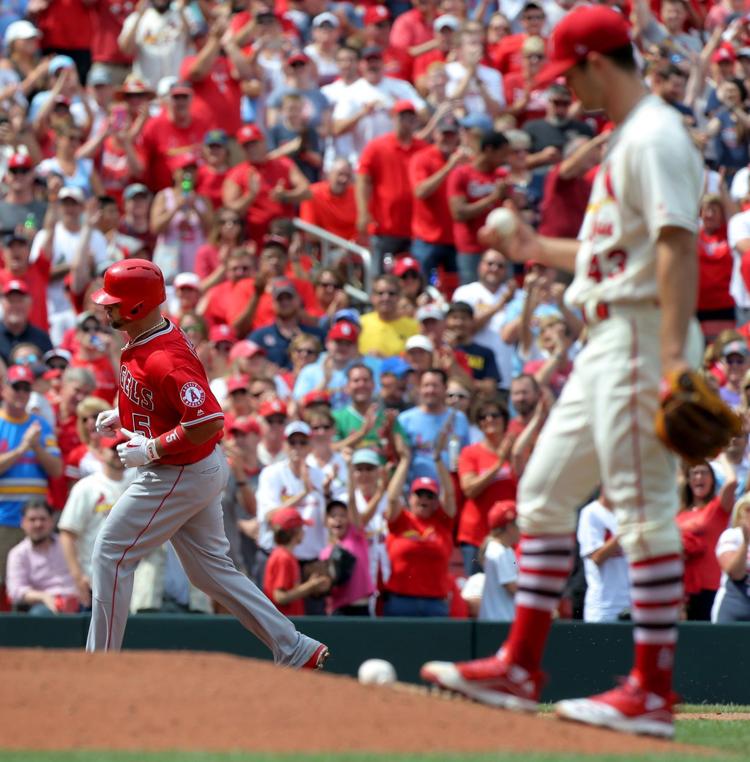 Cardinals host Angels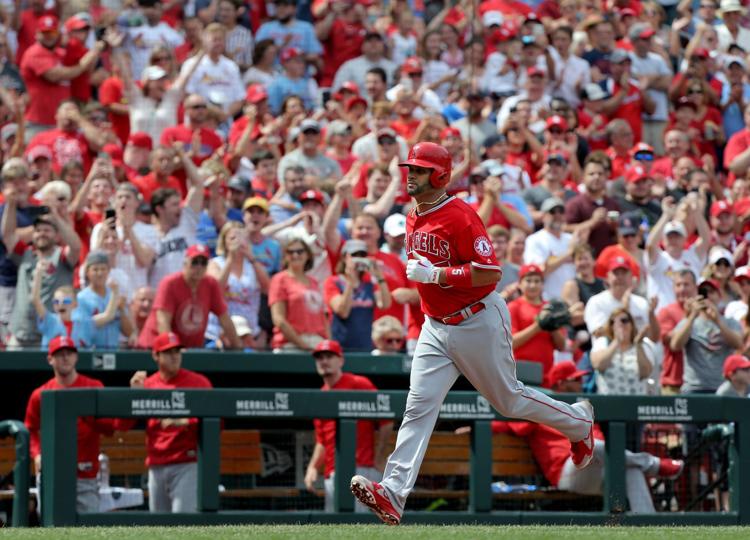 Cardinals host Angels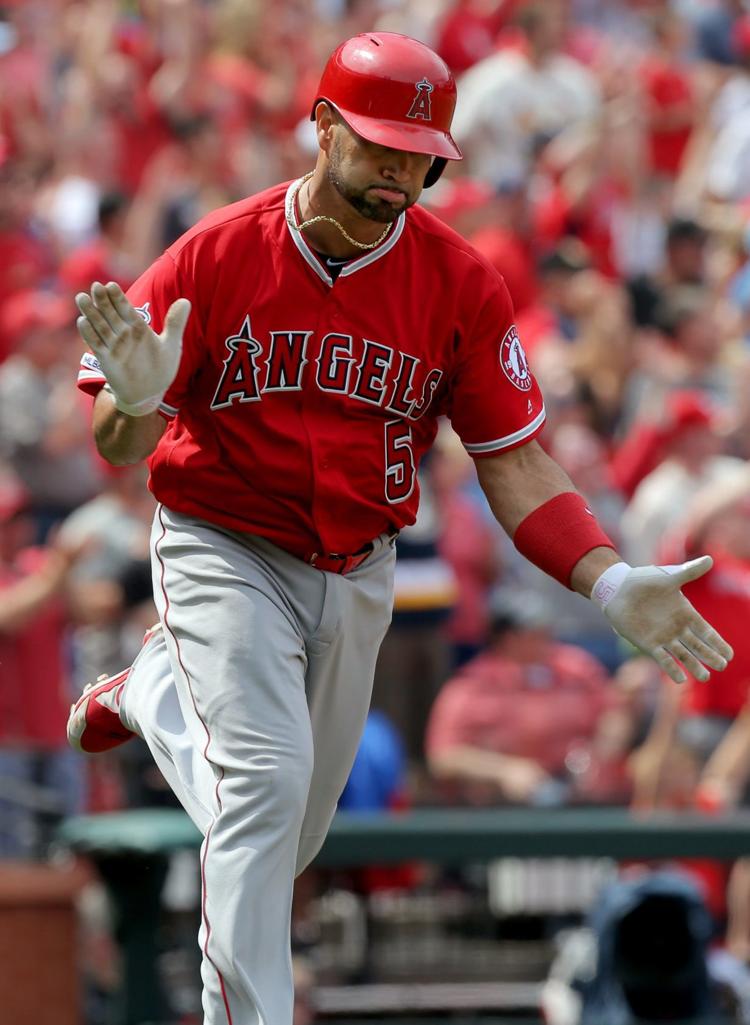 Cardinals host Angels
Cardinals 4, Angels 2
Cardinals host Angels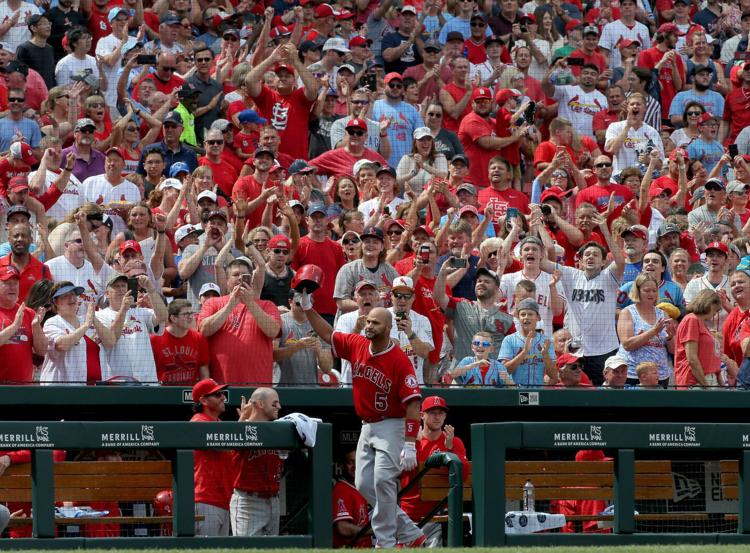 Cardinals host Angels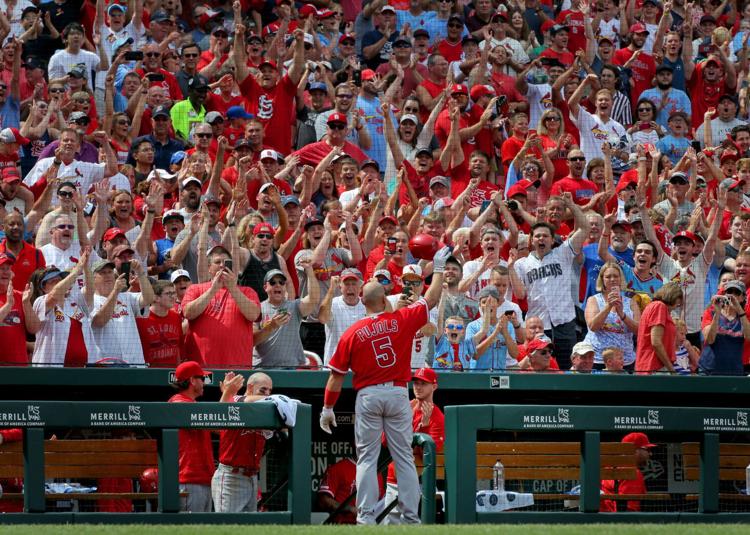 Cardinals host Angels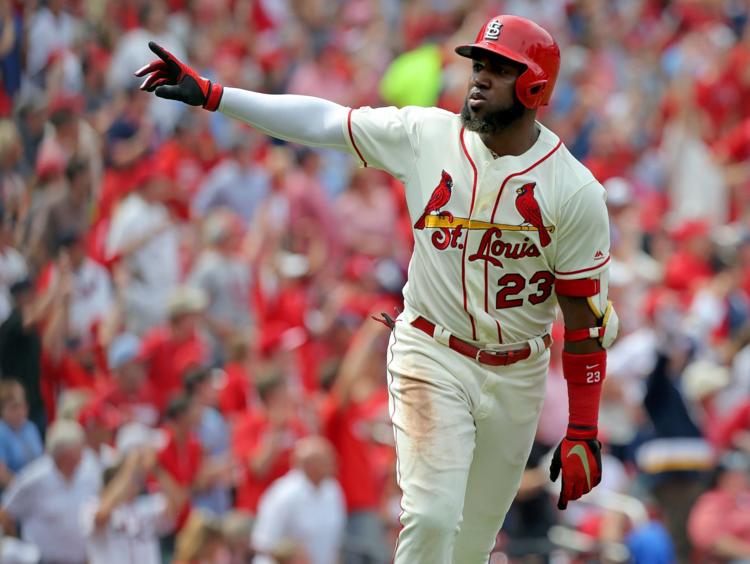 Cardinals host Angels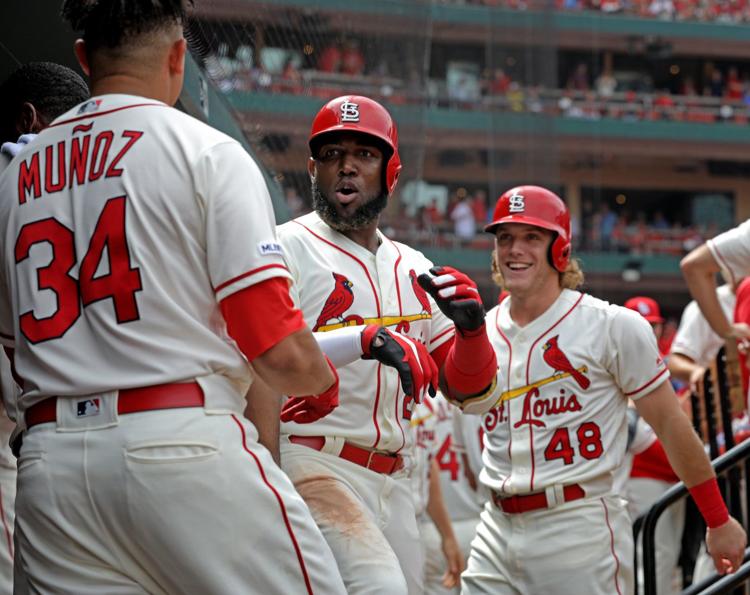 Cardinals host Angels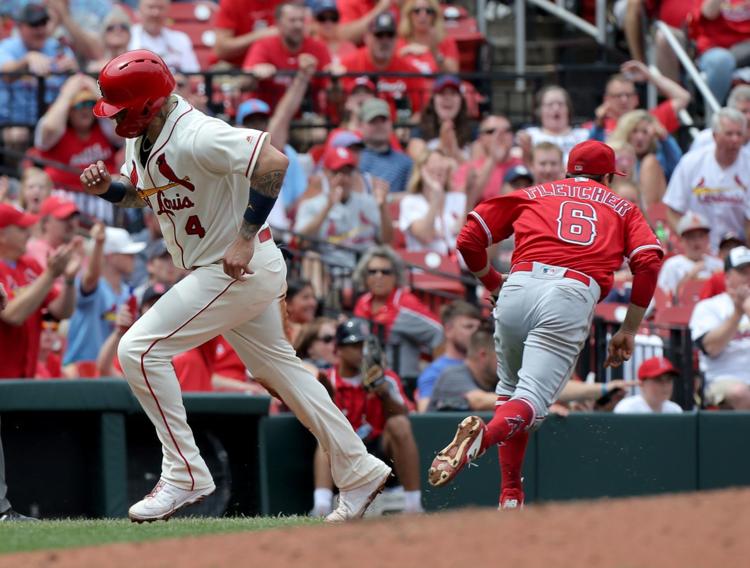 Cardinals host Angels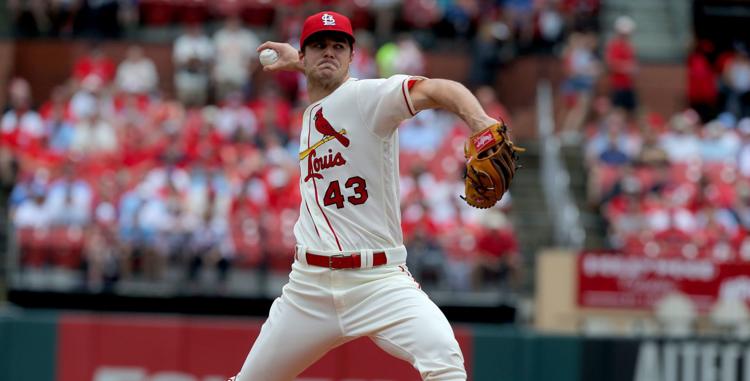 Cardinals host Angels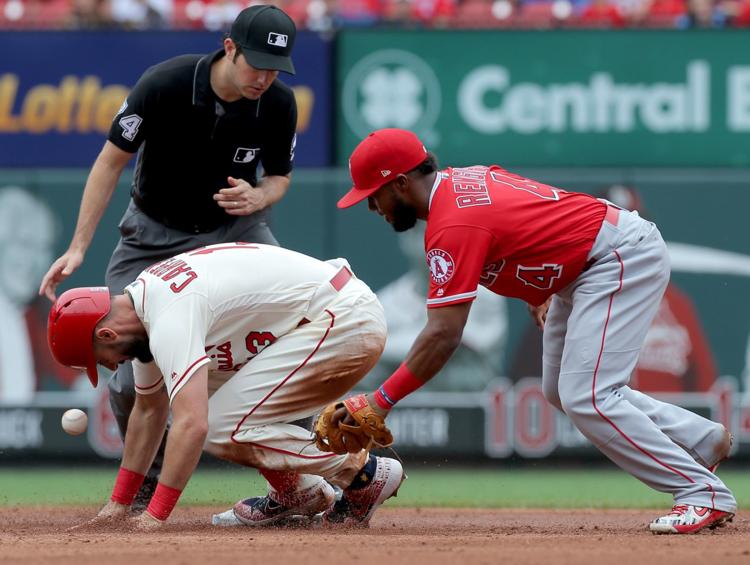 Cardinals host Angels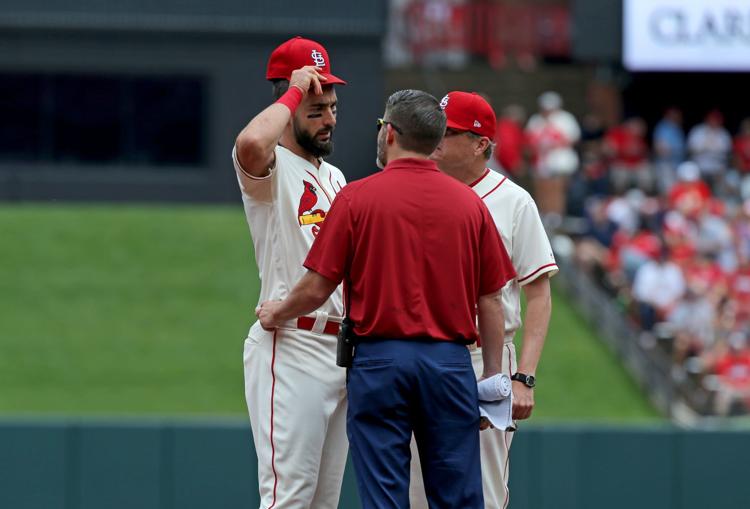 Cardinals host Angels
Cardinals host Angels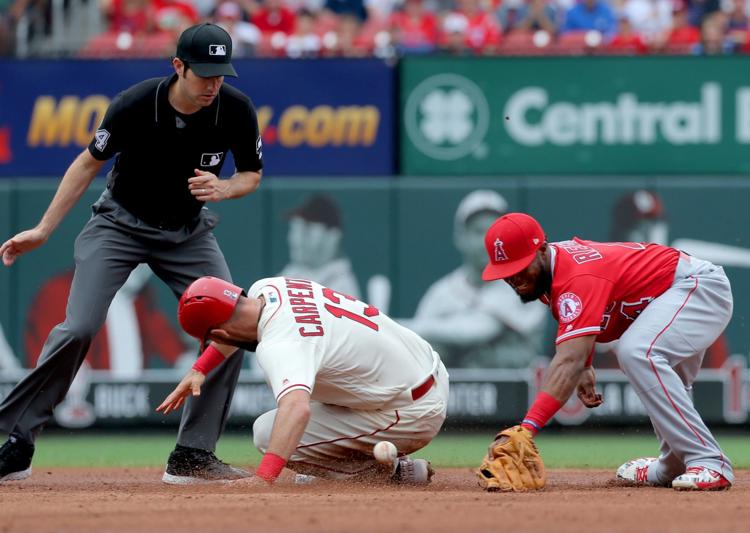 Rain delay before Cards take on the Angels