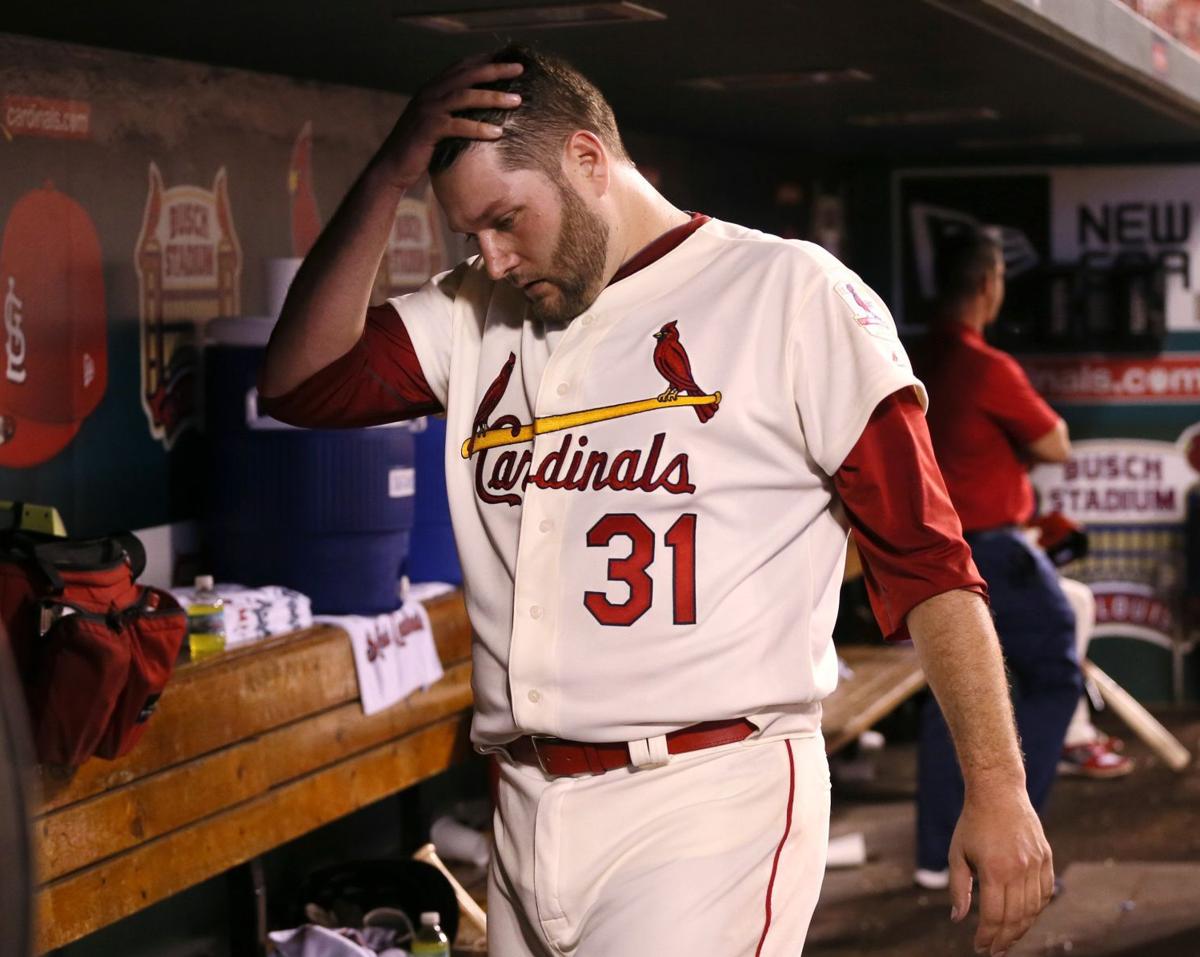 In the month since a restructuring of the front office promised a "busy July," the Cardinals and John Mozeliak never hid their wishes to add a hitter or "shake up" the clubhouse culture.
Now they cannot hide from the team they already had.
Major League Baseball's trade deadline came and, in a late flourish, went Monday, and the Cardinals (52-53) were unable to complete a deal. They chose instead to hold on to starting pitcher Lance Lynn and attempt to contend with the existing roster, which has orbited .500 most of the season and remained peripherally competitive in the National League Central.
In the end the Cardinals, who tried to play both sides of the deadline equation, were neither buyers nor sellers, but perhaps something less palatable. They were the same.
"There was certainly a level of frustration in the room on trying to do some things," Mozeliak, the team's president of baseball operations, said after the 3 p.m. deadline. "But we also didn't want to do something that in the long term we may regret just to say we did a deal. There is no doubt that I've been pretty outspoken on trying to find ways to shake things up a little bit. Of course, you can do that internally with the ability to use your entire 40-man roster. Or you could have gone externally. Or we could have moved some players that we felt maybe we won't be signing at the end of the season.
"We approached the last week as trying to find ways not only to see if we could improve the club this year, but with a focus on 2018 and 2019," he added. "As (the day) unfolded we weren't able to get anything across the finish line."
There was a late kick elsewhere in baseball, as in the final hour before the deadline the New York Yankees spurred the starting pitching market by dealing for Oakland's Sonny Gray and the Dodgers, at the last minute, landed Yu Darvish from Texas. Lynn's market was tied to both pitchers, as some teams interested in Gray were eyeing Lynn as an alternative and Darvish was considered the other top rental starter available. True to baseball's current view of young, cost-controlled talent, Gray commanded a larger, higher-potential package of players compared to Darvish. Control is the game these days.
LA sent three minor-leaguers, including highly regarded infielder Willie Calhoun, to Texas for two months of Darvish, but the Dodgers did not part with either of their top prospects.
The Cardinals didn't get a bite at the price they set for Lynn.
Mozeliak told the pitcher that might be possible during a private conversation they had at Wrigley Field earlier this month.
"We're not going to sell low," Mozeliak told Lynn. He expanded on that Monday: "There was never anything compelling that we thought made sense to move him just to move him. Momentum did not ever seem to go from a quiet point to a much more active point."
Lynn, a free agent at season's end, is eligible now to receive a qualifying offer from the Cardinals. The value of that offer is set around $18 million for a one-year deal, and if he declines it and signs elsewhere the Cardinals will receive a compensation pick just before the third round of the June draft. The Cardinals and Lynn have not had any substantive talks about an extension, though the possibility Lynn could command $100 million or more is not a secret. Mozeliak said any discussions now would be "tabled" until after the season.
So, too, must the Cardinals' search for a hitter.
While teams like the Dodgers, Yankees, Cleveland and Washington evaluated Lynn as if the Cardinals were selling, the Cardinals canvassed the leagues for a hitter or a reliever as if they were buying. The Marlins didn't move any of their outfielders, and could wait until the offseason to do so. Toronto traded a reliever, Joe Smith, but never indicated Josh Donaldson was available. Detroit did trade J.D. Martinez to Arizona, and the Cardinals' interest was fleeting at best in a short-term addition. The market for position players was thin.
Only two, infielders Adam Rosales and Tim Beckham, moved on deadline day. In the days leading up to the deadline, Melky Cabrera was the most significant hitter moved.
"We haven't run from the fact that we mentioned or talked about adding an additional bat to the lineup," Mozeliak said. "We were unable to find a partner that was willing to do that. … We approached it as we were open to any ideas. We talked about what it might look like to move a player, and we also looked at what it would be to add players. It wasn't that we were driven to do one or the other. In a broad sense, we definitely had trial balloons going up on all different fronts. Small deals. Large deals. Complicated deals. Simple deals.
"We just weren't able to get something to where we felt comfortable hitting the 'go' button, or the other side (was), for that matter."
The Cardinals had discussions about outfielders Tommy Pham and Randal Grichuk in attempts to relieve overcrowding but didn't generate appealing offers.
As the July deadline passed, the next window for trades opened. Teams have until Aug. 31 to add players for the postseason, but those players must first pass through waivers or be claimed off waivers. Several officials said Monday given the names discussed that did not move, an active August is always possible. Higher dollar contracts are floated through waivers to see if they get any nibbles for deals, and the Cardinals have the payroll to shop.
"We could," Mozeliak said. "We have room."
Starting Tuesday with the return of Stephen Piscotty (groin) from the disabled list, the Cardinals hope to be healthier, if not entirely different. Dexter Fowler (arm) could be back in the lineup by next week. The Cardinals see the outfield as four players — the aforementioned returning starters, Pham, and Grichuk – competing for three spots. Mozeliak said the infield is static with Jedd Gyorko at third, rookie Paul DeJong at shortstop, Kolten Wong at second and Matt Carpenter at first. He is encouraged by the bullpen since Trevor Rosenthal moved to the ninth and said the market did not, in his opinion, offer a reliever better for the Cardinals than finding out what Sam Tuivailala and Tyler Lyons can do in higher-leverage spots.
If, in hindsight, there was a trade the Cardinals made at the deadline it was in tone or focus, as the descriptions of outfielders and bullpen showed a look toward 2018, not today. Mozeliak has often talked about the insanity of doing something over and over again and expecting different results.
He was asked if that describes the roster he still has.
"I think, in fairness, the roster has had its own share of DLs," Mozeliak said. "So I don't think to characterize it that way (is fair) as much as you do want players that are getting the opportunities to perform to take that step forward. In a lot of ways, we'll just use the next two months to evaluate what we think we really need to do for 2018."